After working nearly twenty four hours non-stop, I bring you the MiG-21 BIS! I've worked hard to put as much detail as possible into this aircraft. The plane might be a bit laggy for some mobile players as it has over 400 parts. The armament includes a twin barreled Gsh-23L Cannon, two UB-16 rocket pods (32 total rockets), four close range R73 air-to-air missiles, and Chaff/Flare pods (64 total countermeasures). I managed to get the aircraft near 1:1 scale and the thrust performance matches nearly exactly with empty cruise speed around 550mph and empty supersonic speed exceeding 1300mph. The aircraft features a three position nose cone for sustained supersonic flight (Controlled by throttle and the afterburner.) The fuel tank as well as weapon pylons can be released if needed.
Controls
Throttle: Extend Nose Cone to 2nd Position
AG1: Engage Afterburner Extend Nose Cone to 3rd Position
AG3: Release Fuel Tank
AG4: Release Rocket Pods
AG5: Release Missile Pylons
AG6: Deploy Parachute
AG7: Anti-Collision Lights
AG8: Lock Nose Wheel Turning
VTOL: Flaps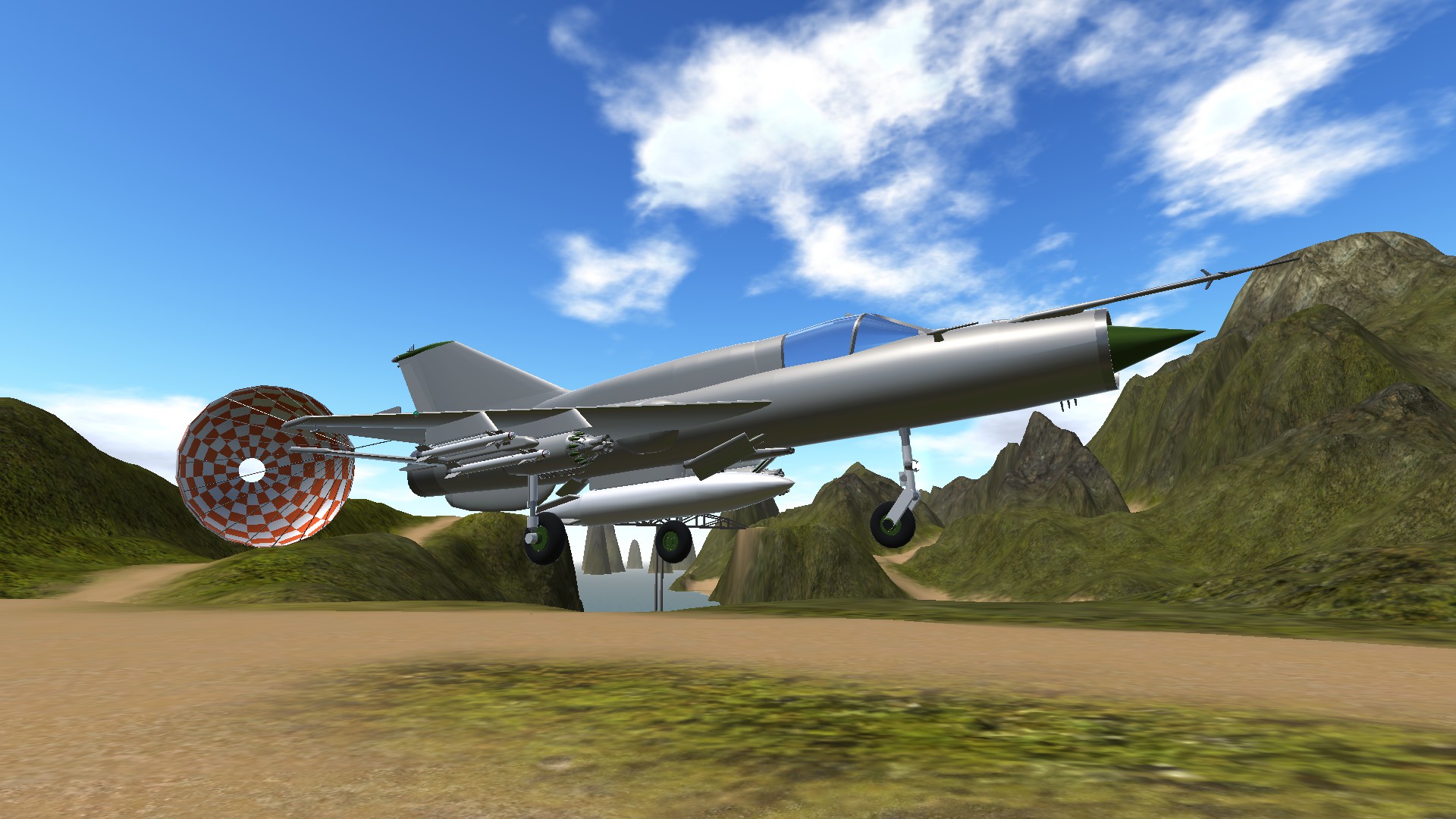 Landing with airbrakes extended and the parachute deployed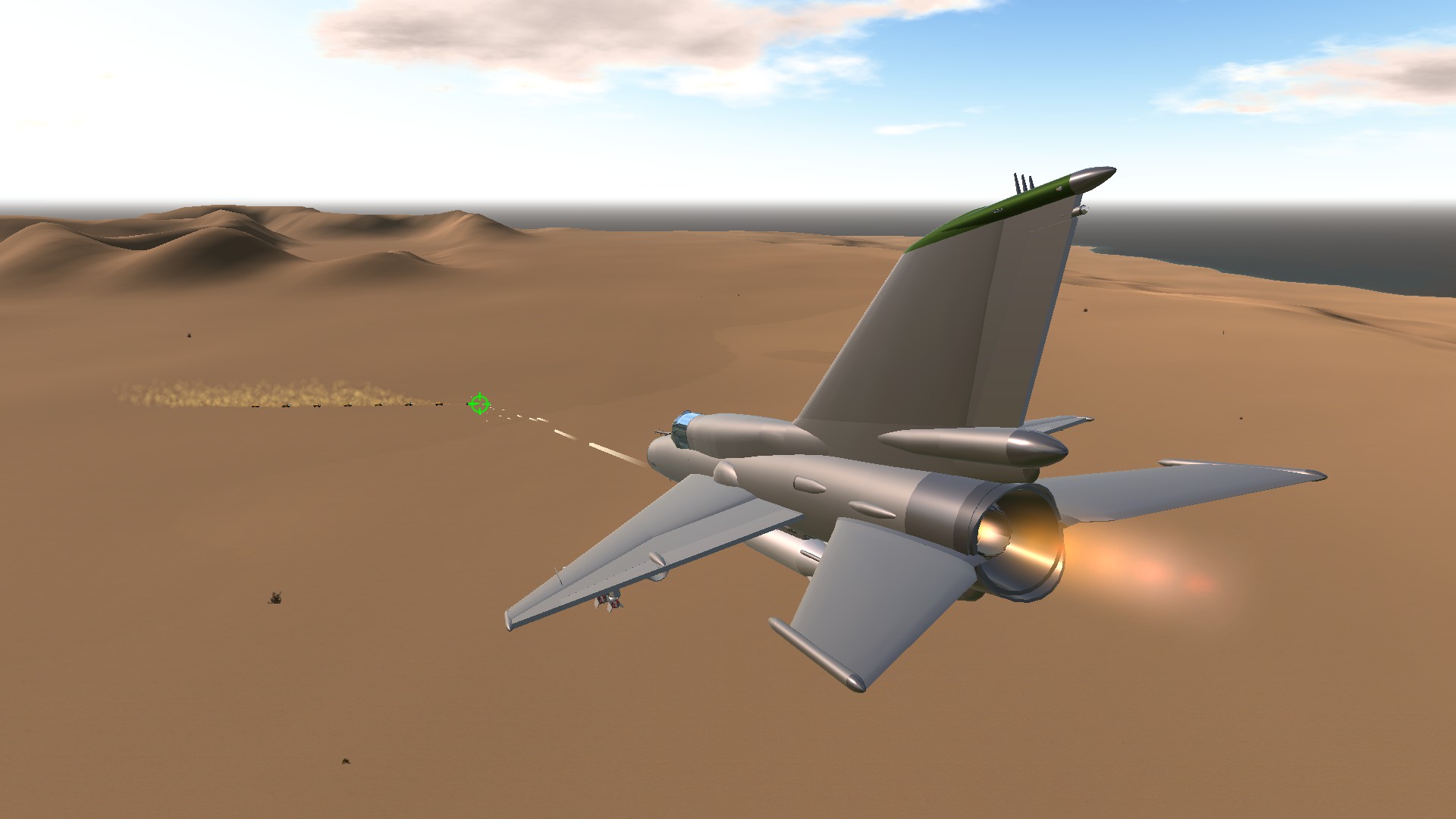 Twin Barrel Gsh-31 Cannon in use against a convoy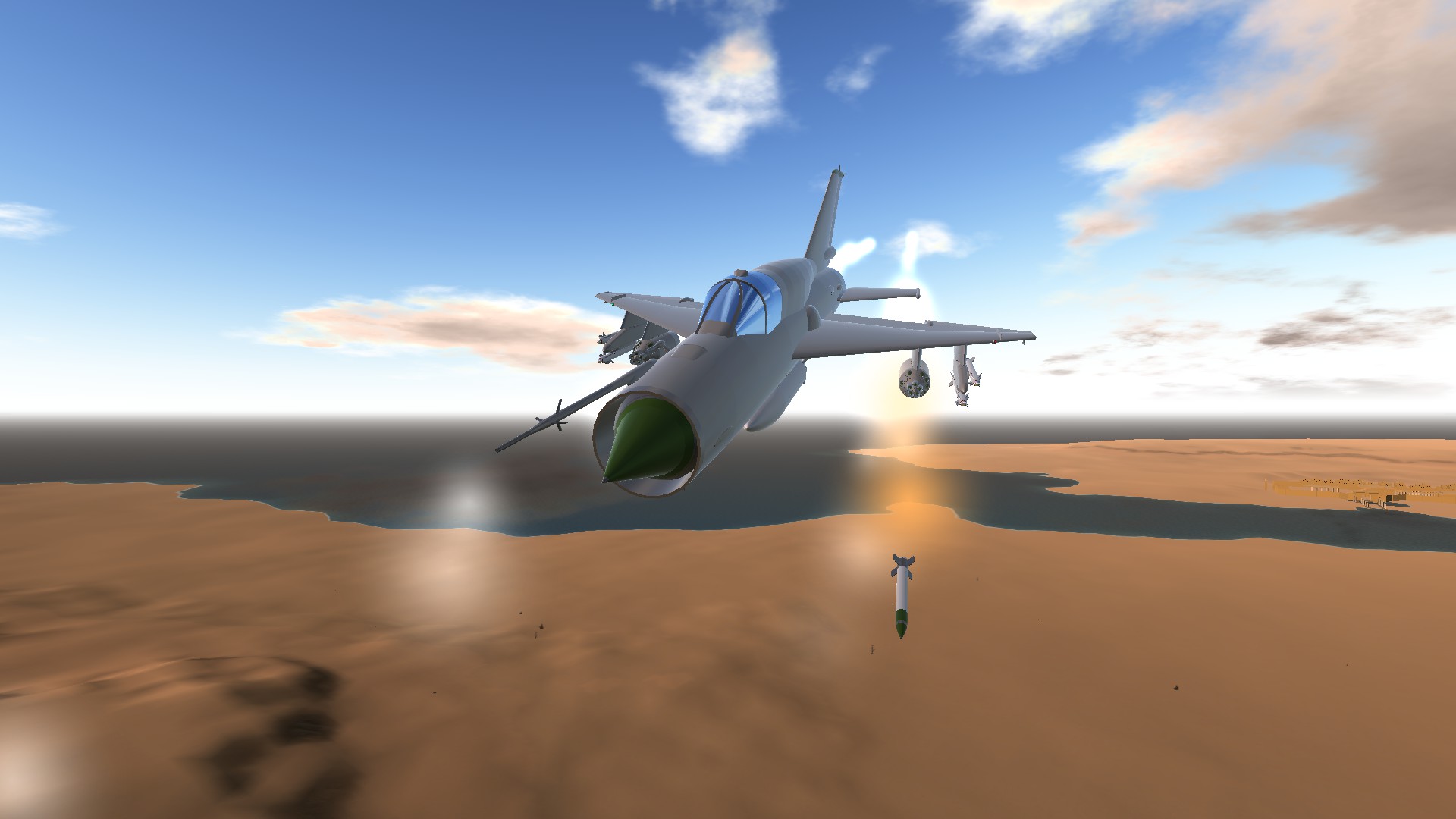 Two UB-16 Rocket Pods provide more than enough punch for this convoy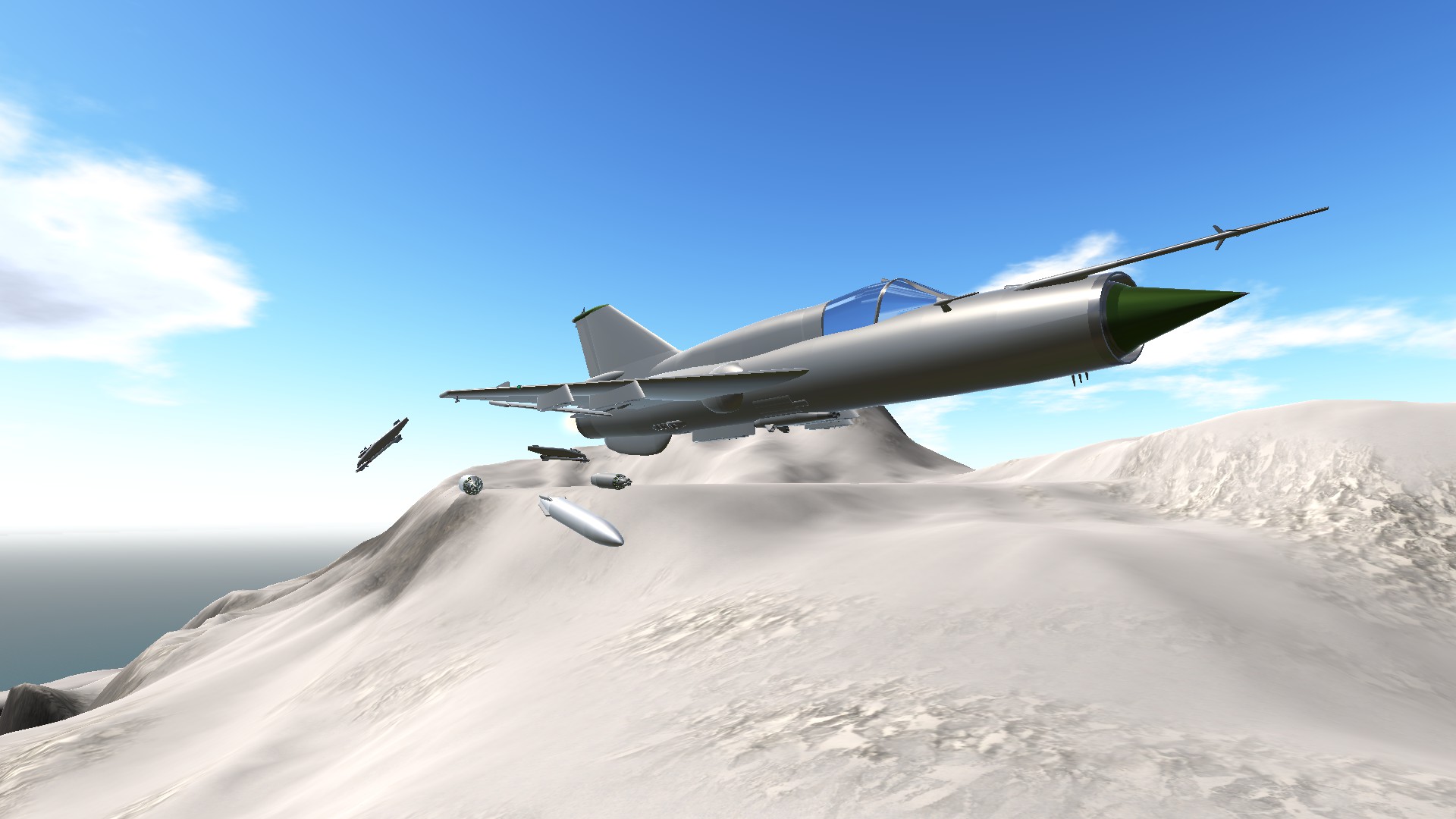 Detaching the pylon stores will lower drag thus increasing speed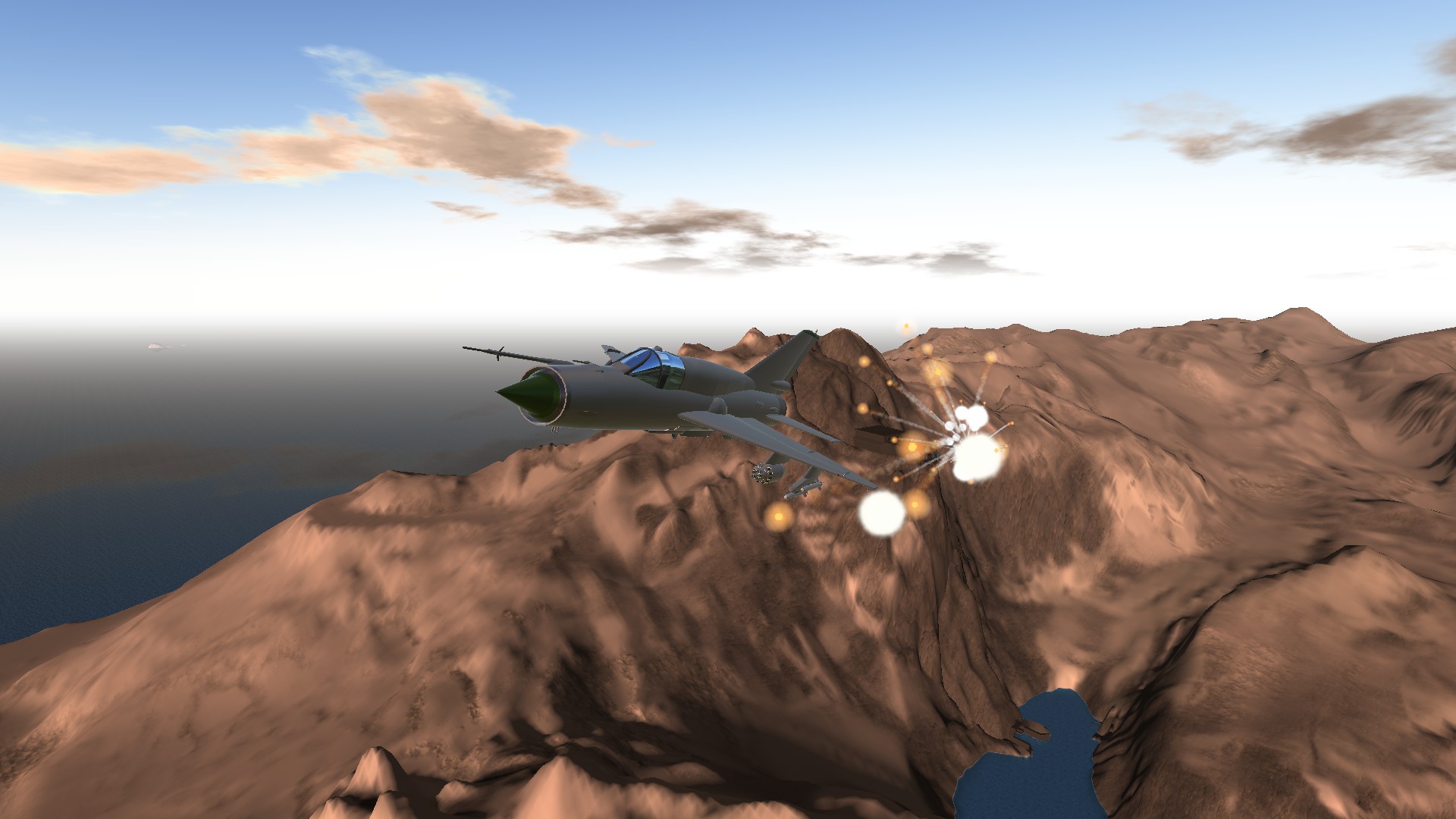 The two Chaff/Flare pods on the underside provide 64 uses


I used these as reference pictures

I really enjoyed building this aircraft. I've gained so much more of an appreciation for the MiG-21 and its designers. It's things like the complex folding landing gear and intake shock cone that really suprise me as the plane originates from the late 1950s.
If there's any planes you'd like to see me replicate I'm open for suggestions! I'm still thinking about building a Saab Viggen.
Specifications
General Characteristics
Predecessor

MiG-21 BIS (Gear Fix WIP)

Created On

Windows

Wingspan

23.9ft (7.3m)

Length

43.9ft (13.4m)

Height

14.1ft (4.3m)

Empty Weight

6,070lbs (2,753kg)

Loaded Weight

11,734lbs (5,322kg)
Performance
Power/Weight Ratio

3.83

Wing Loading

12.8lbs/ft2 (62.5kg/m2)

Wing Area

916.3ft2 (85.1m2)

Drag Points

6988
Parts
Number of Parts

420

Control Surfaces

5
---