The Arma III A-164 Wipeout
---
Be warned there are a lotta BRRRRRT comments in the chat...
After stumbling across the 1234 Challenge and realizing I had enough time to build something before Learning Gulag opens, I figured I'd build a model of a plane that I have wanted to build for a while, the A-164 Wipeout. I have absolutely no experience and have never player Arma III, so don't light me up on the comments for every inaccuracy lol. There weren't any blueprints either, so I took an A-10 blueprint and matched this plane up to the best of my ability. I think it came out really well.
Mobile Versions
---
Arma III Wipeout History
From Here
The A-164 Wipeout is a single-seat aircraft used for close air support and air interdiction. The life-cycle of its predecessor, the A-10, ended in 2030 and the need for replacement grew more important with the rising tension in the Pacific. A limited development budget did not allow for a fresh start, instead the concept of the A-10 was improved with better shape, engines, and armaments.
As you can see here, the F-35 sucks in the ground attack role (or doesn't, your opinion), and so we have this plane. Ironic how the game predicts the future?
---
Contols
AG1- Jettison Explosive Ordinance
AG2- Drop Tank
AG3- Open
AG4- Open
AG5- Open
AG6- Open
AG7- Open
AG8- Open
Standard Flight Controls
---
Aircraft Notes
Landing Is a little rough. The default front gear lacks good traction, so it will skid around the runway. Brake gently and use yaw.
When jettisoning ordinance, pull up slightly to avoid collision with weapons.
Use the 30mm... Or else...
---
Arrmenment Use
AGM-65 (6)- Anti-tank missile that packs a punch. 14-mile range.
GBU-38 (2)- Guided Bomb unit. Very slow travel, ~5-mile range.
AT Rockets (14)- Rockets, shoot em.
GAU-8 (1350)- 7 Barreled 30mm cannon. Great for all ground targets.
AIM-9 (2)- Used for self air-defense. 22 mile range.
500 LBS "Dumb" (2)- Dumb bomb, drop it and it goes boom.
---
Credits
Thanks to ChiChiWerx for the USAF decals.
Thanks to Mikoyanster for my go-to screenshot map, AeroClub 2
---
Gallery
Sorry about images Imgur is broken will fix them soon don't worry too much


Crashed in the early stages of building while shooting at the Maywar convoy. Tough plane. Notice the front gear isn't game default. Its custom, but had to be removed due to technical issues.


Brrrrrrt!


Exploding in Style


Arma III A-164, Light Grey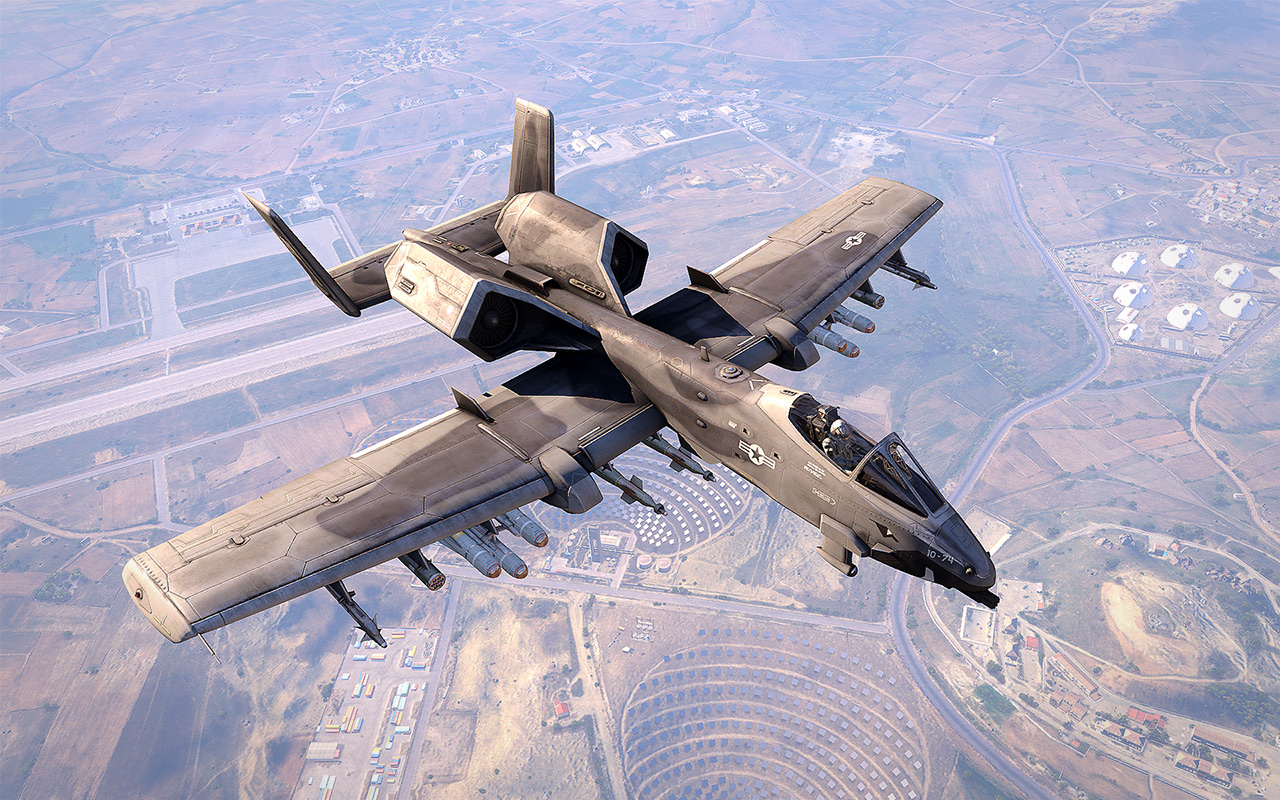 Arma III A-164, Dark Grey


The Maverick


Just flying
---
Thanks for looking at the Wipeout! It was a good build, certainly took its time. By the time I post this, I believe Gulag will be in session, so fewer planes, but I still have one more half-done project to share! Thanks!
Notice
Due to the recent bans/restrictions on tagging, I am asking that if you are a frequent tagger (aka someone who likes to be tagged on my aircraft) please just follow so that we all can avoid a big debacle over spam tagging. Thanks!
Specifications
General Characteristics
Predecessor

1234 Part Challenge

Successors

3 airplane(s)

+7 bonus

Created On

Windows

Wingspan

57.9ft (17.6m)

Length

53.3ft (16.3m)

Height

15.2ft (4.6m)

Empty Weight

30,718lbs (13,933kg)

Loaded Weight

42,793lbs (19,410kg)
Performance
Power/Weight Ratio

1.89

Wing Loading

30.5lbs/ft2 (148.8kg/m2)

Wing Area

1,404.3ft2 (130.5m2)

Drag Points

14383
Parts
Number of Parts

1234

Control Surfaces

4
---