A/T-17 Desert Hawk
---
Well, I'd say this plane is quite the improvement over the A-6 Guardsmen, my last Mikoyanster Challenge entry. It looks better, performs better, and contrary to the Guardsmen doesn't fly like a brick. This aircraft would have been done last week had Steam not updated and set me back a few days worth of progress. Never the less, here it is!
---
This aircraft is intended to participate in Category 1 of the Counter-Terrorist Challenge.
---
---
Fictional History
Introduced in 2020, the Bagel Aviation Industries A/T-17 Desert Hawk is a trainer aircraft capable of quick conversion into a light attack aircraft. It is simple to maintain and many conventional systems are automated so that the pilot can focus on their surroundings.
---
Contols
Kinda simple, but has some cool flaps.
AG1- Jettison AGM-65 Maverick
AG2- Jettison AIM-9X
AG3- Open
AG4- Open
AG5- Open
AG6- Open
AG7- Open
AG8- Open
VTOL UP- Flaps always up
VTOL CENTER- Automatic flaps
VTOL DOWN- Flaps always down
---
Pilot Notes
This aircraft is equipped with a Weapons Safety System. Simply put, you cannot use or jettison any weapons while on the ground. Instead, you have to take off and put your gear up in order to use any of your weapons.
Automated working flaps are included in this model. They are necessary for minimum-distance takeoff, if not used the aircraft will do a little hop and nose-dive into the runway. They will stay down until the aircraft reaches 150 mph (241 kph) and retract at any higher speeds.
The landing gear has been engineered to be strong and resistant to impacts, however, if you do ram the back gear into the ground it will jam up into the plane.
The glass cockpit can be shot out without the whole plane crashing. But if the pilot is hit, the plane will become uncontrollable and crash.
The AGM-65 has been reused from the A-164 Wipeout but also has been modified to produce a more realistic explosion. It now only destroys 2-3 trucks, not 5-7.
Despite my attempts, I think the aircraft still accelerates too fast. I'm still learning these flight models!
Takeoff speed is ~110 miles per hour. Landing speed is dependent on ordinance still carried. Minimum stall speed 96 mph.
---
Credits
Thanks to Mikoyanster for Area 88 map.
Thanks to MisterT for Stork Island map.
---
Gallery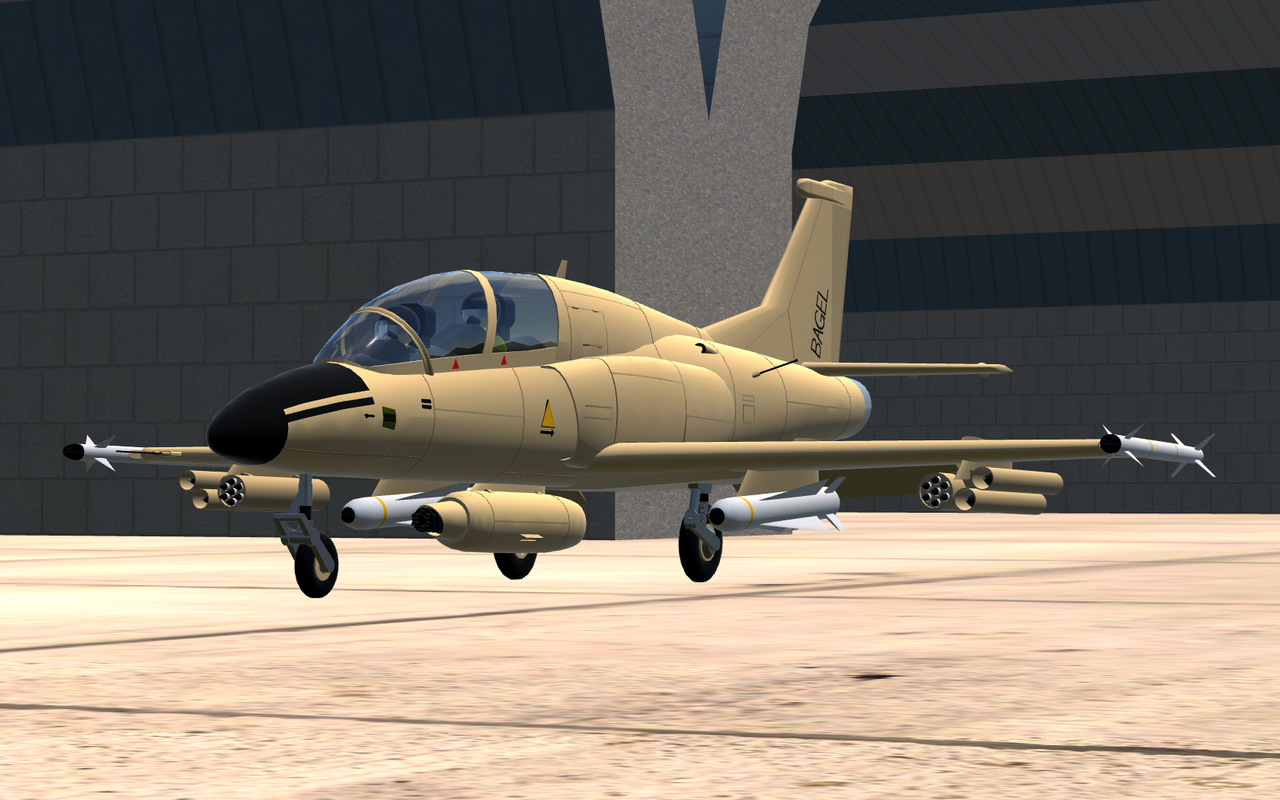 Taxi to runway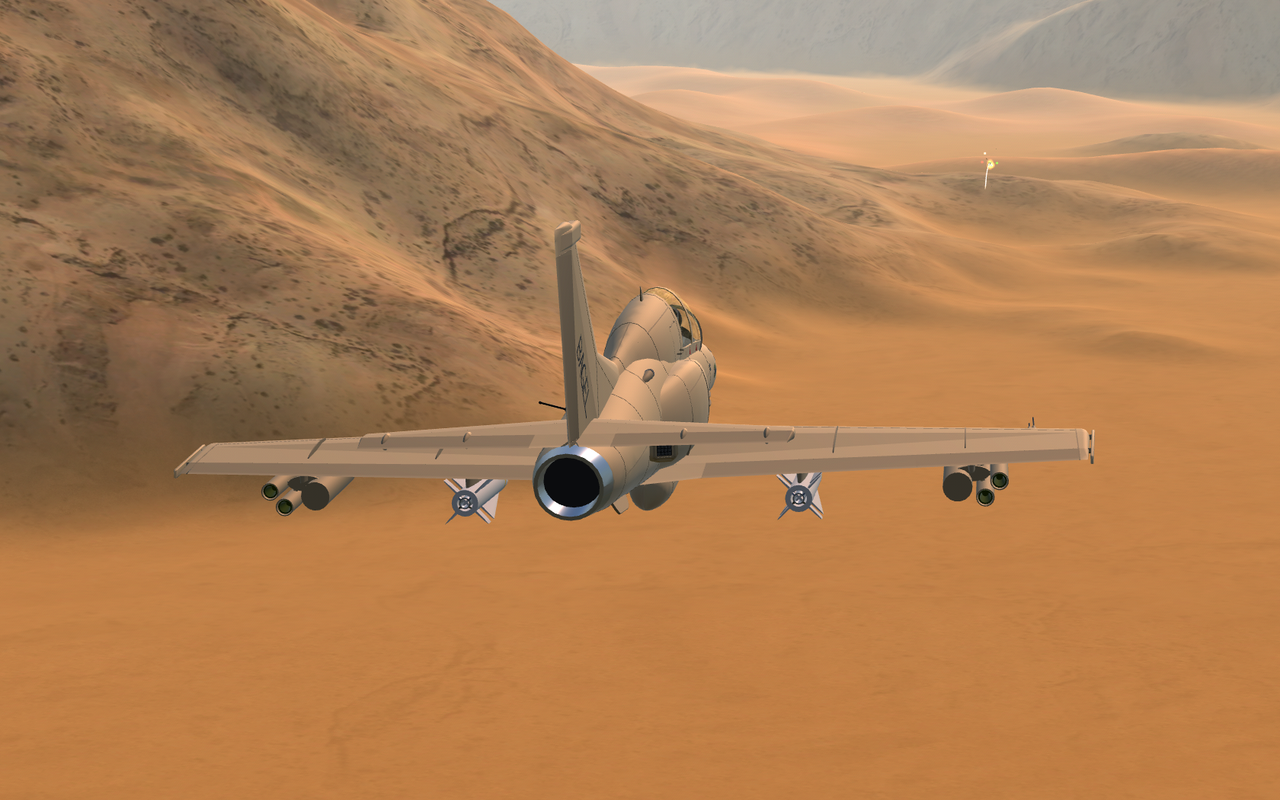 Splash-1 Bush Plane!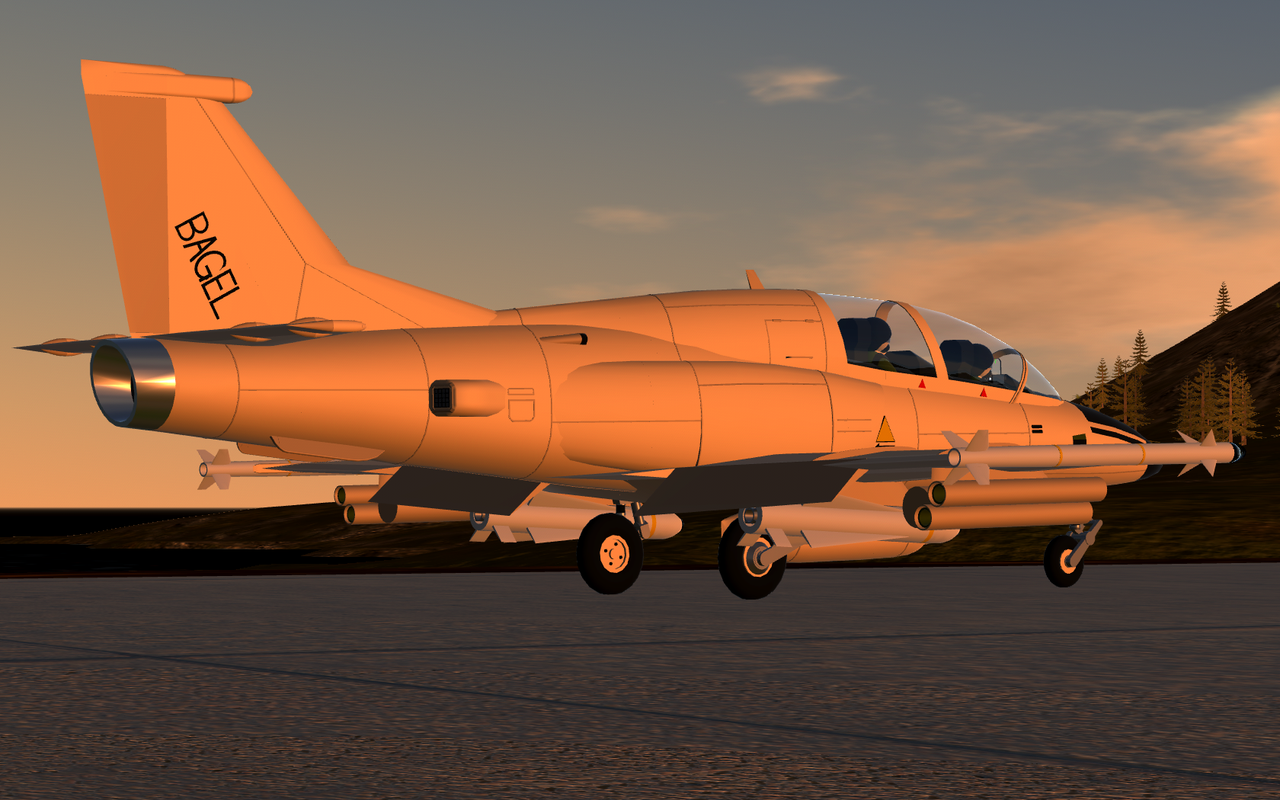 Sunset at Stork Island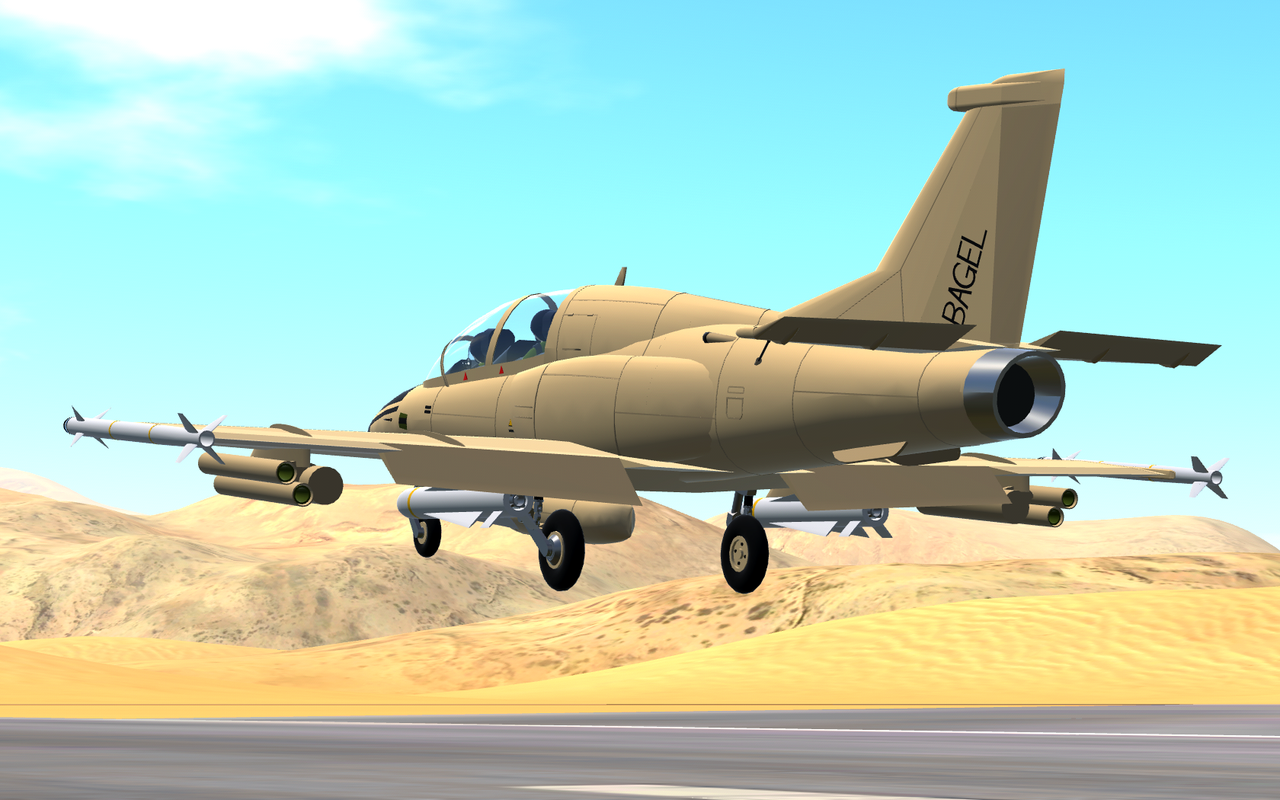 Takeoff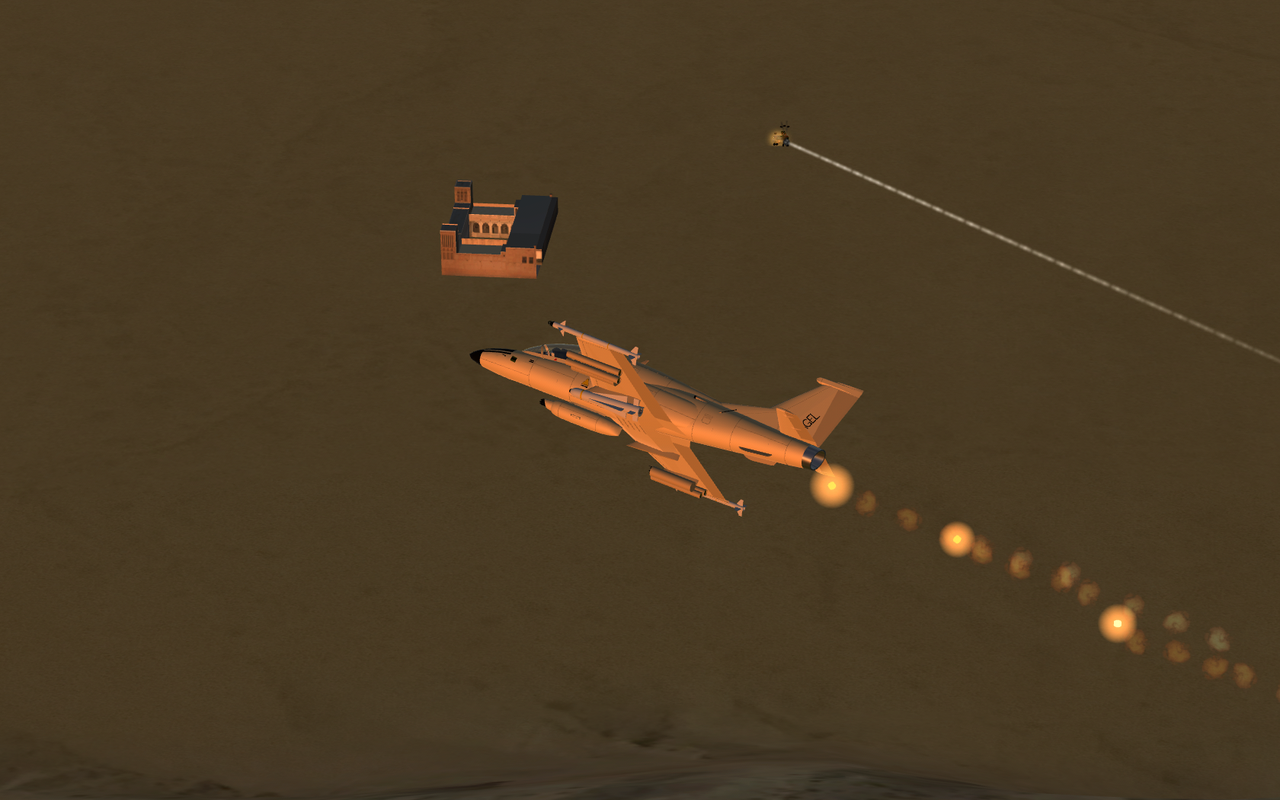 Pop Flares!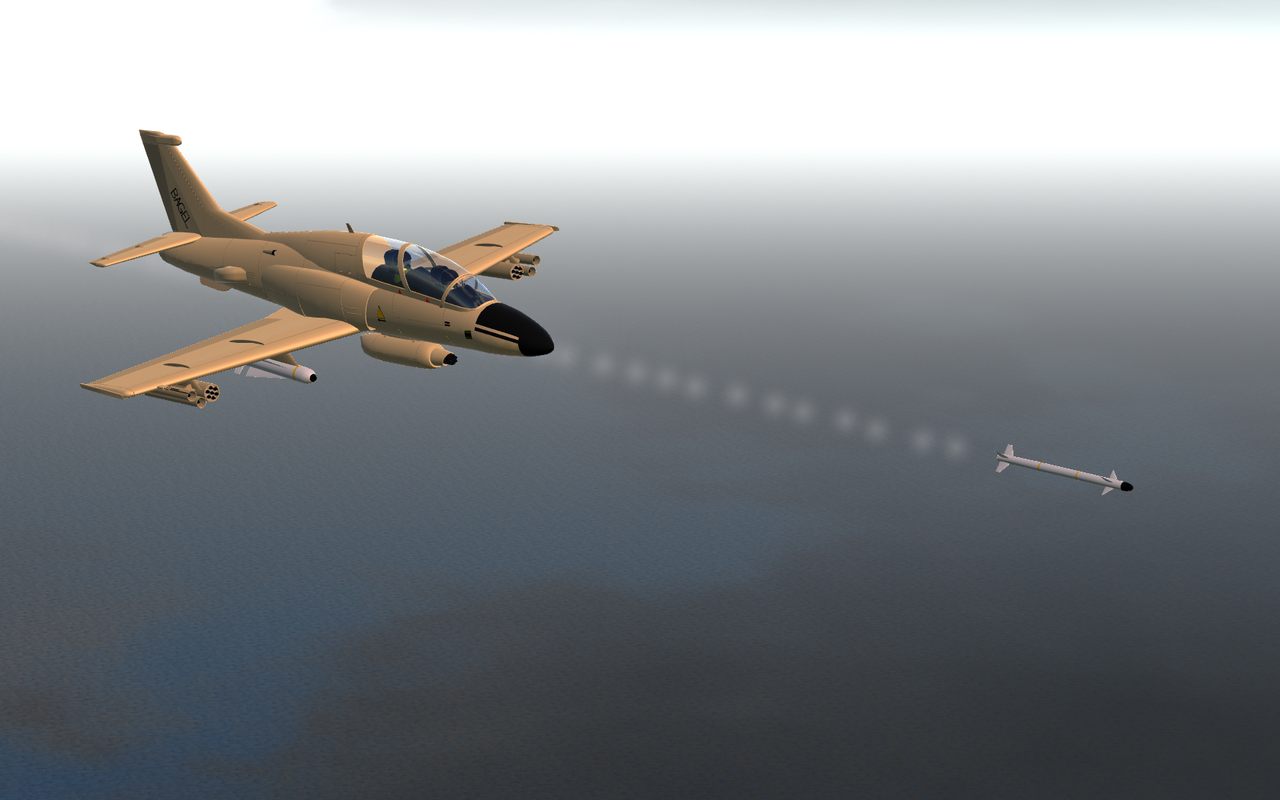 AIM-9X away!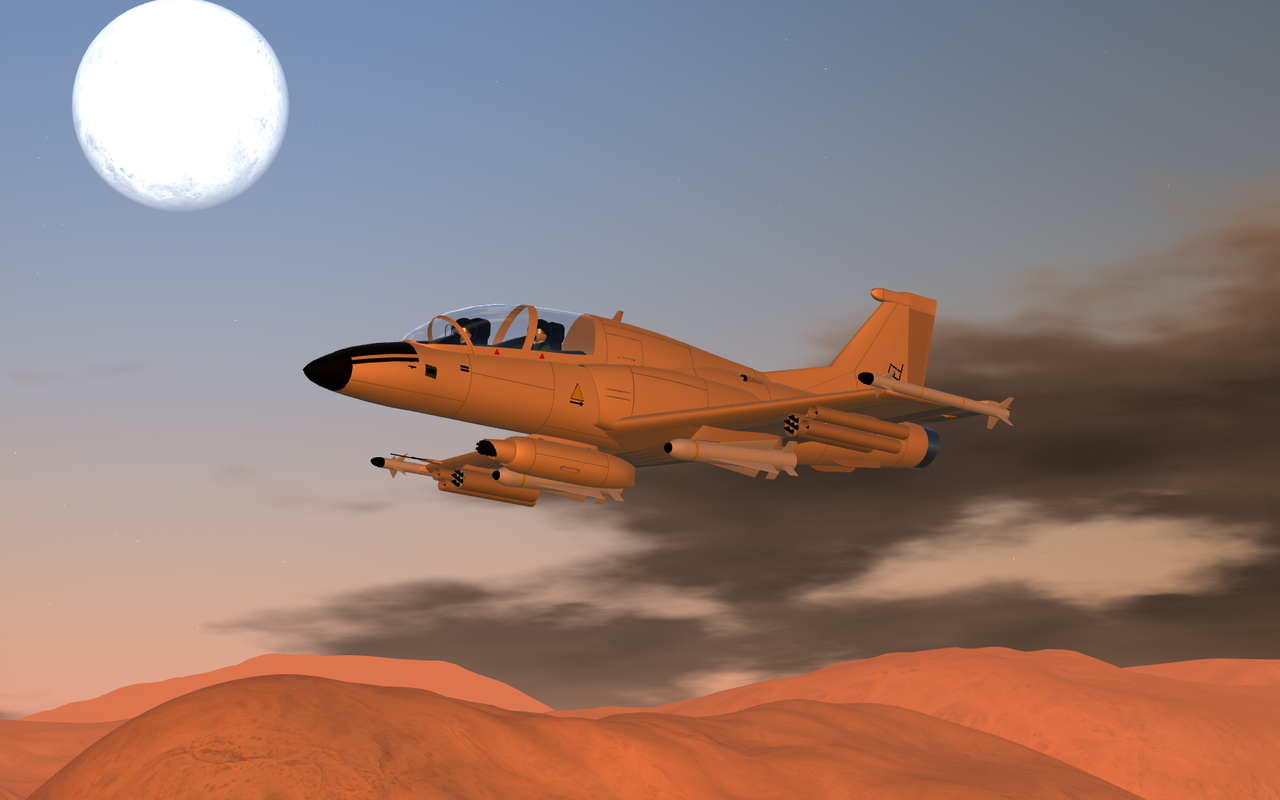 Evening flying
---
Well, I hope you all like the aircraft! It was fun to build, despite a few setbacks and time crunches. I'm eager to see how it does in the Counter-Terrorist Challenge! Happy flying!
Specifications
General Characteristics
Predecessor

Counter Terrorist Challenge

Created On

Windows

Wingspan

35.6ft (10.9m)

Length

40.6ft (12.4m)

Height

14.7ft (4.5m)

Empty Weight

6,930lbs (3,143kg)

Loaded Weight

9,950lbs (4,513kg)
Performance
Power/Weight Ratio

3.726

Wing Loading

10.0lbs/ft2 (49.0kg/m2)

Wing Area

991.6ft2 (92.1m2)

Drag Points

1000
Parts
Number of Parts

776

Control Surfaces

6
---