Pz.Kpfw.VI Ausf. B (VK 36.01)
Historical Background
---
The VK 36.01 project appeared due to Germany's pre-war "siege tank" program that began around 1937. The chassis evolved from when Henschel was tasked with building a 30 ton tank with a 75mm gun. Called the D.W (Durchbruchwagen), in 1938-'39 the design was enlarged slightly to keep the same internal volume as a Panzer IV. A more powerful V-12 engine with up to 400bhp was to power what was now known as the VK 30.01 (H). When it was clear that this design was falling behind in its capabilities efforts made to improve the armament. These were ultimately halted by the size of the turret ring. In 1940 specifications were laid out for a 30 ton tank with a 105mm main gun. Later on the 105 was dropped in favor for for the 75mm 0725 tapered bore gun. This tapered bore squeezed the 75mm projectile down to a diameter of 55mm, thus increasing velocity. There were also several downsides to this gun. The barrels wore out quickly, it was still just a little too big to fit in the turret comfortably, and most importantly, each round of waffe ammunition contained 1kg of tungsten for the core. Tungsten was a resource Germany did not have a whole lot of. So when it was determined that firing raw reichsmarks out of the guns was only slightly less effective, the waffe was dropped. The chassis continued to live on after plans for production were abandoned. The VK 36.01 used a similar semiautomatic transmission as what was to be used on the Tiger I. This allowed Henschel to iron out many issues of the drivetrain before moving on to the Tiger went into production. All the turrets that were produced became part of the Atlantic Wall with alternative armament to the 75mm waffe.
Controls
---
Hull Controls:
Ag-1= Activate MG's
Ag-3= Shut Drivers Visor
Ag-4= Open Hatches
Ag-5= Change Crew Position
Ag-7= Open Engine Hatches
Ag-8= Turn Off Headlights
Roll= Steer Hull
Pitch= Forward/Reverse
Landing Gear= Handbrake (use to steady tank for firing when on uneven terrain).
VTOL= MG horizontal control
TRIM= MG elevation
Turret Controls:
Ag-2= Activate Main Gun. Fire Guns to shoot.
Ag-4= Open Hatches
Ag-5= Change Crew Position
Yaw= Turret Traverse
VTOL= Turret Horizontal Fine Adjustment.
TRIM= Gun Elevation
Features
---
1:1 scale
Semi accurate interior
Semi accurate maybach engine
Realistic scope reticle
Opening hatches
Changing crew positions.
Accurate APCR ammunition
Detailed engine bay
Functioning brakelights
And many more!
Gallery
---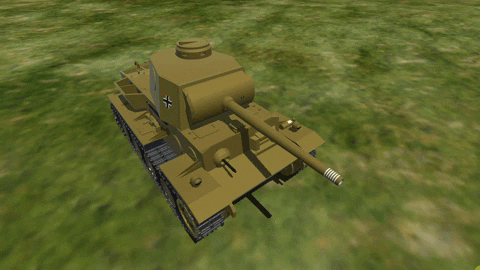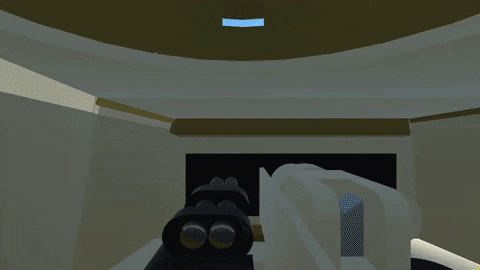 VK chassis during trials driven by Albert Speer (Minister of Armaments) with Ferdinand Porsche (in cap) riding as well.

The operating principle behind squeezebore guns including the 0725 waffe. Note "tungsten" core.

Turrets designed by Krupp to house the 0725 waffe gun sitting in a Krupp warehouse.

Prototype Wooden mockup of the turret for the Tiger Ausf. H1 designed by Rheinmetall
Notes
---
I know the turret on this isnt historically accurate, I wanted to build the version that I had in World of Tanks. Hence Tiger prototype turret with Waffe 75mm, and two Marks of Excellence.
This is the first tank that I two marked in World of Tanks, and one that I did so accidentally. Its not one of the best tanks but it holds a special place in my garage with its squeezebore main gun that I cant help but like. This is also one of the longest running projects I have ever done, having started it over 7 months ago. I was trying to do it modless but the suspension would make the tank vibrate for some reason. But thanks to the tracks 2 mod I could finally complete it with a relatively high degree of satisfaction. I added a bunch of novel features that I think are firsts for tanks in SP like the changing of the crew positions, detailed engine bay, and 360 degree rotating turret. I hope you guys like them!
Specifications
General Characteristics
Successors

1 airplane(s)

Created On

Windows

Wingspan

11.9ft (3.6m)

Length

24.3ft (7.4m)

Height

10.0ft (3.1m)

Empty Weight

81,539lbs (36,985kg)

Loaded Weight

82,240lbs (37,303kg)
Performance
Power/Weight Ratio

0.546

Wing Loading

81,497.8lbs/ft2 (397,907.3kg/m2)

Wing Area

1.0ft2 (0.1m2)

Drag Points

8197
Parts
Number of Parts

881

Control Surfaces

0
---