A shape-shifting fighting mecha. Have you seen it?
The Cormorant is an advanced fighting machine designed for reconnaissance, assault, ambush, frontal fire, urban warfare, special operations, etc. It has flying ability and powerful firepower, but the ground movement is slow and the armor is not good enough. It is an excellent mech in Battle Titans. The weapon is equipped with large caliber automatic cannon, medium caliber rotary gun, and tactical nuclear rockets.
How to operate :AG1 starts the large caliber cannon and the weapon lock function is activated, AG3 disables part of the weapon, AG4 disables part of the armor,A direct fire weapon will automatically lock on to a target within 30° of the front view,Throttle controls the walking speed, Yaw controls the forward direction, Roll controls the turret orientation, and LandingGear controls the take-off deformation. When flying, YAW adjusts the orientation, Roll controls the yaw, Pitch controls the pitch, and VTOL controls the climb and descent.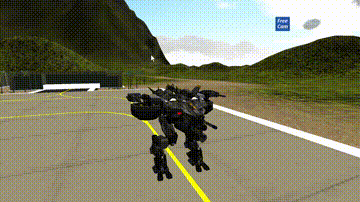 My friends @Finndian74 are like the skeleton of Cormorant. Without his help, Cormorant would never have stood up.Meanwhile, thanks to @Wizard2017 and @Joshuaw, you are also vital. In addition, you are also vital to the success of the project. and@NewmanSTAR Get your ass over here, I know you can't wait for anymore! I also want to thank the people who have supported me. Your expectation has been my greatest motivation! Love you
6rgpv9.png" />
Specifications
General Characteristics
Created On

Windows

Wingspan

47.5ft (14.5m)

Length

45.1ft (13.7m)

Height

37.6ft (11.5m)

Empty Weight

23,962lbs (10,869kg)

Loaded Weight

60,867lbs (27,608kg)
Performance
Power/Weight Ratio

2.99

Wing Loading

282.7lbs/ft2 (1,380.4kg/m2)

Wing Area

215.3ft2 (20.0m2)

Drag Points

606
Parts
Number of Parts

2285

Control Surfaces

8
---