Greetings!
Welcome to the new-and-improved (for a third time) SimplePlanes Weekly. The new focus of this publication is to review the top planes of the week. But first, let's get into the news.
SimplePlanes News:
Now here's my review of the top 3 highest rated planes of the past week:
#3
Looks:
The wing structure is really nice and the fuel lines from the engine to the inlet is a great little detail. Could really use some more detail though; there's no logos or wording or anything like that. Inlet structure looks a little off, but that may actually be a realistic detail (I'm not too familiar with the real life design.)
6/10
Flight:
It was almost impossible to take off; plane is extremely unstable on the ground. Once I flew off a cliff it went airborne, and then the flight was decent enough. Sad to say, this level of instability is really distracting from an otherwise good plane.
2/10
Overall, the plane looks pretty good and once in the air it flies decently. It's just unfortunate that it's so hard to control while taking off.
5/10
#2
QingyuZhou's "Emeriates Airbus A380"


Looks:
Absolutely fantastic. I can only imagine how hard the Arabic lettering was to build, but it was worth it. Cockpit looks great, and custom landings gears work really well and look good. There's a constant skidding-noise while on the ground that keeps this from getting 10/10.
9/10
Flight:
For once, a SimplePlanes craft actually feels and look like flying an airliner. The way it moves and spins looks exactly like real life. The only weird thing is that I wasn't able to get more than about 300MPH out of it. Might have been user error, but it was pretty deterrent from the rest of the otherwise amazing flight.
9/10
Summary:
A perfect mix of detail and realism makes this one of the best airliners I've seen in awhile. The strange noise while on the ground and the low overall speed subtracts one point from an otherwise flawless build.
9/10
#1
Mmdben's "EWR 101 VJ X-2 (My First Replica)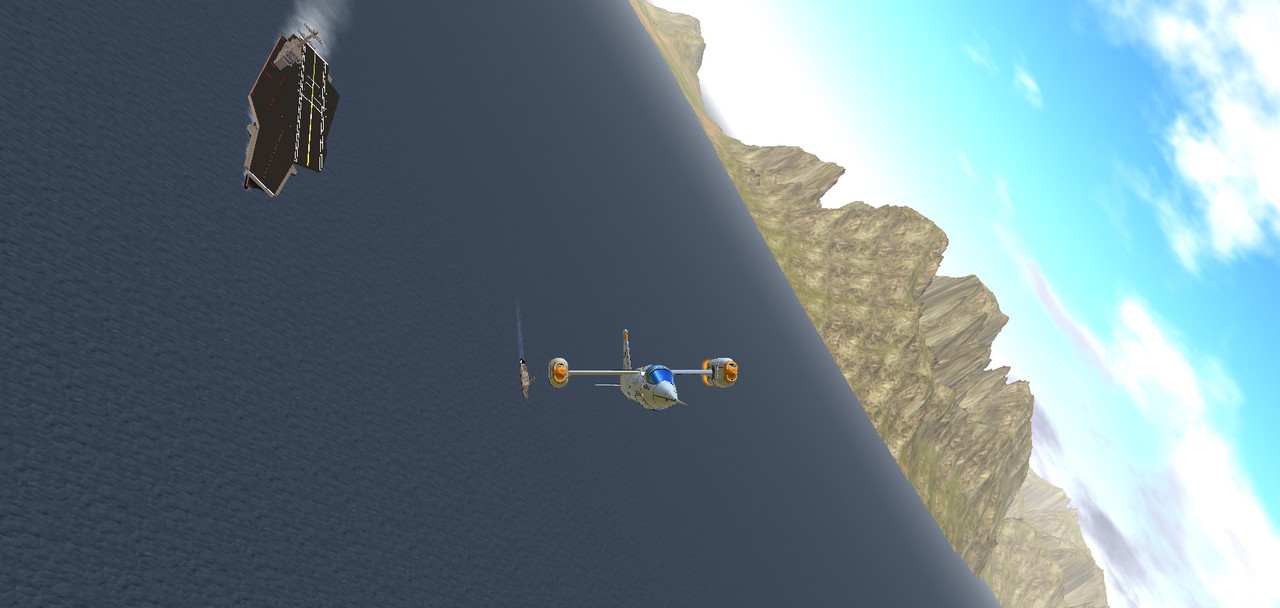 Looks:
Epic. Everything on this plane is awesome, from the fuselage details to the amazing-looking engines. Lettering looks a little rough, but it's still pretty good.
9/10
Flight:
The entire flight was really fun. The plane is stable and doesn't drive or rise too much by itself. AG 5 activates your weapons, turning it into a formidable war plane. When you fire the gun, small bits of non-essential fuselage are destroyed, creating a really cool smoke effect. The missiles are balanced as regards their power.
Before this plane, I was never able to pull off a VTOL landing, but it was ridiculously easy.
10/10
Summary:
This is definitely the best plane of the week, and Mmdben really showed off his talent in both looks and flight performance. This plane is a must-fly for anyone.
10/10
Special Mention:
I suggested to Axartar that he build an "AT-AT Swimmer" from Star Wars. In just a few hours, we released two teasers and the final upload. With such little time, you'd expect the end result to be lacking in some regard. Well Axartar is truly a miracle worker, because everything about his AT-AT Swimmer is spot-on. It looks exactly like it would in-universe, and it performs very well. Huge shoutout to Axartar for such an amazing build.
That's all for this week's edition of the SimplePlanes Weekly. Happy flying!
-The Awsomur