The North American Aviation P-51 Mustang is an American long-range, single-seat fighter and fighter-bomber used during World War II and the Korean War, among other conflicts. The Mustang was designed in 1940 by North American Aviation (NAA) in response to a requirement of the British Purchasing Commission. The Purchasing Commission approached North American Aviation to build Curtiss P-40 fighters under license for the Royal Air Force (RAF). Rather than build an old design from another company, North American Aviation proposed the design and production of a more modern fighter. The prototype NA-73X airframe was rolled out on 9 September 1940, 102 days after the contract was signed, and first flew on 26 October.
This is my replica of a P-51D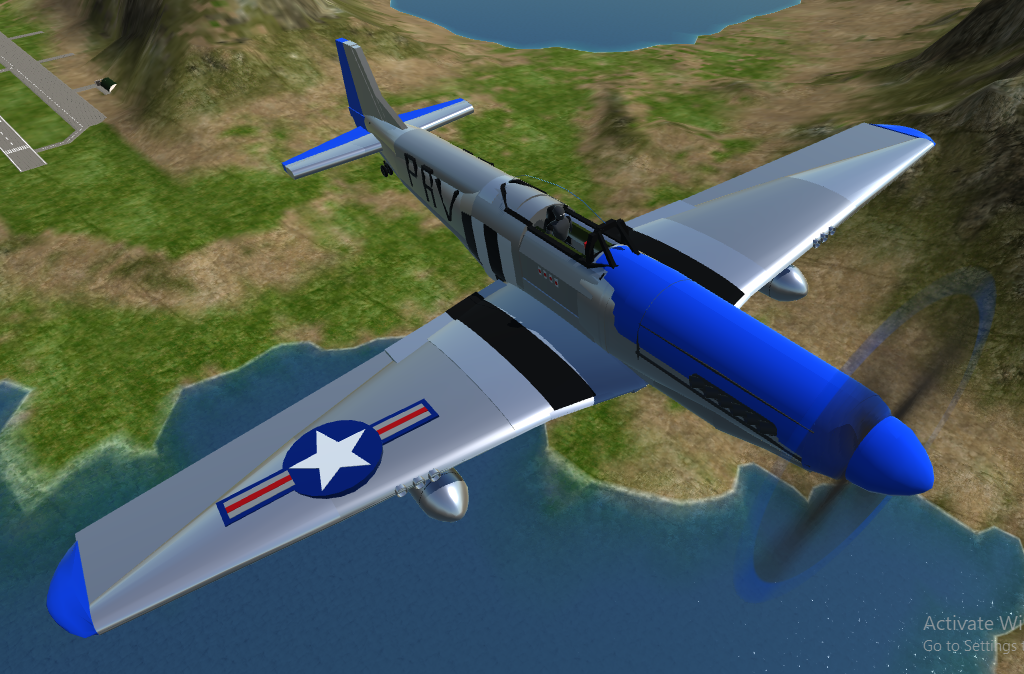 Armament:
6X.50 cal machine guns
Features:
-Cockpit view
-Angled guns (the bulets should meet at a certain distance forming a kill zone)
-Kill marks and other cool details
-Dropable fuel tanks (press 1 to drop them)
Credits :
-Thanks to HistoricBirds for various opinnions on different aspects and for the lovely paintjob
-Thanks to you for clicking/tapping/iTapping on this post
Have fun!
Specifications
General Characteristics
Predecessor

P-51D Mustang

Successors

1 airplane(s)

Created On

Windows

Wingspan

37.4ft (11.4m)

Length

35.8ft (10.9m)

Height

11.7ft (3.6m)

Empty Weight

-27,770lbs (-12,596kg)

Loaded Weight

7,533lbs (3,417kg)
Performance
Horse Power/Weight Ratio

1.168

Wing Loading

25.3lbs/ft2 (123.5kg/m2)

Wing Area

297.8ft2 (27.7m2)

Drag Points

6921
Parts
Number of Parts

277

Control Surfaces

10
---