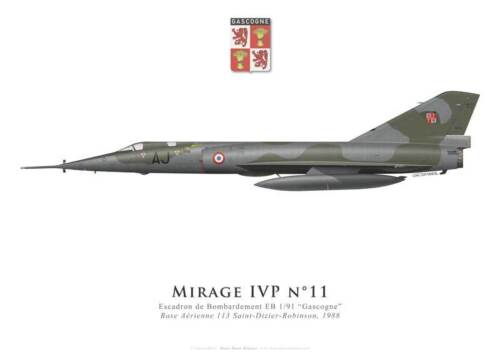 Act. 1 - Activate RATO - 10 seconds of sustained thrust, delayed activation. They will drop after 15 seconds, so it's best to activate them at about 100mph.
Act. 2 - Airbrakes
Act. 3 - Parachute
Act. 8 - Toggle nosewheel steering
No flaps, but you should be using trim liberally.


The Mirage IVP was the penetration variant of the Mirage IVA. Equipped with an oblique doppler radar underneath the fuselage, it was meant to carry out high speed penetration missions into Soviet airspace. Tests were done using an ASMP (Air-Sol Moyenne Portée) nuclear missile, but it was never used in combat. Instead, the IVP was mostly used as a recon aircraft with a large pod where the missile would have been. It could also carry optional drop tanks and ECM pods on the 4 wing hardpoints. The tanks were left out of this recreation because the more droppable things, the more the landing gear freaks out on landing. Mirage IVP "CF" served with the Escadron de Bombardament 1/91 "Gascogne" (later Escadron de Reconnaissance Stratégique) from 1964 to 2005. In its last year before retirement, it was redecorated into the C'est Fini livery to commemorate the final flights of the Mirage IV.


Basis for inspiration:


I had a lot of fun building this, and I hope you have fun as well!
Specifications
General Characteristics
Predecessor

French Air Force Challenge

Created On

Windows

Wingspan

39.8ft (12.1m)

Length

76.1ft (23.2m)

Height

20.9ft (6.4m)

Empty Weight

31,456lbs (14,268kg)

Loaded Weight

60,501lbs (27,443kg)
Performance
Power/Weight Ratio

2.451

Wing Loading

88.0lbs/ft2 (429.4kg/m2)

Wing Area

687.9ft2 (63.9m2)

Drag Points

1351
Parts
Number of Parts

1147

Control Surfaces

1
---