Auto Credit
Based on DerekSP's
144
The World's First SST
(P.S. Those pink trees in the second photo is a Mod glitch. Yes I am using 1.8 Beta.)
The Tupolev Tu-144 (Russian: Ty????? ??-144; NATO reporting name: Charger) is a retired jet airlinerand commercial supersonic transport aircraft (SST).[2] It is one of only two SSTs to enter commercial service; the first was the Anglo-French Concorde. The design was a product of the Tupolevdesign bureau, headed by Alexei Tupolev, of the Soviet Union and manufactured by the Voronezh Aircraft Production Association in Voronezh, Russia.[1] It conducted 55 passenger service flights, at an average service altitude of 16,000 metres (52,000 ft) and cruised at a speed of around 2,000 kilometres per hour (1,200 mph) (Mach 1.6).[3] The prototype first flew on 31 December 1968 near Moscow,[1] two months before the first flight of Concorde. The Tu-144 first went supersonic on 5 June 1969[4] (Concorde first went supersonic on 1 October 1969), and on 26 May 1970 became the first commercial transport to exceed Mach 2. A Tu-144 crashed in 1973 at the Paris Air Show, delaying its further development. The aircraft was introduced into passenger service on 1 November 1977, almost two years after Concorde, because of budget restrictions. In May 1978, another Tu-144 (an improved version, the Tu-144D) crashed on a test flight while being delivered, and the passenger fleet was permanently grounded after only 55 scheduled flights. The aircraft remained in use as a cargo aircraft until 1983, by which point a total of 102 commercial flights had been completed. The Tu-144 was later used by the Soviet space program to train pilots of the Buranspacecraft, and by NASA for supersonic research.
Controls
AG1+VTOL Down lowers the nose
AG2 Triggers the parachutes
AG3+VTOL Down Slings back the canards
AG6 Activates Lights
Hope you guys enjoy my best plane that I have built!
Special Thanks
I just wanted to give a shout out to my pals who have helped me create this sexy machine. I love you all with my thanks!!
A Special Slide Here. Please Read It.
Pictures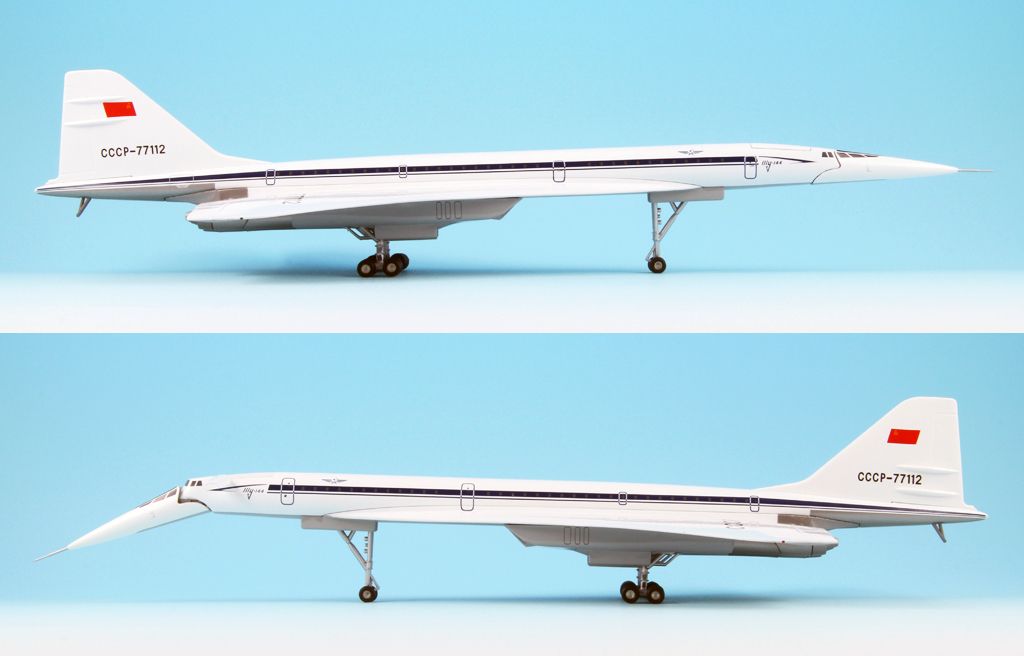 My Favorite
Specifications
General Characteristics
Predecessor

144

Successors

1 airplane(s)

+14 bonus

Created On

Android

Wingspan

75.3ft (23.0m)

Length

154.3ft (47.0m)

Height

36.8ft (11.2m)

Empty Weight

43,591lbs (19,772kg)

Loaded Weight

81,202lbs (36,832kg)
Performance
Power/Weight Ratio

2.075

Wing Loading

48.3lbs/ft2 (236.0kg/m2)

Wing Area

1,680.1ft2 (156.1m2)

Drag Points

20990
Parts
Number of Parts

175

Control Surfaces

7
---