A man has fallen into the river in Lego City!
Start the new rescue helicopter!
H E Y !
Build the helicopter, and off to the rescue!
AG 8 turns on engines and gyros
Throttle for rotor pitch
VTOL up to fly forward
Trim for trim
Pitch, Roll, Yaw as usual
Prepare the life line! Lower the stretcher!
And make the rescue!
VTOL down to lower the winch
AG1 to open side doors
AG2 to open rear door
The new emergency collection from LEGO City!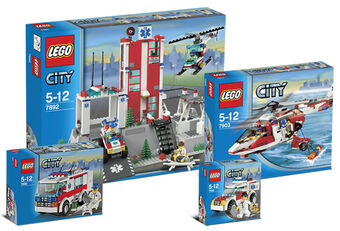 TBH I used to have all of the sets here except the hospital
Specifications
General Characteristics
Successors

2 airplane(s)

+98 bonus

Created On

Windows

Wingspan

52.5ft (16.0m)

Length

57.1ft (17.4m)

Height

18.3ft (5.6m)

Empty Weight

11,460lbs (5,198kg)

Loaded Weight

17,130lbs (7,770kg)
Performance
Power/Weight Ratio

0.983

Horse Power/Weight Ratio

0.014

Wing Loading

15.3lbs/ft2 (74.5kg/m2)

Wing Area

1,122.1ft2 (104.3m2)

Drag Points

15758
Parts
Number of Parts

312

Control Surfaces

0
---