(English version at the bottom of the page )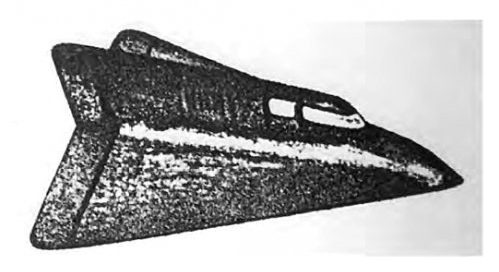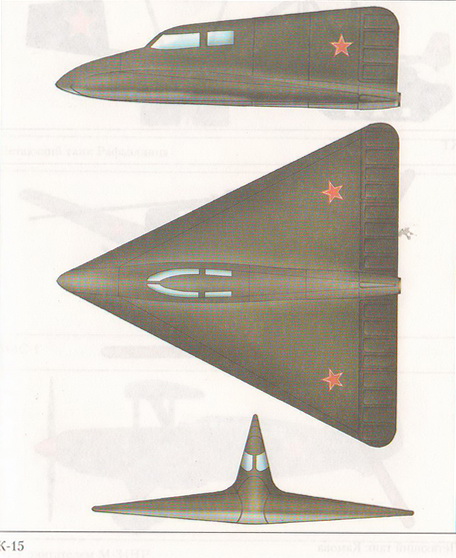 Le Kalinin K-15 était un avion expérimental propulsé par un moteur fusée conçu par l' ingénieur soviétique
Konstantin Alekseevich Kalinin dans les années 1930 . Il est resté au stade de la conception .
Dans les années 1930, le groupe de reflexion et de conception dirigé par Kalinin a émis l'hypothèse d'exploiter
la force de réaction comme moyen de propulsion d'un avion . Aux fins de la recherche , une série de modèles réduits
ont été construits et équipés d'un moteur endothermique rudimentaire basé sur les propriétés de combustion rapide de la poudre à canon .
Différents modèles ont été réalisés avec différentes configurations aérodynamiques , le plus efficace de se sont avérés être
une « aile delta pur sans empennage arrière . L'expérimentation a convaincu Kalinin de concevoir un avion pouvant exploiter ces
fonctionnalités , mais la technologie disponible au cours de ces années ne permettait toujours pas de réaliser un prototype fonctionnel .
Le modèle K-15 , c'est la désignation probable du modèle .Il aurait dû mesurer 10 m de long pour une envergure de 9,5 m .
Le projet n'a jamais été réalisé en raison de l'arrestation du concepteur lors des purges staliniennes , en 1938 .
C'est un modèle très peu reproduit . J'ai eu beaucoup de mal à reprodruire les formes très particulières de cet avion .
Toutes vos aides pour continuer ce modèle seront les bienvenues . J'ai eu beaucoup de mal à faire voler correctement ce prototype .
Mon modèle est volontairement simple pour que toutes les configurations puissent en profiter .
-Touche 1 : Moteurs fusées .
-Touche 8 : Blocage train avant .
-Trim : Vtol .
English version :
Kalinin K-15 was an experimental aircraft powered by a rocket engine designed by the Soviet engineer
Konstantin Alekseevich Kalinin in the 1930s. He stayed at the design stage.
In the 1930s, Kalinin's think-tank and design group speculated that
the reaction force as a means of propelling an airplane. For research purposes, a series of scaled models
were built and equipped with a rudimentary endothermic engine based on the fast burning properties of gunpowder.
Different models were made with different aerodynamic configurations, the most efficient of these proved to be
a "pure delta wing without tail tail. The experiment convinced Kalinin to design a plane that could exploit these
functionality, but the technology available in those years still did not allow for a functional prototype.
The K-15 model is the probable designation of the model. It should have been 10 meters long for a span of 9.5 meters.
The project was never realized because of the arrest of the designer during the Stalinist purges in 1938.
It is a model very little reproduced. I had a hard time reproducing the very special shapes of this plane.
All your help to continue this model will be welcome. I had a lot of trouble getting this prototype flying correctly.
My model is deliberately simple so that all configurations can enjoy.
-Key 1: Rocket engines.
-Key 8: Locking front axle.
-Trim: Vtol.
Specifications
General Characteristics
Created On

Windows

Wingspan

19.8ft (6.0m)

Length

19.9ft (6.1m)

Height

8.0ft (2.4m)

Empty Weight

13,266lbs (6,017kg)

Loaded Weight

16,844lbs (7,640kg)
Performance
Power/Weight Ratio

2.001

Wing Loading

70.7lbs/ft2 (345.3kg/m2)

Wing Area

238.2ft2 (22.1m2)

Drag Points

2700
Parts
Number of Parts

53

Control Surfaces

7
---