F-86F-2 Project "Gun-Val"
---
---
HI
One of the rarest if not the rarest Sabre to see combat is here in the sky of Simple Plane!!!!
Nothing much to say, detailed replica is not my thing my hair already falls off I don't have to pull them out of frustration lol.
Forgive me for the decals quality because I want to start to make my own somehow.
To make up for it I've add some feature here and there so you can enjoy flying it as much as I do.
---
Features:
Tracer and smoke effect for 20mm T-160 cannons. I simulated the spacing of tracer shells in the ammo belt too.

Custom landing gear.

Custom airbrakes

Cockpit with simulated G-force effect on pilot.

Angle of attack limiter for smooth flying.
Fully working flaps.
Black smoke from the engine.
Simulated control stiffening at high speed. (I based this on War Thunder RB/SB ,that was only source I can get my hands on.)
---
Controls:
VTOL: Flaps
AG1: Toggle tracer effect. (The red tracers is harmless, it is just for eye candy. I don't know exactly if T-160 cannon have tracer or not.)
AG2: Hardcore flyer switch. (Activate this to disable angle of attack limiter, it still flyable but if you pitch too much it will stall due to exceeding a critical aoa.)
AG3: Fun switch. (Activate this to disable G limiter)
AG8: Lights.


---
Gallery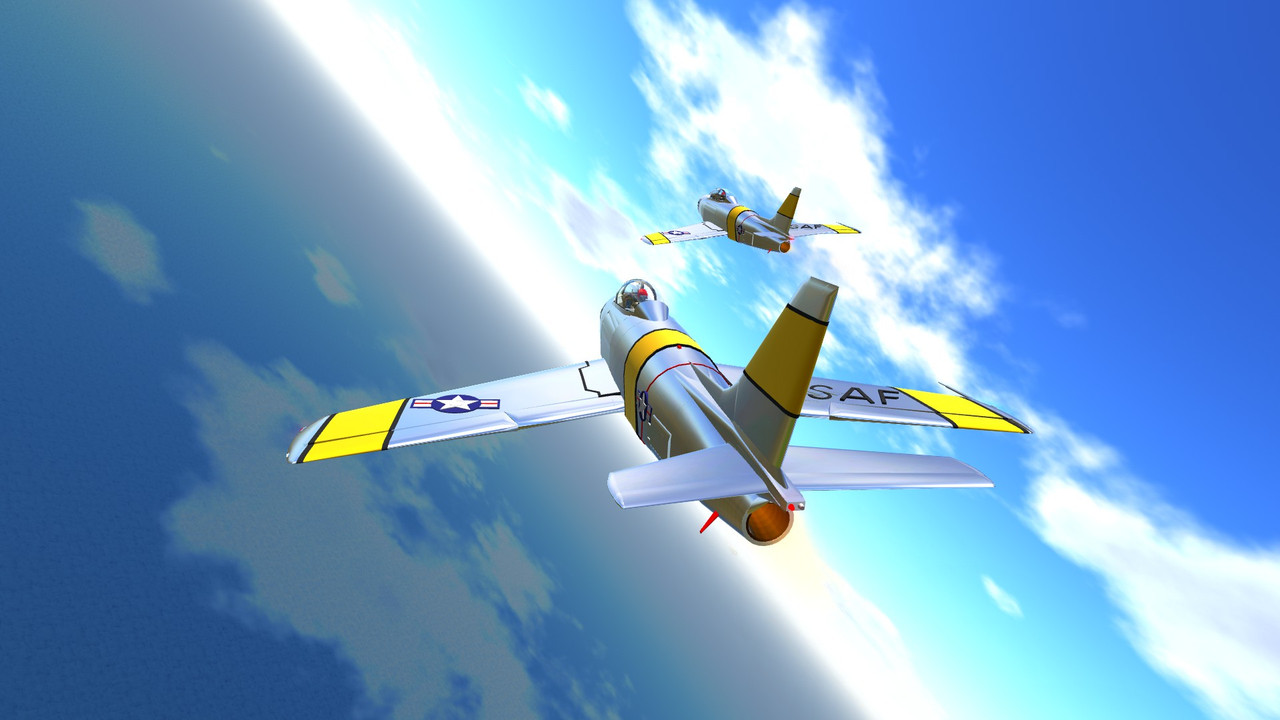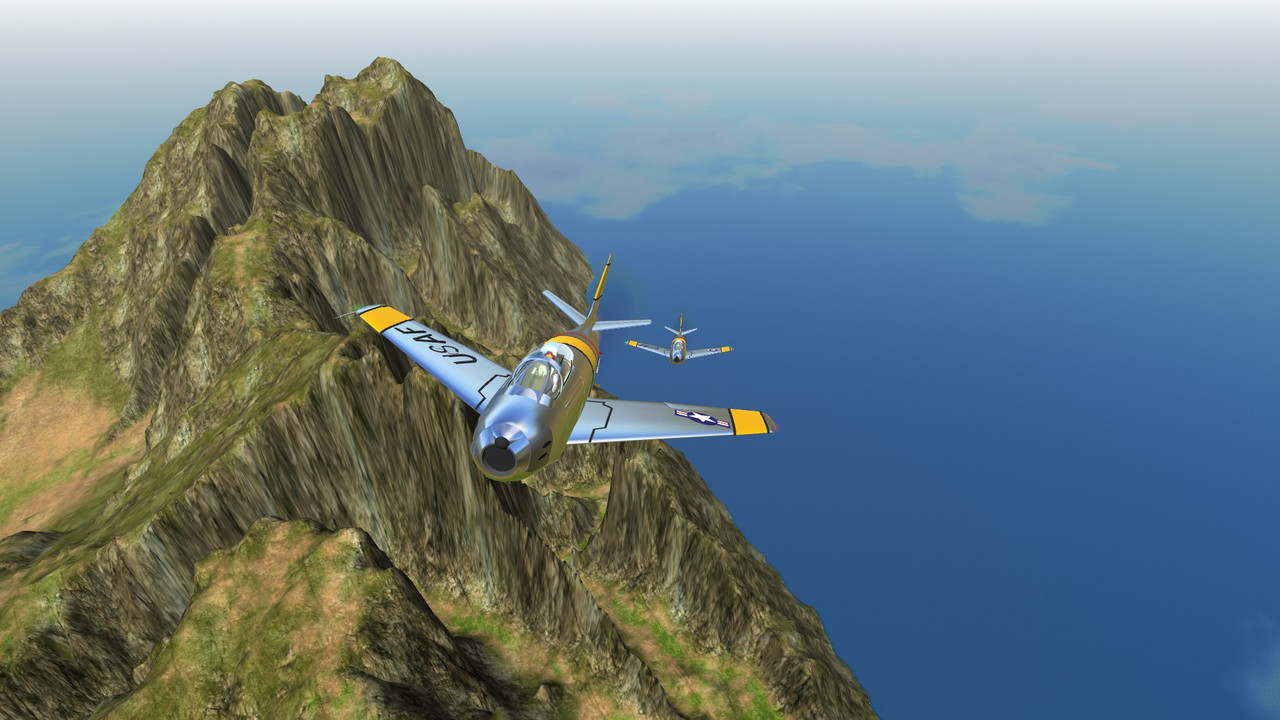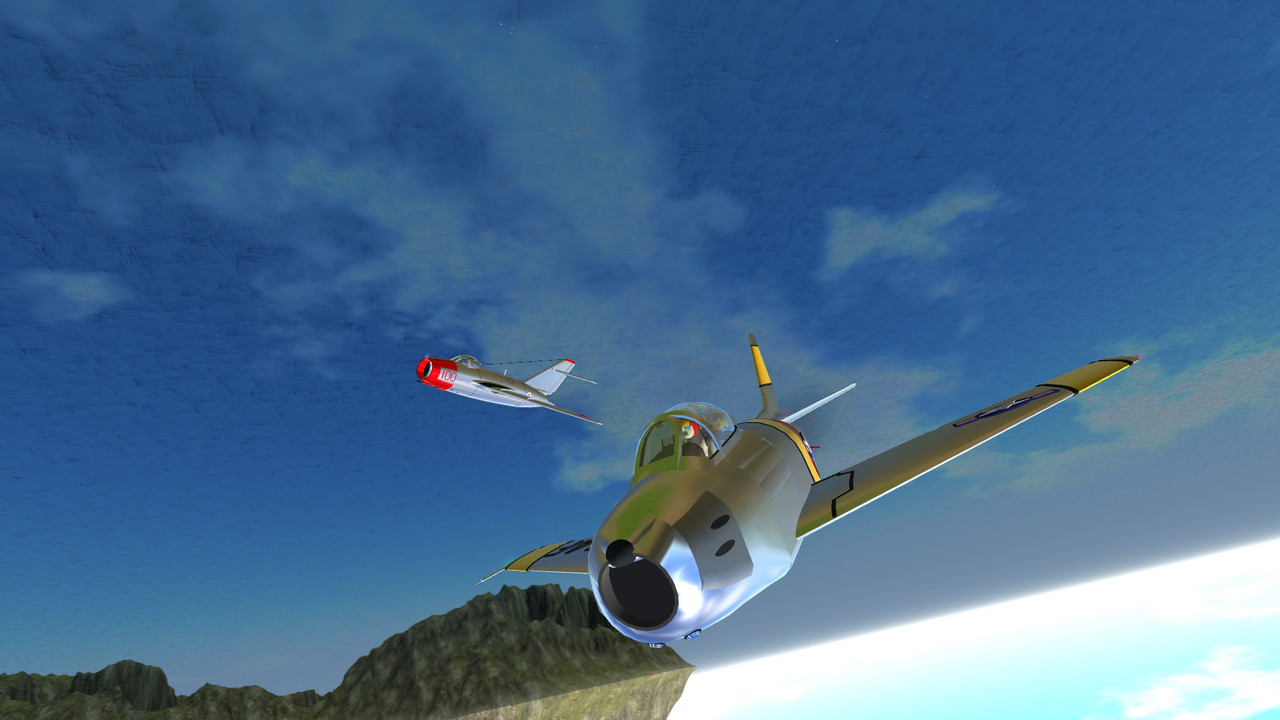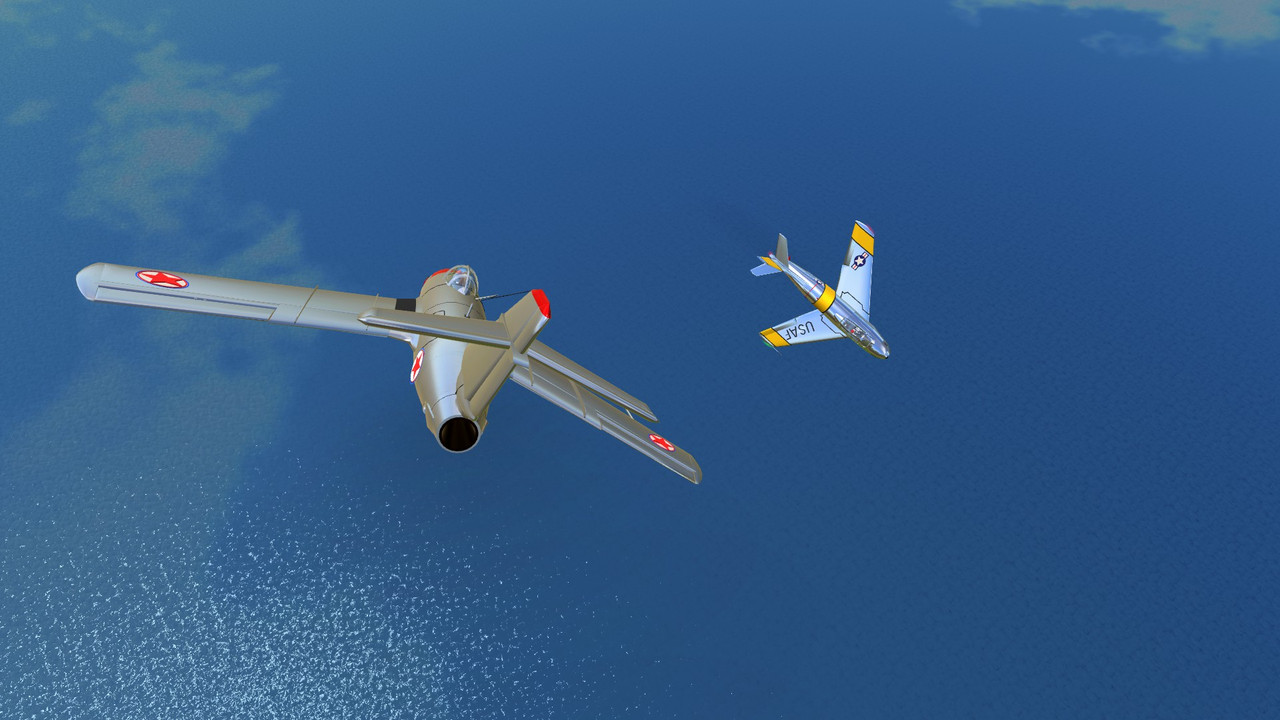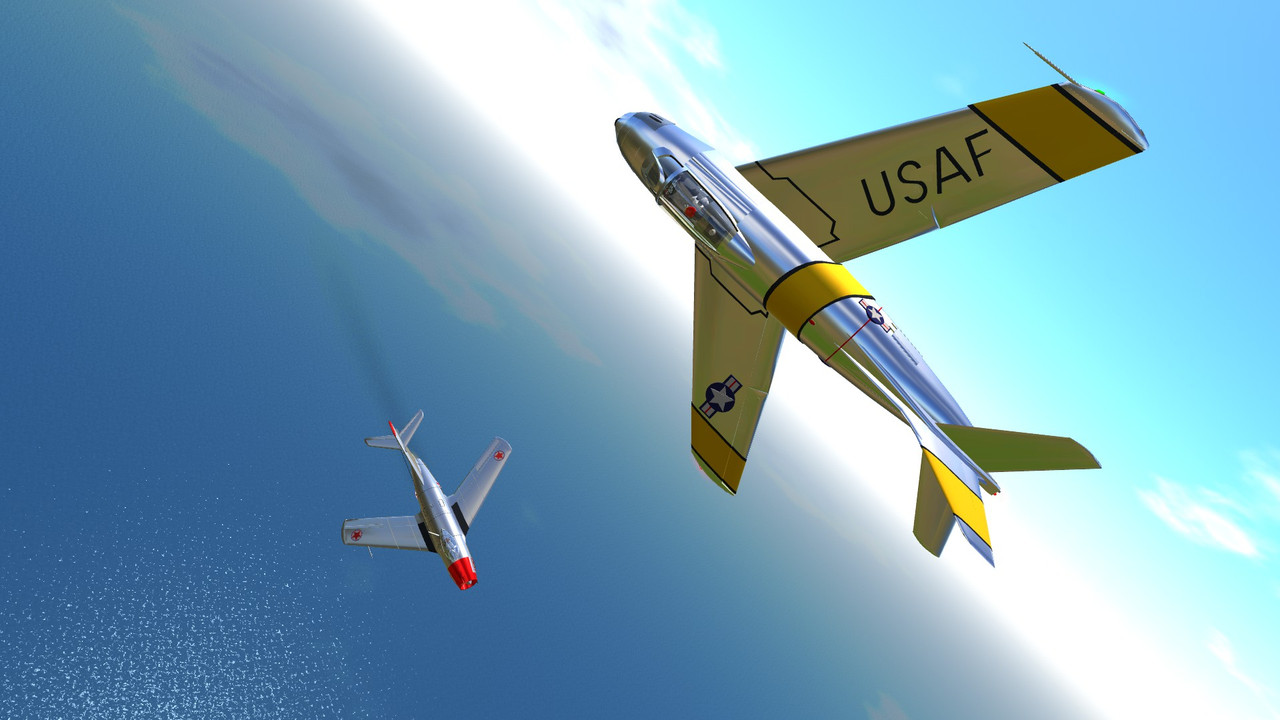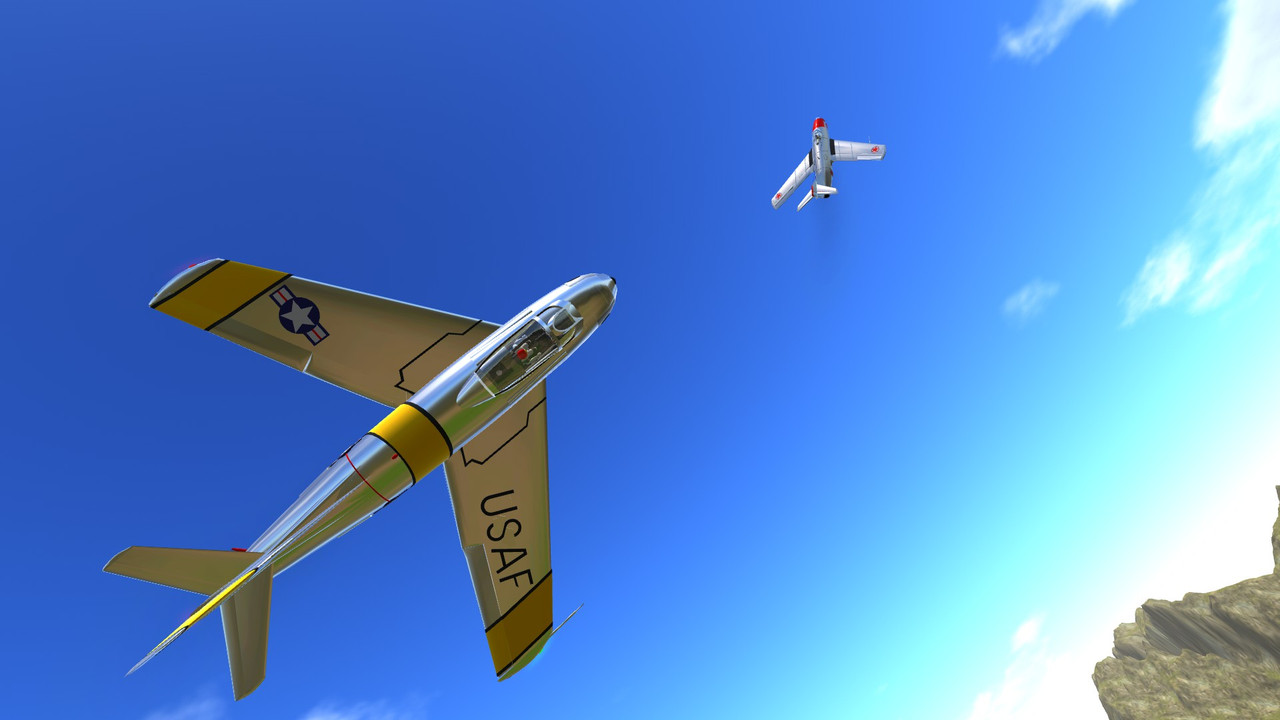 Want to fight MiG?
Here or Improved version Here
---
History
The Project "Gun-Val" is an attempt to buff up the firepower of the Sabre. Even though the six 0.50-inch machine guns of the Sabre had a high rate of fire, one of the primary complaints by Sabre pilots was that these guns really didn't pack enough punch to ensure a kill of every MiG that got into their gunsights. The MiG-15 was actually a fairly robust aircraft, one which could sustain a considerable amount of damage and still keep flying. About 2/3 of the MiGs shot by the Sabre actually made it back to their base.
Four F-86E-10s (serial numbers 51-2803, 2819, 2826 and 2836) and six F-86F-1s (serial numbers 51-2855, 2861, 2867, 2868, 2884 and 2900) were pulled off the North American assembly line and fitted with a quartet of T-160 20-mm cannon and redesignated F-86F-2-NA. The T-160 guns were belt-fed and were capable of firing 1500 rounds per minute. The gun mounts had to be strengthened and the nose structure around the guns had to be beefed up in order to handle the extra amount of recoil.
The cannon-armed Sabre project came to be known as Project Gunval. Eight F-86F-2s were transferred to the 4th Wing in Korea in January 1953 for actual combat tests. The Gunval project was assigned to the 335th FIS, commanded by LtCol Vermont Garrison. They fight over the North Korean sky for about 4-5 months before the test was complete and ultimately assigned to the Colorado Air National Guard "Minutemen" aerobatic team.
The test data of GunVal lead to the development of M-39 20mm cannon which found it's way to the F-86H and some Century Series of supersonic fighters.
---
Enjoy
Specifications
General Characteristics
Predecessor

1st Jetfighter Generation

Created On

Windows

Wingspan

39.6ft (12.1m)

Length

39.8ft (12.1m)

Height

16.0ft (4.9m)

Empty Weight

9,052lbs (4,106kg)

Loaded Weight

17,419lbs (7,901kg)
Performance
Power/Weight Ratio

0.774

Wing Loading

82.6lbs/ft2 (403.2kg/m2)

Wing Area

210.9ft2 (19.6m2)

Drag Points

556
Parts
Number of Parts

443

Control Surfaces

5
---