The DC-8-32 in Eastern 1960 Livery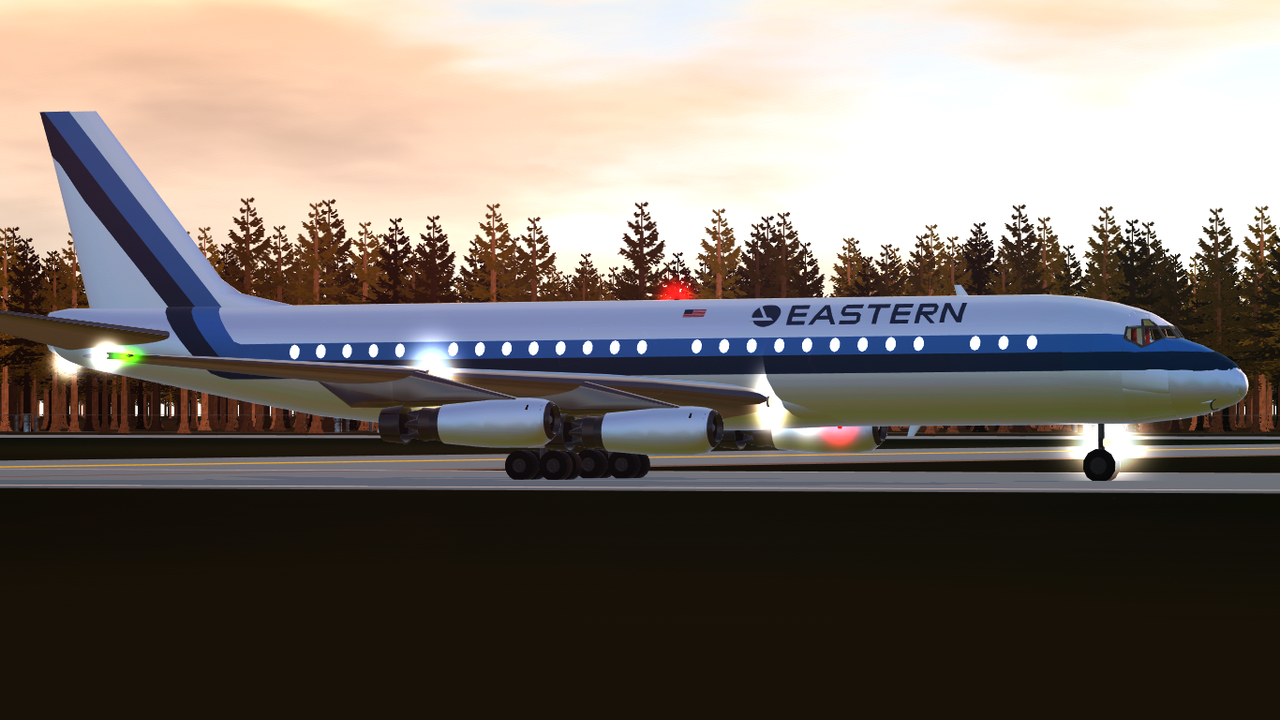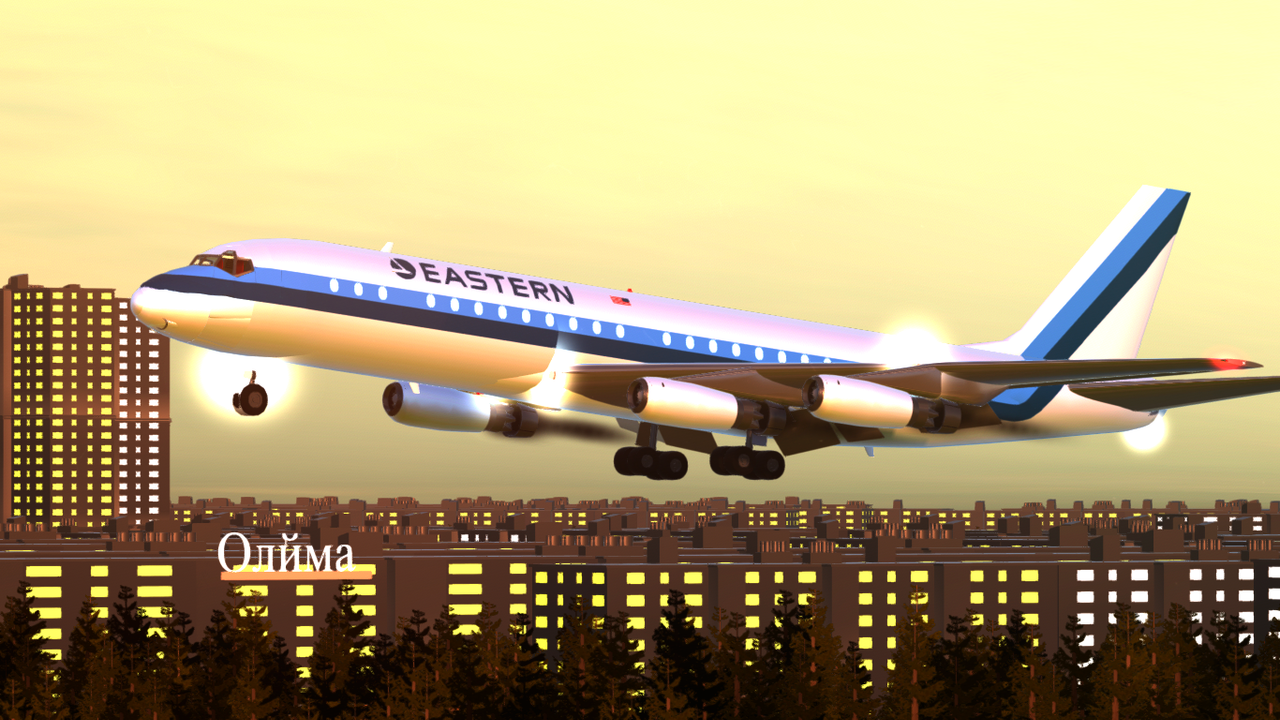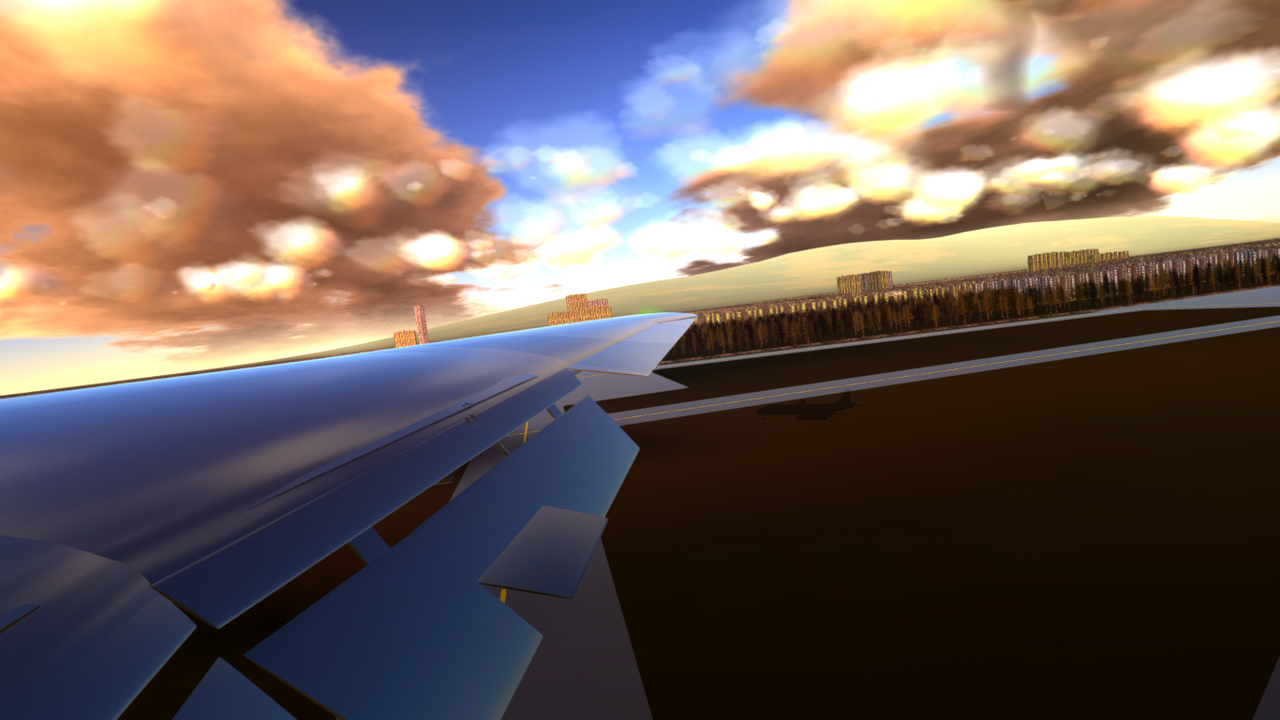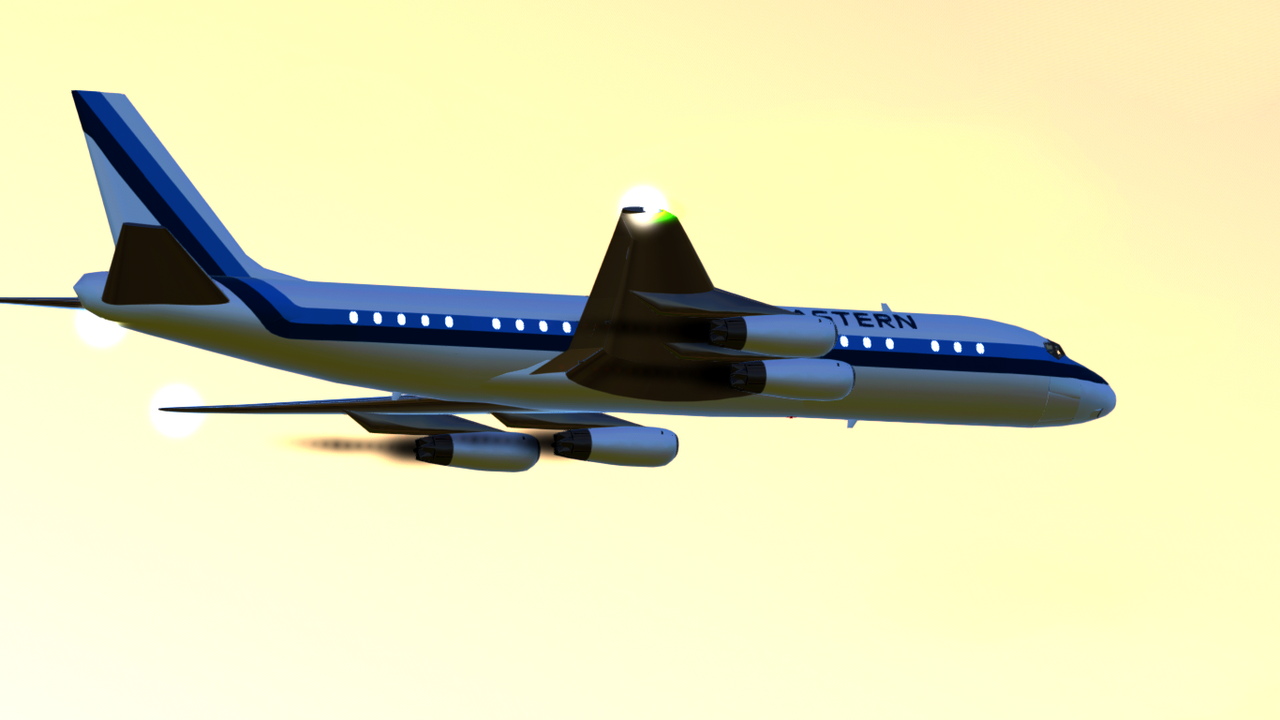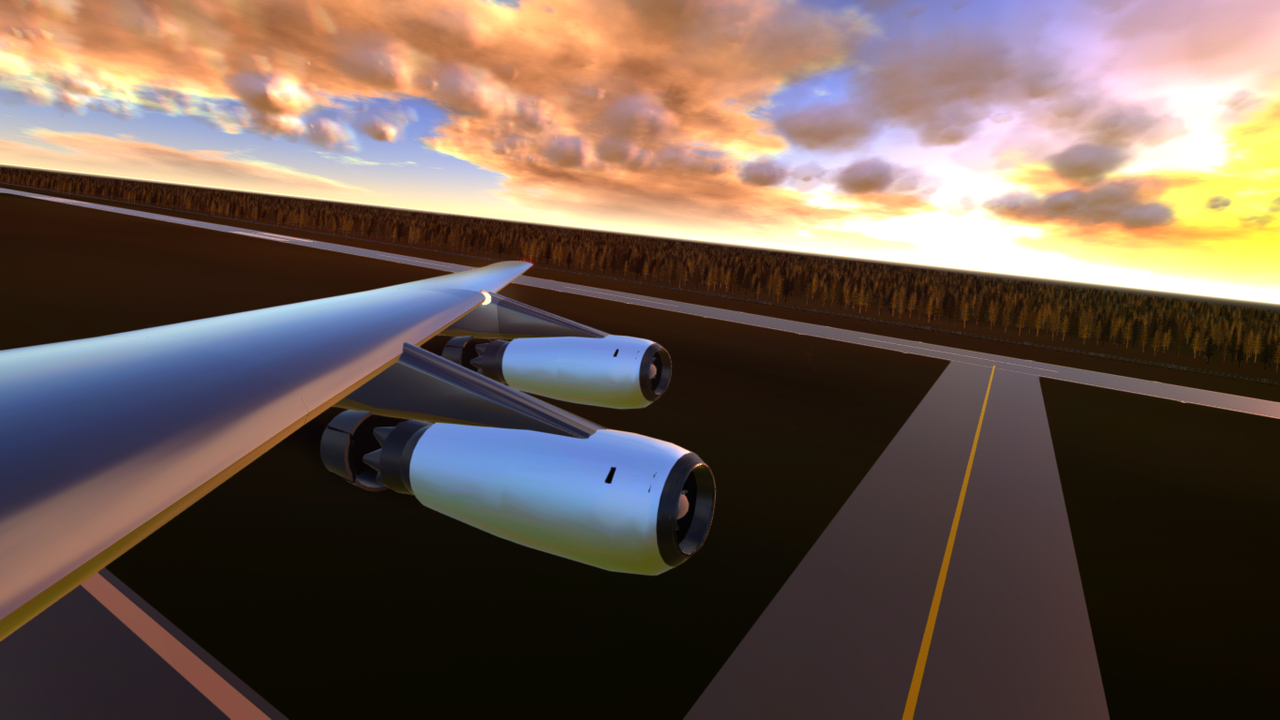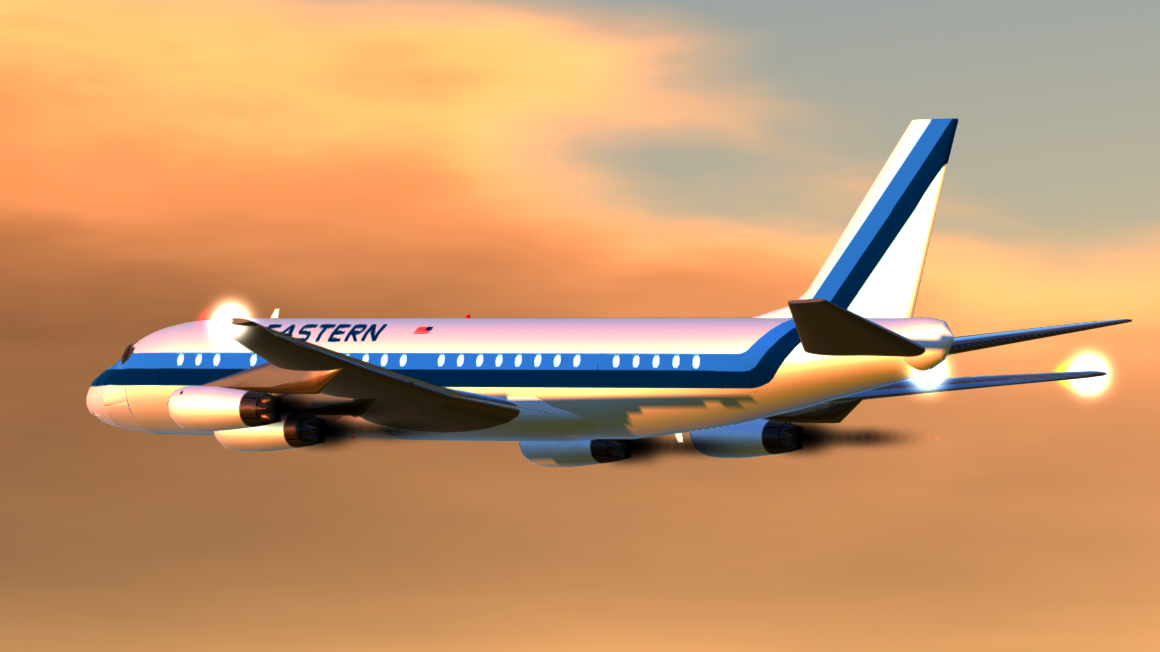 Inside the Cockpit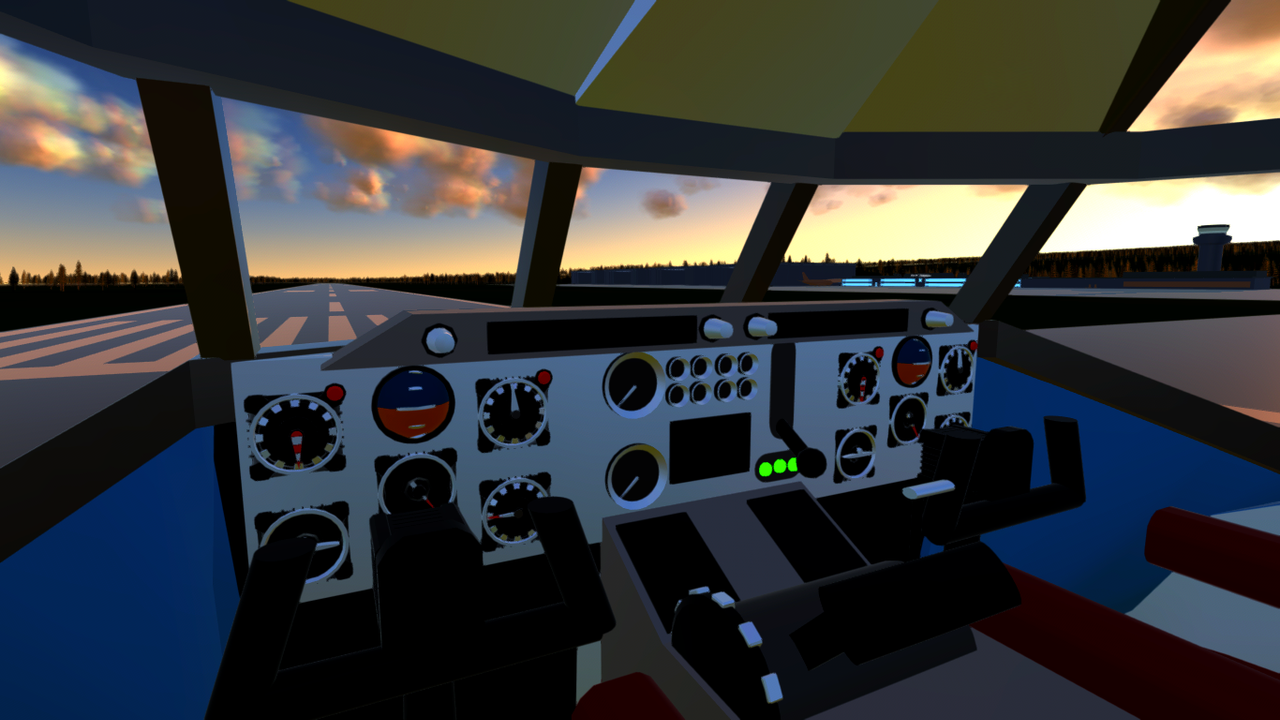 Night time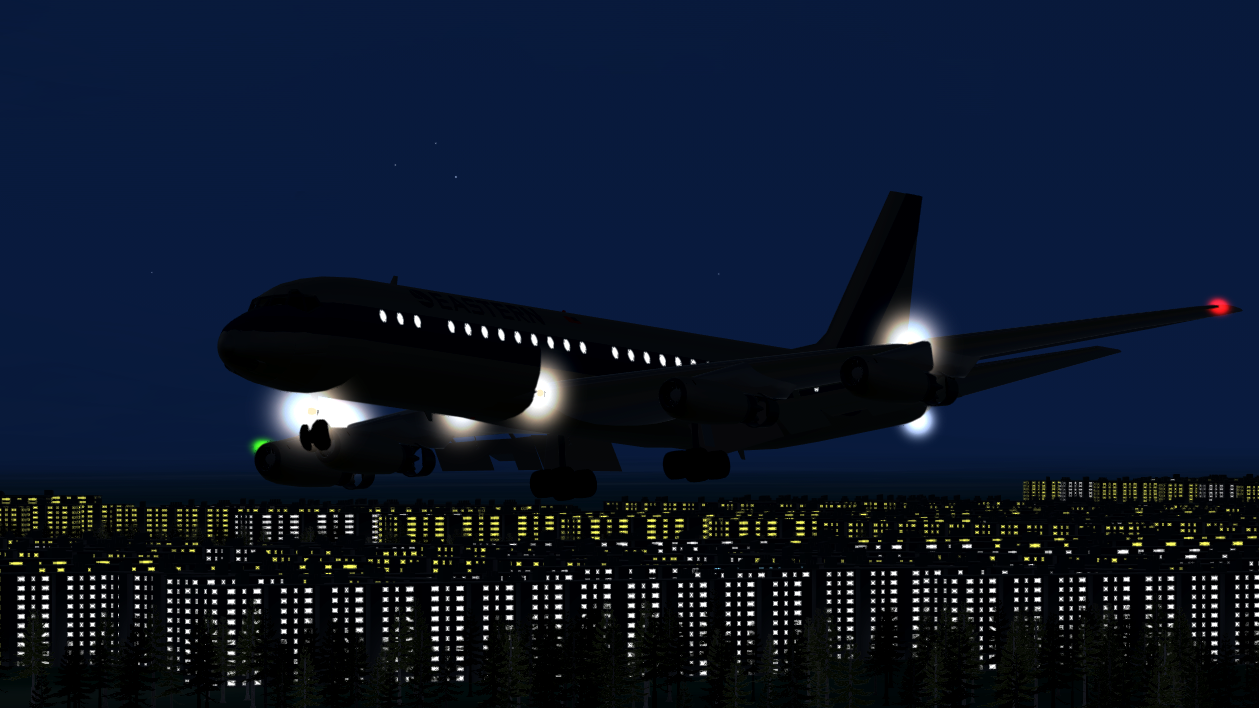 Controls
AG1:...........Engine Startup
AG2:...........Thrust Reversers & Spoilers
AG3:...........Mouse steering
AG4:...........Emergency Slides
AG5:...........Autopilot Trim
AG6:...........ACAS
LG:.............Landing Gear & Landing Lights
VTOL:........Flaps
Trim:.........Trim
This DC-8-32 Features
Pratt & Whitney JT4A-11 w/Animated Reversers
Eastern Airlines Livery 1960
Functional Analog Cockpit Interior
Full Animated Flight Instruments
WingFlex!
Illuminated Windows
FT Revamped Smooth Airbrakes
Extending Functional Flaps & Slats
FT Autopilot Trim
FT Simulated Startup Sequence
Modelled fuel depletion
ACAS
Performance
Activating Group 5 (Autopilot Trim) is recommended during landing and cruising, as it can drastically improve pitch stability.
Takeoff Speed Half Flaps:........................270km/h
Cruise Speed @ 10km Alt.:......................900km/h
Landing Speed Full Flaps + 1/4 Trim:......250km/h
Stall Speed Full Flaps + Full Trim:............230km/h
Estimated Range (1M L):.......................8,620km~
Fuel Eco. @ 900km/h 100% Throt:..........124L/km
Fuel Eco. @ 860km/h 080% Throt:............92L/km
Fuel Eco. @ Ground Idle:...........................12L/s
New Undercarriage Assembly

Canibalised Undercarriage assembly
Reworked Airbrakes
Tweaked landing gears for more traction
Swapped nose gear for the default gear

New Cockpit and Nose Assembly

Canibalised cockpit assembly
New cockpit instruments
Added flap lever
Trim wheel now reacts to Autopilot Trim

Pratt & Whitney JT4A-11

Reworked Nacelle
Reworked corrugated exhaust
New FT for Startup Sequence
Fuller sound
Tweaked Animations

Reworked Livery build

Opted for hard corners over circular corners
Overhauled Nose livery wrapping
Tweaked logo shape to reduce the egging effect
Notes
1.6 years after publishing the original DC-8-32, and realising I haven't published anything for the past 7 months, my apologies, I've decided to remake the DC-8-32 to current standards and all I could ever think after seeing the stark contrasts between the two is how smooth and streamlined the newer one is.
This project is also a good candidate for three of the FTs I have pioneered:
- FT Autopilot Trim
- FT Mouse Steering for nose wheel
- FT Startup Sequence
FT Autopilot Trim (AG5)

Activate5 = 1 ? clamp(((clamp((rate(Altitude)/
12), -0.8, 0.8) + Trim) - 0.3), -1, 1) : Trim
This FT could finally free me from using Gyros as a way to level aircraft, and it was extremely ingenious, basically I've ripped the FT from my Vspeed Indicator, applied it to rotators responsible for trim, tweaked things here and there, and now it works like an absolute magic! Truly one of my more finer moments after functional flaps.

FT Mouse Steering (AG3)

Activate3 = 0 ? Yaw : Roll
It's nothing fancy but it can be very convenient for PC users who can only steer hard right/ left. This way, the nose gear can be controlled by a mouse or trackpad like in Eurotruck 2 by activating group 3, and right clicking to enable mouse control, by using Roll as an input since roll's axis traverses left to right.

FT Startup Sequence (AG1)

(clamp((Throttle * -Activate2), 0.25, 1) *
smooth(Activate1, 0.25))
This FT is mainly involved in the engines, its a way to somewhat realistically start up an airliner by starting engines one by one from leftmost to rightmost, it wouldn't matter much in jet engines but the effect will be more pronounced in piston props.
It was a really hectic week since not only do I have to cobble together an airworthy plane in about a week, but also refine these experimental Funky Trees, so there could be some rough edges here and there.
Regardless, I do hope you guys enjoy this rerendition of my old DC-8-32 Eastern Airlines.
Specifications
General Characteristics
Successors

7 airplane(s)

+41 bonus

Created On

Android

Wingspan

143.3ft (43.7m)

Length

151.1ft (46.0m)

Height

44.3ft (13.5m)

Empty Weight

91,300lbs (41,413kg)

Loaded Weight

138,877lbs (62,994kg)
Performance
Power/Weight Ratio

5.097

Wing Loading

40.7lbs/ft2 (198.7kg/m2)

Wing Area

3,413.1ft2 (317.1m2)

Drag Points

24517
Parts
Number of Parts

699

Control Surfaces

9

Performance Cost

3,762
---