Player Biography
---
1.3k Away From Platinum!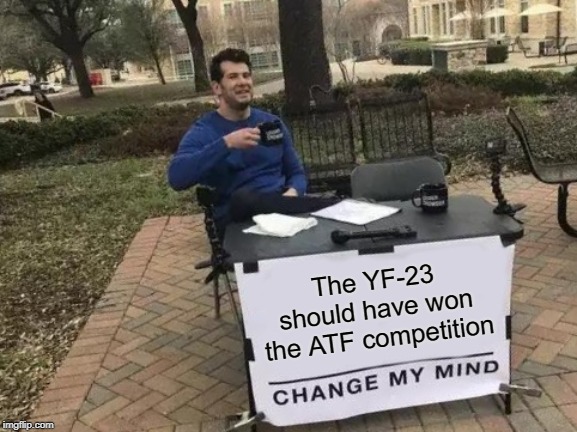 The YF-23 should have won the ATF competition. Change my mind!
Fictional Roleplaying Companies Portal
Hello there, thanks for stopping by! I'm just your average teen with an obsession and passion for aviation. I've loved airplanes since I was a kid and I'm aiming for a career as a commercial pilot. Along with flying I also LOVED designing my own airplanes. In elementry and middle school I was known as the "airplane guy" and despite my young age back then, I already knew how to fly an airplane by 12, and I already knew MANY different airplanes. Show me an airplane and I'll identify it! Before SimplePlanes I used your simple ruler, pencil, and graph paper to draw airplane blueprints. I joined SP because I wanted to bring my airplanes to 3D and make them more life-like. I thought of Blender or other 3D programs, but I settled on SimplePlanes because I can also fly my designs!
I'm also an avid Ace Combat and Yukikaze fan and I'm a proud Conservative Christian. Have a fantastic day and God bless! 😊
Roleplaying Companies:
Rainier Aerospace Products:
Aircraft:
BNRV-36A Broadsword; 5th generation strike fighter for Vanadia Air Force.
Rainier/BAE Systems Broadsword; A cancelled highly-specialized British F-36 variant that was to be built in a limited batch by BAE Systems for the British Intelligence Service, aka "SIS" or "MI6".
Rainier QLX-125 Ghost; A 5th generation experimental carrier-borne light-attack UCAV.
Rainier Greenhorn; A proof-of-concept demonstrator aircraft & Rainier's first general aviation design.
Rainier X-52 Mach Breaker; A pure-bred experimental aircraft intended to set a world record as the fastest piston-engine aircraft and reach Mach 1 (speed of sound).
Rainier MQ-125A Ghost; A 5th generation, short-range, Light-CAS, carrier-borne UCAV that is developed from the experimental QLX-125 Ghost.
Land Vehicles:
Rainier Grizzly MPAT-V; The multi-purpose, all-terrain vehicle, or MPAT-V is a large off-road truck capable of being reconfigured for multiple roles such as transport, medevac, air-defense, and artillery.
Rainier Jaeger A-AADS; An advanced, "all-aspect" air defense system that combines guns, missiles, and kinetic-kill micro missiles for a powerful combination of airspace defense. Entire system is mounted & integrated on a Grizzly MPAT-V truck.
Weapons & Systems:
Realistic Default SP Missiles (AIM-120C, AIM-9X, AGM-114)
British Missile Tri-Pack (Meteor, AIM-132, Brimstone)
Rainier Enclosed Weapon Pods™
Redux Aeromotors Products:
Wraith Flying Car Demonstrator; A proof-of-concept flying car converted from the chassis/body of a Dodge M4S Turbo Interceptor. Original car made by TakicraftCorporation.
Highlighted Airplanes