USS Texas (BB-35)
---
The ship was in Jundroo's Player Content Feature #1 video :D
---
---
History
Battleship No.35, USS Texas is a New York-class super-dreadnought. She was launched in 1912 as the second ship in her class. During WWI, she spent most of her time with exercieses and patrolling, along with doing a few convoy missions. At the end of the war, she was part of the battleship division that escorted President Woodrow Wilson to the Paris Peace Conference. In 1919, she became the first US Battleship to launch an airplane. In 1925 she went through a major modernization overhaul. Once finished, she was assigned to be the flagship of the United States Fleet. In 1931 she was relocated to the US west coast and Los Angeles became her homeport for the next 6 years. In late 1938, she was once again at the Atlantic and was designated as the flagship of the Atlantic Squadron. After WWII broke out, Texas mostly did patrolling missions but as the US became more active in supporting the allied war effort, she escorted convoys over the Atlantic. When the US entered the war, she continued her escorting missions until late 1942, when she took part in Operation Torch, the invasion of North Africa. After Operation Torch, Texas returned to convoy escort missions, until the Normandy landings in 1944, where she provided supporting fire to the troops. She later participated in the battle of Cherbourg and in Operation Dragoon. Texas was then reassigned to the Pacific Ocean, where she provided supporting fire at the battle of Iwo Jima and later at the battle of Okinawa. After the Japanese surrender, Texas made a few voyages accross the Pacific to carry troops home. In 1948 she was anchored in Houston, Texas where she remains to this day as a memorial.
---
Now about my build!

The map used on this screenshot is "Map" by Grandmother
She features accurate size, speed, a number of usable weaponry, and a flyable Vought OS2U 'Kingfisher' seaplane.
This project was in work for almost a year (starting in late july, 2019), which is the reason why the ship might not be completely accurate as I wasn't using blueprints when I started working on her. My main sources for modelling the Texas was her rendition in World of Warships, as well as footage of her today.
Controls:
AG1 + pitch-roll - Forward 14 in Cannons
AG2 + pitch-roll - Rear 14 in Cannons
AG3 + pitch-roll - Middle 14 in Cannons
AG4 + pitch-roll - Starboard (right) side quad AA gun
AG5 + pitch-roll - Port (left) side quad AA gun
AG6 - Launch and activate seaplane controls
AG6 + VTOL - Seaplane flaps
AG7 - Seaplane circling autpilot
AG8 - Ship controls + seaplane leveling
AG8 + Trim - Ship movement forward/backwards
AG8 + Yaw - Ship steering
AG8 - Seaplane straight forward autopilot
CAM1 - Starboard (right) side AA gun-sight
CAM2 - Port (left) side AA gun-sight
CAM3 - Seaplane chase view
CAM4 - Seaplane orbit view
IMPORTANT!
Seaplane Instrutions:
The seaplane can be a bit tricky but it works well if you get the hang of it.
Launching:
To launch the seaplane, you have to set the launch direction by turning the middle turret. Activate AG3 and rotate the turret until the plane is clear to launch. Then turn off AG3 to hold the launch platform in place. Now set Throttle to 100%. Turn off AG8 and change to CAM3 or CAM4. Once you are ready to launch, activate AG6. Now you successfully launched the seaplane.
Flying:
Once you are in air, you can control the plane just like a regular airplane. Be careful with hard maneuvers, the plane can stall pretty easily (if that happens, turn AG8 on, and that will set the plane back on course).
If you want to go back to control the ship, turn AG8 on and turn off AG6 (don't touch pitch, roll or yaw while turning AG6 off). Now you are free the sail the ship and the plane won't crash (unless you directed it towards a mountain, then it will certainly crash)
Spotting targets:
The seaplane is very useful when you want to shoot targets at long distances with the ship. To do this, you first need to locate the target. Once you found it, fly close to it but don't be perfectly above it, try to be a bit near above it. Once you are in position, Activate AG7. If you activate it at the right time and the right place (requires a bit of practice) the plane will set in a circling course above the target. Now deactivate AG6 and activate any of the main guns. You need to have the Aim Predictor set to High in the game settings. Now aim with the guns and use the seaplane's chase/orbit view to see where your shells will/did hit.
Here is a gif to show you how it works in practice: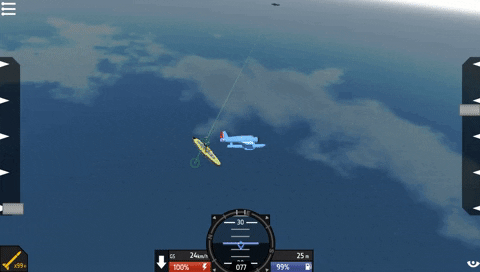 Taking-off from water:
If you land on water, to take-off from it, is a bit tricky task. you need to set Throttle to 100%, put VTOL to the lowest and turn off AG8. Now try pulling up with pitch but be careful not to pull it up too much or you will stall.
WARNING!
Be careful when firing the main cannons! Collisions are NOT turned off on them, therefore you are able to hit your own ship, so aim carefully!
---
Demonstration of the weaponry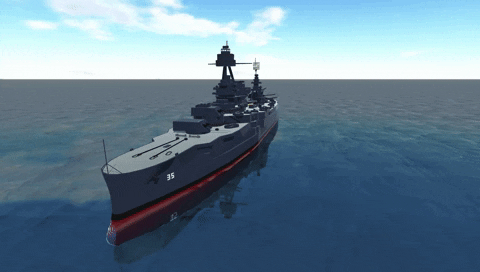 Firing the main battery
---

Shooting down an air target with the AA gun
---
Also here's a little teaser for my next build:
As always, I hope you like this build and have fun with it!
Special thanks to BlazeInfinity and Feanor for testing this ship and giving advices for improvements!
Specifications
General Characteristics
This plane has been featured

Created On

Windows

Wingspan

111.9ft (34.1m)

Length

574.3ft (175.0m)

Height

170.8ft (52.1m)

Empty Weight

782,373lbs (354,879kg)

Loaded Weight

963,254lbs (436,925kg)
Performance
Horse Power/Weight Ratio

0.006

Wing Loading

222.3lbs/ft2 (1,085.5kg/m2)

Wing Area

4,332.7ft2 (402.5m2)

Drag Points

1063353
Parts
Number of Parts

1558

Control Surfaces

8
---