I present to you the 65-40m Rough Terrain Crane
Since nobody reads my desc. I will put the controls on top.
Pitch&Roll=Drive
Yaw=Treverse superstructure
Throttle=Lower the winch
FireGuns=Hook position indicator
LandingGear=Lower outriggers
VTOL=Raise boom
Trim=Extend boom
Activation groups+controls
AG1=Enable Crab steering
AG2=Extend Outriggers (also enables cab crane mode)
AG3=Enable super structure turning (uses gyros so should be disabeled while driving)
AG4=Turn on some lights
AG5=Attach part to hook (magnet on/off)
AG6=Hazard beacons on/off
AG7=Hook Gyro (recommended while in crane mode but not needed)
AG8=Superstructure lock (Activated by default and should be turned on while driving or when you don't want accidental turns by swinging loads)
Instructions
While driving ag 8 should be on while ag3 and 2 should be turned off. To align superstructure in forward position line up the magnet and small red fuselage part close to the turning mechanism. click here to see a Picture of correct aligning
Or just guess. AG7 can also be turned off.
While driving you may also raise the boom for visibility through cab and more realism.
Features:
Detailed crane
High load capacity (Atleast 30k lbs on high physics (be reasonable and realistic with boom eleveation and extension, this applies irl)
40m reach
38m absolute max work height
Realistic size
Boom deflection realism (totally a feature)
Crab steering
Extendable boom
Tilting cab
Kind off detailed cab
Fancy hazard lights
Fancy hook block
Hook position indicator
360°+ continuous treverse
Looks awesome
Pretty low part count (should run decently well depending on your mobile device and should work on any computer (I think))
Kind of realistic
3 cameras
420 License plate (reused from my police car bc I was lazy)
Made by me (Is that a good thing? you can decide)
EXTRA
You can successfully do everything using the 3rd cab camera.
I decided not to use extra suspension after seeing how it wouldn't help a lot because the outriggers would get stuck in terrain and it increases weight and parts a lot.
The cockpit is placed on the boom so that you can see your elevation degree, for "cockpit view" use camera 3
Connecting to external entities like carriers and non built stuff can be hard due to magnet placement, if you want to do that just lower the magnet.
Tomorrow I will try to make a mobile friendly version
I might upgrade the cab in the future
---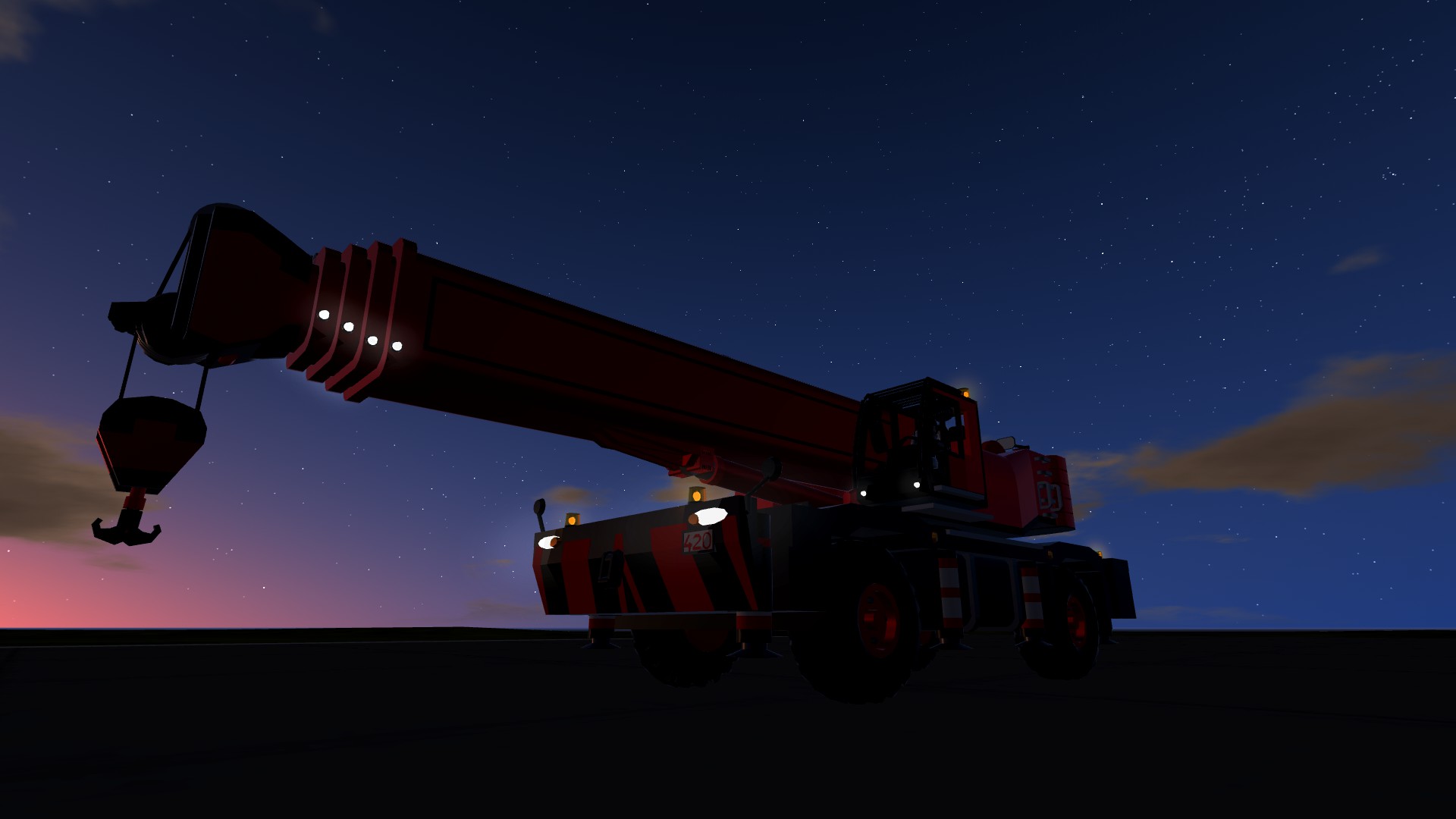 This pic is sooo Amazing so Amazing infact you can click here to open it and save it as your background
---

Elevation, height and lenght click here for link I made this pic btw
---

Nice pic
---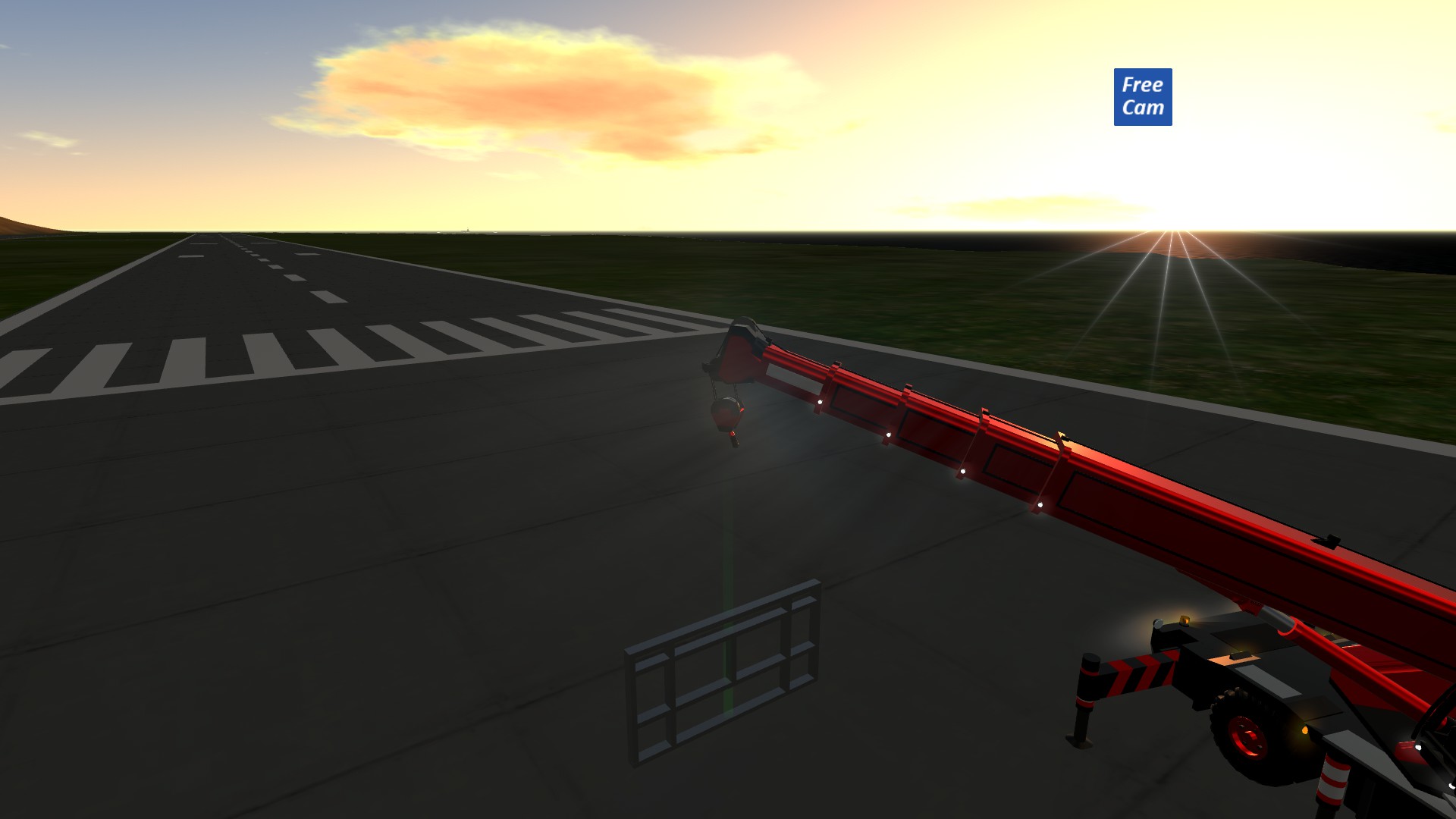 Replaced pic with newer one. This pic shows Hook position indicator
---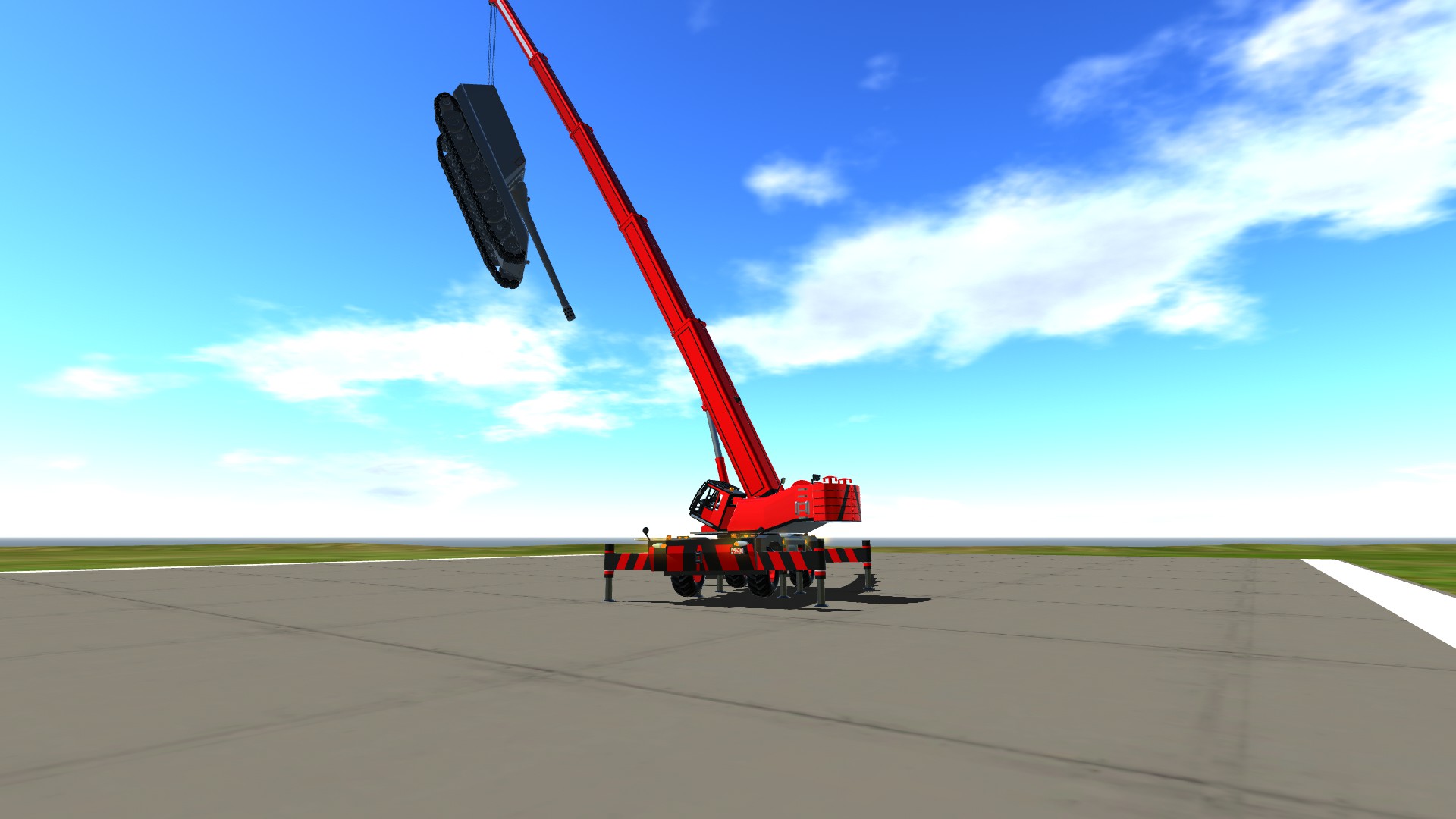 Lifting this 30k lbs
---
Any questions? Ask me.
Will probably add more to this post as I remember stuff I forgot to put in
If you want to se progress from start to finish go here1 and here2 Number 2 is more of later progress and showcase of features.
---
Maybe I should call it "MIG Rough Terrain Crane 65-40M"So that I can get featured


It did get featured but you won't get the joke if you weren't here during the time it was featured.
---
Just incase…….. Don't ask why it doesn't turn or whatever, just read the Controls.
If I didn't thank you for your upvote that is because I forgot, I thank everyone here for downloading, upvoting, spotlighting and commenting.
If I get any questions I will add them here along with the answers, will also answer with comments (if I put the question here depends on if I feel it's a question that fits being here, an example being "how can it carry so much?" or something like that. (I could probably answer that if anybody is wondering)
Looks like there won't be any mobile version, I can't find any way to remove enough parts because most of them are for functions and not details
Specifications
General Characteristics
Successors

5 airplane(s)

+7 bonus

Created On

Windows

Wingspan

15.1ft (4.6m)

Length

49.4ft (15.1m)

Height

14.8ft (4.5m)

Empty Weight

145,513lbs (66,004kg)

Loaded Weight

147,719lbs (67,004kg)
Performance
Wing Loading

219,577.3lbs/ft2 (1,072,070.2kg/m2)

Wing Area

0.7ft2 (0.1m2)

Drag Points

242
Parts
Number of Parts

846

Control Surfaces

0

Performance Cost

2,987
---