The Convair LRHBA / XB-52
Not a completely fictional build… let's call it "alternate history", if you will. The fictional part of the story? This plane is the prototype of SAC's brand new B-52 bombers.
The somewhat less fictional part is that it could indeed have been the B-52's daddy. Following a 1945 request by the air force for a new long-range bomber, three companies submitted a design. Martin's Model 236 dropped out of the race quite early, so the competition was between designs by Convair and Boeing. Needless to say, Boeing won, and got the go-ahead to build the XB-52 in 1951. But really… wouldn't the B-52 have looked much cooler if Convair had taken the cake?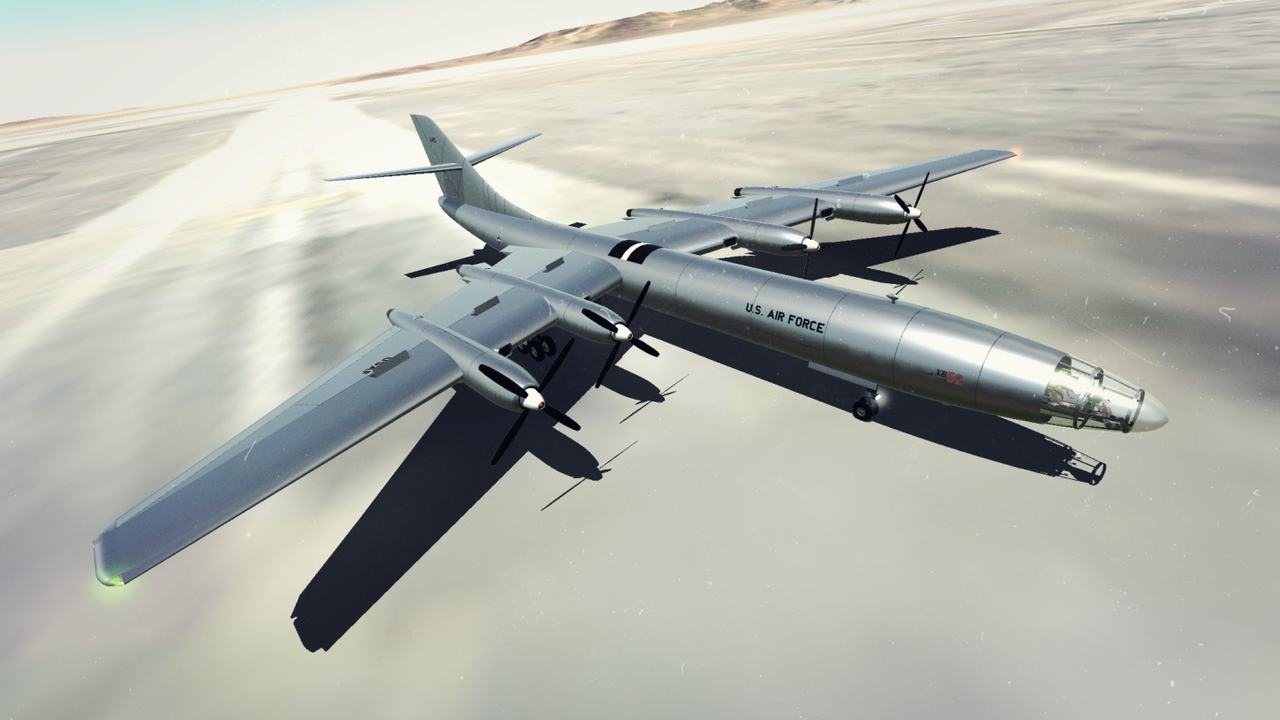 Convair's design was quite startling, and looked like something from a sci-fi magazine with its forward-swept wings. The propulsion system was also quite novel, with each nacelle containing a Wright T-35 turboprop in the front, and a Wright T-180 turbojet in the back… giving the plane a total of 8 engines. The idea was to let the plane cruise on turboprops for reasons of fuel economy, and to let the jet engines help on takeoff, climbs, and whenever additional acceleration was needed.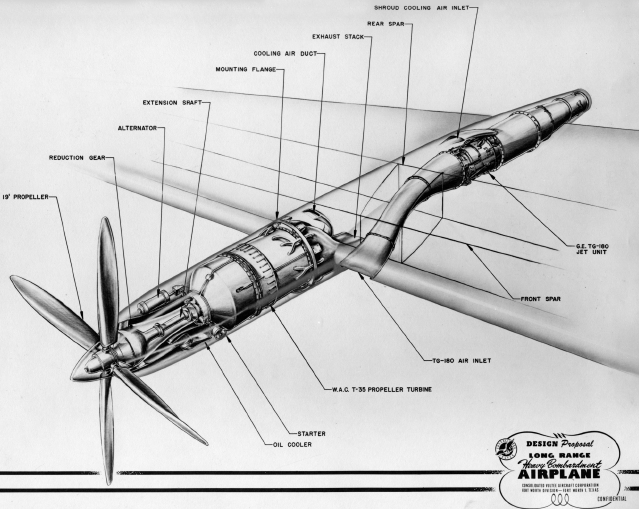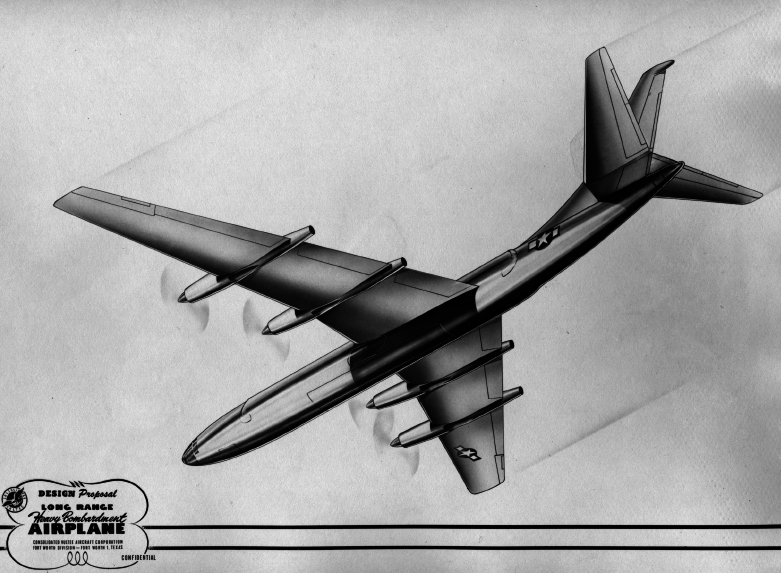 The "LRHBA" lost the race because there were too many technical hurdles; Boeing's design, though far from perfect, had the advantage of being cheap & simple. And so the Convair never made it off the drawing board.
The build
Convair never got beyond making sketches, so I had some freedom in deciding what the actual prototype would have looked like. The fighter-like cockpit Convair wanted to install was the first thing to get the boot; I tried it, and it looked awful. Since there's ample room in the plane's nose, there's no need for it anyway. I dropped Convair's concept of "flush-mounted gun turrets" as well; they make the plane look weird, and aren't very functional. Besides, by the time the prototype would have been built it would probably –like the actual B-52- only have been equipped with a tail turret. Which is what I did with the Convair. In general, I didn't want to add any bulges or parts sticking out from this otherwise beautifully sleek design.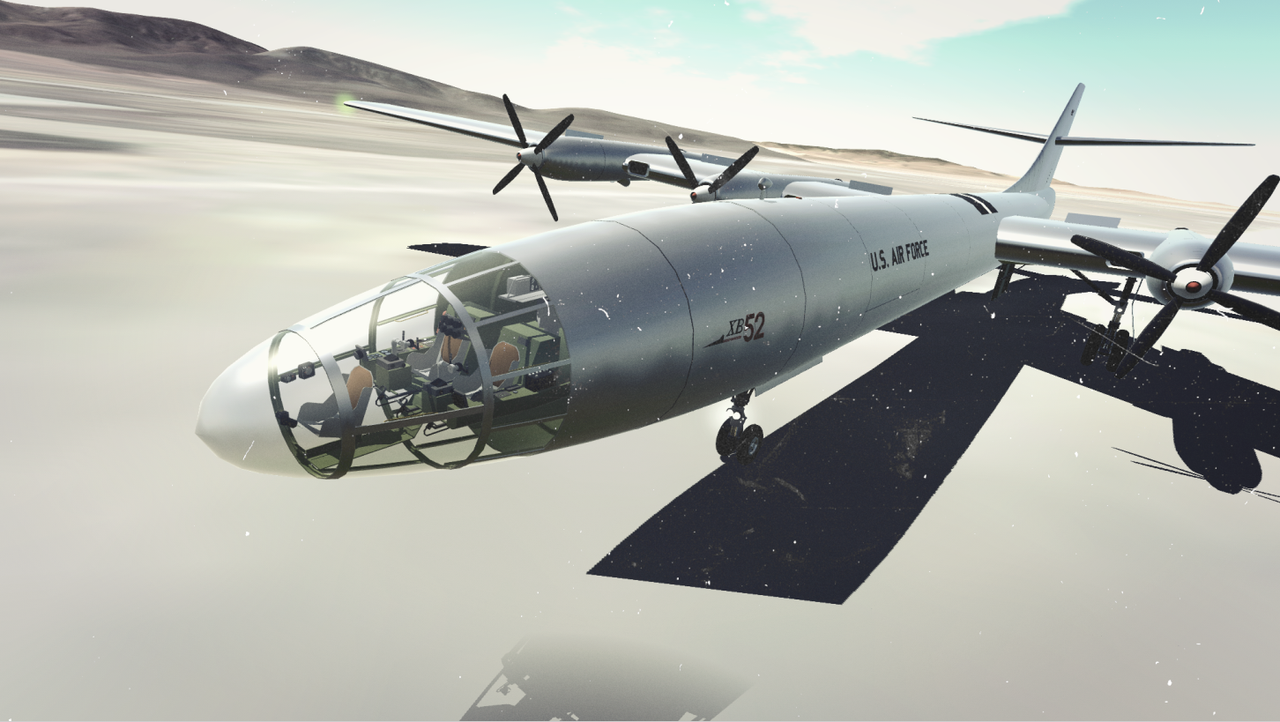 Controls
The "XB-52" is big and heavy, so don't expect it to handle like a jet fighter. It's not overly sluggish either; let's say it flies like a somewhat smaller bomber.
Standard controls are, well, standard… VTOL down for flaps, trim slider for pitch trim.
AG1 : toggles your jet engines. You're welcome to use them all the time, but remember: they're thirsty. And once you're cruising at altitude, their effect isn't even all that exciting. As per Convair's design, mainly useful for takeoffs, climbs, and getting-the-hell-out-of-dodge.
AG2 : freezes out the plane's controls and activates the gyro, giving you some freedom to shoot bogeys off your six with the tail turret (controlled with pitch & yaw).
AG3 : opens the bomb bays
AG4 : drops your nuke… with parachutes. I just added this as an option; it gives the bomb a different trajectory (making SP's bomb aiming system quite useless) but it slow its descent and gives you more time to get away. You can still drop the bomb "normally" as well, of course.
AG7 : toggles the engine smoke effect
AG8 : toggles the lights
Takeoff: half flaps, full throttle, jets activated. Landing: full flaps, throttle down to some 35%, switch off the jets. Yes, it's as simple as all that!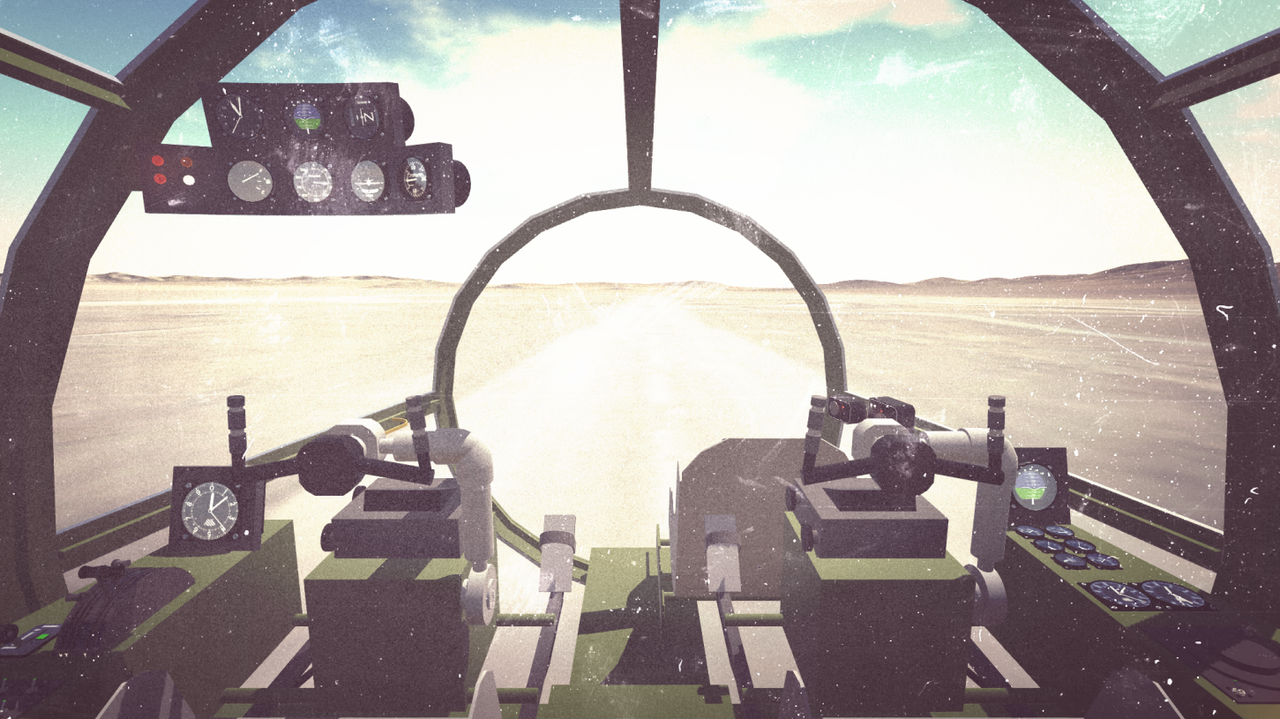 Things that go BOOM
Let's skip the tail turret… just a pair of 20 mm's you're probably never going to use anyway.
The bomb bay contains one (1) single bomb; because this is a semi-fictional plane I thought I'd add a semi-fictional bomb. The Mark 16 hydrogen bomb never really reached the production stage; only five "emergency capability" units were built in the early 50's, and they were soon retired once better equipment became available. At 18 tons, a single bomb is a full load for the bombers of that era.
The effect in SP is certainly not that of a 8-megaton nuke; still, it packs a bit of punch so it's best only released if you have some serious altitude. To give you more time to get away from the blast, there's an option (using AG4) to drop the bomb with 'chutes to slow its descent. Oh, and if all goes well you should be able to detonate the bomb in mid air by pressing "fire guns". It works, ehm, 80% of the time… can be useful against ships.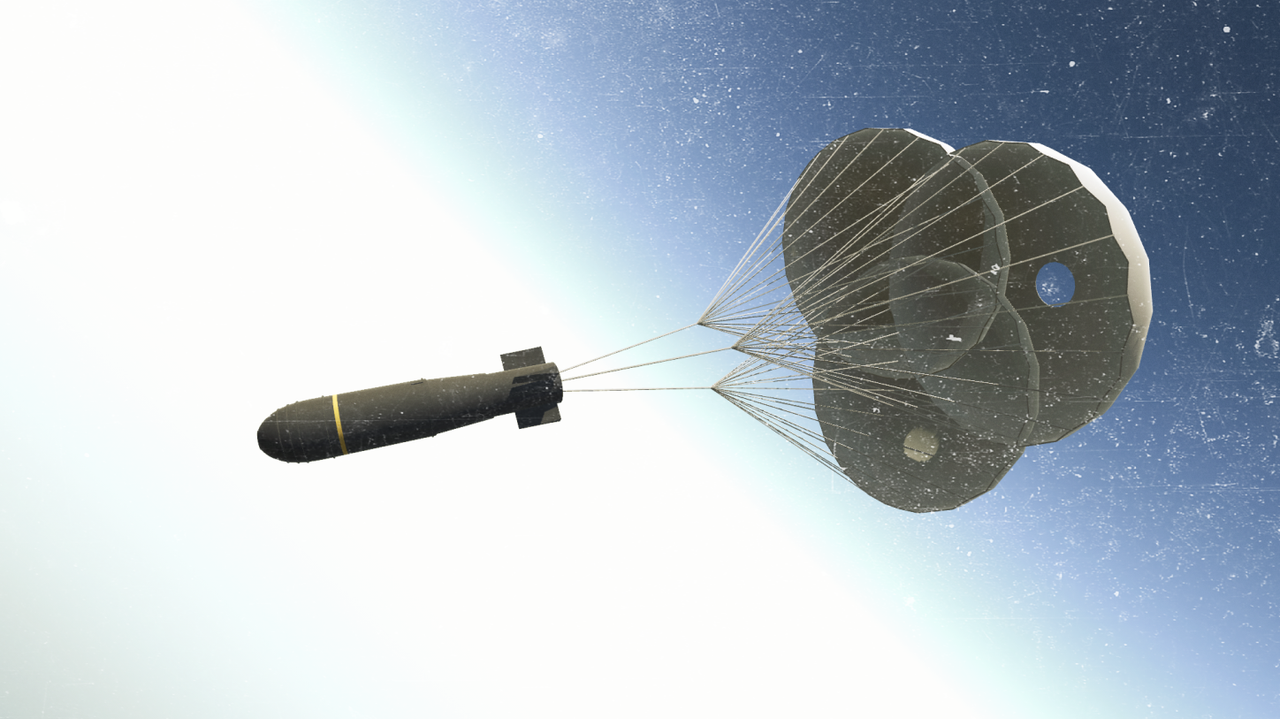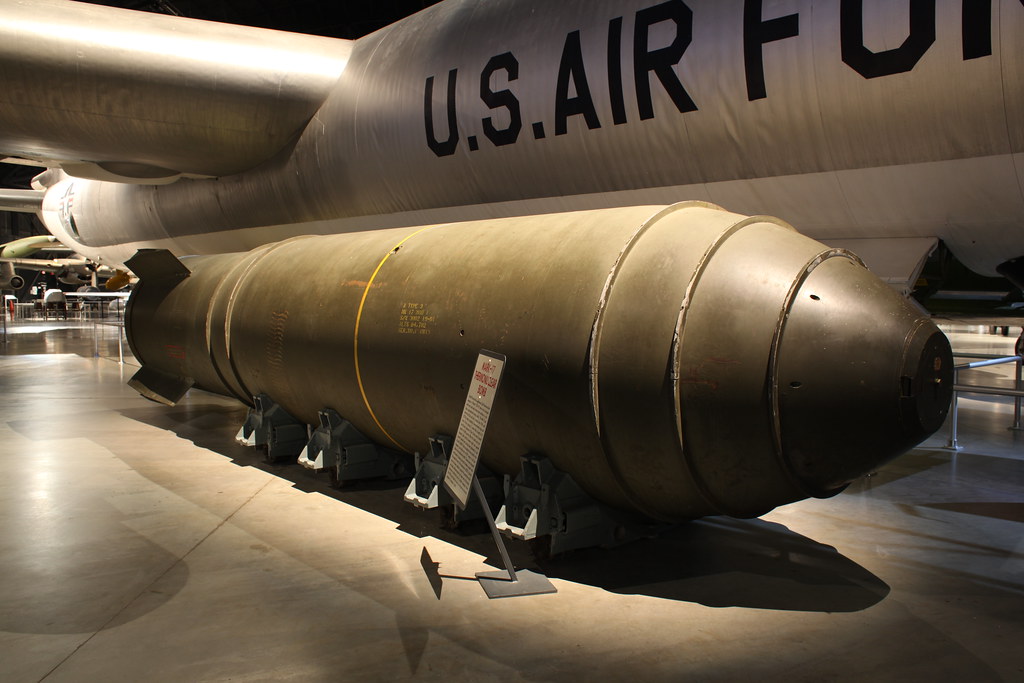 Anything else?
Not really, I guess. Those interested in Convair's LRHBA can look it up on the net; there's not much to be found, though, since the plane was never actually built. I suppose Convair's XB-53 –which used the same swept-forward wing design- is probably better known.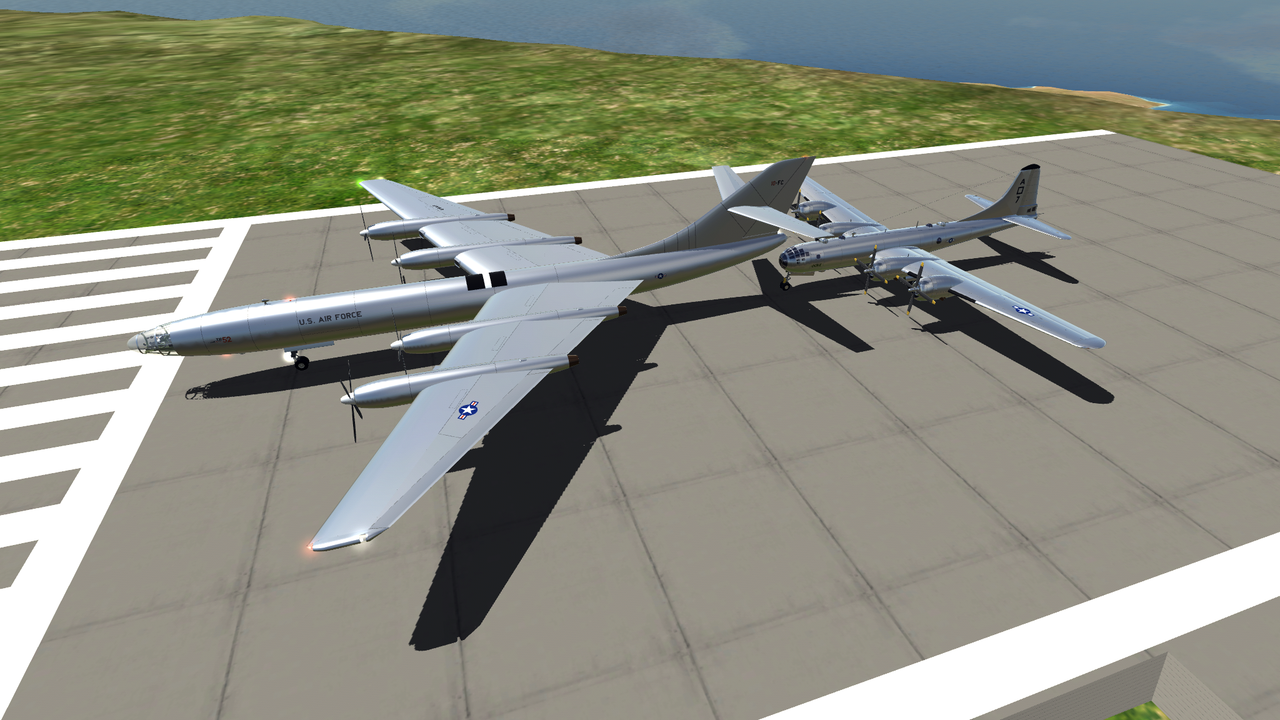 Specifications
General Characteristics
Predecessor

Strategic Air Command Challenge

Created On

Windows

Wingspan

167.1ft (50.9m)

Length

173.8ft (53.0m)

Height

41.7ft (12.7m)

Empty Weight

171,663lbs (77,865kg)

Loaded Weight

248,484lbs (112,710kg)
Performance
Power/Weight Ratio

0.108

Horse Power/Weight Ratio

0.096

Wing Loading

37.3lbs/ft2 (182.2kg/m2)

Wing Area

6,659.7ft2 (618.7m2)

Drag Points

58357
Parts
Number of Parts

1782

Control Surfaces

0
Required Mods
_Mechanical_Instrumentation

by Gestour




Version 1.0 (3/18/2019 6:06:03 AM)




View Mod Page
---