"All the memories collected, moments you could never touch."


Controls
Activator 1: Missiles online
Activator 8: De-activate gyro (Best to leave this button alone)
Pitch and roll to move
Brake: Advanced braking system
Tips
Changing directions at high speed requires a little bit of finesse. Go into the turn with the engine off, turn, then accelerate out of the turn.

Torpedoes
Launch like normal torpedoes. Take your speed into account when launching them!
Medium-Yield Laser Systems
Guns with a high rate of fire and large amount of damage. Aim steady for quick takedowns.
REFLEX Systems
Infernos and Guardians are augmented for faster lock times, and wider locking angles. Range is slightly reduced. Fire like any missile. Hold down the LaunchWeapons button for continuous firing.
Quantitas Beta
Cleaver rocket pods. Fire like dumb rockets! The aim is assisted by the rocket, so line your target up with your gun reticle, make a lock, and fire!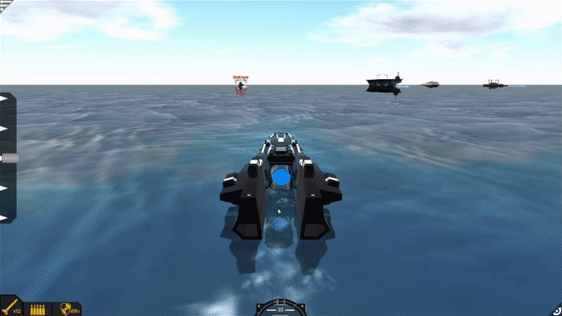 The Actus Class High-Velocity Watercraft (HVWC) combines the firepower of a patrol vessel with the agility of an aircraft. Usage of an advanced hull design, specialized booster engines, and an intelligent gyroscope-powered steering system makes combat, as well as transit, fast-paced and exciting.
The design was originally projected to be the dedicated patrol vessel of the Nexus, but a last-minute decision rendered the Actus HVWC forgotten; the Actus class had been replaced with another design. Years later, a SPEcorp team stumbled upon old documents related to the design, and finally brought the Actus HVWC to market. The design's versatility and unique characteristics made it popular among a large pool of potential buyers. As a result, the watercraft can be seen on almost any planet with an ocean, except the Nexus. Such popularity was an ironic development, as the project was originally rejected by its client, the Nexus. Perhaps perseverance is a valuable trait, and while some ideas may have been forgotten, they can be reborn.
Specifications
General Characteristics
Predecessor

Actus Class HVWC

Successors

3 airplane(s)

+21 bonus

Created On

Windows

Wingspan

15.6ft (4.8m)

Length

51.8ft (15.8m)

Height

8.0ft (2.4m)

Empty Weight

-4,734,385lbs (-2,147,483kg)

Loaded Weight

15,879lbs (7,202kg)
Performance
Power/Weight Ratio

0.849

Wing Loading

1,180.2lbs/ft2 (5,762.2kg/m2)

Wing Area

13.5ft2 (1.3m2)

Drag Points

9287
Parts
Number of Parts

265

Control Surfaces

0
---