Mobile Versions:
---
Teaser Video:
---
Preface:
This is the first actual helicopter and also the first ground attack aircraft of mine. Making a realistic helicopter is becoming much more easier due to the new heli-rotor and the funky tree added. This brand new aircraft is installed with a 6 in 1 Navigator and an actual working custom tail rotor . The tail rotor is quite stable but yawing is not so good. Maybe I will develop a new input in the future.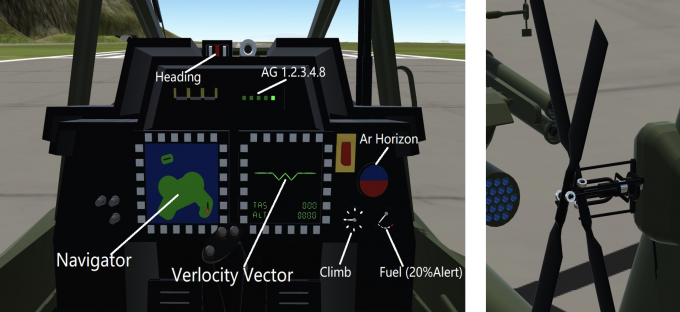 ---
Controls:
Throttle/VTOL=Pitch Collective (depends on which is more)
AG1=Engine Start
AG2=Hover Auto Pilot+gun rotation active (roll+pitch)
AG3=Lights
AG4=Windshield Wiper
AG8=Canopy Close
Landing Gear=Engae rear wheel steer
Trim=Pitch Trim
The Hover AutoPilot is made by @FairFireFight
---
Specification:
Max speed:188mph (Actual ground speed)
Max altitude:21000ft
Weight:17650lbs
Elevator engage speed:20mph (Actual ground speed)
Blueprint: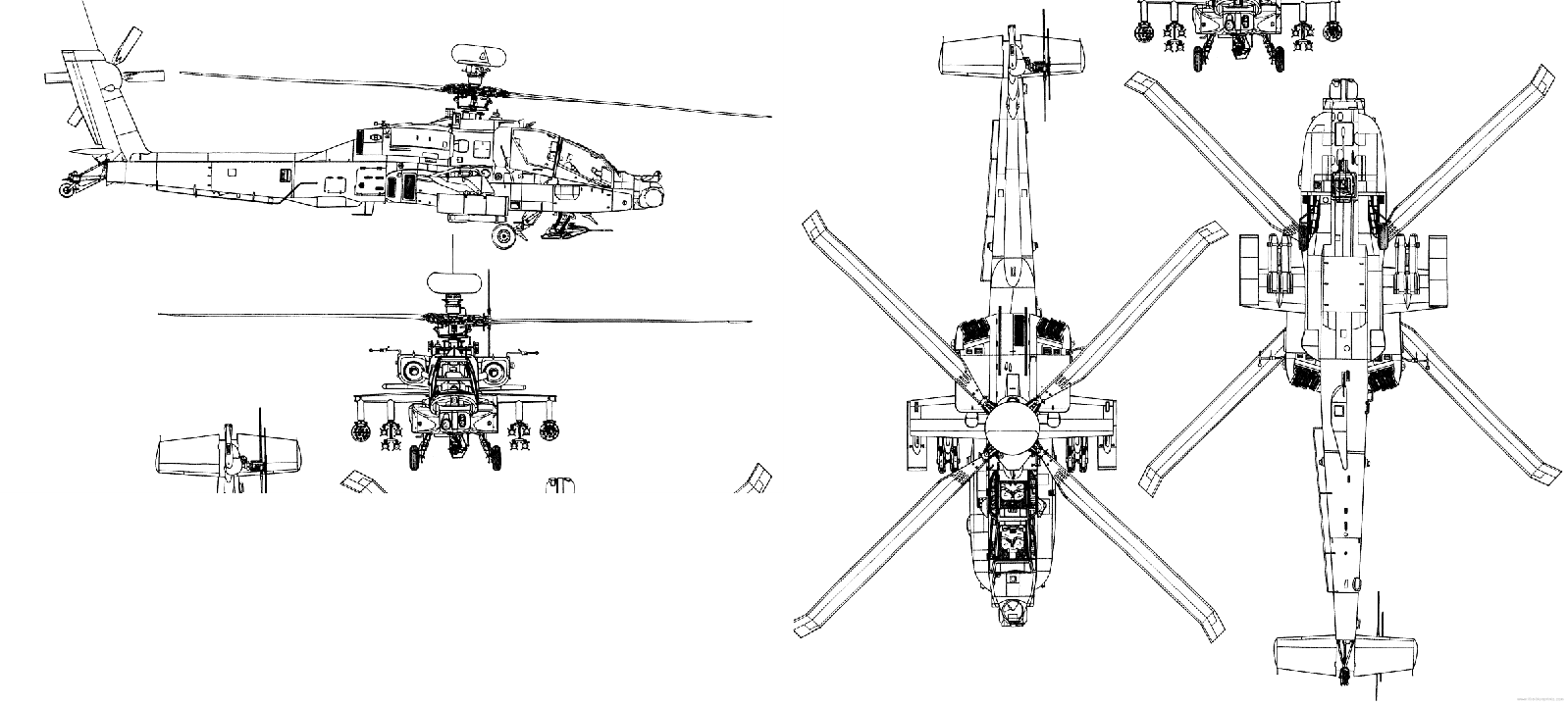 Fuel capacity:
This helicoptor have a totally different fuel capacity to the real Apache. The real AH-64 have a max range of 1900km. If so, the exra fuel tank is not useful any more. So I changed it to 600 gal. 600 gal of fuel can makes it flies 100 miles. It is enough to make an attack in Krakabloa or Maywar from Wright Airport but not enough to com back.
Each exra fuel tank added will increase 150 gal of fuel or 25 miles of range.
Check ou the picture below to know how far 100miles(600gal) is.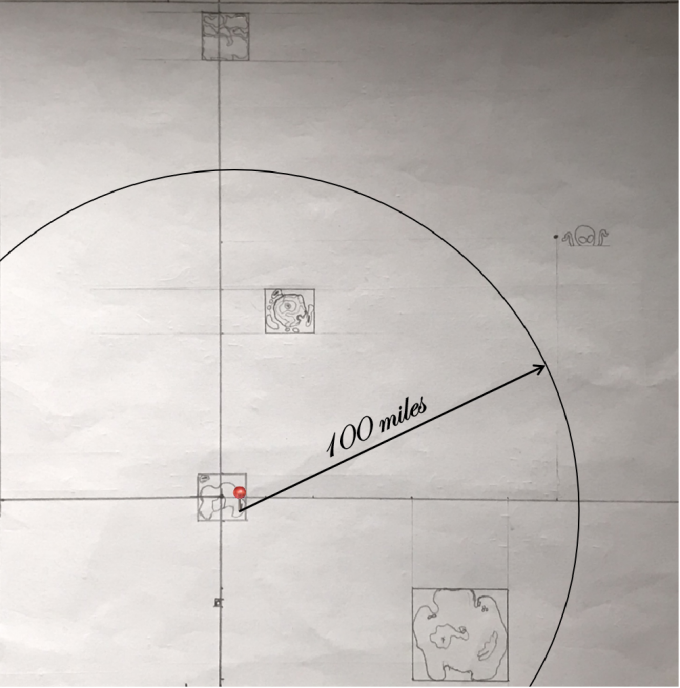 ---
Fire Control System & Weapons: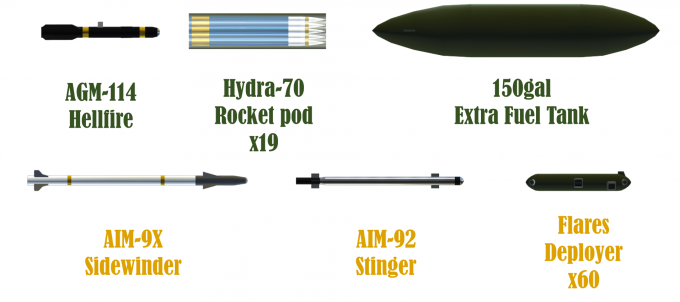 P.S.
1.Do not mirror the Rocket pod because it will cause bug.
2.The Exra Fuel Tank can be droped in the weapons list like a bomb.
3.The ammo count of the meachine gun is 1200. The weapon list in game will show twice as much as it does because half of them were used to make the "bullet shell".
---
Introduction:
The Boeing AH-64 Apache is an American twin-turboshaft attack helicopter with a tailwheel-type landing gear arrangement and a tandem cockpit for a crew of two. It features a nose-mounted sensor suite for target acquisition and night vision systems. It is armed with a 30 mm (1.18 in) M230 chain gun carried between the main landing gear, under the aircraft's forward fuselage, and four hardpoints mounted on stub-wing pylons for carrying armament and stores, typically a mixture of AGM-114 Hellfire missiles and Hydra 70 rocket pods. The AH-64 has significant systems redundancy to improve combat survivability.
wikipedia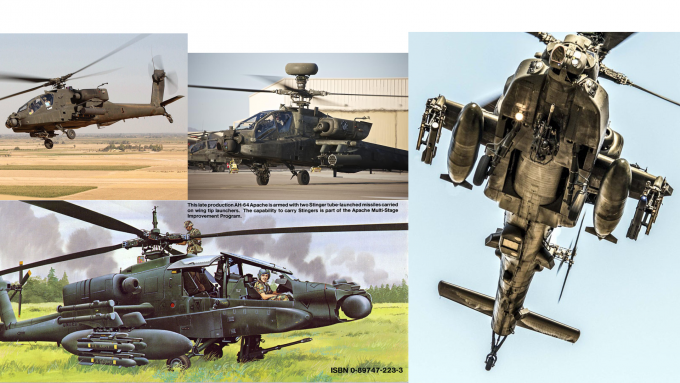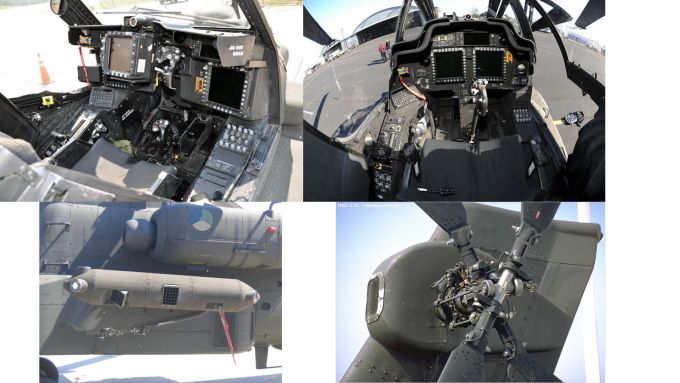 Specifications
General Characteristics
Successors

2 airplane(s)

+7 bonus

Created On

Windows

Wingspan

48.0ft (14.6m)

Length

57.7ft (17.6m)

Height

20.4ft (6.2m)

Empty Weight

13,621lbs (6,178kg)

Loaded Weight

17,650lbs (8,006kg)
Performance
Power/Weight Ratio

8.363

Wing Loading

655.9lbs/ft2 (3,202.4kg/m2)

Wing Area

26.9ft2 (2.5m2)

Drag Points

1606
Parts
Number of Parts

1925

Control Surfaces

0
---