Sukhoi Su-37 [Flanker-F]
The Sukhoi Su-37 (Russian: ????? ??-37; NATO reporting name: Flanker-F; popularly nicknamed "Terminator" was a single-seat twin-engine aircraft designed by the Sukhoi Design Bureau that served as a technology demonstrator. It allowed for the need to enhance pilot control of the Su-27M (later renamed Su-35), which was a further development of the Su-27. The sole aircraft had originally been built as the eleventh Su-27M (T10M-11) by the Komsomolsk-on-Amur Aircraft Production Association before having its thrust-vectoring nozzles installed. In addition, it was modified with updated flight- and weapons-control systems. The aircraft made its maiden flight in April 1996. Throughout the flight-test program, the Su-37 demonstrated its supermanoeuvrability at air shows, performing manoeuvres such as a 360-degree somersault. The aircraft crashed in December 2002 due to structural failure. The Su-37 did not enter production; despite a report in 1998 which claimed that Sukhoi had built a second Su-37 using the twelfth Su-27M airframe, T10M-11 remained the sole prototype. Sukhoi had instead applied the aircraft's systems to the design bureau's other fighter designs.
Top speed: 2,500 km/h
Range: 3,300 km
Length: 22 m
Manufacturer: Sukhoi
Engine type: Saturn AL-31
First flight: 2 April 1996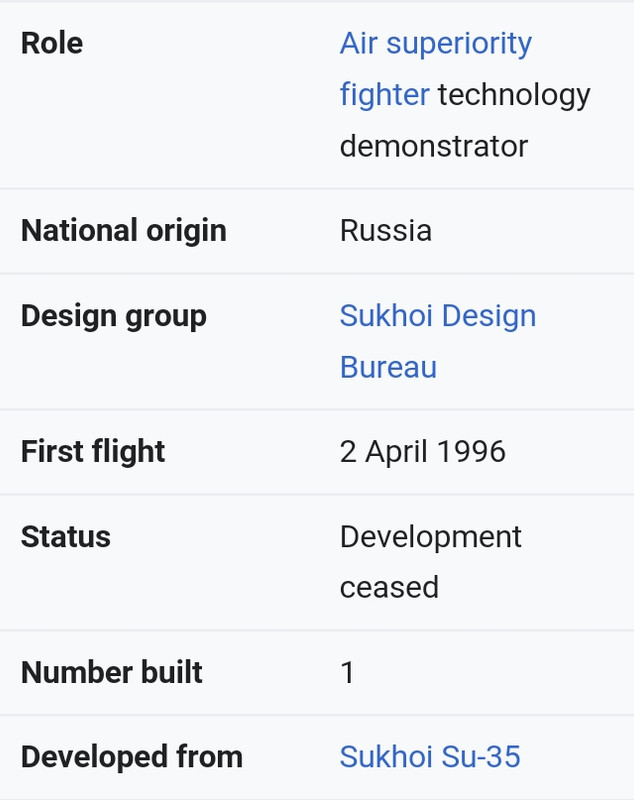 ---
Credits:
---
This build features:
1) 𝘛𝘩𝘳𝘶𝘴𝘵 𝘷𝘦𝘤𝘵𝘰𝘳𝘪𝘯𝘨.
2) 𝘋𝘦𝘵𝘢𝘪𝘭 𝘭𝘢𝘯𝘥𝘪𝘯𝘨 𝘨𝘦𝘢𝘳𝘴.
3) 𝘚𝘦𝘮𝘪 𝘥𝘦𝘵𝘢𝘪𝘭𝘦𝘥 𝘤𝘰𝘤𝘬𝘱𝘪𝘵.
4) 𝘍𝘭𝘺-𝘣𝘺-𝘸𝘪𝘳𝘦𝘴.
5) 𝘈𝘸𝘦𝘴𝘰𝘮𝘦 𝘋𝘰𝘳𝘪𝘵𝘰 𝘭𝘪𝘬𝘦 𝘤𝘢𝘮𝘰𝘶𝘧𝘭𝘢𝘨𝘦 :/
6) 𝘈𝘪𝘳𝘤𝘳𝘢𝘧𝘵 𝘥𝘦𝘴𝘪𝘨𝘯𝘢𝘵𝘪𝘰𝘯 𝘯𝘶𝘮𝘣𝘦𝘳.
---
Do's and Dont's.
All types of manuvers can be done in 2000𝘍𝘛 to 4000𝘍𝘛.
It is recommended to fly this in high settings, I promise it won't crash.
Dont pitch up and down violently.
---
In game: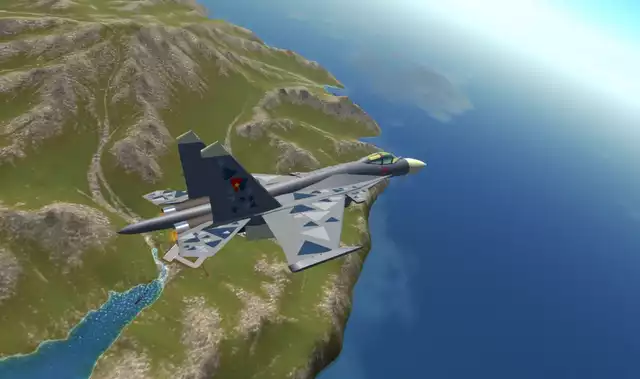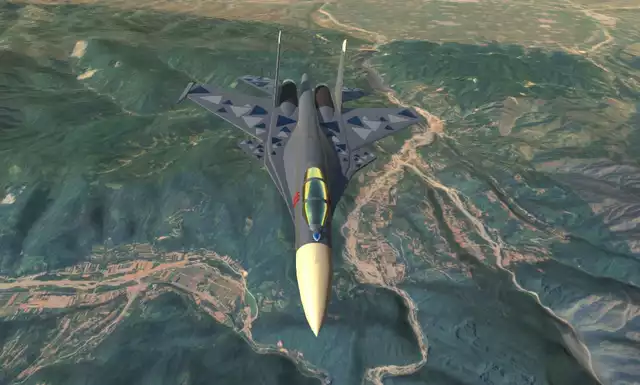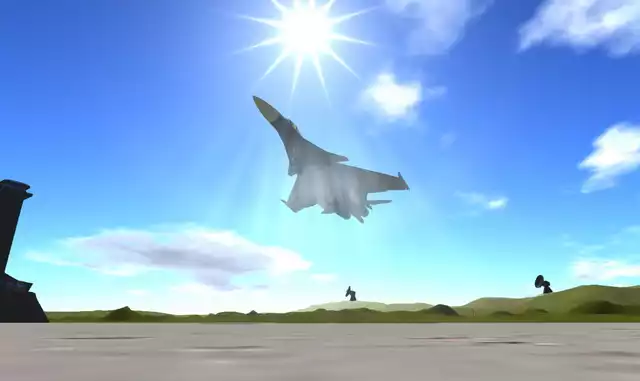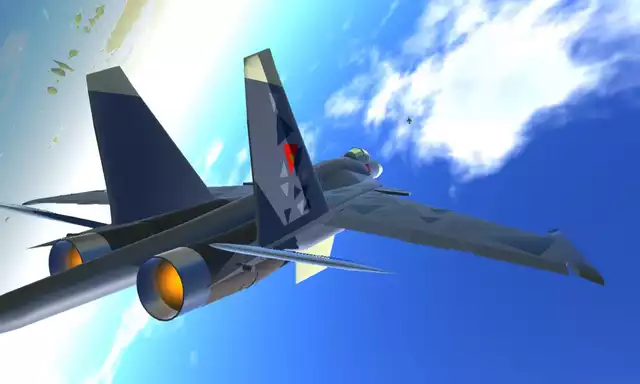 ---
Bye, have a nice time and listen to this müsïk
Specifications
General Characteristics
Created On

Android

Wingspan

38.7ft (11.8m)

Length

55.0ft (16.8m)

Height

15.9ft (4.9m)

Empty Weight

9,043lbs (4,102kg)

Loaded Weight

19,200lbs (8,709kg)
Performance
Power/Weight Ratio

3.511

Horse Power/Weight Ratio

0.052

Wing Loading

56.8lbs/ft2 (277.5kg/m2)

Wing Area

337.8ft2 (31.4m2)

Drag Points

8250
Parts
Number of Parts

393

Control Surfaces

10
---