ZEPPELIN-MÜHLE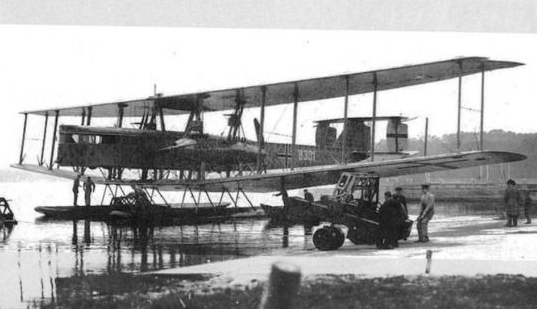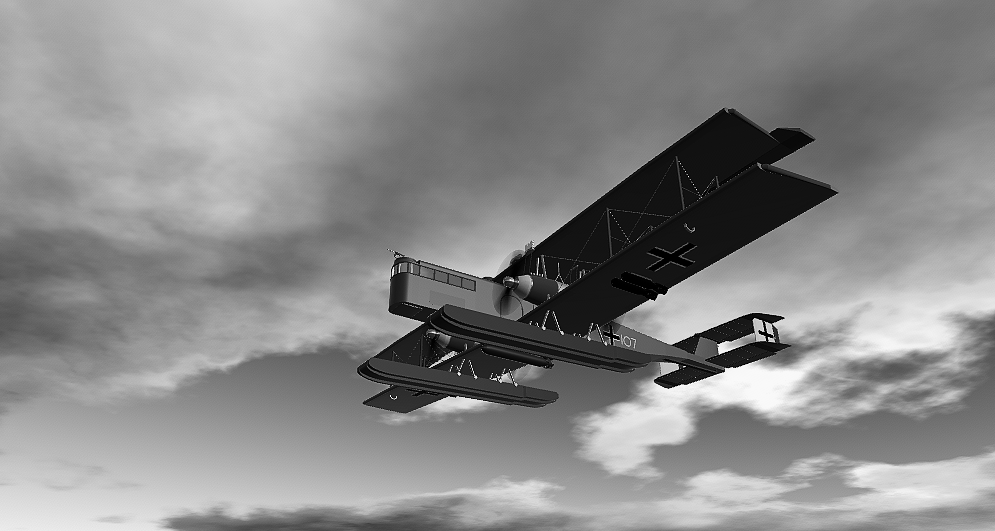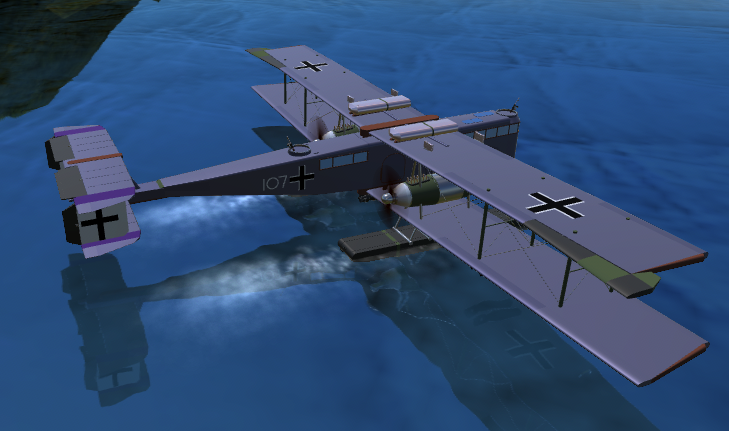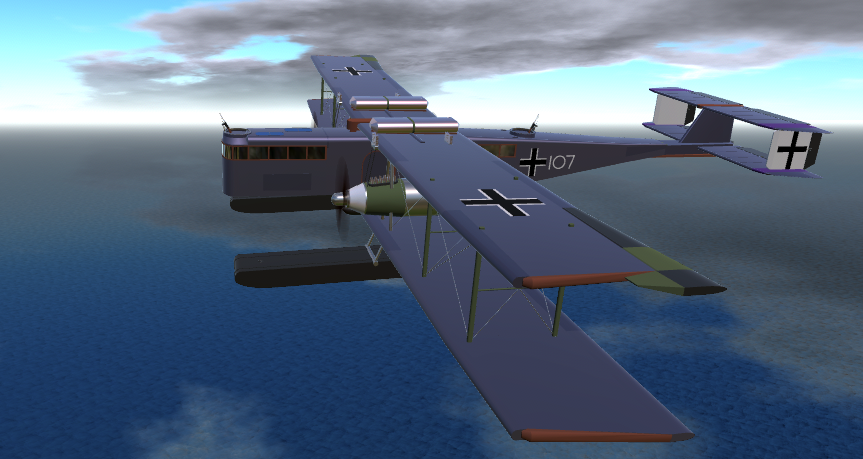 FLIGHT
Take-off
AG1,AG2, and AG3 on. Apply full Throttle; at 60mph, pull up fully until rear of floats unstick, then level out and hold wings level until speed builds to 80mph or more.
Maintain full Throttle for climb; once at required altitude, Throttle back to 90%.
Use gentle control inputs in normal flight.
Landing
Reduce Throttle to 10%. At 100ft, hold wings level to bleed off speed before descending to flare and land. On touchdown, Throttle off.
Taxiing
AG1 on and AG2 on. Apply 20% Throttle. To steer to Port, AG1 off. To steer to Starboard, AG2 off. Before take-off, ensure AG1 and AG2 are both on and plane is taxiing in a straight line.
Front gun position
AG3 off, AG4 on (see footnote). Use VTOL and Yaw to aim gun.
Rear gun position
AG3 off, AG5 on (see footnote). Use VTOL and Yaw to aim gun.
Bombs and torpedo always available.
BACKGROUND
Fictional Story
What can be learned from an old, faded photograph and where can it lead?
That was the question American university student Emily Muhle asked herself in the Spring of 1967 when she came across a small photo of a strange looking aircraft in an album that had belonged to her late grandfather: He had been a German newspaper journalist who had served in the Kaiserliche Marine and who, like many others, had spoken little of his wartime experiences.
Up to that point, Emily had never taken an interest in aviation, her studies being centered around her high proficiency in pure mathematics but, on a visit to her local library, she came across some books about early aviation and decided to try to discover as much as she could about the strange, unwieldy looking seaplane in her grandfather's photo.
This intriguing path took Emily from the history of aviation through to reading avidly about aerodynamics, studying everything she could about aero-engineering and soaking up as many aspects of the aviation industry as she could, eventually enabling her to graduate with an impressive set of very useful qualifications.
Like most people trying to find their way through their careers, Emily faced many hurdles, but overcame each one with the same focused enthusiasm she had used while studying. Eventually, Emily's hard work enabled her to join one of the most prestigious Aerospace companies in the world and work on one of the most radical projects in aviation history.
On November 22 1988 at USAF Plant 42 in Palmdale California, a set of giant hangar doors opened and the outside world got its first look at a B-2 Spirit Bomber. At the back of the hangar, Emily stood quietly and proudly with her colleagues, watching the media take pictures of a plane whose shape she had helped design.
On Emily's desk at Pico Rivera, next to her monitor, sat a small photo-frame holding that faded picture of a World War One Seaplane.
FOOTNOTE
That was fiddly!
AG3 needs to be off when operating the defensive guns: I needed YAW for traversing the guns so the rudder has to be disabled to stop the whole thing wobbling about. The rotators still impart a little torque but nothing too drastic.
Tried my best to achieve a slow, lumbering flight model for this build and, as always, I messed about with the proportions a little to give the thing a "Treaditional" rather than a fully "traditional" look.
Message to gunners: try not to shoot up your own plane!
Specifications
General Characteristics
Predecessor

WWI Challenge

Created On

Windows

Wingspan

90.3ft (27.5m)

Length

68.1ft (20.8m)

Height

16.4ft (5.0m)

Empty Weight

-4,734,385lbs (-2,147,483kg)

Loaded Weight

12,062lbs (5,471kg)
Performance
Horse Power/Weight Ratio

0.049

Wing Loading

6.1lbs/ft2 (29.8kg/m2)

Wing Area

1,979.5ft2 (183.9m2)

Drag Points

5466
Parts
Number of Parts

568

Control Surfaces

5
---