---
About North Wright Airlines: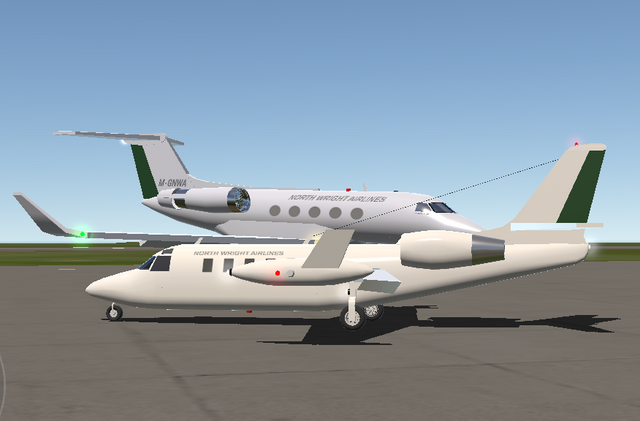 The North Wright Airlines was a charter airline, which would offer chartered regional and intercity flights, it was founded in 1981 and began operating in 1988 with a fleet of just 7 IAI Westwind II aircraft at the time, its main operating HUB was North Wright Airport. Wright that connected with all the neighboring islands. however, in 1991, North Wright Airlines embraced executive air transport once and for all and acquired a small fleet of 4 Gulfstreams used since 1986 to meet the growing demand for executive flights that was on the rise at the time. After the acquisition of the new Gulfstreams, the company retired all 7 of its IAI Westwind IIs and began offering executive transportation services of high comfort and quality. The company soon stood out for its excellent onboard services and extremely luxurious meals.
About the Aircraft: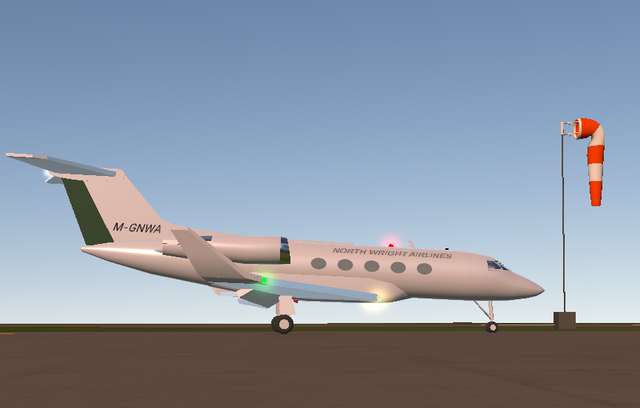 The Gulfstream III, a business jet produced by Gulfstream Aerospace, is an improved variant of the Grumman Gulfstream II.
The Gulfstream III was built at Savannah, Georgia, in the United States and was designed as an improved variant of the Grumman Gulfstream II. Design studies were performed by Grumman Aerospace Corporation in collaboration with Gulfstream American Corporation. Design of the Gulfstream III started with an effort to synthesize a completely new wing employing NASA supercritical airfoil sections and winglets. Optimization studies considering weight, drag, fuel volume, cost, and performance indicated that a substantial portion of the new wing benefit could be secured with modifications to the existing wing. As a result, the new wing concept was canceled and work began on design modifications that would retain the Gulfstream II wing box structure and trailing edge surfaces.
Compared to the G-1159 Gulfstream II, the wing has 6 ft (1.8 m) more span and 5 ft (1.5 m) winglets added, the leading edge is longer and its contour is modified. The fuselage is 2 ft (0.6 m) longer aft of the main door, the radome is extended and there is a new curved windshield. Maximum takeoff weight is increased to 68,200 lb (30,935 kg) or 69,700 lb (31,615 kg) and there are various changes to the autopilot, flight instruments, and engine instruments. The aircraft received its type certificate from the American Federal Aviation Administration on 22 September 1980. A total of 202 Gulfstream IIIs were built, with the last example built in 1986.
In 2013, the FAA modified 14 CFR part 91 rules to prohibit the operation of jets weighing 75,000 pounds or less that are not stage 3 noise compliant after December 31, 2015. The Gulfstream III is listed explicitly in Federal Register 78 FR 39576. Any Gulfstream IIIs that have not been modified by installing Stage 3 noise compliant engines or have not had "hushkits" installed for non-compliant engines will not be permitted to fly in the contiguous 48 states after December 31, 2015. 14 CFR §91.883 Special flight authorizations for jet airplanes weighing 75,000 pounds or less – lists special flight authorizations that may be granted for operation after December 31, 2015.
By 2018, prices for a used 1982 Gulfstream III started at $695,000.
---
Images: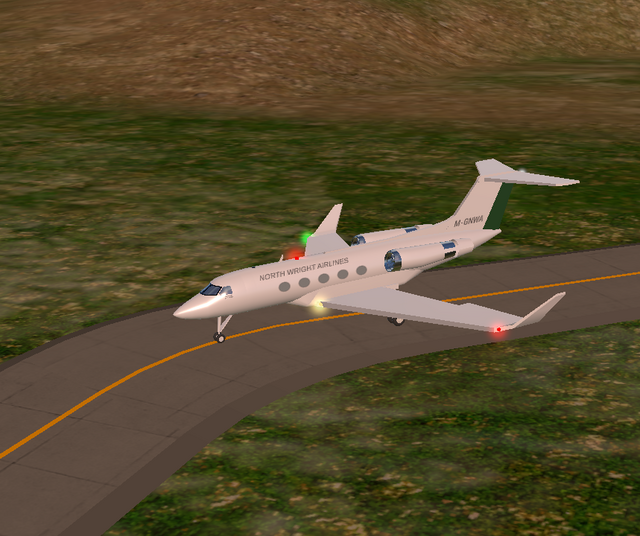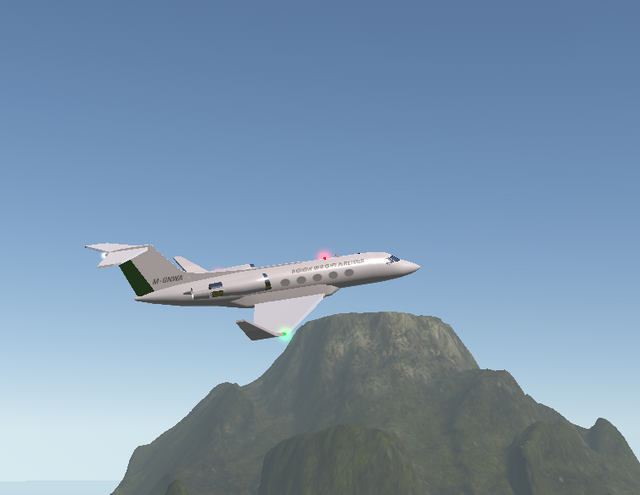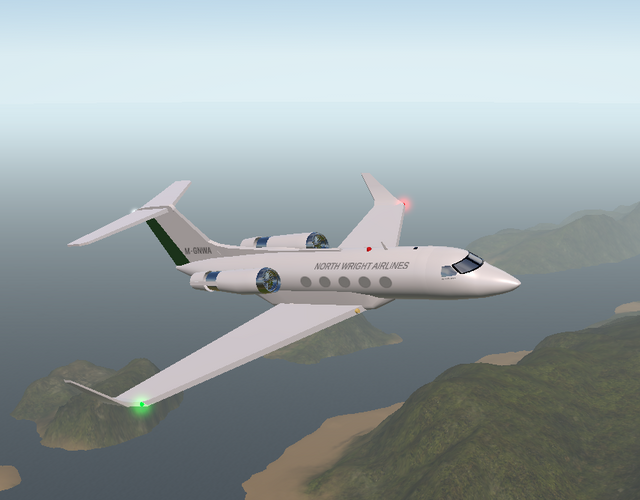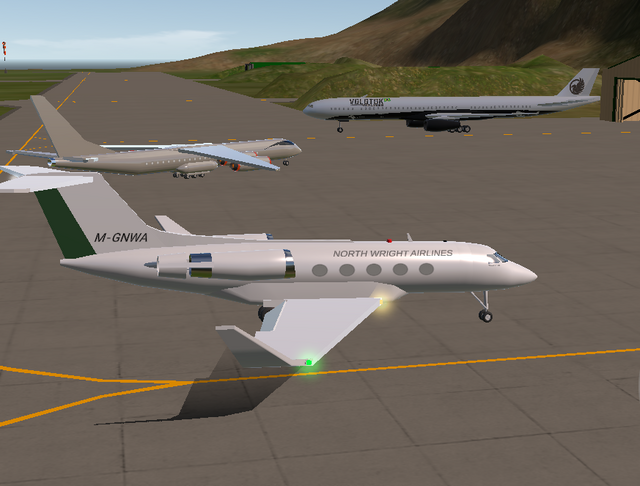 Actual Sample: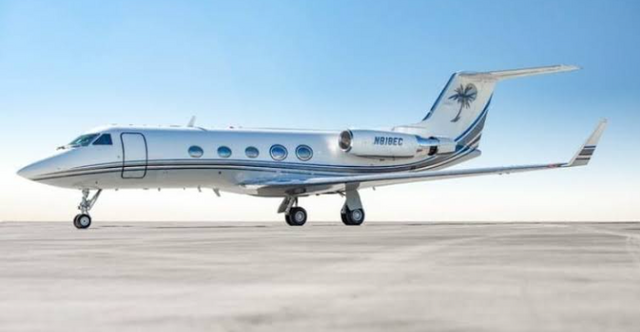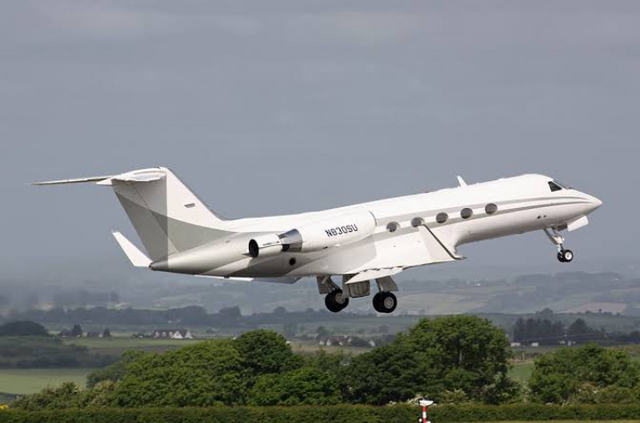 Images Credit: Wikipedia
---
This aircraft follows all the basic AI requirements. It is specially designed for Artificial Intelligence [AI] to simulate air traffic, it is able to land and take off with extreme precision at the main airports in the game, it is also a playable aircraft, you can enjoy air collisions, target shooting or just enjoy of a more realistic air traffic.
How to make it operational:
Step 1: Download and save this aircraft to your collection
Step 2: Activate in-game AI air traffic in sandbox mode and wait patiently on the ground until the aircraft is spawned
If the aircraft is not spawning, remove decorative details such as lights, letters and numbers on the fuselage, then repeat the process again until the aircraft is spawned in your skies.
---
Controls: Standard
Thank you for your attention, Good flight!
Specifications
General Characteristics
Predecessor

Magic Form

Created On

Android

Wingspan

119.0ft (36.3m)

Length

127.3ft (38.8m)

Height

38.4ft (11.7m)

Empty Weight

N/A

Loaded Weight

22,249lbs (10,092kg)
Performance
Power/Weight Ratio

6.06

Wing Loading

8.0lbs/ft2 (39.0kg/m2)

Wing Area

2,786.1ft2 (258.8m2)

Drag Points

8306
Parts
Number of Parts

92

Control Surfaces

7

Performance Cost

497
---