I've been sitting on this one for some time –thought I wouldn't post it. But anyway, here we go…
First, the obligatory history lesson, then?
The He 177 "Greif" (Griffon) was the luftwaffe's only long-range heavy bomber in WW2. And even so, only 1169 were built… versus some 12731 B-17's and 7377 Lancasters for the Allied air forces. Talk about being outnumbered.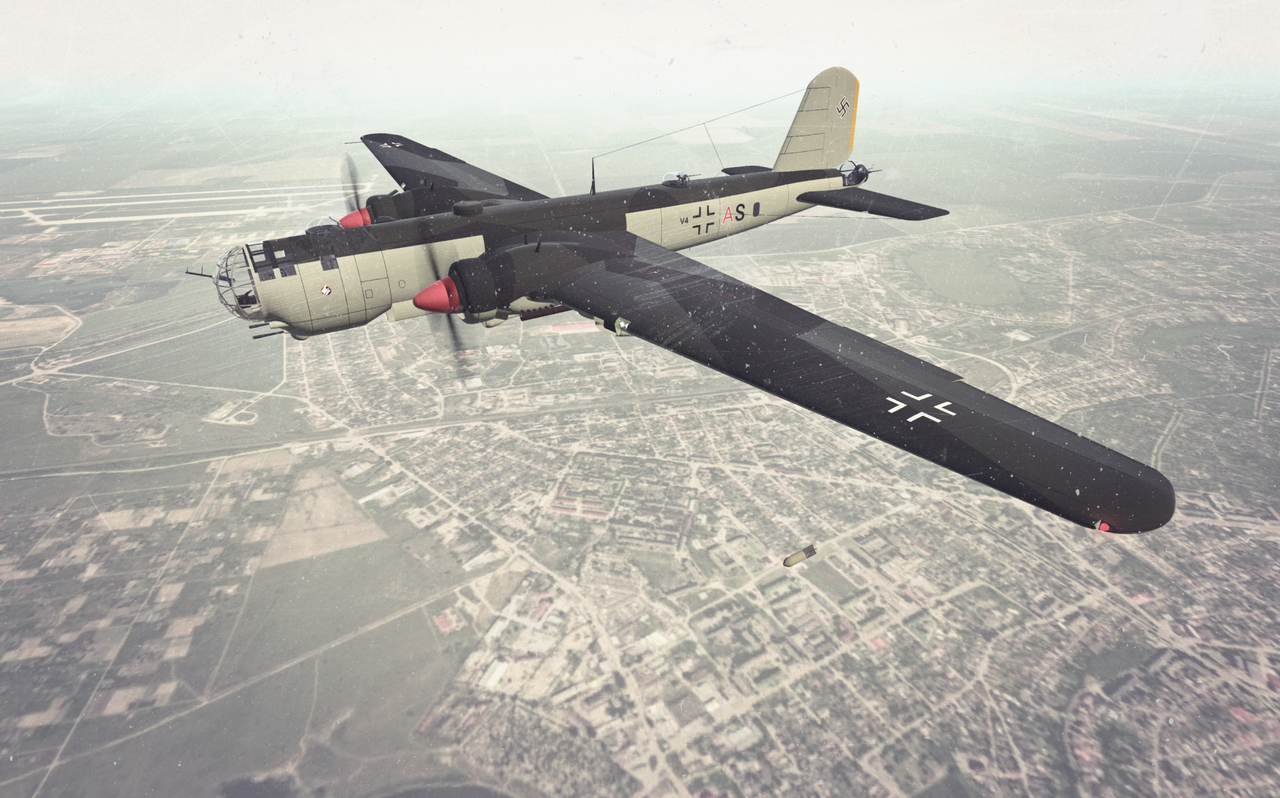 Development started in 1937, as Heinkel's response to the luftwaffe's requirement for a fast, long-range bomber with a decent payload -the so-called "Bomber A" program. Despite the design not being bad as such, the plane's development was troubled; the luftwaffe's silly idea that it should be able to handle dive bombing as well as level bombing might have had something to do with that…
To reduce drag as well as to improve stability during dive bombing, the Greif had four engines installed in only two nacelles and driving two propellers. Unfortunately, cramming two 12-cylinder Daimler engines in a single nacelle left little space for niceties such as cooling, firewalls, separate exhausts and so on. The engines suffered from leaks and overheating, and caught fire so easily that its crews called it the "flaming coffin".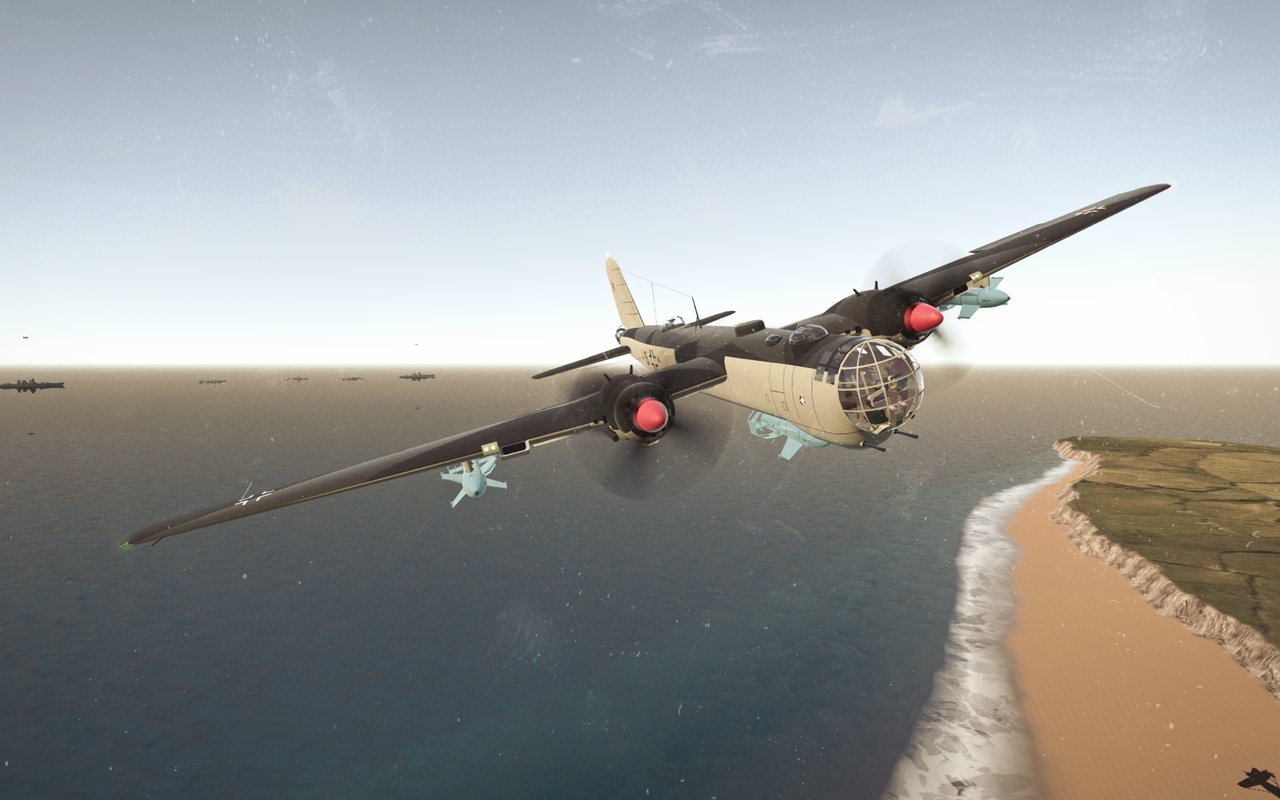 Because of the engine design, there was no room left in the engine nacelles for small, trivial items –such as a landing gear. To handle the plane's loaded weight, an intricate 4-legged landing gear was designed, retracting into the wings; a neat solution perhaps, but a nightmare for the ground crews, who needed two hours to change a single tire on the main gear.
Still, it wasn't a bad plane, I suppose. It needed better cooling, but the design was indeed more elegant (except for the rather ridiculous fishbowl-nose) than that of your average, lumbering 4-engine bomber. When it wasn't randomly bursting into flames, it could carry more bombs than a B-17 but handled like a heavy fighter or a light bomber; to intercept it, you had to be quick indeed. Unfortunately for the luftwaffe; just by the time the problems were slowly getting ironed out, the war was drawing to an end and there wasn't enough fuel to run these planes efficiently. It became just another one of those designs that never quite lived up to expectations.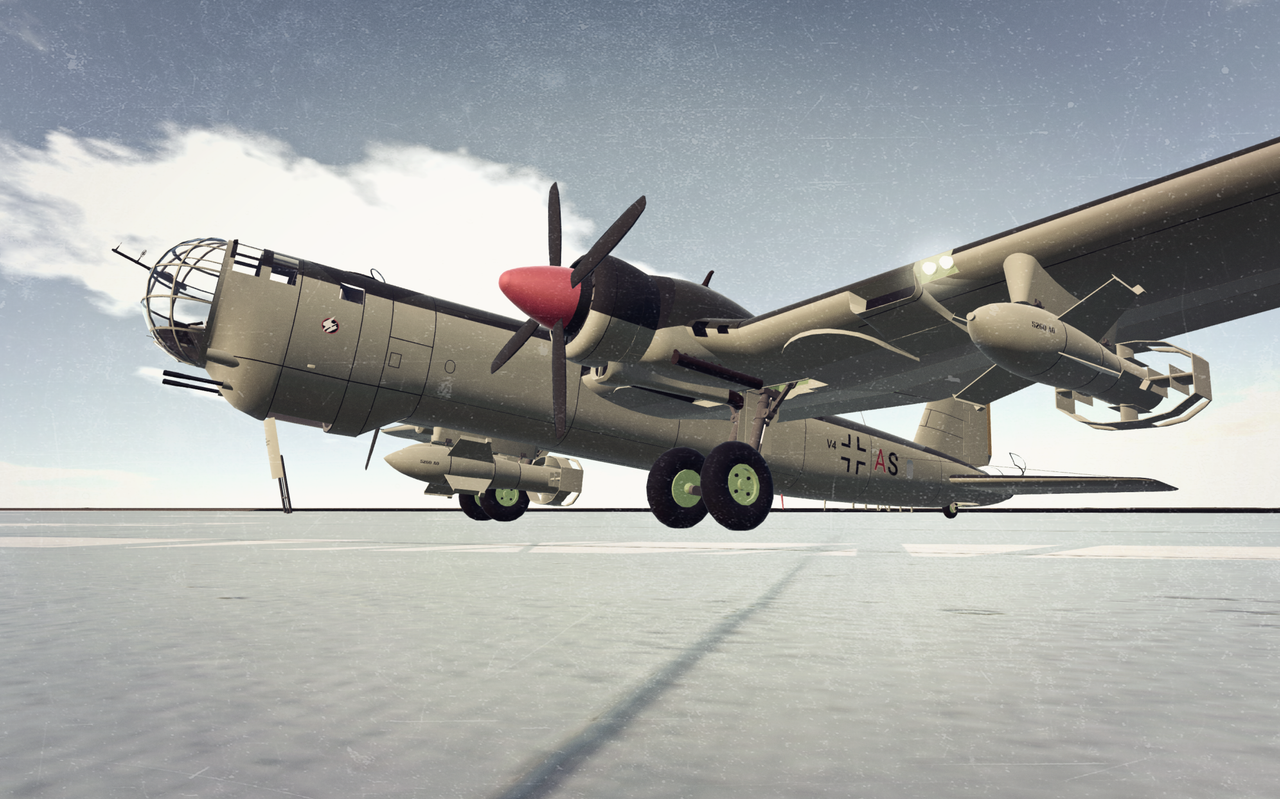 The build
I wanted a detailed Greif. And sure enough, I went overboard… there's lots of stuff I'm sure nobody needs; the final result looks quite Greif-ish though. Could have saved lots of parts if SP had an option to "drill" round holes in fuselage parts. But then it would be too simple to build, and where's the fun in that?
- Huge Fowler flaps
- Custom landing gear with suspension and wheel wells
- Full interior with cameras at all crew positions -plus a bomb sight
- Detailed gunner's stations & turrets
- Working access hatch & ladder, and tail gunner's canopy
- Realistic bomb bay
- Scheme with different interior/exterior colors and splinter camo
- Your choice of weapons: normal bombs or the Fritz X!
- Should be VR-ready… or so I hope
So yes, sure enough, it's detailed… probably too much so. And I don't intend to strip it down for a "low part" version, because it simply wouldn't look good. I suppose the build will be only for those with a kickass graphics card… I promise to build something a bit, ehm, more reasonable one of these days.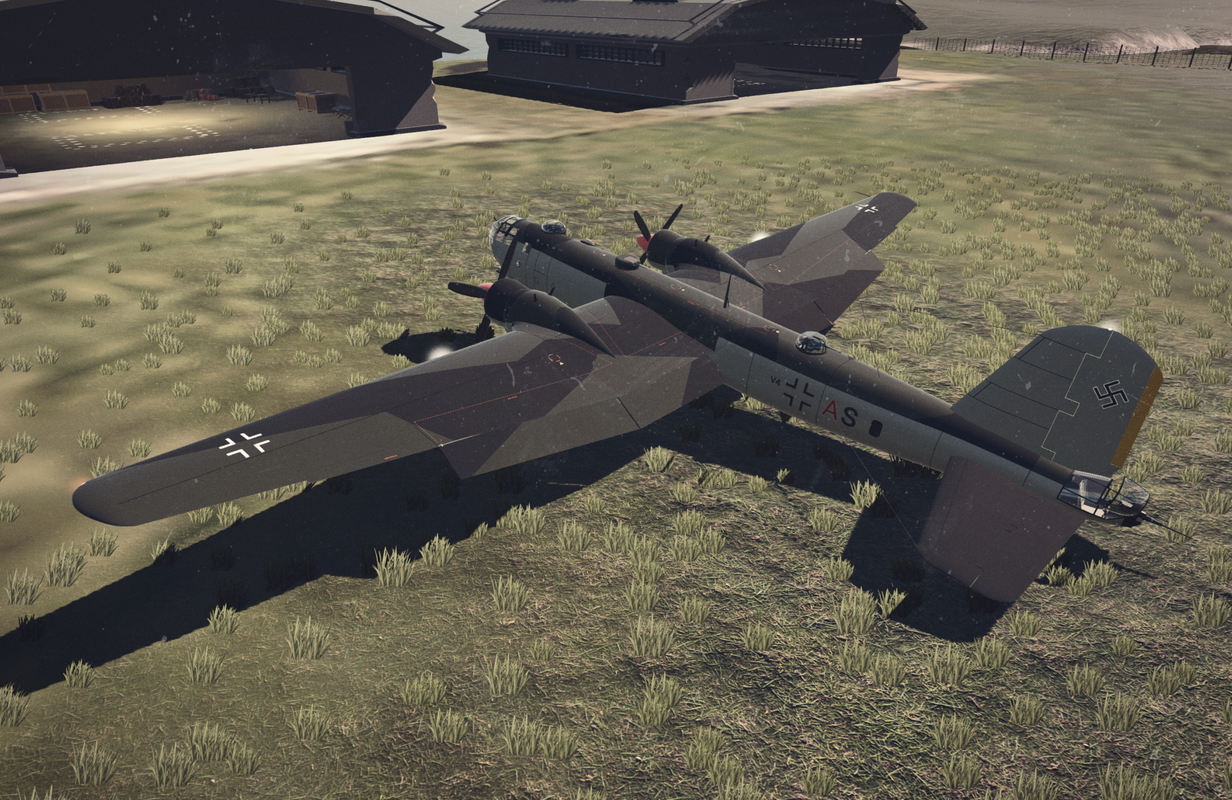 Controls
Standard stuff: VTOL down for flaps, trim slider for pitch trim, normal flight controls. The pilot's position has levers for trim, throttle, gear and flaps; the bombardier position can take over the flight controls, but he's limited to just the yoke and throttle.
Non-standard controls:
AG1 : open/close access hatch (VR: lever @ bombardier's seat)
AG2 : open/close bomb bay (VR: lever @ bombardier's seat)
AG3 : open/close tail gunner's canopy (VR: red button @ tail gunner's seat)
AG5 : switch the yoke to/from the bombardier (VR: switch on the yoke)
AG8 : toggle nav lights (VR: switch on the yoke)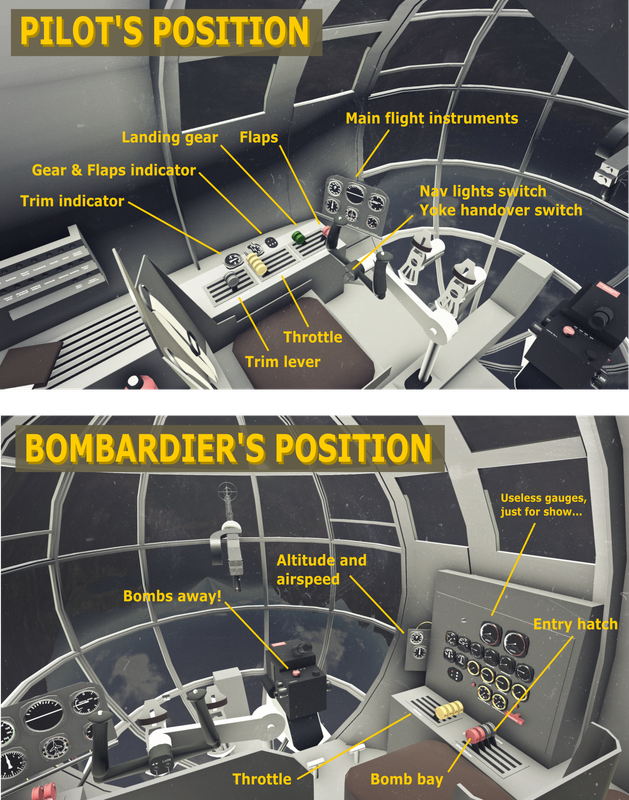 Camera views: Pilot's seat, Bombardier, Engineer/radio operator, Observer's position in the bola (view to the rear/bomb bay) / Tail gunner / A-stand machine gun (nose) / B1 remote turret (front dorsal) / B2 manned turret (aft dorsal) / Bomb sight (not on the Fritz X version).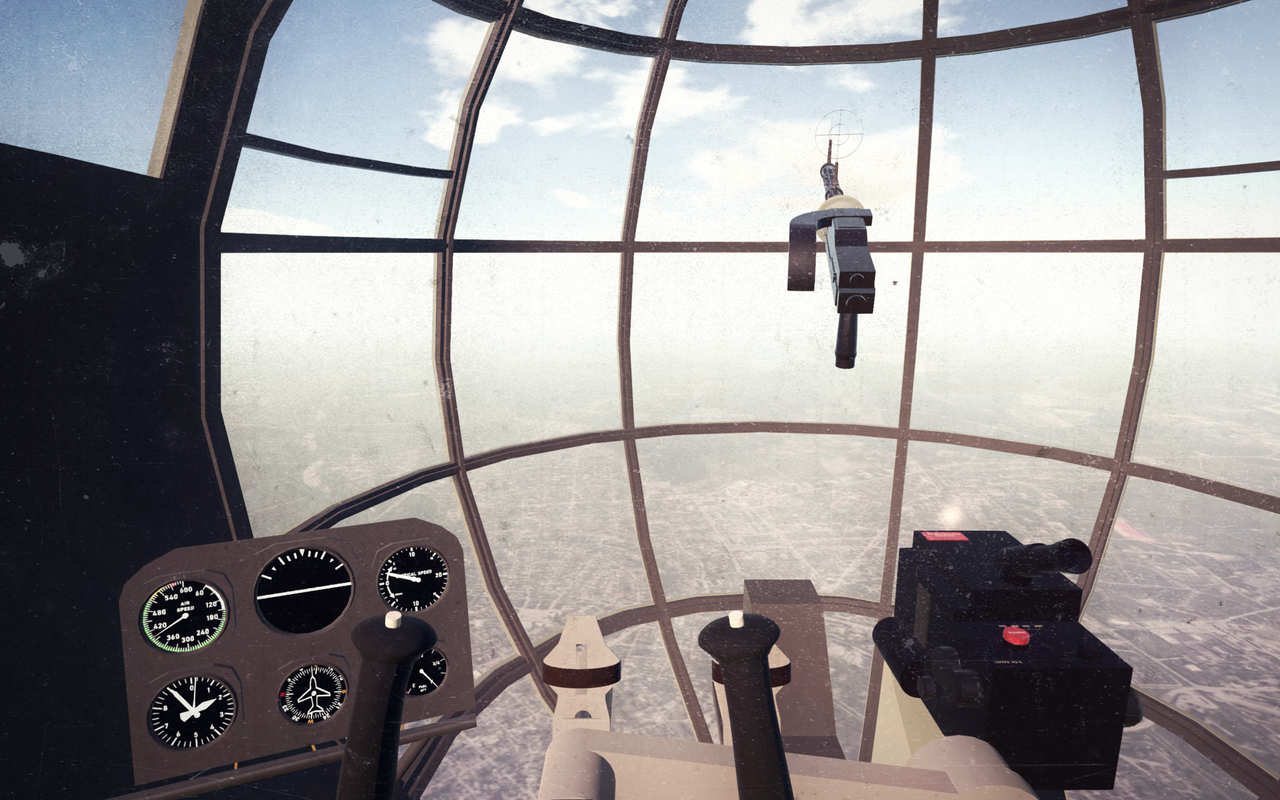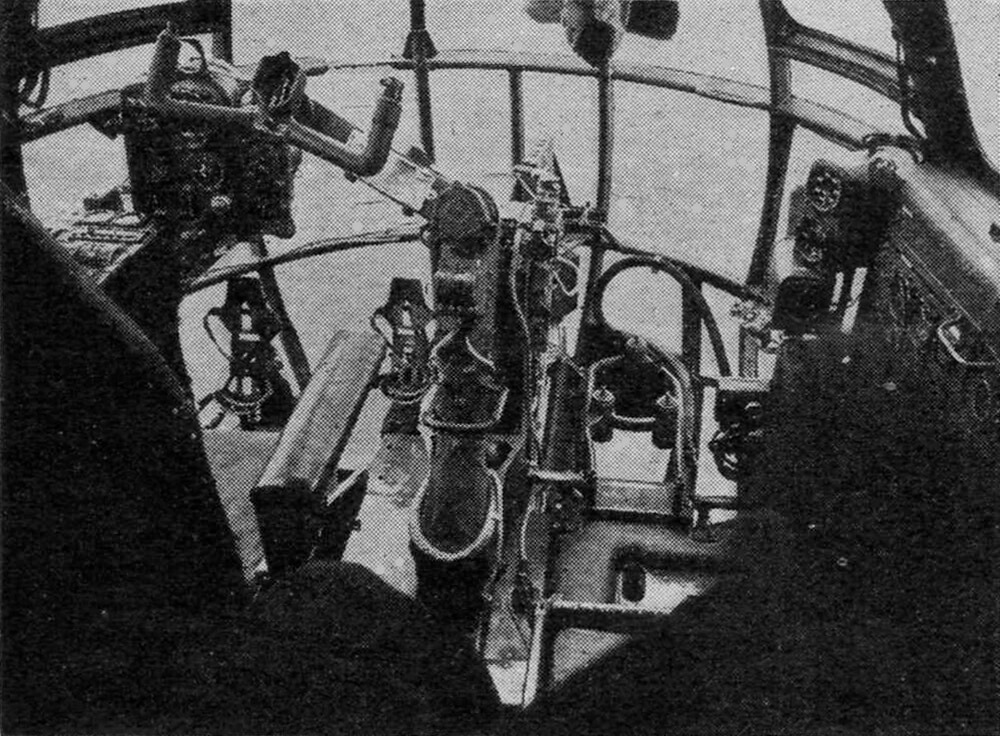 Flying: For takeoff, half flaps / bit of pitch trim / full throttle. Rotate around 200 km/h. To land her: throttle back, full flaps… and don't let your speed drop below 140-150 km/h. The plane has no freaky behaviors, so everything's pretty straightforward.
Offensive weapons
I actually uploaded two versions of the Greif; this one is set up for level bombing, but you can also download the version with Fritz X radio-controlled glide bombs. Whatever suits you taste…
Level bombing: the standard version is loaded with six (6) SC500 bombs, each of which packs quite a punch. With just 3000 kg in the bay, the Greif is certainly not overloaded; the plane had much more options, and could carry 1-ton or 1.8-ton bombs as well. I chose the SC500's, but anyone's welcome to fill the bay with something else.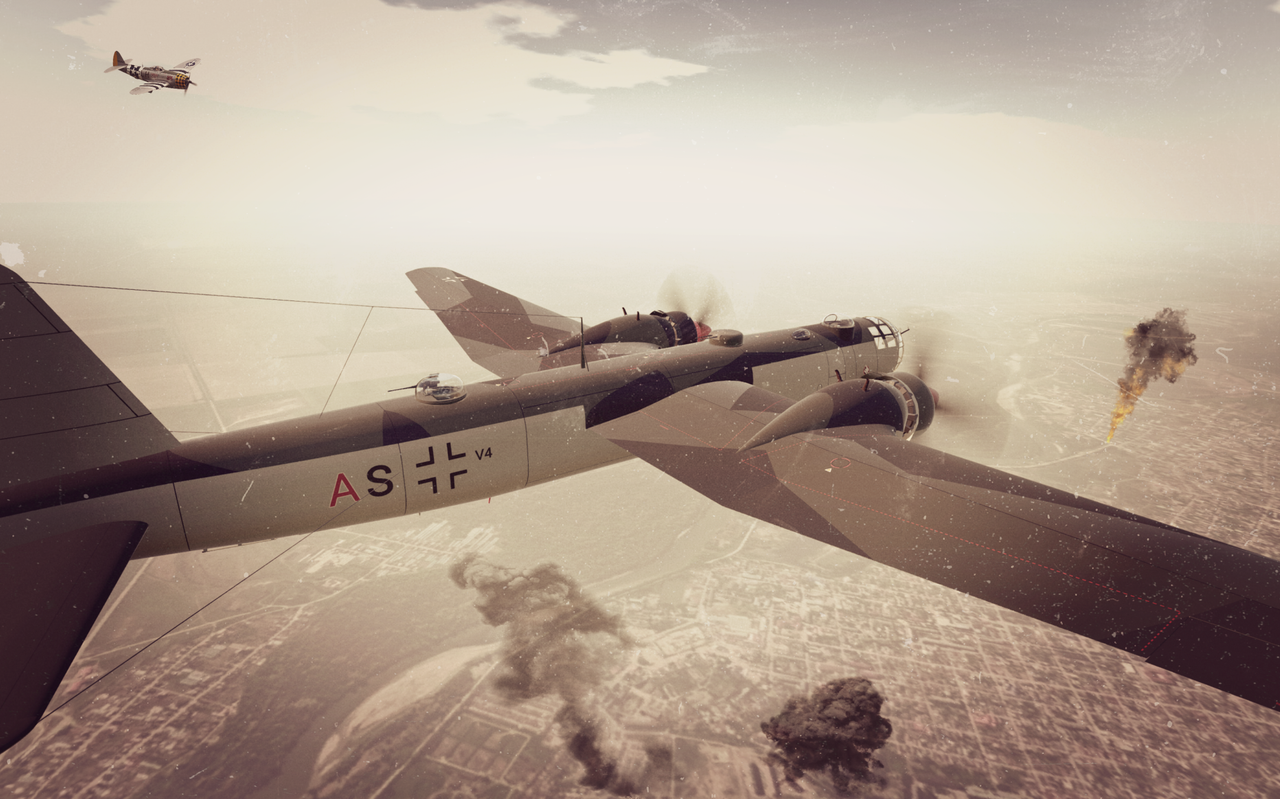 For your bomb run, you get two options. If you select the Bombardier's View, the camera goes forward to the glass nose, giving you a clear view on the target (and SP's targeting system); you're also nicely within range of a red button on the bomb sight that will drop a bomb when pushed. You'll have to open the bomb bay (AG2 or lever) first of course, and select the bombs from the weapons menu.
The second option is to switch to the bombsight camera; it gives you a view through a somewhat WW2-style bomb sight; the sight itself has an indication for heading and altitude. Bombing is best done when flying level; the bomb sight has indicator arrows for pitch and roll angles… when you line these all up with the horizontal line (or almost, at least) you know you're flying level and good to go. To make things easier, you also get a bomb bay indicator light, airspeed indicator, and red pushbutton for bomb release. And by the way; I only did the cosmetics on the bomb sight… credit for designing the thing itself goes to SnoWFLakE0s of course…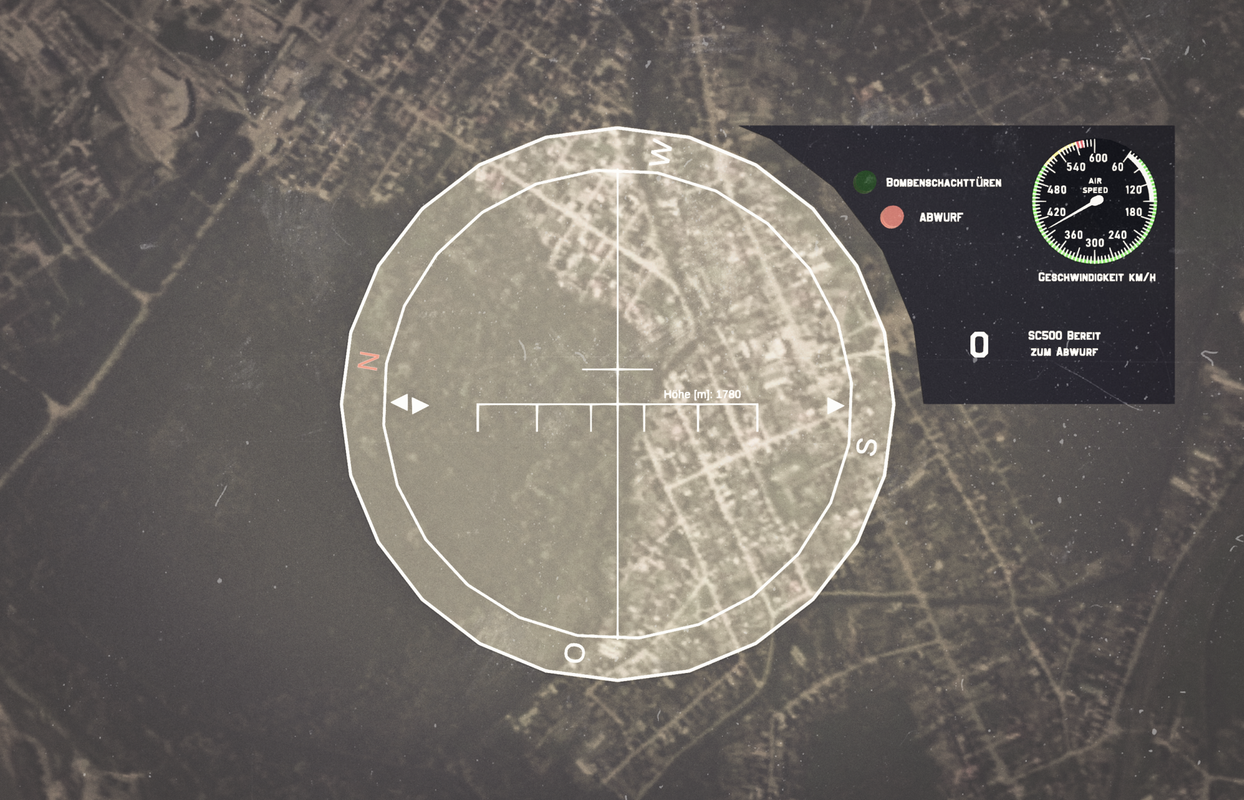 Fritz X: The world's first precision-guided bomb was a development of the PC1400 "Fritz" unguided bomb. Manufactured by Ruhrstahl, it was known under different model codes: SD1400X, Kramer X-1, PC1400X, or FX1400. Just for the hell of it, I'm calling mine the FD1400X –fits neatly in this row. Everyone of course just knows the bomb by its nickname "Fritz X".
The real Fritz X was radio-guided by the bombardier; it was roll-stabilized by a gyroscope, and the bombardier could make small pitch and yaw corrections only. In its tail, the Fritz X had a flare to make sure the bombardier could keep track of where his bomb was going. In SP of course, things will work just a bit differently: you select the bomb you want (port, center or starboard) and switch to the right tracking cam. The plane will stabilize automatically, but the controls won't freeze up; you can still make small course corrections to line up with your target. Once you drop the bomb, its flare will ignite; remember this doesn't give you any thrust, it's just a harmless fire & smoke show. You can now control the bomb with pitch, roll and yaw.. and you probably won't hit much the first few times… remember, this thing is a bomb, not a missile or a plane. It won't fly; it glides, but only a little bit. That only means that if you drop it uncontrolled using normal bomb targeting, you'll overshoot… but release it too early, and it will fall short; you can't "fly" it to its target. Like with the real Fritz X, its range is determined by the height from which you drop it, and your plane's speed. Some trial and error will be involved to get used to its behavior.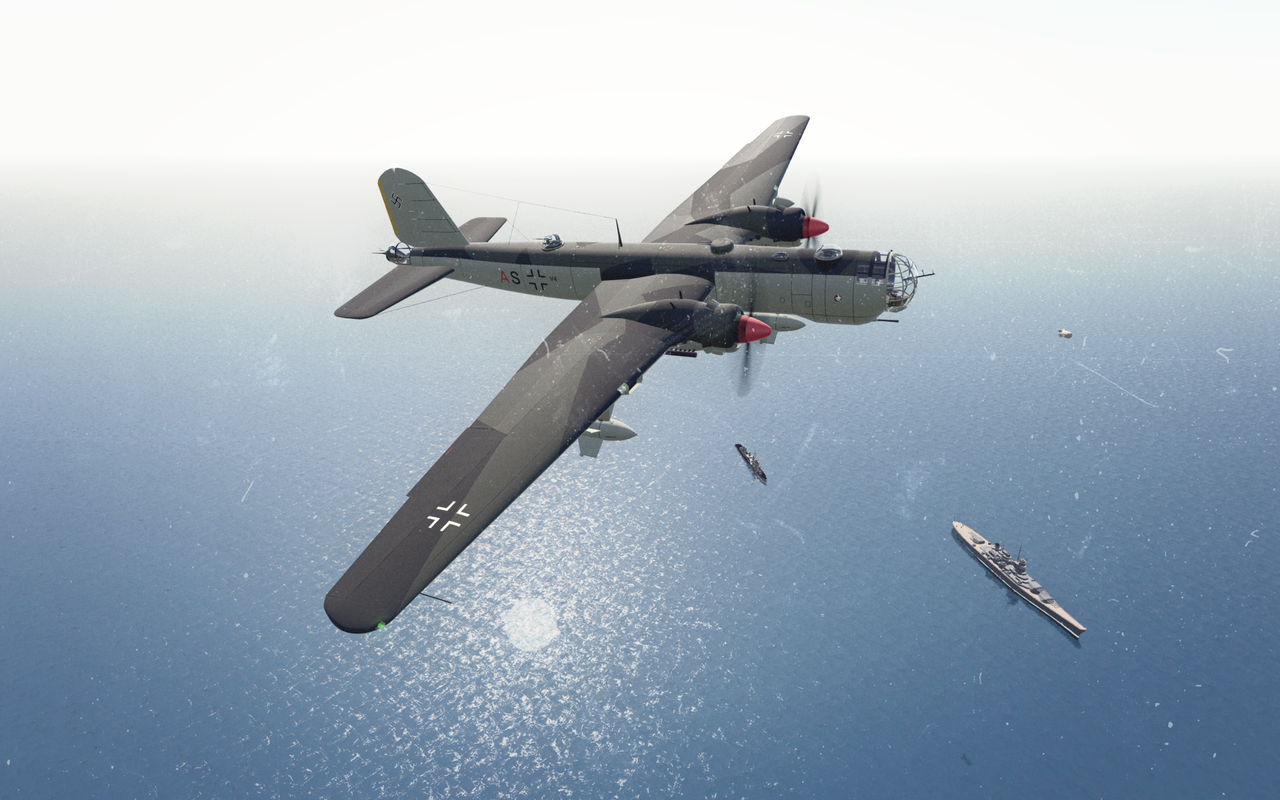 MK-103 Cannons: the Greif actually had a 20mm cannon in the "bola" at the nose, but I fail to see the use… it's a bit flimsy for attacking ground targets, and since the Greif isn't exactly an agile dogfighter it will also be useless against planes. The luftwaffe experimented with several alternative setups using heavier guns to give the Greif some extra tank-busting punch, but nothing every went into production as standard. So I gave this build a pair of fixed, forward-firing MK-103 30 mm autocannon, with which you can do some real damage. Because of that, I deleted the Greif's rearward-firing MG-81 from the bola; there simply wouldn't be room for the MK-103's and their ammo, the MG-81, and the gunner.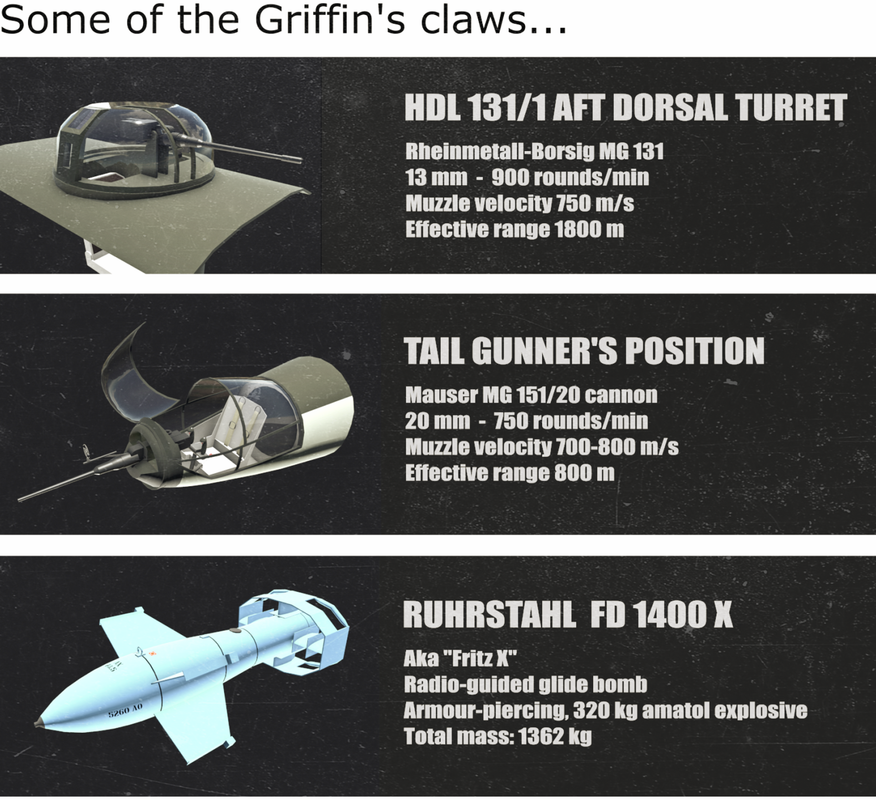 Defensive weapons
Tail gun: The tail gunner's position is equipped with a single Mauser MG-151/20 mm cannon holding 300 rounds. The gun is controlled by pitch & roll; for VR users, there are two joysticks –one to control horizontal movement, the other one for vertical movement… I believe this is much like the real gun controls in the Greif. Both sticks' triggers will fire the gun.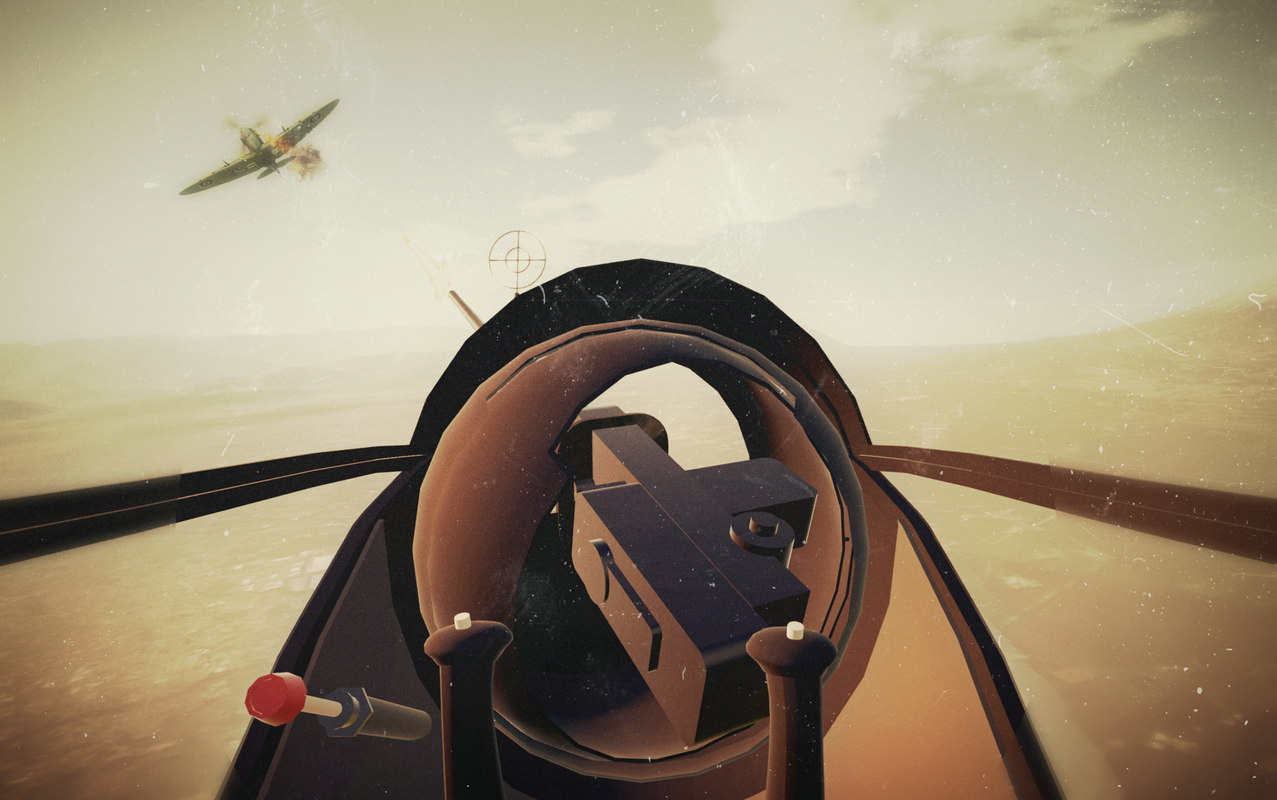 B2 Turret: The B2 (aft dorsal) position of the Greif was equipped with a manned HDL 131/1 powered turret, holding a single MG-131 13 mm machine gun with 750 rounds. Controls are the same as for the tail turret.
B1 Turret: The B1 (front dorsal) position of the Greif had a FDL 131Z remote control powered turret with two MG-131 machine guns and 750 rounds each. The turret is controlled from the gunner's position in a separate turret at the cockpit. Controls are the same as for the tail and B2 turrets.
A-stand: The A-stand (machine gun in the nose) has a single MG-81 7.92 mm machine gun, manually aimed. It just works with pitch & roll, like the turrets; for VR users things might be a bit tricky. I used a joystick as a pistol grip for the MG; theoretically at least, if you set the rotators of the swivel to "floppy", you should be able to grip the gun in VR, move it around and pull the trigger… but I have no way to test that. Would appreciate getting feedback on that, though… I hope someone tries it & lets me know.
Did you read all the way down to here..??
Wow, I hadn't expected that. Thanks, and have fun! Constructive criticism is appreciated!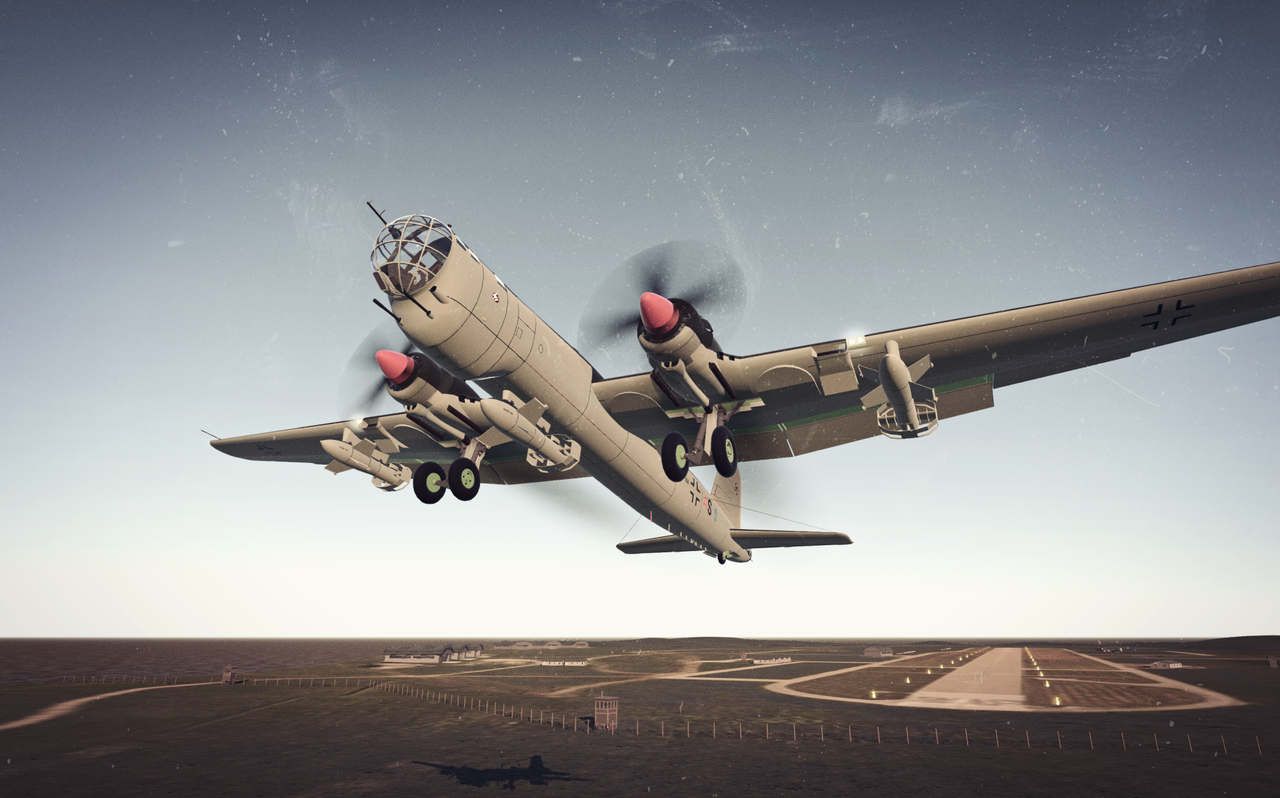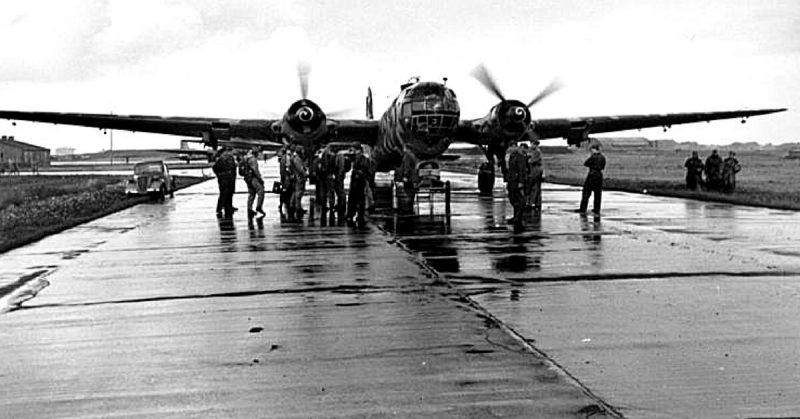 Specifications
General Characteristics
Successors

1 airplane(s)

Created On

Windows

Wingspan

102.0ft (31.1m)

Length

73.2ft (22.3m)

Height

20.6ft (6.3m)

Empty Weight

44,247lbs (20,070kg)

Loaded Weight

60,023lbs (27,226kg)
Performance
Horse Power/Weight Ratio

0.049

Wing Loading

31.5lbs/ft2 (154.0kg/m2)

Wing Area

1,902.5ft2 (176.8m2)

Drag Points

10703
Parts
Number of Parts

3054

Control Surfaces

0

Performance Cost

10,351
---