Auto Credit
Based on hpgbproductions's
paint_pre
digital painting tool -miracle-
A 64x64 digital canvas using variables. It uses the cursor for controls, so you can use a mouse, drawing tablet, or any other pointing device.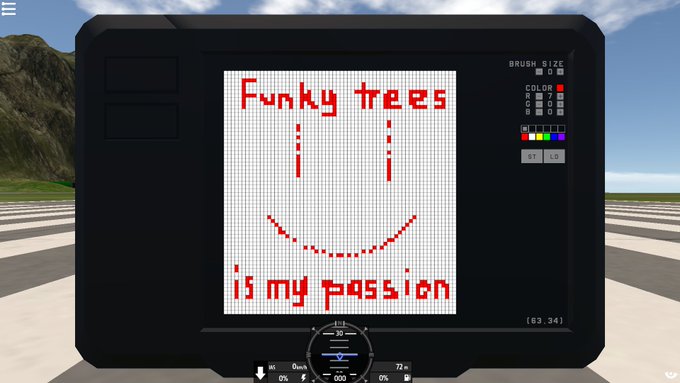 PERFORMANCE NOTICE:
The aircraft is 3.6 MB in size. It will take a long time to load into the designer or simulation (30-40 seconds first load for me, subsequent loads are often longer)
Due to the iterative ternary operator method used to select each color, darker colors have a greater performance cost than lighter colors. The framerate will decrease as you draw.
jundroobles gib arrays and hexadecimal text output pls
OTHER NOTICE:
There are eight levels for each RGB component, roughly corresponding to a curve of power 1.8.
Even though all the display labels use 100% emission, they are slightly affected by local lighting conditions.
I originally tried a 100x100 canvas but it was too slow for me to use.
Depends on Mouse as Joystick so it's probably the most mobile unfriendly post to ever exist
PREPARATION BEFORE USE:
Read through all the instructions and have them ready. A shorter version of the instructions is available in the Craft Instructions.
If SimplePlanes is running, close the game.
Navigate to the SimplePlanes folder and open Settings.xml. Change mouseAsJoystickDeadzone to 0.
Save Settings.xml.
Reload the game.
Note: If you edit Settings.xml when the game is running, your changes will not be reflected, and may be reset when the game is closed.
Note: It will not work with a deadzone of 0.05 (the smallest you can set in game)! It must be zero!
CALIBRATION BEFORE PAINTING:
Turn on Mouse as Joystick.
Move the cursor to the middle of the top-left pixel and hit the Yaw Left key.
Move the cursor to the middle of the bottom-right pixel and hit the Yaw Right key.
Note: If performed correctly, the "Uncalibrated" message on the bottom right will disappear, and the arrows on the sides of the canvas will follow your cursor.
Note: If the camera zoom or position is changed after calibration, you will need to recalibrate the controls.
PAINTING:
Use FireGuns to paint using the active color.
Click on the "-" and "+" buttons to change the brush size and active color.
Click on the Flip button to get a mirrored perspective, which is very useful for drawing.
STANDBY COLOR PALETTE:
Click on the squares above each saved color to select or deselect each slot.
Click on the ST (store) button to save the active color to all selected slots.
Click on the LD (load) button to load the color from the leftmost selected slot.
Extremely fun stats:
4,135 total variables (4,096 pixel variables, 16 for buttons, 23 for functionality)
3,631 KB total size (3,033 KB for canvas label, 555 KB for pixel variables, 43 KB everything else)
512 colors (9-bit regular RGB palette)
Specifications
General Characteristics
Predecessor

paint_pre

Created On

Windows

Wingspan

9.8ft (3.0m)

Length

8.4ft (2.5m)

Height

6.6ft (2.0m)

Empty Weight

2,772lbs (1,257kg)

Loaded Weight

2,772lbs (1,257kg)
Performance
Wing Loading

N/A

Wing Area

0.0ft2 (0.0m2)

Drag Points

5832
Parts
Number of Parts

45

Control Surfaces

0

Performance Cost

497
---