Carproni CA.416 Sperimentale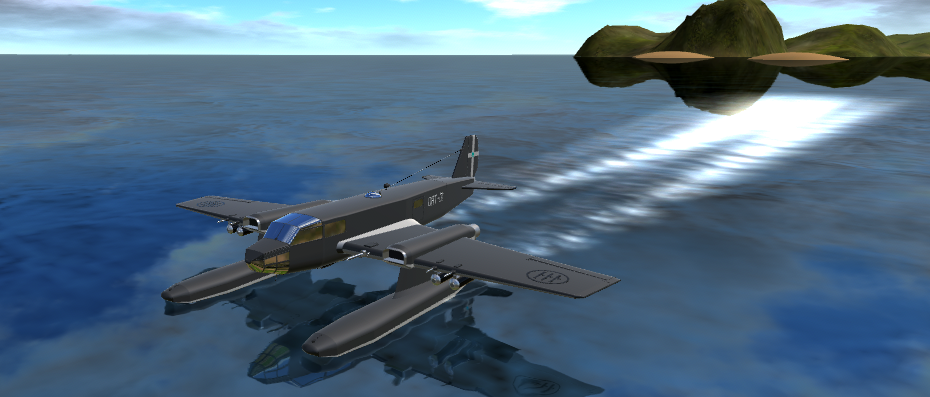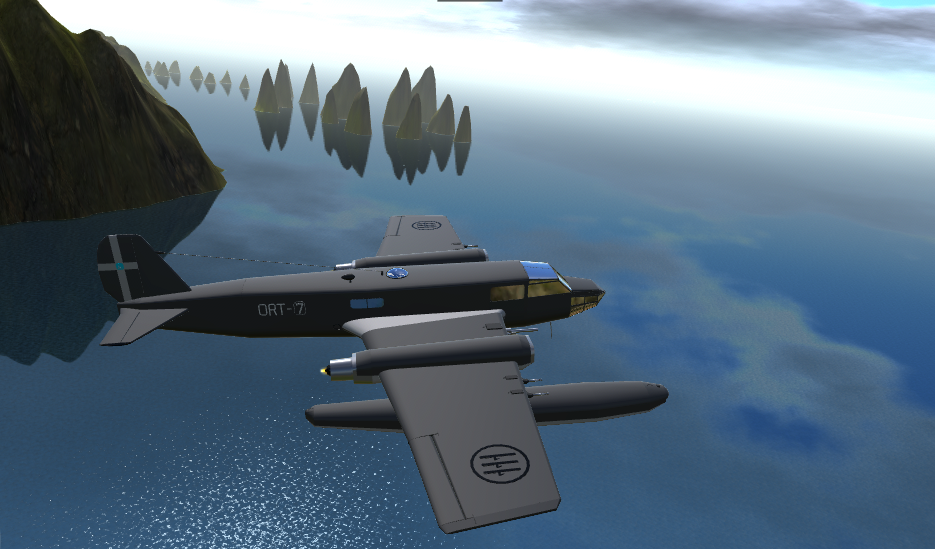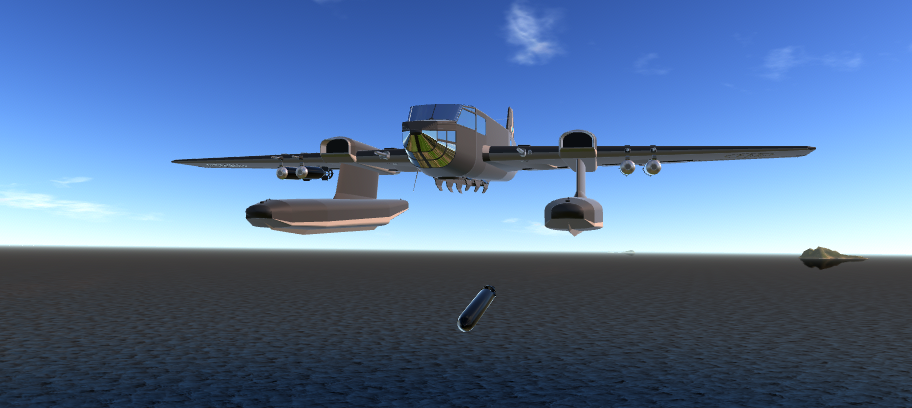 Take-off
VTOL Down half way to set flaps. Apply full throttle, when speed reaches 180mph TAS, rotate gently (speed will reduce slightly until unstick occurs). Once airborne, VTOL centre to raise flaps. Set throttle and trim as required.
Torpedo Run
Use 30% throttle and full pitch-up trim if desired; drop torpedo from 200ft or below.
Landing
Descend using 15% to 20% throttle. For final approach and landing, use 10% to 15% throttle and VTOL down fully for full flaps. On touchdown, throttle off.
Taxiing
AG5 on to enable differential thrust. Use low throttle and Yaw to steer left and right. AG 5 off before commencing take-off.
AG1 Wing Machine Guns.
AG2 Wing Cannon.
AG3 Torpedo.
AG4 Bombs.
AG5 Enable differential thrust for taxiing.
Background
Little is known about this particular example of early Italian jet aviation. In the chaos of the closing months of the War, most reliable documentation and records were lost or deliberately destroyed, leaving little more than anecdotes passed down verbally, notes in personal diaries, blurry, damaged photographs and the occasional physical souvenirs taken by Allied troops.
The Caproni CA.416 was an ambitious experiment to evaluate the use of jet power for float planes. Caproni were selected to build and test the concept and because of the company's good reputation, the decision was taken to press ahead with a fully armed and combat capable prototype. The resulting aircraft showed some similarities to the CA.316 and it is thought that the craft was built using many common parts.
The craft is understood to have been extensively tested and was said to have good take-off handling and more than favorable handling in the air. Speeds in excess of 340mph were recorded at the low altitudes typically flown by torpedo bombers, but it is not known how the aircraft performed at height.
Early trials suggested that the dorsal turret's effectiveness was reduced by the plane's higher speed so the decision was taken to replace it with a small observation blister to aid the navigator.
The Caproni designers concluded that had the aircraft been fully developed, it would have become a very effective Naval Strike Aircraft but, given the poor reliability of the engines at that time, further development would not be advantageous.
It was thought that no film footage existed of the CA.416 until 2013 when a team of archivists, who were digitally restoring Italian Propaganda films, found a 9 second snippet of film showing a CA.316 in flight being caught, then easily overtaken by the CA.416
Data
Speed
Greater than 340mph at low altitude.
Operating Altitude
Maximum working altitude unknown as most testing was carried out at no more than 3,000ft.
Power Plant Unknown.
Crew
Usually 3 during testing in combat scenarios. Officials and dignitaries were said to have also been aboard for general flight demonstrations.
Armament
It is believed that the test aircraft was fully armed; defensive armament consisted of 2 machine guns in each wing. Offensive armament consisted of 1 torpedo and 4 bombs, along with a cannon mounted on the inboard section of each wing for strafing.
Specification of all weapons unknown.
Footnote
An Italian style jet-bomber-fighter-floatplane. Just to add some more oddness into the mix! Also I tried to dial back the dieselpunkiness a bit.
Specifications
General Characteristics
Predecessor

WWII Jets Challenge! (CLOSED)

Created On

Windows

Wingspan

60.2ft (18.3m)

Length

50.1ft (15.3m)

Height

15.9ft (4.9m)

Empty Weight

-4,734,385lbs (-2,147,483kg)

Loaded Weight

11,970lbs (5,429kg)
Performance
Power/Weight Ratio

16.051

Wing Loading

23.7lbs/ft2 (115.9kg/m2)

Wing Area

504.2ft2 (46.8m2)

Drag Points

5485
Parts
Number of Parts

459

Control Surfaces

5
---