Thank you for 10k points!
To thank to all of you who upvoted my builds and allowed this achievement to happen, I decided to make a special build for you.
And not just any special build but something I've been planning to build ever since I bought the game:
The Pz.Kpfw. VI. Tiger I ausf. H1 (these Germans really like long names)
The Tiger is my favourite tank of all time and ever since I realised that tanks can be made in this game, I wanted to build it, but first I wanted to gain some experience and skills to make it as great as possible. Well the time came now so here it is:
History
The Tiger I was a heavy tank which was in service of the German armed forces during WWII, between 1942 and 1945. The tank was feared by allied forces due to its thick, 100mm frontal armour and its fearful 8.8 cm KwK 36 main gun which was able to penetrate most allied vehicles. The design had many flaws however. It broke down very often (especially the transmission) but it also couldn't go to far distances because of the lack of fuel and due to its size and weight it was hard to transport too. The tank had a maximum speed of 45.4 km/h (28.2 mph)
The tank first saw combat on 23rd of September, 1942 near Leningrad. Soon, Tigers appeared on all fronts and had devastating effects on allied forces. Allied soldiers feared it because often up to 5-6 M4 Shermans were needed to defeat 1 Tiger. But the Tiger was still defeated in numbers as only 1347 Tigers were built while the US produced nearly 50000 Shermans. Only 7 Tigers survided 'till this day with Tiger 131 being the only one restored to running condition (which can be seen in the Bovington Tank Museum in England)
Now let's talk about my build:
I spent about 2 days, making this beauty and I think it looks really great.
It has a realistic size and the body is really detailed. I tried to make the speed realistic too by seriously reducing the engine power (tho you can still go with up to 60 km/h or more) and it resulted with the tank starting up a bit slowly and it also has a hard time on climbing hills.
The features:
The tank features a main gun that can fire 20 rounds of boom25s, a coaxial machine gun, working suspension, a simplified gun sight of the original Tiger tank, smoke launchers and lights.
Here's a demonstration:


The Main Gun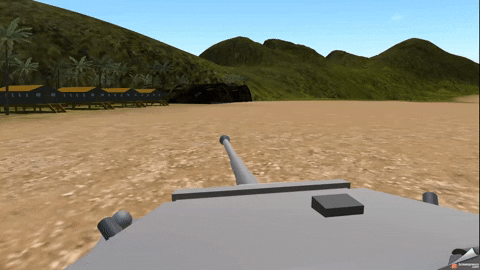 The Coaxial Machine Gun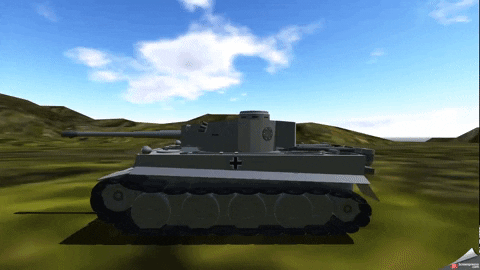 Working suspension


The gunsight compared to the original


The smoke launchers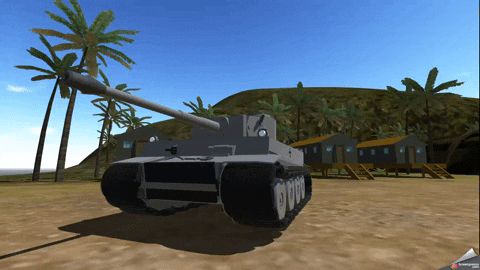 And the lights
Controls:
VTOL-up - Go Forward
VTOL-down - Go Reverse
Pitch-Roll - Turret control
AG7 - Lights
Countermasures button - Launch Smokes
CAM1 - Gunsight view
CAM2 - Commander view
Thanks again for 10k to everyone, and Have fun with this wunderschön panzer!
Other versions:
Specifications
General Characteristics
Successors

15 airplane(s)

+105 bonus

Created On

Windows

Wingspan

12.6ft (3.8m)

Length

28.3ft (8.6m)

Height

9.6ft (2.9m)

Empty Weight

12,653lbs (5,739kg)

Loaded Weight

13,608lbs (6,172kg)
Performance
Wing Loading

40,457.2lbs/ft2 (197,529.4kg/m2)

Wing Area

0.3ft2 (0.0m2)

Drag Points

9148
Parts
Number of Parts

572

Control Surfaces

0
---