The ski speeder were small but fast speeders. The repulsorlifts installed into the craft were so weak that it needed a ski underneath the main part of the craft. They were used by the Resistance on the planet Crait in a hopeless fight against the First Orders AT-M6 Walkers.
——————————————————————————————
Controls
Ag7 wheel steering
Roll- yaw control
(The wings have floppy rotators to make it feel all loose and broken like in the movie).
The build has very simple controls and it doesn't have some fancy funky trees or anything but the mechanics of the build are so well done that it actually feels like you driving a ski speeder. It is very fun to fly and drive around.
*this isn't my original build I jut got the original build and made it look slightly more like a ski speeder.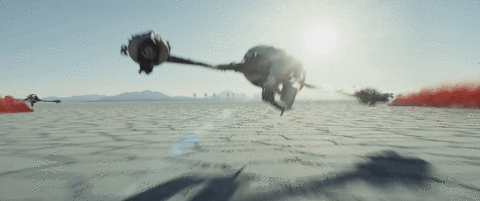 Have fun and get crushed by the First Order!
Specifications
General Characteristics
Predecessor

ski speeder?

Created On

iOS

Wingspan

20.1ft (6.1m)

Length

19.0ft (5.8m)

Height

9.7ft (2.9m)

Empty Weight

4,172lbs (1,892kg)

Loaded Weight

5,174lbs (2,347kg)
Performance
Power/Weight Ratio

0.651

Wing Loading

69.6lbs/ft2 (339.6kg/m2)

Wing Area

74.4ft2 (6.9m2)

Drag Points

2351
Parts
Number of Parts

52

Control Surfaces

6
---