In a parallel universe somewhen
His Majesty's Aircraft
Friendly Vigil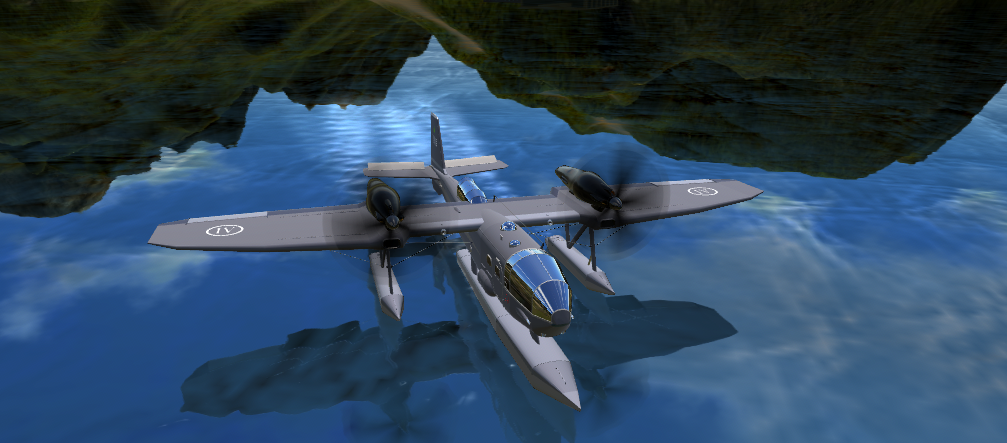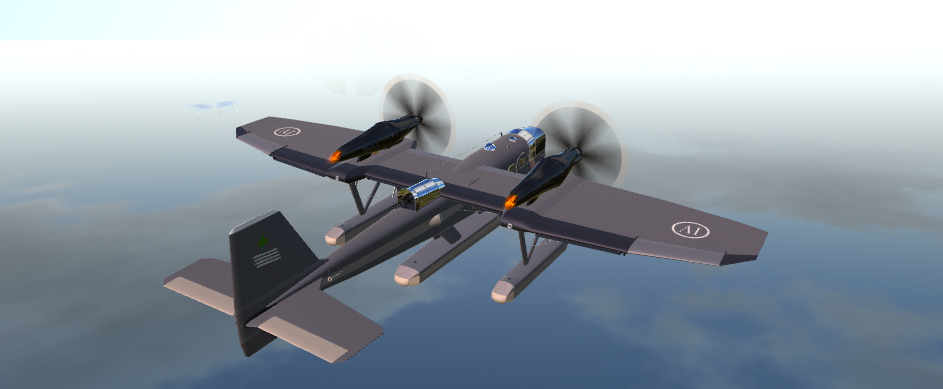 Take-off
AG1 on to enable main propulsion. VTOL down half way to set flaps. Apply full throttle and pull up during take-off run. Unstick occurs at 160mph TAS. Once airborne and in a positive climb, VTOL centre to raise flaps. Maintain full throttle for climb or throttle back and apply trim as required.
Patrol sorties are usually carried out with 50% to 60% throttle with Trim.
Landing
Use 15% throttle and VTOL down fully for full flaps. On touchdown, Throttle off.
Water Taxiing
AG1 off, AG2 on. Use Pitch for forward and reverse, use Roll to turn.
AG2 off, AG1 on for flight.
Crew
4 Flight crew consisting of Pilot, Second Pilot, Radio/Navigation and Rear Gunner/Observer.
Built by Pilots and crew; engines supplied under anonymity agreement.
Sponsored by Vested Interest Trade Consortium and Fishing Fleet 4.
AG1 Main Propulsion.
AG2 on, AG1 off Taxiing thrusters.
AG3 Nose Machine guns.
AG4 Rear Machine guns; use VTOL up and Yaw to aim.
AG5 Landing lights.
His Majesty's Aircraft "Friendly Vigil" carries out coastal patrol and search missions in regions of air superiority. The craft's short take-off run enables it to operate from lakes and other straight bodies of water as well as its normal sea-launched missions, and it's roomy cockpit provides good visibility for the pilots.
The mission brief for the crew is to avoid hostile encounters where possible but if this is unavoidable, the craft has 2 fixed defensive machine guns firing forward and a further 2 rear firing guns on a flexible mount in the observer's position. Combat strategy is to fly as low as possible thus making diving attacks by enemy fighters difficult and dangerous.
The Craft will operate from Coastal Garrison IV as part of the "Ivy Squadron", keeping the region's waters safe.
Footnote
It's supposed or be an ivy leaf. Any resemblance to a maple or cannabis leaf is unintentional.
It's possible to hit the tail section with the rear machine guns so I have increased its health so it won't disintegrate completely each time.
So a genteel return after a planned break from building. I concentrated on a stability, a short take-off run and decent handling for landing and, as I may have said before, I love seaplanes and flying boats!
Specifications
General Characteristics
Created On

iOS

Wingspan

88.8ft (27.1m)

Length

78.4ft (23.9m)

Height

24.9ft (7.6m)

Empty Weight

-4,734,385lbs (-2,147,483kg)

Loaded Weight

15,590lbs (7,071kg)
Performance
Power/Weight Ratio

9.513

Horse Power/Weight Ratio

0.064

Wing Loading

12.2lbs/ft2 (59.4kg/m2)

Wing Area

1,280.9ft2 (119.0m2)

Drag Points

10629
Parts
Number of Parts

491

Control Surfaces

4
---