HMS Dreadnought
Platinum Special build
Note: This build has been tested on mobile devices and worked smoothly, so it's safe to say it's mobile friendly.
---
---
History
The ship of a new era, HMS Dreadnought was commissioned in 1906, immediately rendering all other ships of the time obsolete. Dreadnought had some revolutionary features including uniform armament and a propulsion provided only by Steam turbines (which hasn't been used on big capital ships before). Dreadnought was so revolutionary that she started a new worldwide naval race, with every major naval power wanting to build their own all-big-gun ships. Ships built after her would later be called "dreadnoughts" in her honour, while the ones that were built before her would now be called "pre-dreadnoughts". As revolutionary as she was, Dreadnought would see very little combat during WWI. Her only significant action was sinking the german submarine U-29 by ramming it, making her the only battleship, confirmed to have sunk a submarine. She missed the Battle of Jutland and all the other major naval battles of WWI. In 1919 she was put into reserve fleet and two years later was sold for scrap, bringing a very sad end to one of history's most important battleships.
Now about my build!
This build features accurate size, speed, usable main batteries, and working equipment on the bridge. She also uses a new aiming system: Instead of controlling each turret individually, you can now control all of them at once, using a centralised aiming system, similar to the one in World of Warships.
My main sources for modelling the Dreadnought were her renditions in World of Warships and War Thunder as well as a number of blueprints.
Controls:
AG1 + pitch-roll - 12 in Cannons
AG8 - Ship controls (ON/OFF)
AG8 + VTOL - Ship movement forward/backwards
AG8 + Yaw - Ship steering
CAM1 - helmsman view
CAM2 - Third person view (rotating chase cam, wobbly but can be zoomed)
CAM3 - Third person view (affixed rotating camera, cannot be zoomed)
WARNING!
Be careful when firing the main cannons! Collisions are NOT turned off on them, therefore you are able to hit your own ship (don't worry about the small decorations tho, those won't collide with the shells but the hull of the ship does) so aim carefully!
---
Demonstration of the features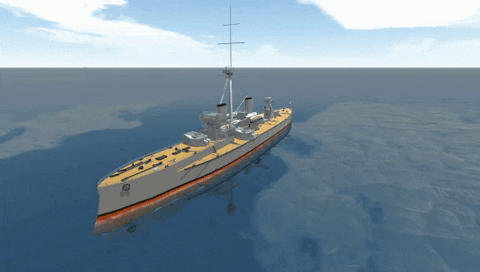 Firing the main battery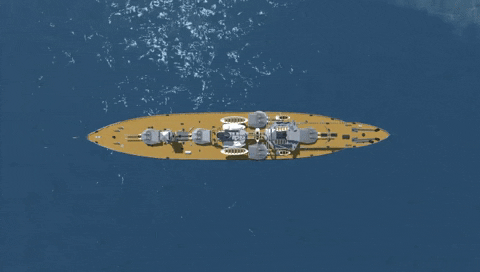 centralised aiming system (similar to World of Warships)
---
As always, I hope you like this build and have fun with it!
Specifications
General Characteristics
Created On

Windows

Wingspan

87.1ft (26.6m)

Length

708.8ft (216.0m)

Height

231.8ft (70.7m)

Empty Weight

476,628lbs (216,195kg)

Loaded Weight

476,628lbs (216,195kg)
Performance
Wing Loading

45.3lbs/ft2 (221.2kg/m2)

Wing Area

10,518.8ft2 (977.2m2)

Drag Points

558236
Parts
Number of Parts

1798

Control Surfaces

0
---