After 5 hours or 300 minutes or 18,000 seconds or 18,000,000 milliseconds of work,this has finally been released! No livery though,because I couldn't find a livery that wouldn't take me 53445345354876876776 years. Anyway,here's a little information from Wikipedia!
INFORMATION
The Bombardier CRJ100 and CRJ200 (formerly known as the Canadair CRJ100 and CRJ200) are a family of regional airliners designed and manufactured by Bombardier. The CRJ had the distinction of marking Canada's entry into the civil jet industry.


Get pictures here
CONTROLS
AG.1=Landing lights and nav lights
AG.2=Beacon lights
AG.3=Strobe lights
AG.4=Tail lights
VTOL=flaps
Brake=Spoilers
TO FLY SMOOTHLY SET VTOL 50% DOWN
Features
-Tiny air scoop,a VERY important detail!
-1:1 scaled
-Realistic flaps
-Other stuff if you download it?!
PHOTO GALLERY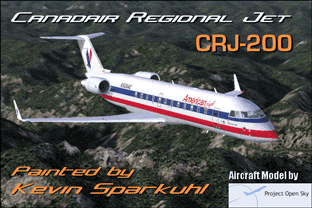 CREDITS
Thank you CarsonG1017 for helping with XML modding!
Credit to QingyuZhou for the cockpit/nose.
ENJOY!!!
Specifications
General Characteristics
Predecessor

CRJ-200 9

Successors

8 airplane(s)

+87 bonus

This plane has been featured

Created On

iOS

Wingspan

71.8ft (21.9m)

Length

87.3ft (26.6m)

Height

23.9ft (7.3m)

Empty Weight

33,094lbs (15,011kg)

Loaded Weight

66,653lbs (30,233kg)
Performance
Power/Weight Ratio

2.022

Wing Loading

127.9lbs/ft2 (624.6kg/m2)

Wing Area

521.0ft2 (48.4m2)

Drag Points

21114
Parts
Number of Parts

249

Control Surfaces

9
---