"…but all I can wish for, in this moment, is that I planted the seeds for a beautiful future."



I made the top speed unrealistically high, but I like a fun factor. I mean… is it even possible to have fun when you can only move at highway speeds?
Vehicle Controls
Basic Controls
Throttle and Yaw to move around
Trim: Open drone hangar
Pitch and Roll to orient top guns
Activator 1: Launch/Activate Drone
Activator 4: begin AUTO-AG REFLEX combat subroutine (auto-launch 10 inferno missiles on intervals of 2 seconds – range is 1.5 mi)
Activator 5: begin AUTO-AA IMPULSE combat subroutine (auto-launch 4 augmented guardian missiles on intervals of 5 seconds – short range)
Drone Controls
Auxilus is A VTOL drone that can haul cargo, take down targets, complete reconnaissance, and even repair your vehicle.


Basic Controls
Activator 1: Activate drone
Activator 2: Convert guns into repair beams
Activator 3: Activate magnets
Pitch: Forward Motion
Roll: Lateral Motion
Trim: heavy airbrakes
VTOL: Pitch orientation
Tips and tricks
- Hover at 20% throttle. Ascend at 21%
- Repair beams turn your weapon into a repair tool. You can repair your plane, but you CANNOT repair other planes with this repair beam.
-Lateral only works at low speeds. Sorry!
-ATG combat is best with the heavy airbrakes on. It allows you to be weightless while hovering!
-If the airbrakes aren't working, use pitch to move the aircraft forward. The airbrakes should "catch" the air then.
Launching
- Trim Up, then press activator 8 to de-activate the main vehicle
- Press activator 1
- IMPORTANT: Bring the trim down to de-activate the airbrakes
Landing
Go under 20% to start your descent, then go back up to 20% throttle.
When you are close to the ground, trim up, AND give a little pitch input to activate the heavy brakes.
If you start to pick up speed again, move forward an inch or so to "re-catch" the brakes.
Cargo Hauling
If you want to, you can add a box (a little smaller than the size of the drone) to haul. Land on top of it, and press activator 3. Then lift off with a high throttle.
Pitch and roll inputs are hard to control when hauling cargo. Instead, use VTOL to orient the aircraft in a way that will generate forward thrust. Adjust yaw as needed.
Part Reduction
If you are mobile, you will probably need to reduce the part count. There are two easy ways to do this:
- Delete the top turret
- Delete the drone
Otherwise, feel free to remove miscellaneous details. I'm too lazy to make a mobile version. Sorry!


"Tioga" Slow Vortex Gun
Fires medium-yield explosives at a rapid rate. Mounted on a turret for your convenience.
- To fire, select "boom 25", and press/hold the fireWeapons button.
- Pitch and roll moves the turret.
AUTO REFLEX (ATG)
Augmented fast-locking inferno missiles that automatically fire at regular intervals. Sounds weird, but it allows you to focus on movement/target precedence more in combat.
- To fire, select "inferno", click on the first target that you want to lock onto, and press activator 4.
- There will be a small delay, then the missiles will fire at 2-second intervals. This process cannot be stopped.
AUTO IMPULSE PRIME (ATA)
Augmented guardians that ignore countermeasures by brute-forcing their way to their target. These ones are fired automatically at regular intervals. Also weird, but it helps in multi-threat confrontation, as well as with dealing with exceptionally agile targets.
- To fire, select "guardian", then press activator 5.
- These will be a small delay, then the missiles will fire at comparatively long intervals. Some will be left over to use in a non-automated fashion.
Scaled Repeater MxI
A gun-based weapon system that features differing bulletScales. Aiming is made a little easier with this gun, but the performance difference isn't too substantial.
- Fire like any gun.
- It is mounted on the turret, which is controlled with pitch and roll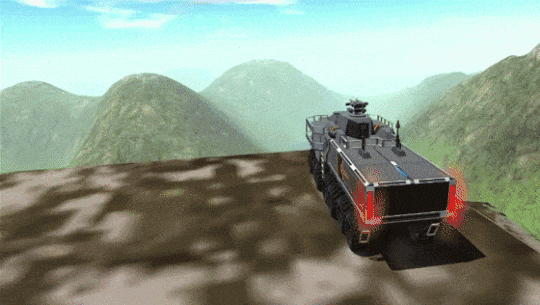 The Nomad's Proclamation is a land-based exploration vehicle designed by SPEcorp. A remarkably heavy vehicle, the primary purpose behind its design was to address various drawbacks possessed by the company's other benchmark exploration vehicle, the MESA Multipurpose VTOL. Such drawbacks were related to the airborne functionality of the MESA vehicle, and, therefore, the Nomad's Proclamation was designed to be a land vehicle.
The primary drawback was that MESA, while large and robust, could not complete missions that lasted more than a month. Simply put, the MESA was not large and robust enough. A large airframe, even within a given budget, will still be more expensive to maintain than a ground vehicle of similar size. Therefore, a much larger land-based vehicle can be used in an exploration mission for a comparable price. With size, the advantages of increased mission duration, crew comfort, and equipment versatility arise. Such advantages are derived from the possibilities presented by simply having more space - more cargo, and perhaps larger living quarters, can be stored on a land-based vehicle.
A secondary drawback was that the MESA could only land on flat ground. Therefore, it would not be able to perform a variety of ground-based tasks, such as soil sampling, in mountainous regions. A land-based vehicle, if adequately designed, would be able to perform land-based tasks without such attention to terrain.
The Nomad's Proclamation addresses such drawbacks by delivering versatility in a package comparable to a "base on wheels". A simple, yet robust suspension supports a 75,000-pound vehicle, equipped with a variety of amenities, including crew quarters, cargo holds, and most importantly, an integrated drone hangar. This hangar is a defining characteristic of the Nomad's proclamation. A press of a button, and perhaps a flip of a switch, prompts the vehicle to transform into a small helipad for its included Auxilus multipurpose drone.
The drone works to strengthen the competencies of Nomad's Proclamation, as it can perform reconnaissance missions for its host vehicle. Added competencies of the drone, too, increase the versatility of the Nomad's Proclamation. With the ability to haul cargo, repair damaged parts, and destroy lightly armored ground targets, the Auxilus drone allows the Nomad's Proclamation to effectively address a variety of challenges that it may face.
Without the drone, the Nomad's Proclamation would explore by simply roaming unexplored lands. Such an exploration strategy is intuitive, but it can be inefficient for collecting a mass amount of data in a large region. Therefore, researchers operating the Nomad's Proclamation may use a second exploration strategy, which involves the Auxilus drone. In this strategy, the Nomad's Proclamation may be used as a stationary base of operations, in which the drone completes away missions to efficiently map the region. Upon the drone's return, the exploration team will be able to make an informed decision on where they should move next – therefore allowing the mission to be completed without an abundance of setbacks.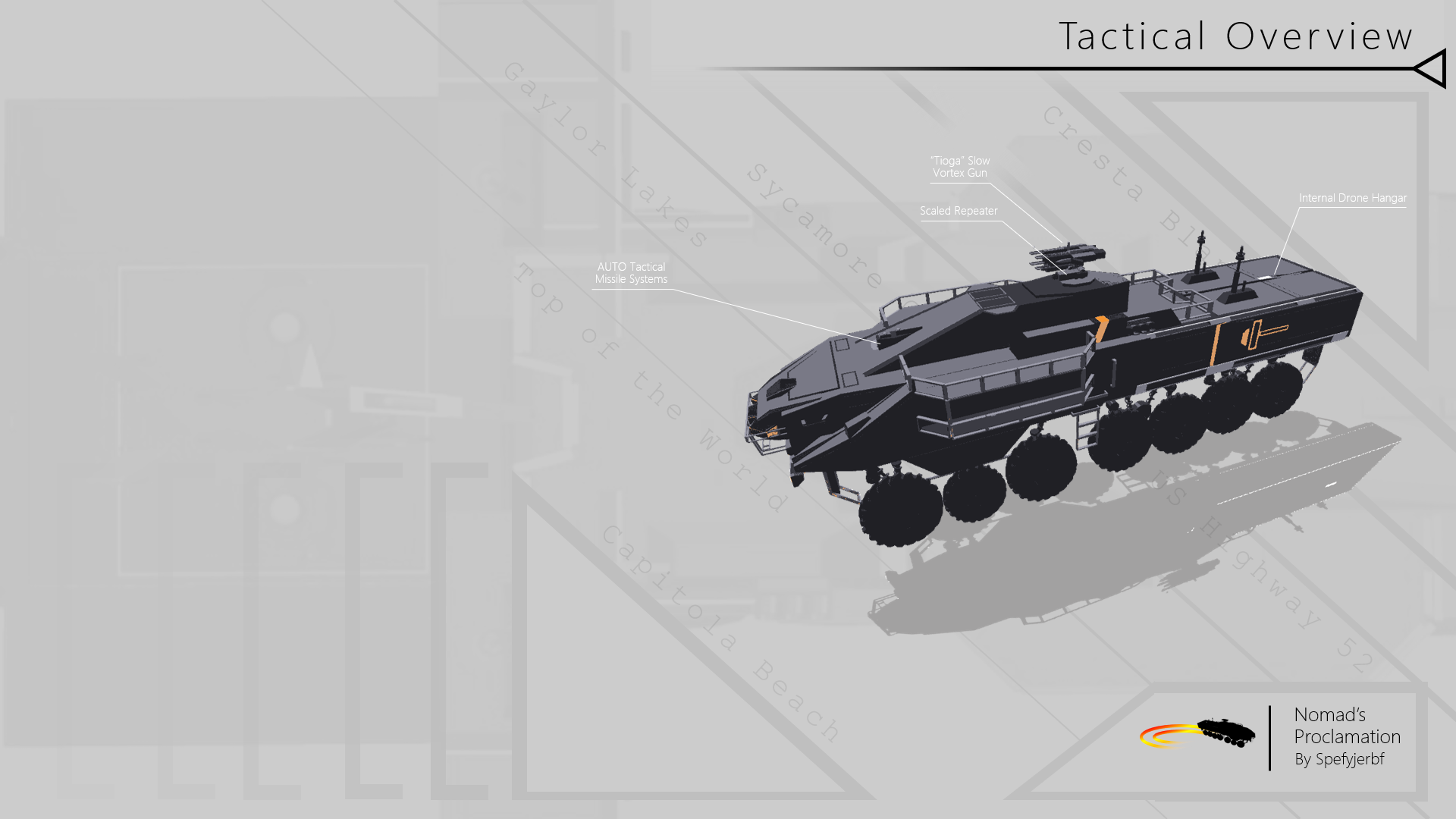 While the Nomad's Proclamation is intended to explore peacefully, it is equipped with powerful weapons systems that, if correctly used, will allow it to survive a light assault. For neutralizing ground threats, the vehicle boasts a compact, yet effective turret system with an included "Tioga" Slow Vortex Gun. The gun is a versatile weapon that fires medium-yield explosives in rapid succession. Secondary to the turret is the scaled repeater, a gun-based weapon that rewards precise aim with increased damage.
While such weapons are integral to the Nomad's arsenal, they are not new. To follow the SPEcorp tradition of constantly improving its vehicles' defensive systems, a new type of missile system, the AUTO system, was installed in the Nomad's Proclamation. This system automatically fires missiles on regular intervals, which allows the driver to focus on other tasks, such as making new locks, operating the turret-mounted weapons, or simply moving in combat. This AUTO augmentation is available in anti-air and anti-ground systems, which are, in the case of the Nomad, IMPULSE PRIME and REFLEX systems, respectively.
P.S. Special thanks to some of the members of SPMC for testing and constructive criticism!
Specifications
General Characteristics
Predecessor

Nomad's Proclamation

Successors

4 airplane(s)

+49 bonus

Created On

Windows

Wingspan

27.8ft (8.5m)

Length

91.3ft (27.8m)

Height

32.9ft (10.0m)

Empty Weight

-4,734,385lbs (-2,147,483kg)

Loaded Weight

75,313lbs (34,161kg)
Performance
Power/Weight Ratio

0.641

Wing Loading

6,996.8lbs/ft2 (34,161.5kg/m2)

Wing Area

10.8ft2 (1.0m2)

Drag Points

26565
Parts
Number of Parts

671

Control Surfaces

0
---