In a parallel universe somewhen
His Majesty's Aircraft
Freedom's Advance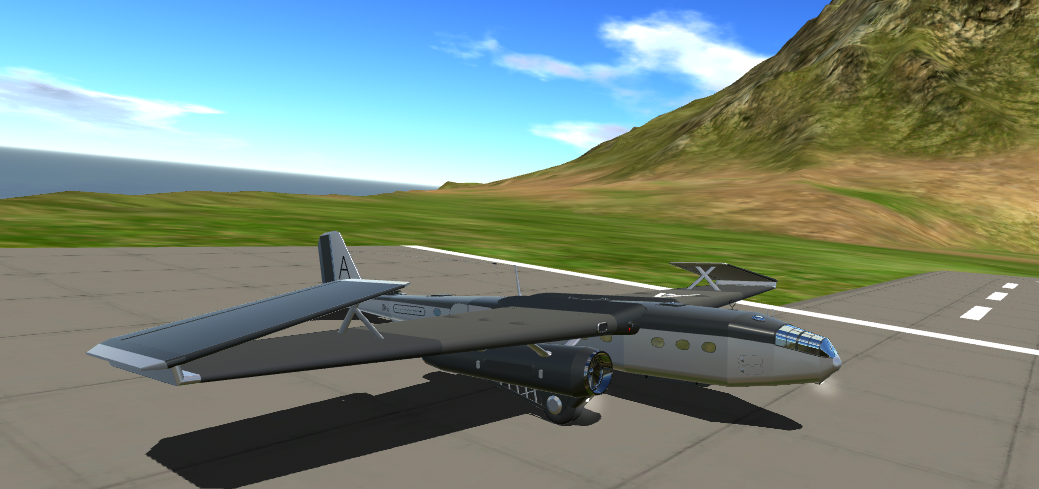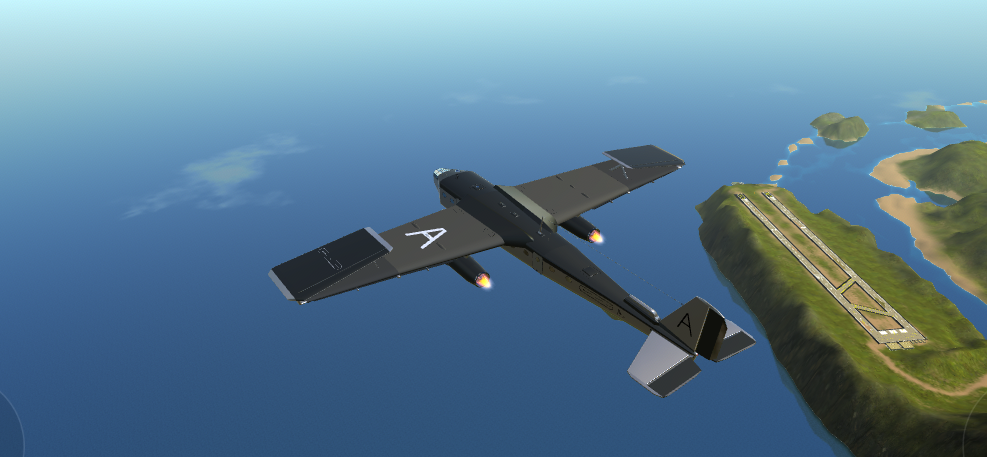 Take-off
VTOL half down to set take-off flaps. Apply full throttle and rotate gently at 130mph TAS. Once airborne, when speed exceeds 220mph, VTOL centre to raise flaps. Maintain full throttle for gentle climb or reduce throttle and set trim as required.
Note that Pitch authority is strong for landing so use gentle inputs for normal flight.
Landing
For final approach, use 15% throttle; when speed drops below 220mph, VTOL down fully to set flaps. Maintain 15% throttle for flare and touchdown. Once down, kill throttle and apply brakes: this will apply wheel brakes and reverse thruster. (Thruster cuts off below 30mph)
Taxiing
Use low throttle and Roll.
Reverse Taxiing
AG1 on to enable reversers. Use "pull up" Pitch control for thrusters and Roll to steer.
Crew
4 in forward cockpit consisting of Pilot and Second Pilot in upper cockpit, Radio/Navigator and Flight Engineer in lower rear cockpit. Cabin crew varies according to mission type.
AG1 Enable Reversing Thrusers. Use "pull up" Pitch. Use Roll to steer.
AG2 Landing Lights.
Built by Harling Central with additional design advice from crew of H.M.A. Clear Vision.
Sponsored by
Spearhead Taskforce, Outland Pioneers Citizens Group and Border Bay Traders Guild.
His Majesty's Aircraft "Freedom's Advance" has been assigned to the Spearhead Taskforce to provide basic Civilian and Military transport to our outlying settlements. This medium sized craft can carry a mixture of passengers and cargo, however, because of the inherent dangers of flying to those particular regions, the craft is flown by Military pilots and crew.
Footnote
Ugly gets the job done!
Specifications
General Characteristics
Created On

iOS

Wingspan

128.2ft (39.1m)

Length

112.1ft (34.2m)

Height

26.0ft (7.9m)

Empty Weight

-4,734,385lbs (-2,147,483kg)

Loaded Weight

31,523lbs (14,298kg)
Performance
Power/Weight Ratio

11.976

Wing Loading

19.7lbs/ft2 (96.3kg/m2)

Wing Area

1,598.4ft2 (148.5m2)

Drag Points

12231
Parts
Number of Parts

503

Control Surfaces

5
---