Before and after: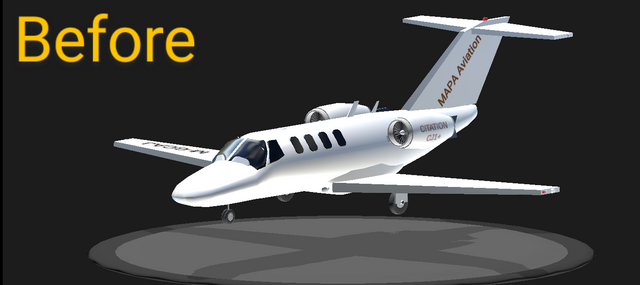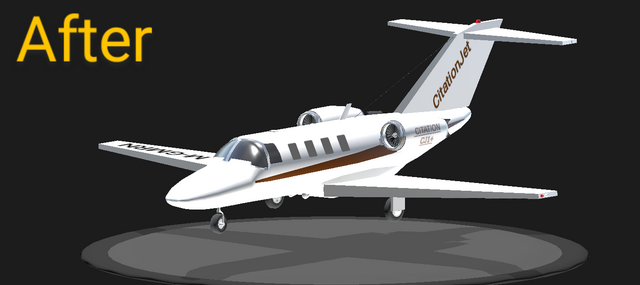 ---
This aircraft follows all the basic AI requirements. It is specially designed for Artificial Intelligence [AI] to simulate air traffic, it is able to land and take off with extreme precision at the main airports in the game, it is also a playable aircraft, you can enjoy air collisions, target shooting or just enjoy of a more realistic air traffic.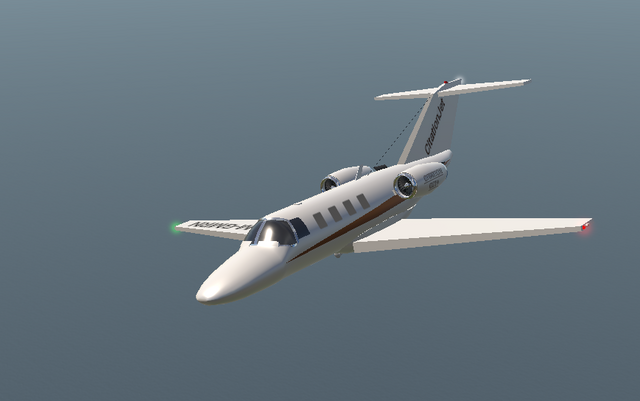 MAPA Aviation · 2023
---
Wiki:
The Cessna CitationJet/CJ1 (also known as the Model 525) are a series of light business jets built by Cessna, and are part of the Citation family. Launched in October 1989, the first flight of the Model 525 was on April 29, 1991. Federal Aviation Administration (FAA) certification was awarded on October 16, 1992, and the first aircraft was delivered on March 30, 1993. The CJ series are powered by two Williams FJ44 engines; the design uses the Citation II's forward fuselage with a new carry-through section wing and a T-tail. The original CitationJet model has been updated into the CJ1/CJ1+/M2 variants; additionally, the CJ1 was stretched into the CJ2/CJ2+ which was built between 2000 and 2016. The design was then further developed into the CJ3/CJ3+, built from December 2004 to present, and finally into the CJ4 which has been built since 2010. By June 2017, 2,000 of all variants had been delivered.
Development of the CitationJet was prompted by the 1985 discontinuation of the Citation I, a reaction to the increasing price of its Pratt & Whitney JT15D-1 engines, which rendered it uncompetitive with its larger straight wing Citation stablemates. Cessna believed that a substantial market still existed for a light 4-5 passenger jet with low operating costs, docile flying qualities, and the ability to operate from short runways usable by light piston twins, a formula that had made the Citation I successful. However, that aircraft had been stigmatized for its slower cruise speed than its competitors, which had progressively been addressed in the Citation S/II and Bravo and the Citation V, Ultra and Encore, but at the cost of operating economy. To offer increased speed with reduced purchase and operating costs, Cessna engineers realized that a new, lighter airframe design would be needed, using less expensive and lower-thrust engines. To better compete with newer jets, Cessna also wanted to eliminate the step in the center aisle of the earlier Citations, created by the spar passing through the cabin.
Cessna launched the $2.4 million (equivalent to $5.25 million in 2021) model 525 CitationJet at the October 1989 NBAA convention in Atlanta, estimating a demand for 1,000 aircraft over ten years. Succeeding the 700 original Citation Is produced since 1972, first flight was scheduled for spring 1991, Federal Aviation Administration (FAA) certification in October 1992 and deliveries by the end of the year.
Its first flight was on April 29, 1991, FAA certification was awarded on October 16, 1992, and first delivery happened on March 30, 1993. The aircraft met its initial design goal: its normal cruise speed was 29 kn (33 mph; 54 km/h) faster than that of the Citation I, and it outperformed that aircraft in all other significant metrics except maximum payload and approach noise, despite having 600 lbf (2.7 kN) less total engine thrust. Twenty years after its first flight, 1,450 CJs had been produced.
As of June 2017, 2,000 of all variants had been delivered, with five million hours flown.
---
Galery: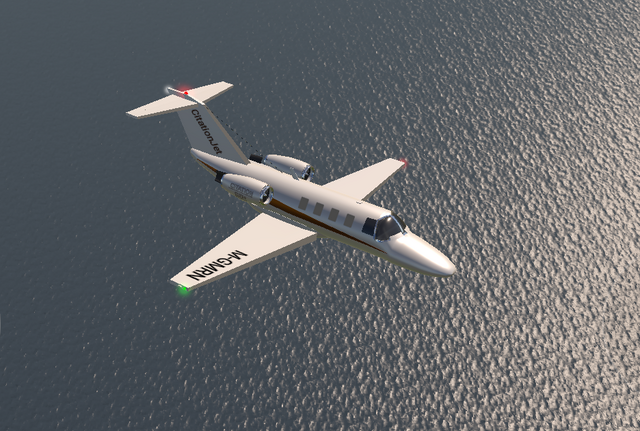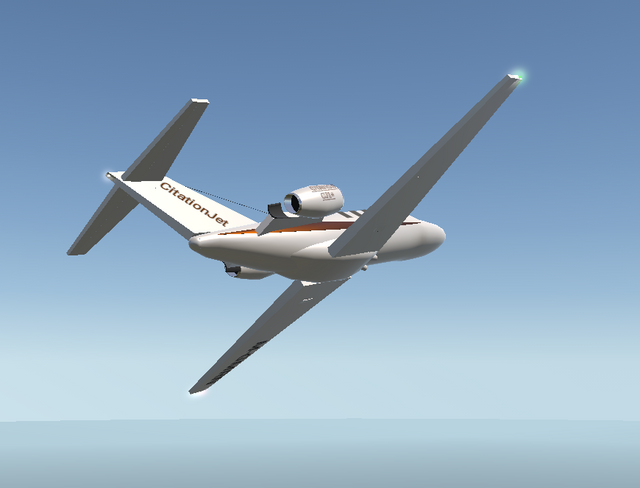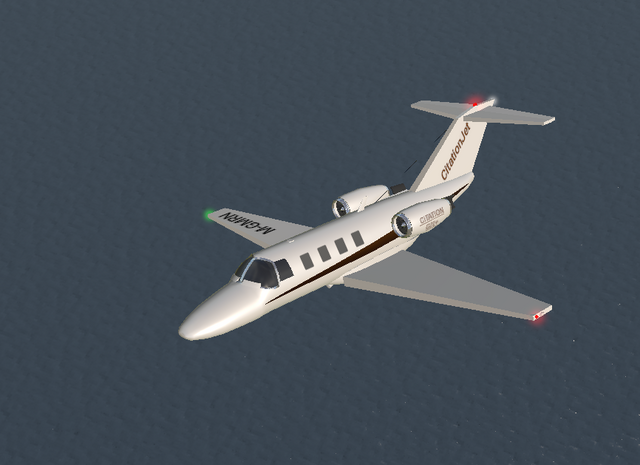 Real Photo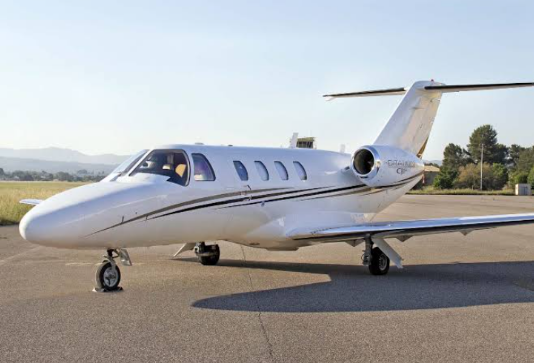 Credit: Global jet
---
Controls: Standard
Thank you for your attention, Enjoy it!
---
Variant:
Lite version of 87 Parts most likely to spawn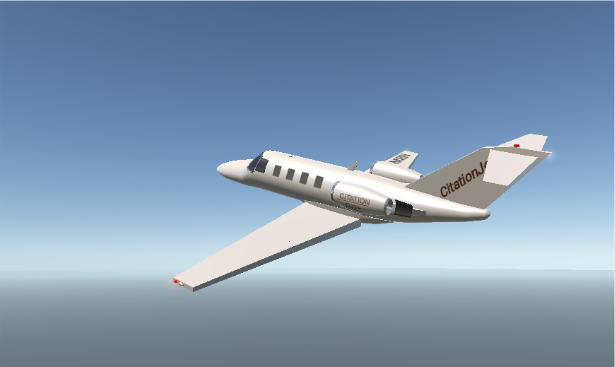 Specifications
General Characteristics
Predecessor

CitationJet Series

Successors

1 airplane(s)

+112 bonus

Created On

Android

Wingspan

63.2ft (19.3m)

Length

57.2ft (17.4m)

Height

19.1ft (5.8m)

Empty Weight

10,198lbs (4,625kg)

Loaded Weight

14,959lbs (6,785kg)
Performance
Power/Weight Ratio

9.013

Wing Loading

25.7lbs/ft2 (125.4kg/m2)

Wing Area

582.6ft2 (54.1m2)

Drag Points

5420
Parts
Number of Parts

93

Control Surfaces

7

Performance Cost

470
---