"Guided by the Internal Locus, he dominates the future."

Basic controls:
Trim: Trim
Activator 8: Missiles offline
How to use defensive missile swarms:
1) Go to air-to-air, and select guardian missiles
2) Locking is instant
3) Hold the launchweapons button to release the swarm!
Tips:
Landing is best when you approach around 30% throttle.
Defensive missiles only work defensively. They are most effective when you are being attacked.
Multiple enemies? No problem! Destroy the first enemy, then lock onto the next. The missiles will then target the next enemy.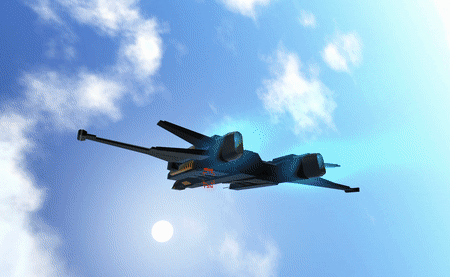 Often seen as the successor of the Singula, the Gryphon dominates the market as a mid-range personal aircraft. While more expensive than its counterparts, the Gryphon's popularity arises from its versatility. It can haul a decent amount of cargo while remaining viable in most combat situations, and can therefore accomplish a variety of lucrative tasks.
While the Gryphon's design would normally be quite expensive, its price was deliberately decreased by SPEcorp in a calculated effort to allow more individuals to purchase the aircraft. Its weapons, including cascading energy cannons as well as defensive missile swarms, are unique to the aircraft. Therefore, all ammunition can only be purchased from SPEcorp. This solution allowed customers to enjoy a smaller initial cost while SPEcorp retained a healthy profit, therefore allowing more individuals to purchase the Gryphon without damaging corporate finances.
The average user of the Gryphon is the individual cargo hauler who prefers to have decent defensive capabilities. Adequate cargo space combined with efficiently integrated weapons systems allow for safe cargo runs without needing an escort, which makes the Gryphon ideal for completing potentially dangerous transport missions. Some particularly courageous users have also used the Gryphon for combat, but such usage is not recommended. The Gryphon may be evenly matched against a single Primal Exile, but it would not preform well in combat with multiple, or more advanced combat aircraft.
Specifications
General Characteristics
Predecessor

Gryphon I

Successors

1 airplane(s)

Created On

Windows

Wingspan

80.0ft (24.4m)

Length

72.7ft (22.2m)

Height

14.3ft (4.4m)

Empty Weight

-4,734,385lbs (-2,147,483kg)

Loaded Weight

42,355lbs (19,212kg)
Performance
Power/Weight Ratio

1.591

Wing Loading

24.8lbs/ft2 (121.2kg/m2)

Wing Area

1,705.6ft2 (158.5m2)

Drag Points

25120
Parts
Number of Parts

231

Control Surfaces

6
---