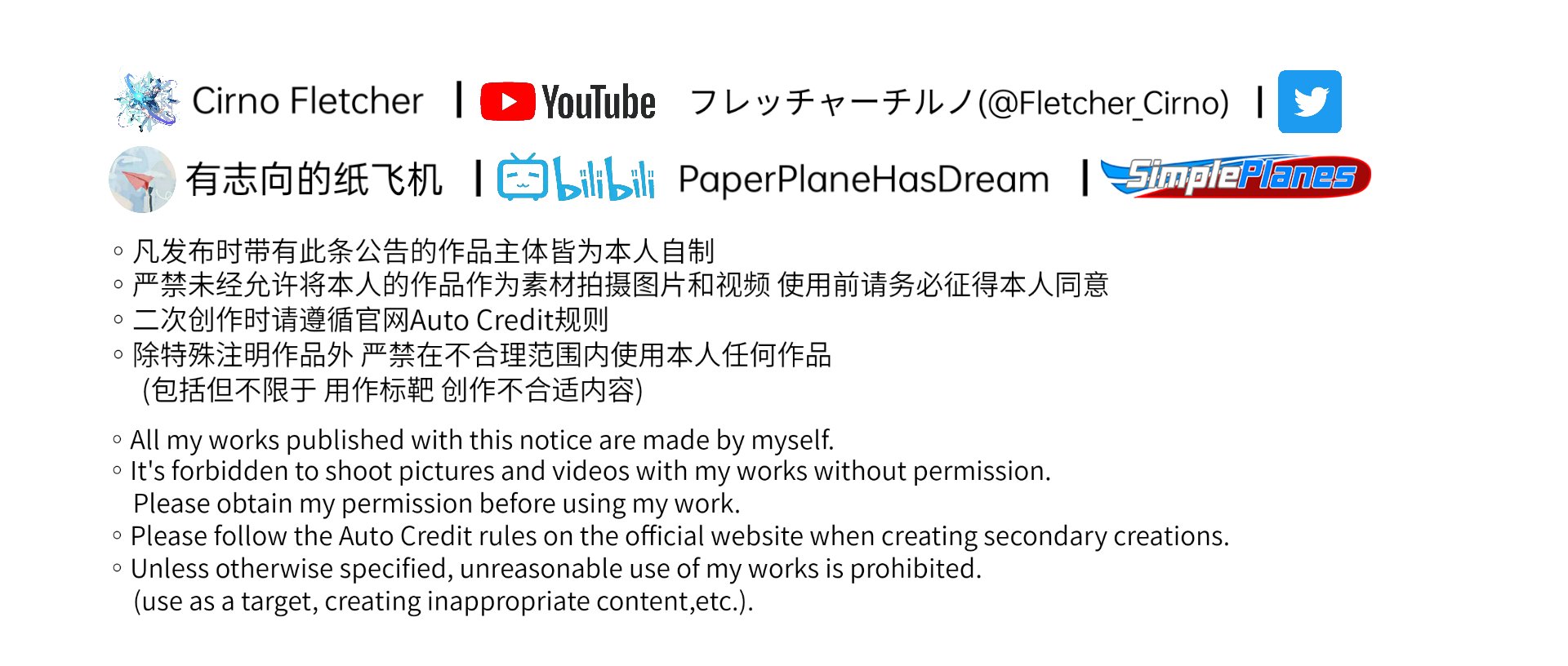 ---
Happy Chinese New Year!
This is a Secondary Creation of Touhou Project.
---
Character Introduction


Youmu Konpaku (right one), a half-human half-phantom, lives at Hakugyokurou and serves for Yuyuko Saigyouji (left one), is a famous touhou character. She first appeared as the stage 5 boss in thPCB and has since become a recurring playable character.
---
Sorry for my laziness. I decided to make a plane for Youmu 3 months ago but I haven't finished it until yesterday. I am too busy to spend time on SimplePlanes so although this work took me 3 months, it's still a rough work and maybe still have some problems.
I drew lessons from VF-31 and planes from Ace Combat. To show her half-human half-phantom characteristics, I made the primary wing translucent. The two cannons under the wings, one long and one short, reflect the two swords she often uses - Hakurouken and Roukanken.
If you find any problem when you're playing this work, Please leave your comment immediately and I'll be glad to fix the problems.
---
Special activation groups: Nope
Pictures
• Thanks to Rafalemmm for the screenshots.
---
Enjoy it and thanks for playing!
Specifications
General Characteristics
Created On

Android

Wingspan

59.9ft (18.3m)

Length

86.6ft (26.4m)

Height

17.4ft (5.3m)

Empty Weight

11,859lbs (5,379kg)

Loaded Weight

25,153lbs (11,409kg)
Performance
Power/Weight Ratio

32.163

Wing Loading

22.4lbs/ft2 (109.3kg/m2)

Wing Area

1,123.1ft2 (104.3m2)

Drag Points

8656
Parts
Number of Parts

786

Control Surfaces

5

Performance Cost

2,584
---