Rockwell-MBB X-31 Vector
Thanks to Mod for help with the color picking, gif and more.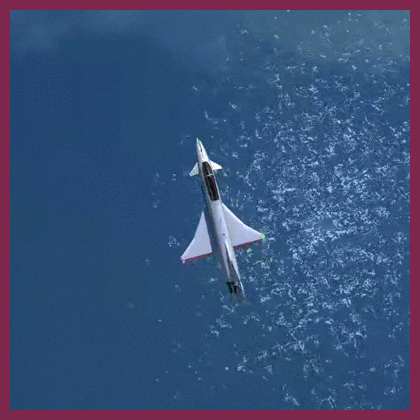 Information:
The Rockwell-Messerschmitt-Bölkow-Blohm X-31 was an experimental jet fighter designed to test fighter thrust vectoring technology. It was designed and built by Rockwell and Messerschmitt-Bölkow-Blohm (MBB), as part of a joint US and German Enhanced Fighter Maneuverability program to provide additional control authority in pitch and yaw, for significantly more maneuverability than most conventional fighters. An advanced flight control system provided controlled flight at high angles of attack where conventional aircraft would stall or lose control. Two aircraft were built, of which only one has survived.
Controls:
-AG-1: Deploys airbrakes
-AG-2: Deploys drag chute
-AG-8: When disabled it allows more conventional flight.


You don't need to have any mods enabled to pull of crazy drifts and tricks mid-air as seen in the GIF that Mod made using the Simple Wings mod. As long as you're close to stall-speeds or pull sharp turns you can drift all you want!
Features:
-Custom landing gear (with functional suspension and custom landing gear doors).
-Custom wings and/or control surfaces.
-Custom livery (NASA logo made by BogdanX).
-Supermaneuverablity (Received feedback from SPMC).
-Thrust vectoring panels (With help from Othawne).
-95% blueprint match (Thrust vectoring panels and landing gear aren't 100% in the correct spot).
-Custom airbrakes.
-Low part count/Mobile friendly.
Personal note:
I had allot of fun building this aircraft. I watched a documentary about it on YouTube and it inspired me to build it. This is probably one of the most interesting and coolest aircrafts I've ever seen and built in SP.
Massive thanks to my friends: ChiChiWerx, BogdanX, Othawne, WNP78 and Eternaldarkness for feedback. Thanks guys!
I hope you will enjoy flying this crazy airplane.
Specifications
General Characteristics
Successors

1 airplane(s)

Created On

Android

Wingspan

25.4ft (7.7m)

Length

51.2ft (15.6m)

Height

17.0ft (5.2m)

Empty Weight

2,167lbs (983kg)

Loaded Weight

11,029lbs (5,003kg)
Performance
Power/Weight Ratio

4.278

Wing Loading

29.1lbs/ft2 (141.9kg/m2)

Wing Area

379.4ft2 (35.3m2)

Drag Points

9927
Parts
Number of Parts

349

Control Surfaces

7

Performance Cost

1,888
---