This ship only requires one mod !
Controls :
Normal controls to sail.
AG3 : Active air to air Aster Missiles
AG4 : Active right side gun
AG5 : Active left side gun
Air to air fire weapons to shoot Aster, air to ground fire weapons to shoot Exocet block3.
(My ship is based on the hull of the WDRoosevelt Type 45, the T45 and the Horizon being ships based on the same project, therefore, the hulls are practically the same.)
---
Equipment - Armament
2 gas turbines, 2 diesels, 1 bow thruster

2 324 mm torpedo tubes for MU 90 torpedoes

2 76 mm turrets, 2 20mm guns, 2 12.7mm machine guns

8 MM-40-EXOCET B3 anti-ship missiles, 1 PAAMS anti-missile surface-to-air
system (Aster 15 and Aster 30 missiles)

6 radars including 1 three-dimensional air-wake radar,

1 missile firing radar (MFR),

1 torpedo lure system, 1 hull sonar

DAGAIE lure lance, jammers

Helicopter platform and hangar
Characteristics
Length: 152.9m
Width: 20.3m
Travel: 7,050 tonnes
Speed: 30 knots
Crew: 195 sailors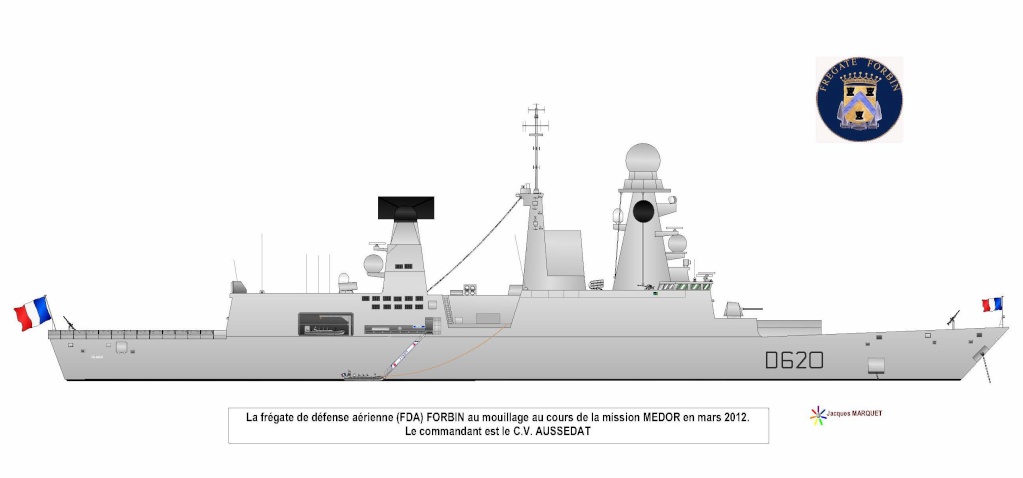 The Horizon class is a class of air-defence destroyers in service with the French Navy and the Italian Navy, designated as destroyers using NATO classification. The programme started as the Common New Generation Frigate (CNGF), a multi-national collaboration to produce a new generation of air-defence frigates. In Italy the class is known as the Orizzonte class, which translates to "horizon" in French and English. The UK then joined France and Italy in the Horizon-class frigate programme; however, differing national requirements, workshare arguments and delays led to the UK withdrawing on 26 April 1999 and starting its own national project, the Type 45 destroyer, but this ship is still equipped with French radars and missiles.
The FREMM multipurpose frigate are currently under construction using the same company structure as the Horizon project.
---
---

A little too close, no ?
---
Forbin with an Aquitiane class frigate
---
---
Specifications
General Characteristics
Created On

Windows

Wingspan

84.9ft (25.9m)

Length

510.4ft (155.6m)

Height

176.0ft (53.6m)

Empty Weight

204,956lbs (92,966kg)

Loaded Weight

264,905lbs (120,159kg)
Performance
Power/Weight Ratio

0.05

Horse Power/Weight Ratio

0.007

Wing Loading

143.2lbs/ft2 (699.1kg/m2)

Wing Area

1,850.0ft2 (171.9m2)

Drag Points

505941
Parts
Number of Parts

1833

Control Surfaces

0
Required Mods
SimpleWings

by MOPCKOE_DNISHE




Version 1.4 (9/8/2019 4:13:33 PM)




View Mod Page
---