Auto Credit
Based on jamesPLANESii's
Scout Kea
My scout Kea, but better!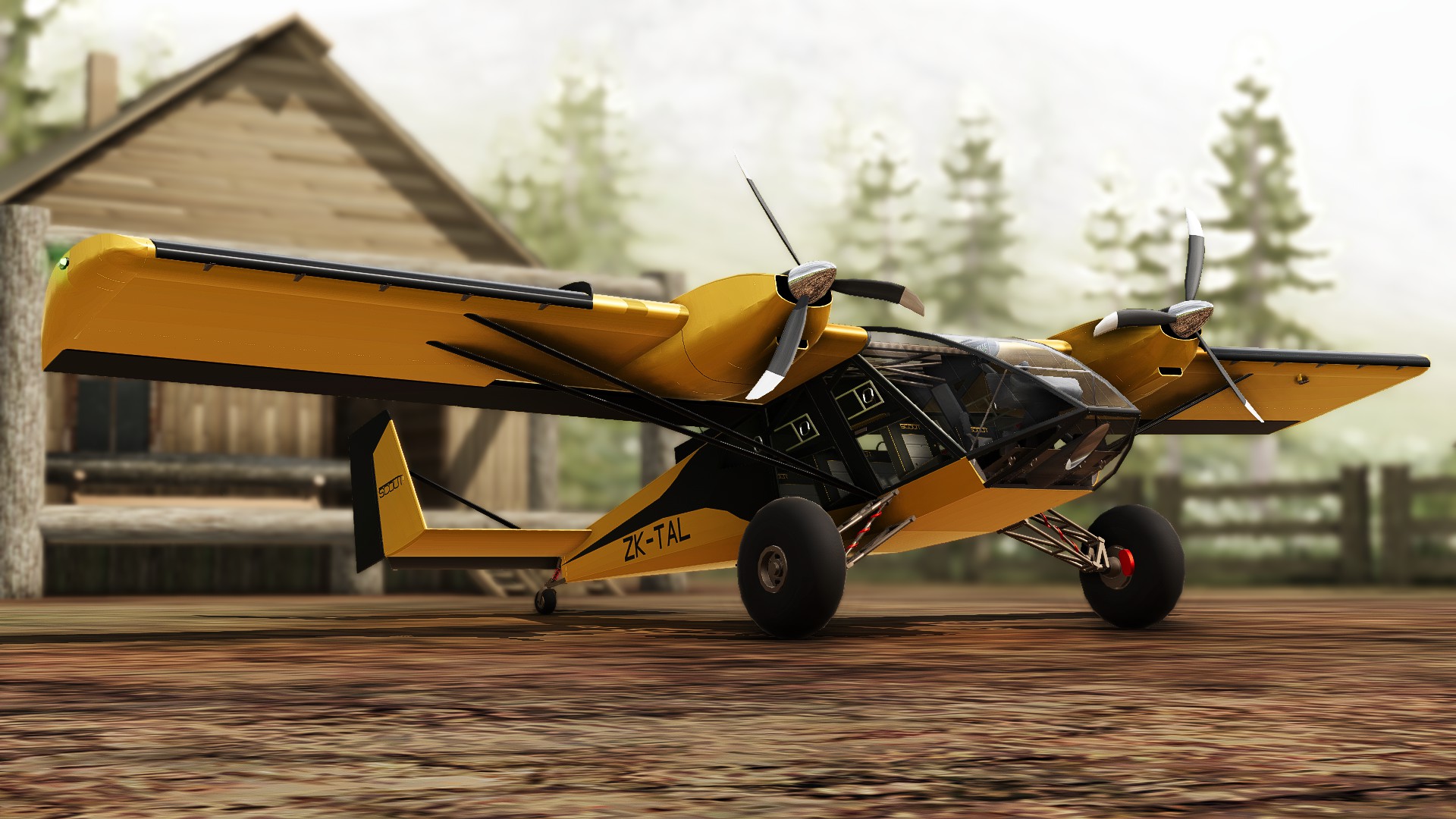 This is a LOT more than just the old Kea but with glass and smoothing. There are several updates with this, including:
New landing gear with much better functionality and stronger aesthetically, wheel now stays vertical throughout travel. Also new tail wheel
Better interior, including doors that open forwards rather than backwards (for safety), new seats, and seating positions, and increased detail
Windows are actually attached by stuff now, rather than just bars. Also there is now glass
Prop torque now included, slats decreased power, added adjustable payload and fuel, increased fuel capacity.
Overall the plane is much more realistic now.
---
Overview
Basically the Scout Kea is an aircraft designed to have the payload capabilities of a Cessna 206 or 185, but have the performance and versatility of a Piper Super Cub, with the added safety of having two engines.
There are many advantages to this design. One being that with the engines being mounted at the hop of the plane, the props are well above the belly of the plane. This offers near unrestricted suspension travel. The shocks on the Scout Kea can compress significantly more than any other plane in it's class, meaning it can take the most punishing of landings.
Moving the engines to the wings means the nose can be made fully transparent, offering fantastic visibility of the ground and any obstacles below. It also means it's still easy to see where you're going at high angles of attack, which this plane is capable of.
This Scout Kea's engines are based on the specs of Rotax 915iS engines, but thanks to the fact that the engines aren't restricted by the shape and size of the fuselage, they can easily be swapped out with other engines, if that's what you favour.
The twin tail design with the tails being directly inline with the propellers helps increase rudder authority by using prop wash, particularly at low speeds and with an engine failure, which can often be deadly with other similar aircraft in this configuration. A relatively long fuselage and large rudders also helps counteract this.
It's surprising to me why a plane like this hasn't been made earlier. I guess there's the Aircam and the Double Endwr project, but there isn't really anything that takes advantage of the prop wash, or is at this scale or functionality. A designuke this just makes sense to me. It would be a dream for me to see an aircraft based off this fly in real life! Or maybe I make it real in the future... who knows!
---
---
Controls:
Activate 1: Activate engine 1
Activate 2: Activate engine 2
Activate 3: Open doors
Activate 4: Landing light
Activate 7: Parking brake (Actually works now)
Activate 8: Master
VTOL down: flaps
Trim: trim
Normal flight controls


---
Flight instructions
If you want to make the most out of the performance of your plane, maybe read this. If you're here to crash this, this isn't important. ;p
Takeoff:
Taking off at about 40 knots is a pretty standard takeoff. If you're fully loaded you may wanna increase that to 50.
For STOL operations, pull full flaps at about 25 kts and pull back when you reach about 30 kts. If you're fully loaded, pull full flaps when you reach 35 kts and pull back when you reach 40 kts.
Landing
Landing is pretty easy tbh. Full flapsnand an approach speed of about 40 and you'll be fine. If you're really wanting to go slow, trim back and a lot of throttle helps. Just pray you don't have an engine failure in that orientation XD
Cruise:
About 75% throttle. I haven't bothered trimming this plane because it flies different depending on your pay load. And irl planes don't fly straight and level at neutral trim in cruise. I mean, that's a waste of trim space!
This actually flies with a bit of back trim, but ignore that lmao)
---
Pictures!
BTW, for those who are looking at these screenshots and are concerned that the props are spinning in the wrong direction, this is a slightly older version of this plane and on the download version, they spin in the other, more correct direction.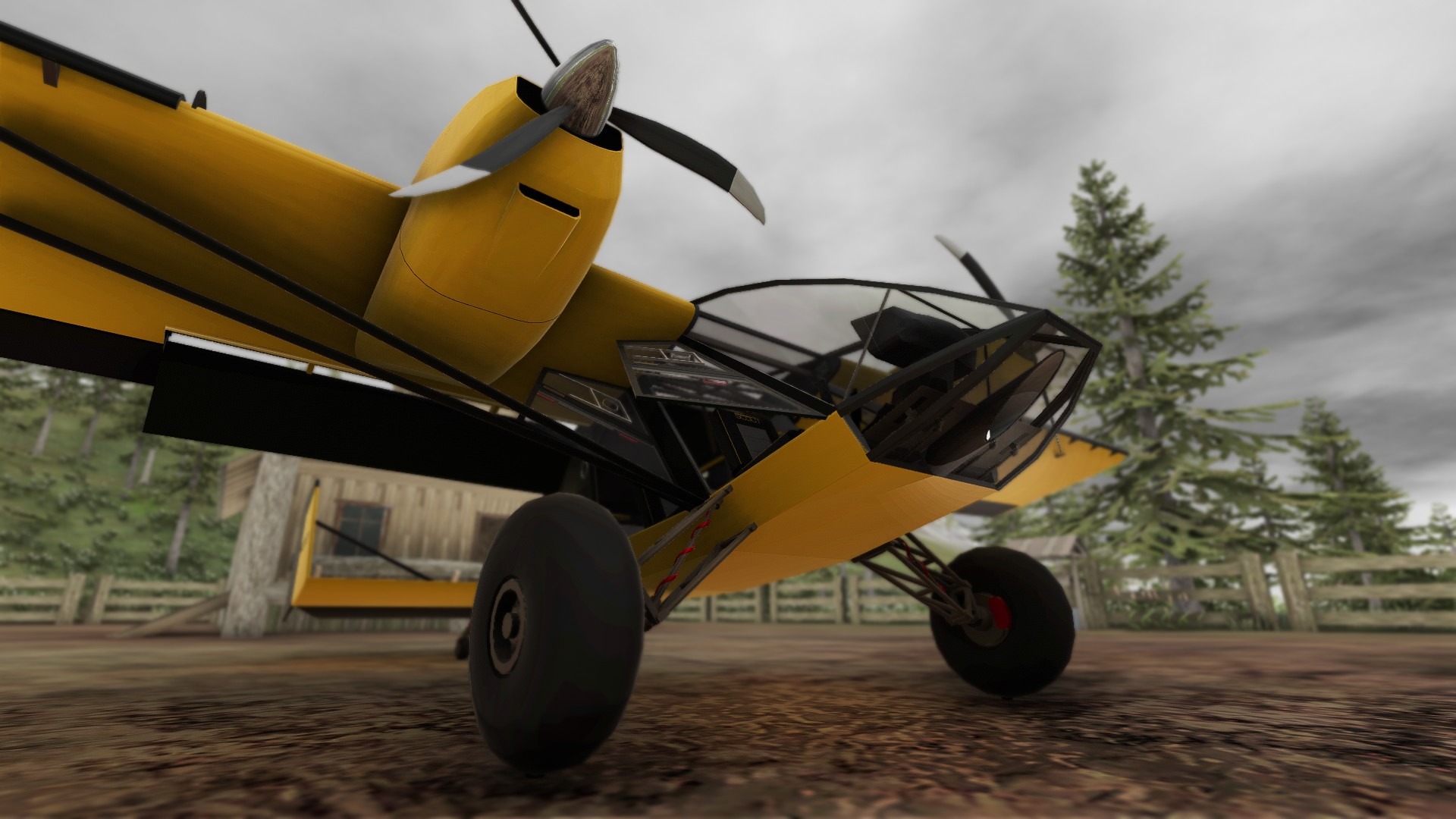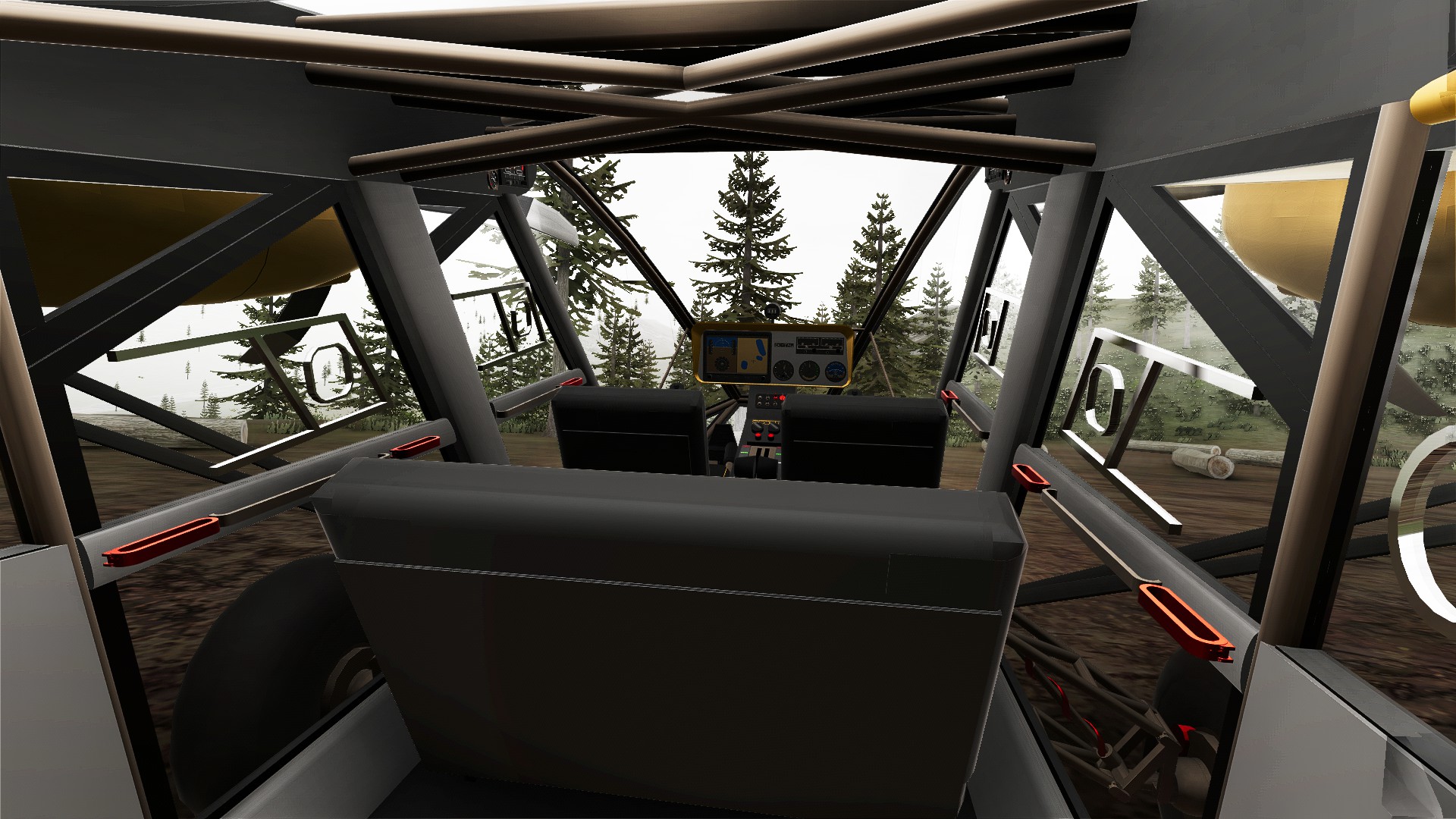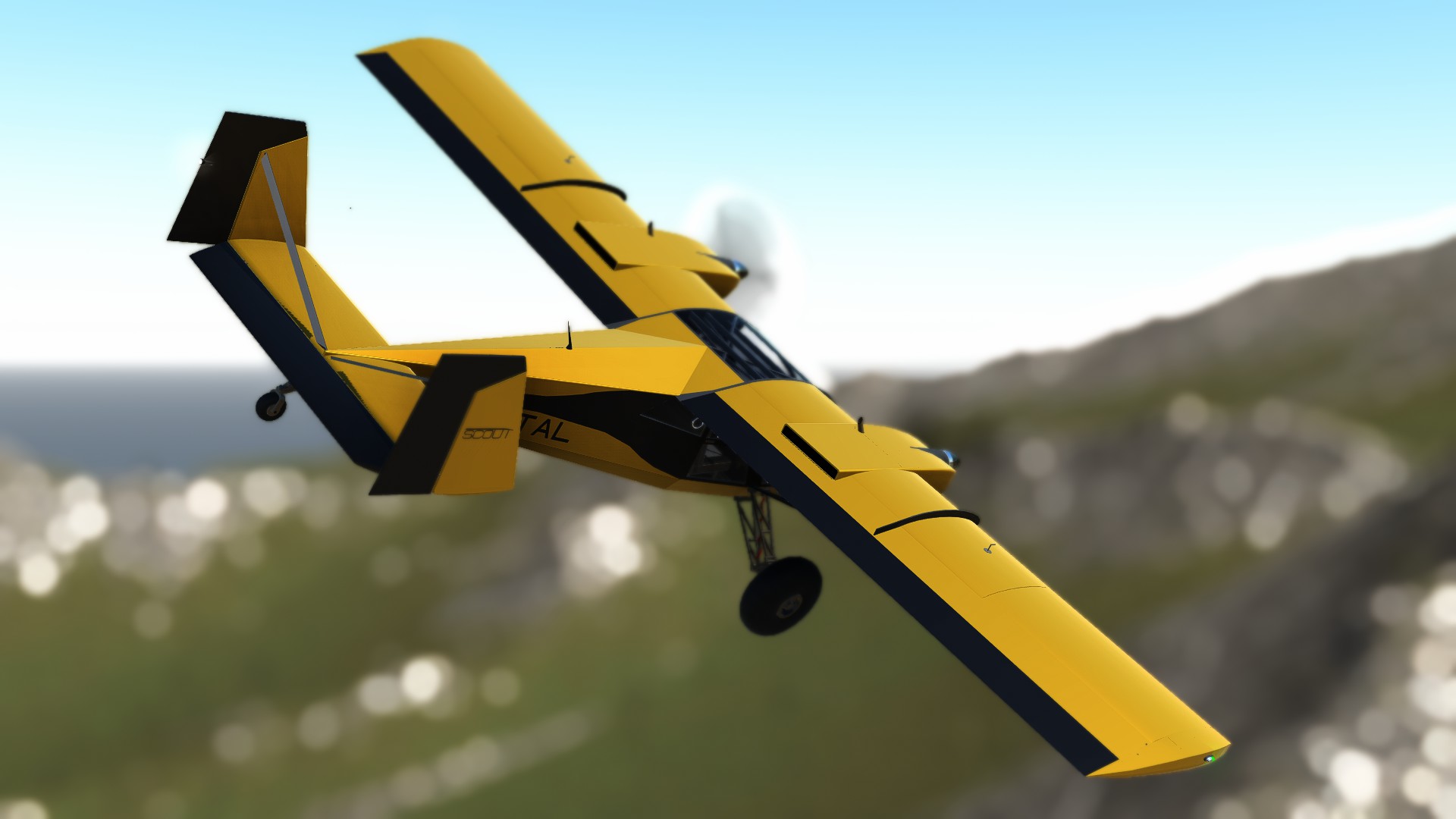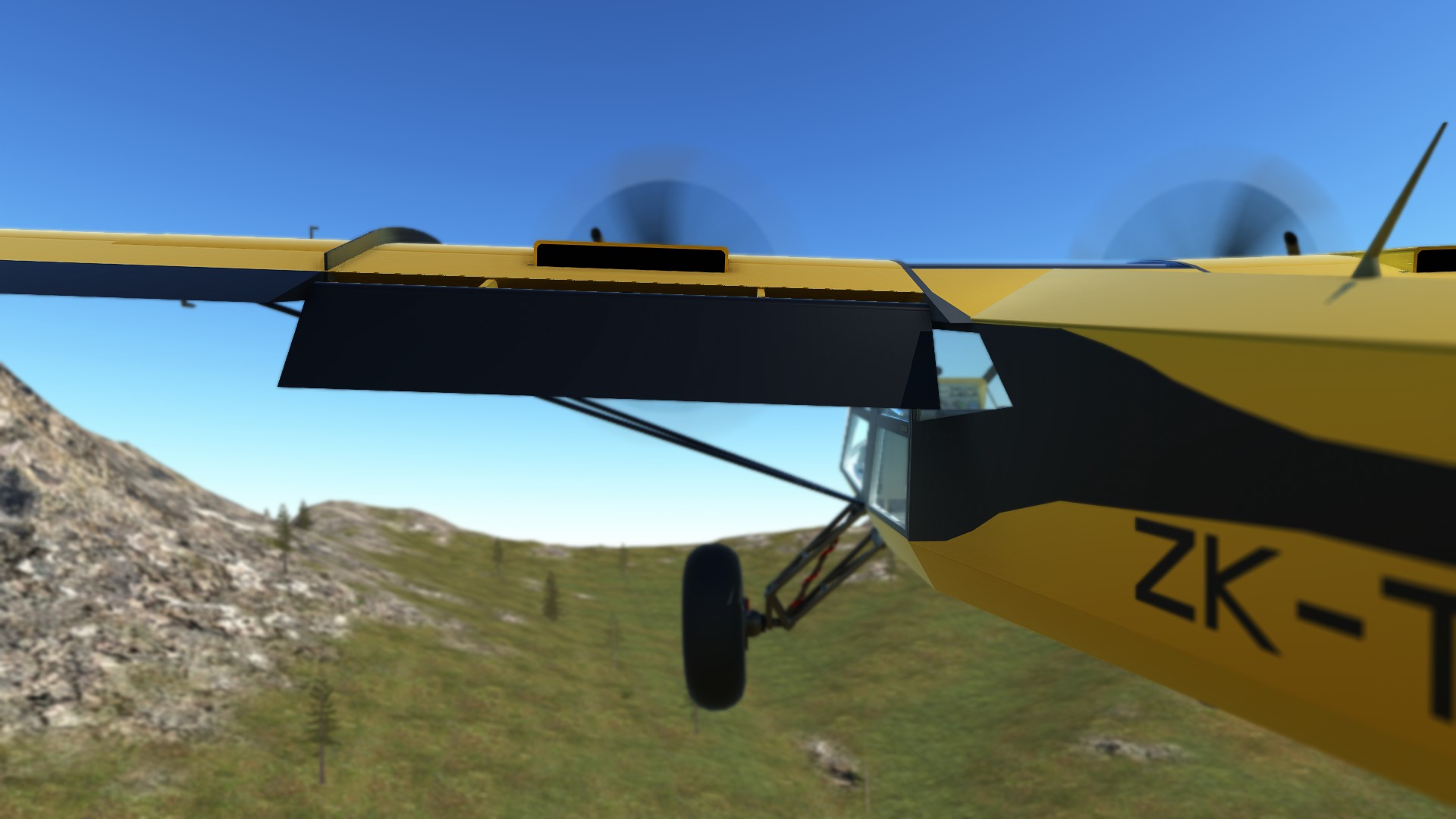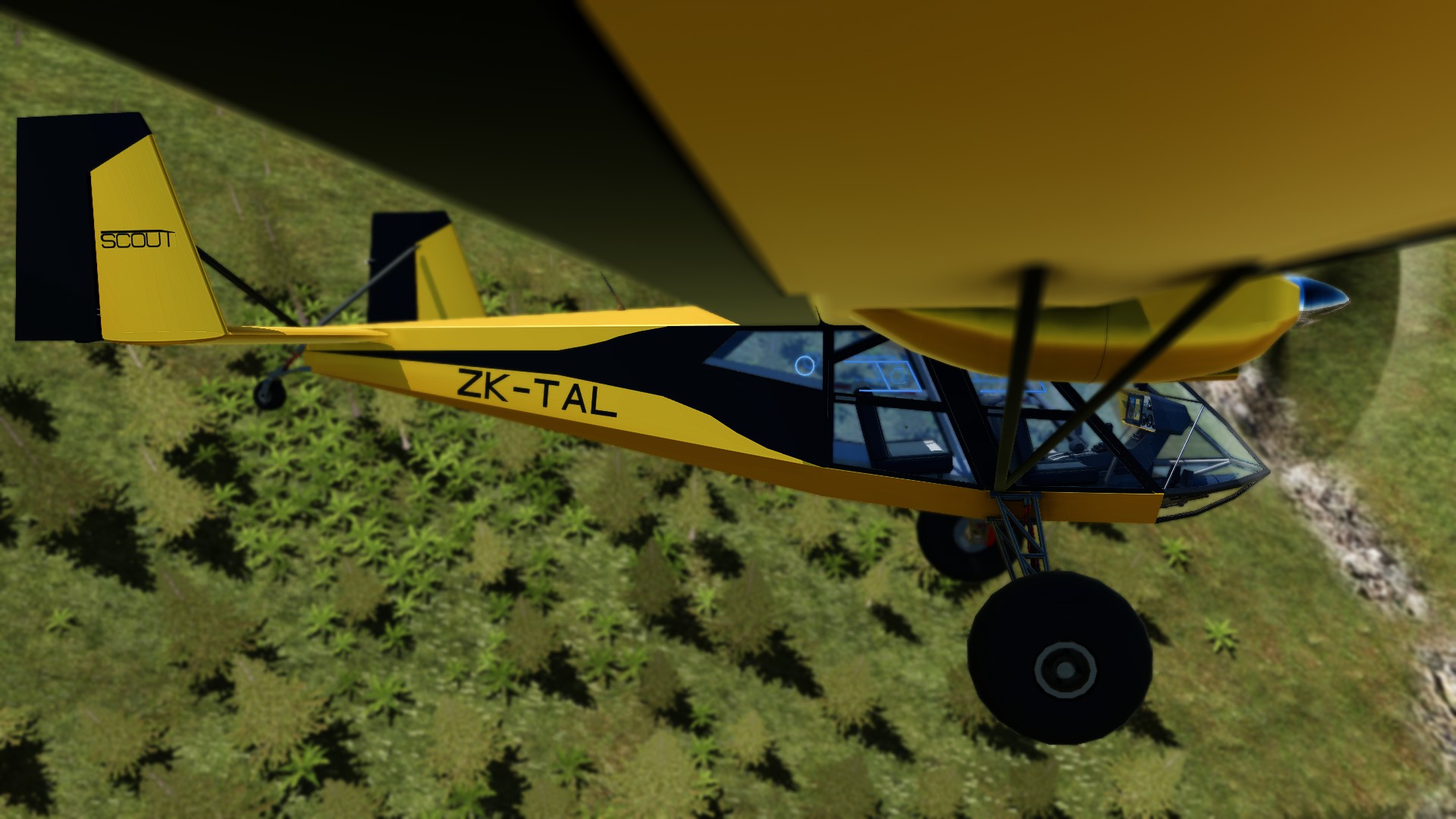 Enjoy!
Specifications
General Characteristics
Predecessor

Scout Kea

Successors

6 airplane(s)

+38 bonus

Created On

Windows

Wingspan

38.6ft (11.8m)

Length

23.5ft (7.2m)

Height

10.7ft (3.3m)

Empty Weight

1,861lbs (844kg)

Loaded Weight

2,003lbs (908kg)
Performance
Power/Weight Ratio

33.657

Horse Power/Weight Ratio

2.296

Wing Loading

6.4lbs/ft2 (31.2kg/m2)

Wing Area

313.1ft2 (29.1m2)

Drag Points

1738
Parts
Number of Parts

1659

Control Surfaces

8

Performance Cost

5,897
---