the first operational jet fighter
Small update: I made a few tweaks and re-uploaded the XML. First of all, a very well-deserved Arigato gozaimasu to @Ian_Yashima for having the wits and patience to ferret out a rather strange weapons issue and handing me the solution. And while I was at it; the stuck flap is fixed, and the 262 now has elevator trim tabs as suggested by @BogdanX. Thanks for the help, guys!
Yes, I finally built something to join the growing ranks of Me-262's on SP! I could hardly leave out the world's first –albeit somewhat unreliable- operational jet fighter.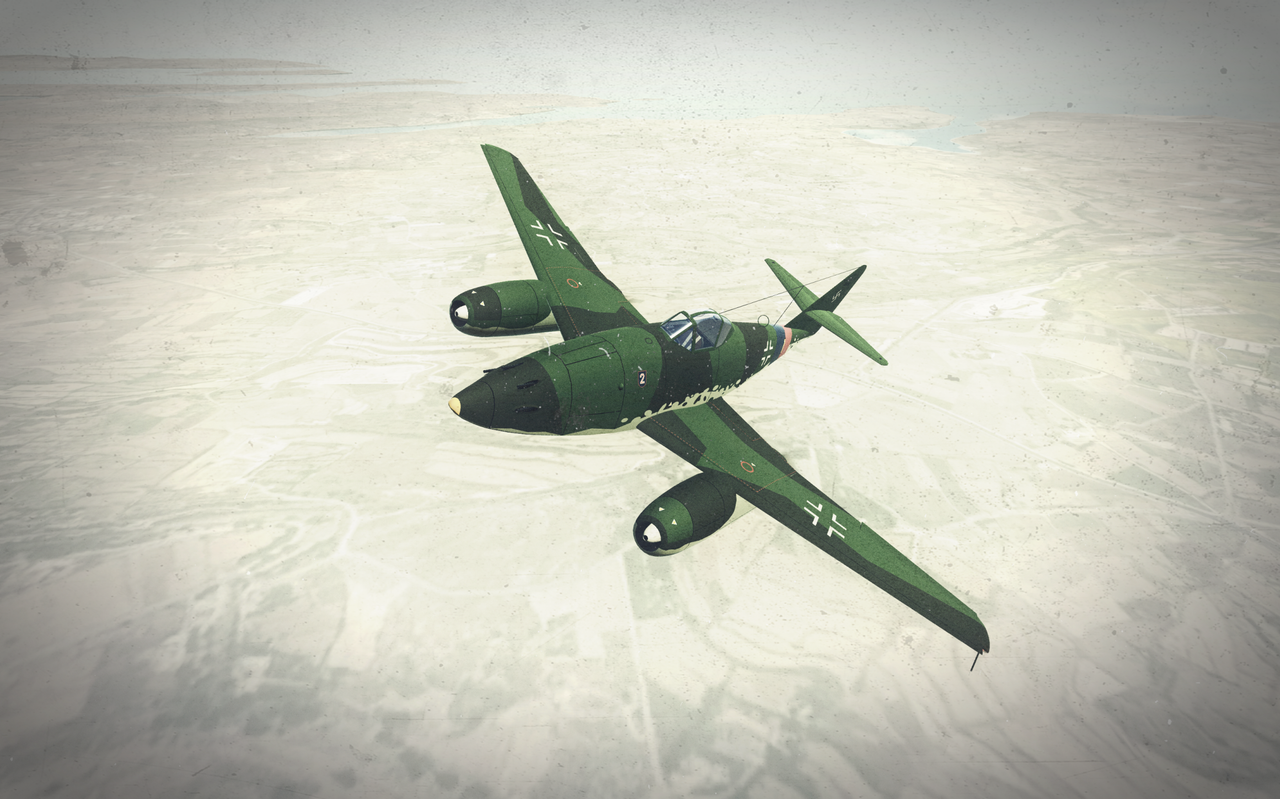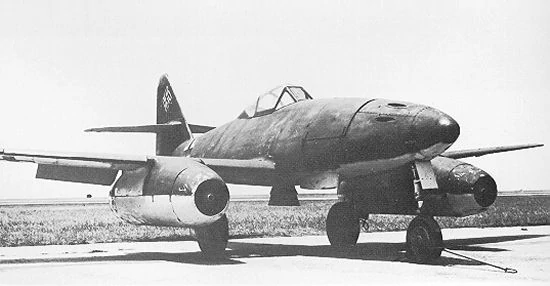 Messerschmitt's design team actually dreamed up their "Project 1065" as early as 1938. When it was finally submitted to the German government in 1940, the RLM ordered three prototypes under the designation Me 262, to be powered by BMW 003 engines.
The Me 262 had a roughly triangular fuselage section –mainly to make room for substantial amounts of fuel for the thirsty turbojets- giving it a menacing, shark-like appearance. It featured thin, swept-back wings with nacelles for the turbojet engines. Since the wings were optimized for high speed, automatic slats were installed to improve low-speed handling.
Messerschmitt completed the design of the airframe long before useful turbojet engines were available, and so the first prototype made its maiden flight… with a single piston engine. When the BMW 003's were fitted to the plane in 1941, the piston engine was retained just-in-case, and luckily so; the turbojets proved extremely unreliable, and it was clear that BMW still had a lot of development and testing ahead of them. The Junkers Jumo 004 engine seemed more promising, and was significantly more powerful.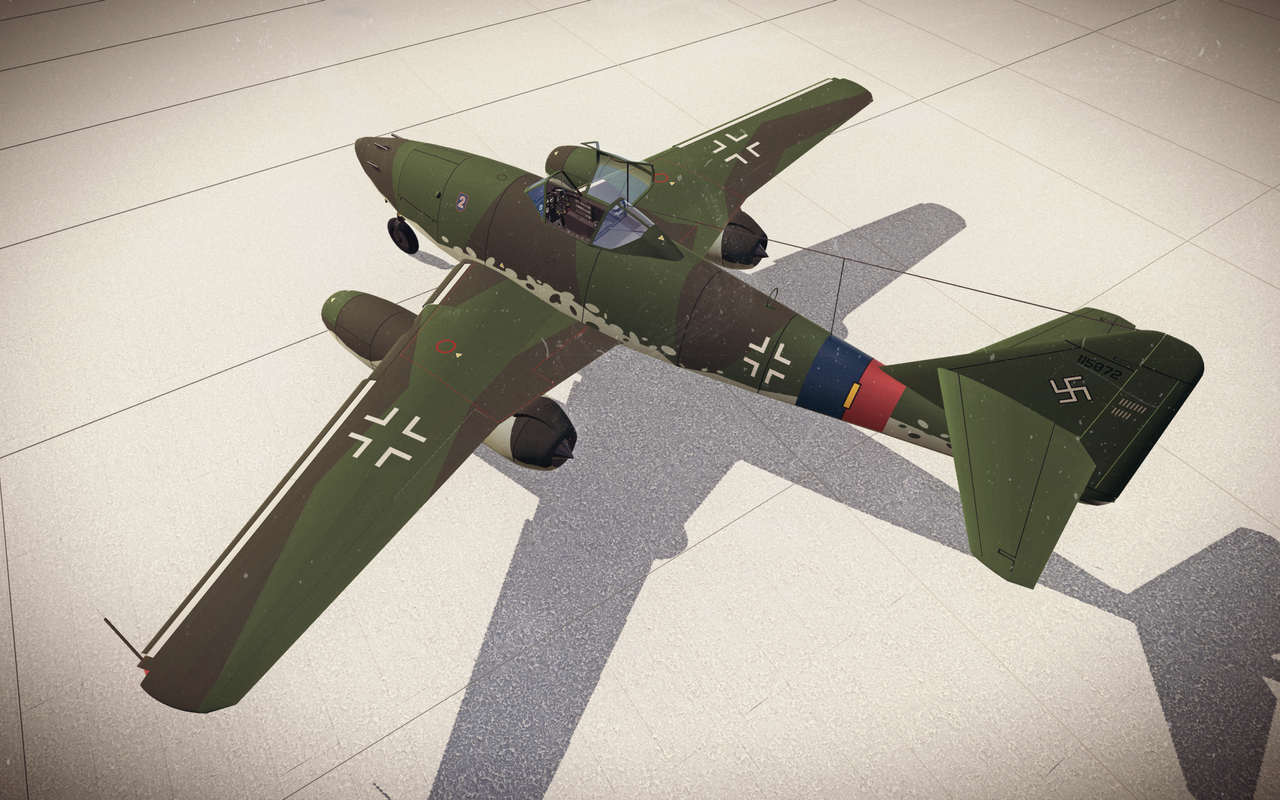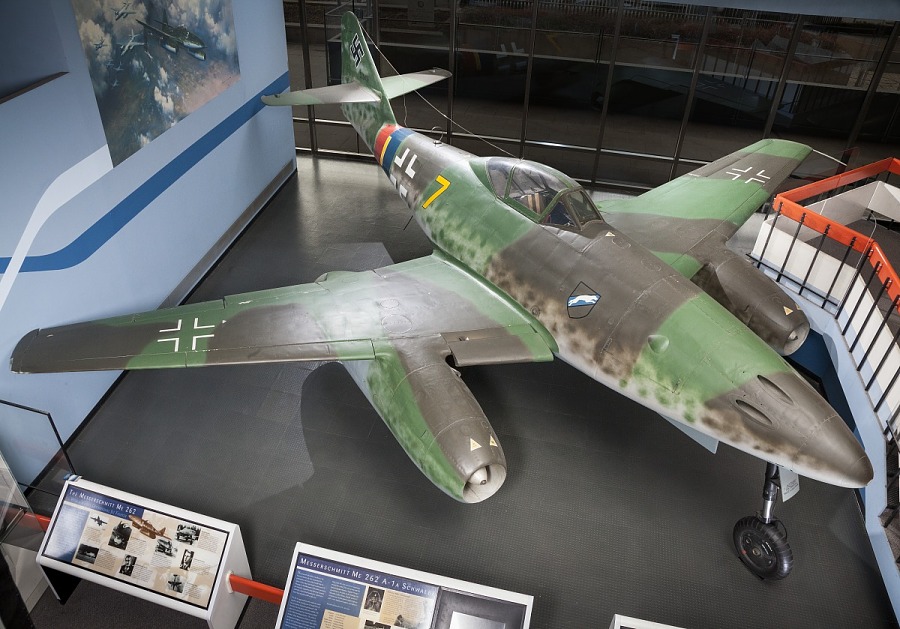 With the Jumo 004, the Me 262's future suddenly looked a lot brighter. The pilots who had a go with it –among them the rather famous ace Adolf Galland- were suitably impressed; the Luftwaffe brass however were not entirely convinced, and some of them wanted no part of "adventures", favouring good old (meaning, reliable) piston power instead. Additionally, there was this angry, stubborn little man in Berchtesgaden who wanted fighter-bombers rather than fighters… and unfortunately, the 262 was designed to be a fighter.
And so, due to politics, technical problems with the plane's development, production capacity issues after Allied bombing raids etc it took until mid 1944 for the Me 262 to get into the fight… and by that time, it was already too late for the dwindling Luftwaffe.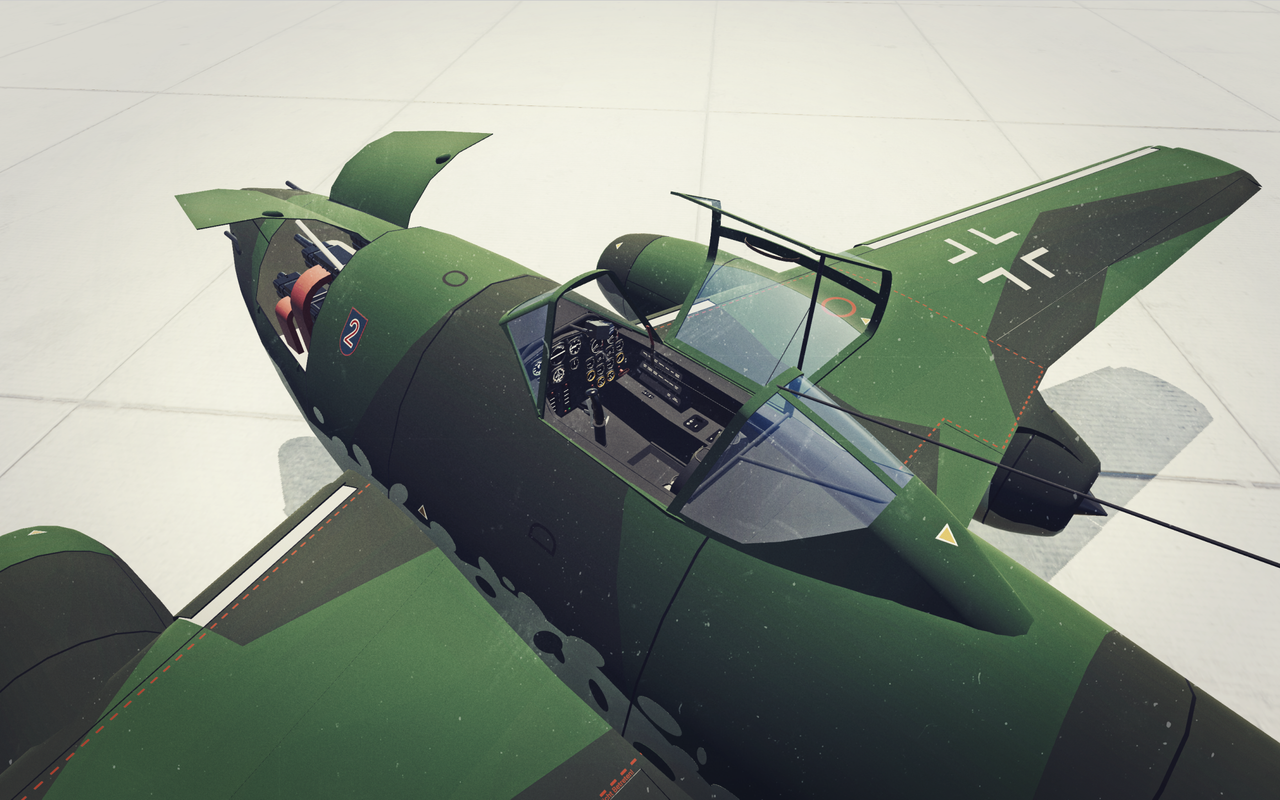 The Me 262 gave the Allied bomber crews and fighter pilots a proper scare though; the plane proved too fast for a single fighter to intercept, and multiple P-51's using special "anti-jet tactics" were needed to bring one down. By the end of the war, Me 262's had downed a total of 542 allied planes, at the cost of 100 of their own. But… there simply weren't enough operational 262's, there wouldn't have been enough experienced pilots to fly them anyway, and –last but not least- there was no fuel to power them. And so the Me 262 goes down in history as a formidable weapon that didn't make even the slightest bit of difference.
The build
The build is a pretty straightforward example of a standard fighter version; no night fighters, bomber versions, mistels, flying artillery platforms or other exotics. Just a run-of-the-mill "Schwalbe", featuring;
• Full interior that works -or so I hope- with SP VR…
• Detailed cannon compartment, showing the MK-108's. I admit, a useless detail and one that could be chucked out for a low(er) part version
• Standard late-war livery in RLM 82/83 splinter pattern with RLM 76 undersides
• Automatic slats
• Working canopy with (VR) emergency release handle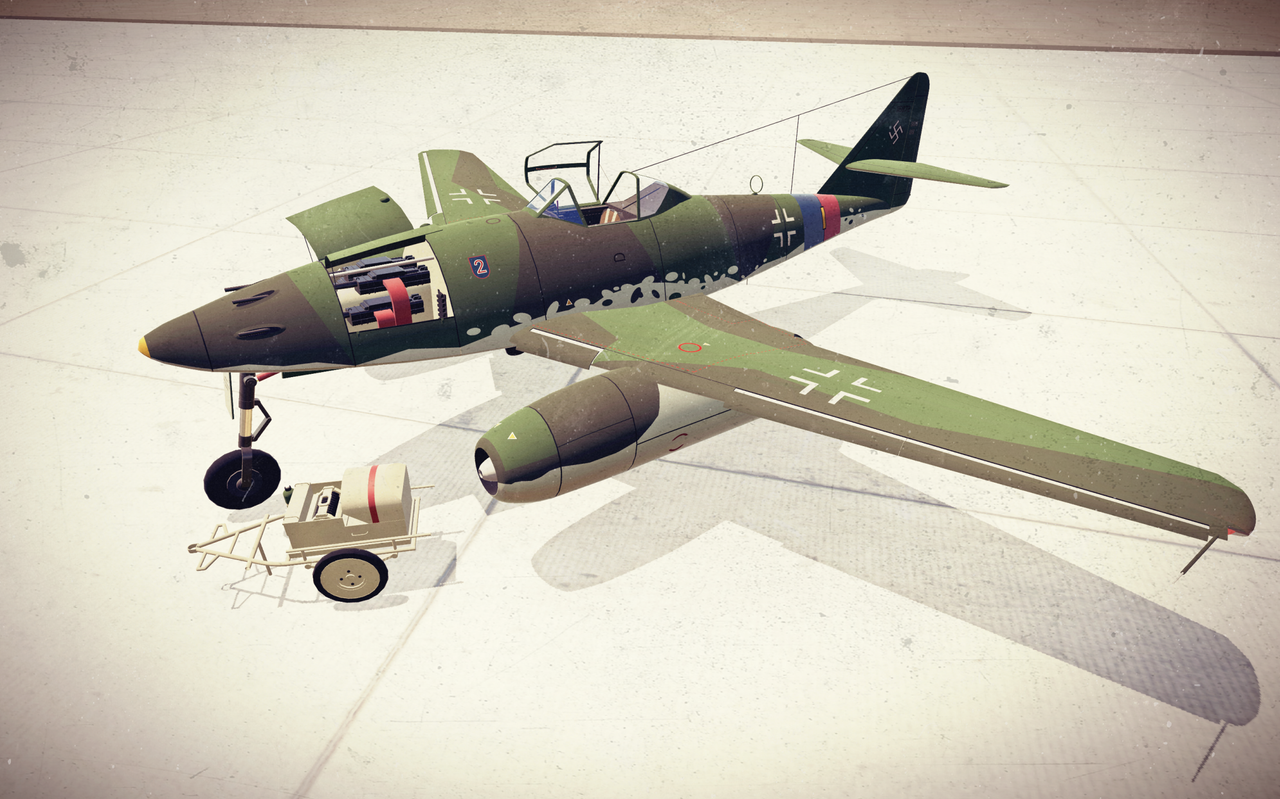 Controls
This plane too should be VR-ready, if all is well. Controls are otherwise pretty standard; Roll, pitch and yaw work much like they should, as do the flaps and elevator trim. Special controls/Activation groups are few;
AG1 : open/close the canopy (VTOL up all the way for emergency release)
AG2 : open/close the cannon bay
AG3 : swivels the gun sight up when needed, or down for normal flight
AG4 : moves fuel between tanks to rebalance the plane
AG8 : nav lights toggle
Some of the VR-ish (and untested) controls in the cockpit;
• The stick's trigger fires the selected weapon, the button on top cycles through weapons.
• Throttle is a double (yellow) lever on the cockpit's right panel
• Elevator trim is a (red) lever on the cockpit's right panel
• A switch for AG1 is on the cockpit's right panel; AG2, AG4 and AG8 are on the left
• A switch for AG3 is located below the gun sight
• Pulling the red lever on your right all the way back pops the canopy (emergency release)
• Handles for landing gear and flaps, both red, are in the left panel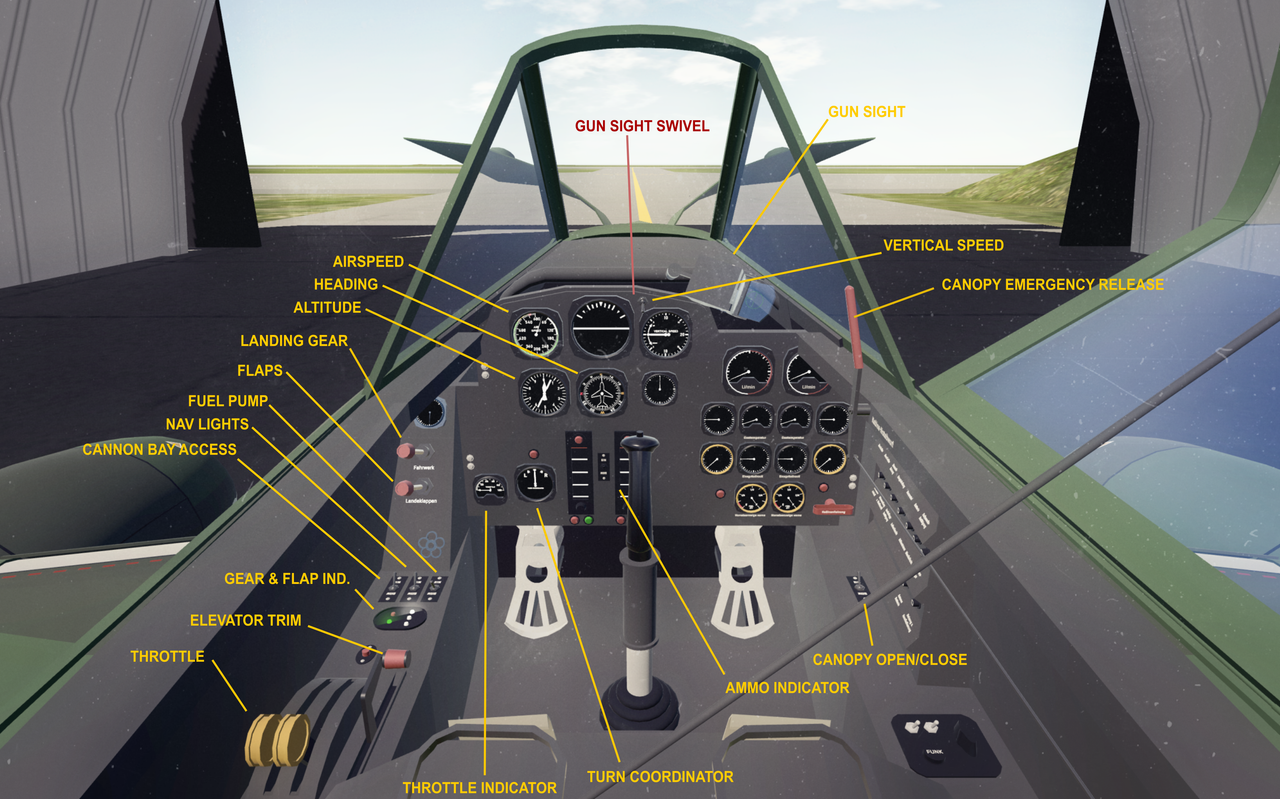 Haven't found a useful VR-solution for rudder and brakes though… you wouldn't be able to reach the pedals, so I suppose the only good option is to connect a pedals set to your computer. No idea how to activate and select AA or AG weaponry through a VR-switch either.
There are camera angles for the pilot's view, an additional and somewhat wider cockpit overview, and a gunsight-view for dogfighting or ground attacks.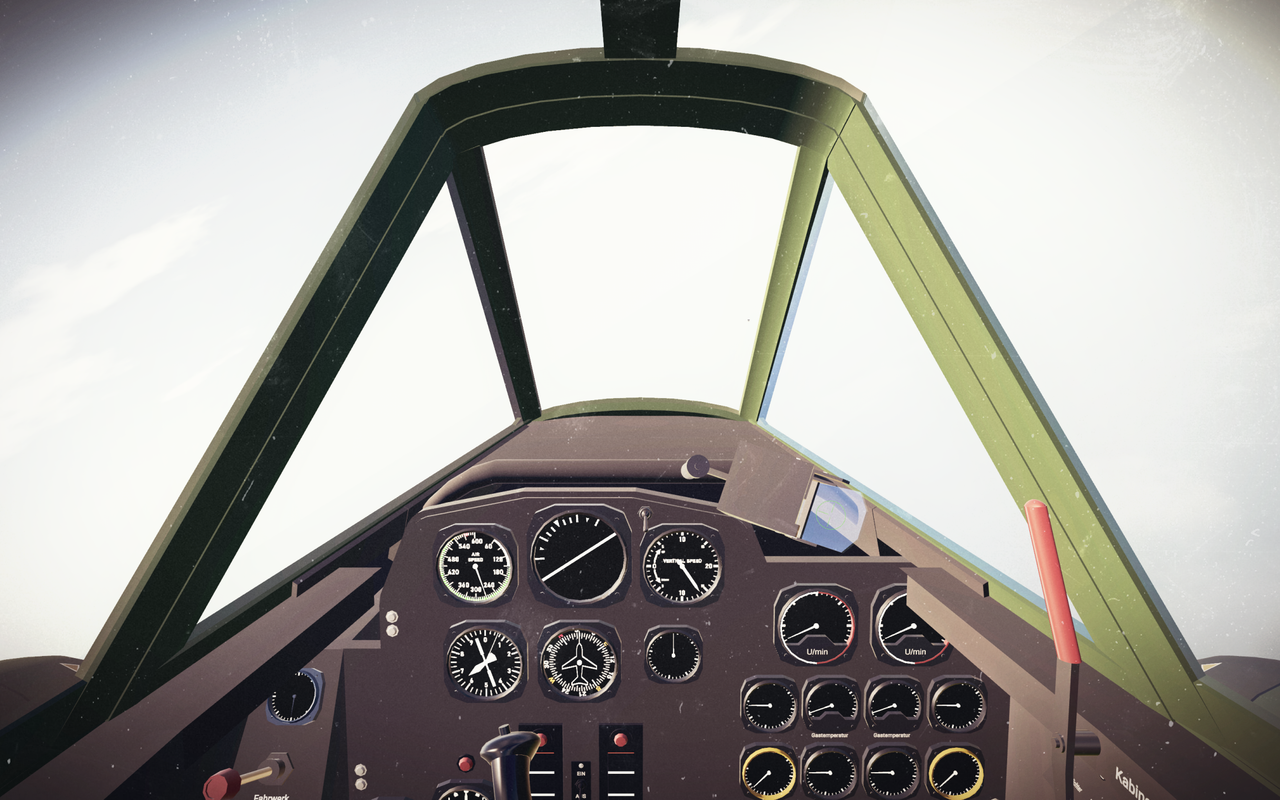 For takeoff: half flaps, throttle up to 100%. You should be able to take off at 180-200 km/h. Like in the actual 262, there will be some redistribution of fuel (weight) once you're airborne. This is automatic, but you can also use AG4 (or the corresponding cockpit switch) to move the COM a bit at any time.
The slats are automatic; on the Me 262 they mainly extend in climbs or turns below 450 km/h, or below 300 km/h at a glide angle. The Me 262 is a fairly forgiving plane to fly; a bit too big & heavy for real aerobatics, but fairy agile and in any case faster than piston fighters.
For landing; throttle back to 30-35%, extend your flaps, approach at around 250 km/h. Remember that the Me 262 doesn't have air brakes or drogue chutes, so you will have to lose speed before and after landing in other ways… approaching the runway fast and making a steep descent won't work very well.
Sticks and stones
Well, the Me 262 comes equipped with something more than just sticks and stones. As standard, the 262 has 4 (four!!) MK-108 30mm cannon. These don't have a very long range and a considerable drop, but the explosive shells can tear up anything they hit.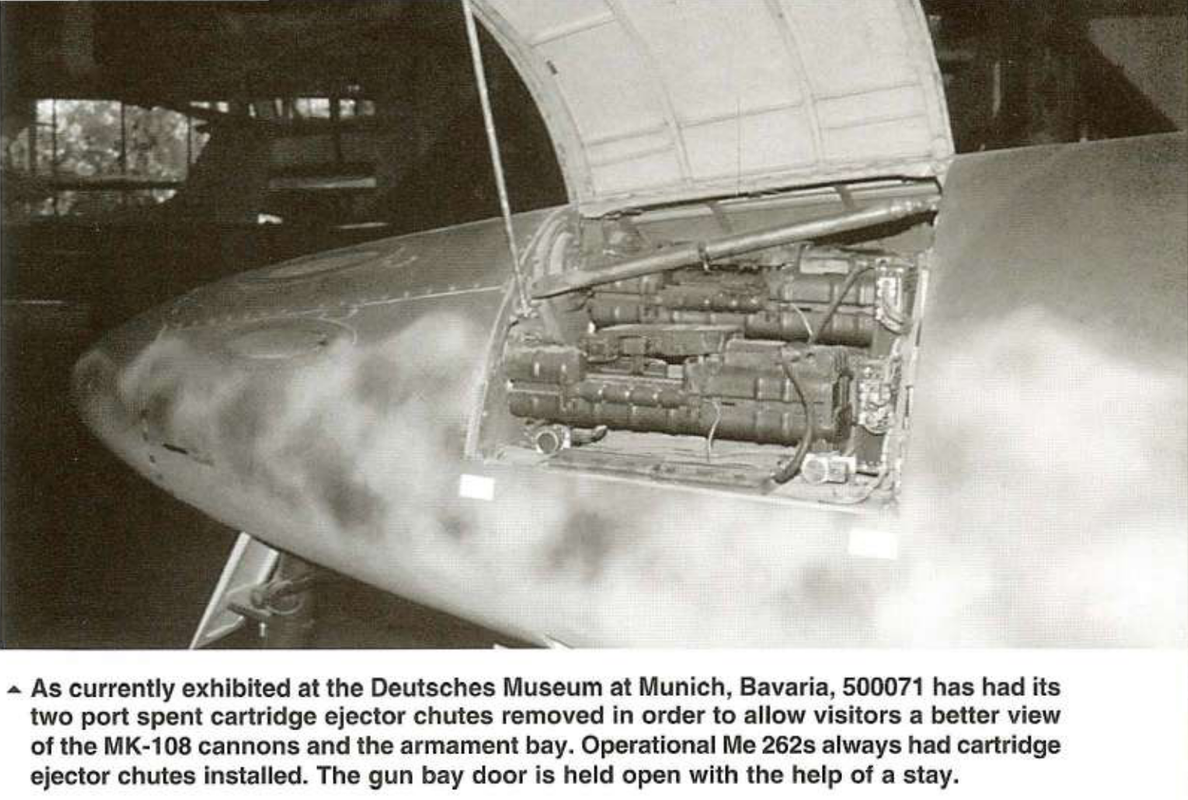 The Me 262 in this build is also fitted with 24 unguided R4M rockets, mounted on wooden racks under the wings; these weren't intended for ground attacks (although they would serve the purpose) but were mainly used to wreak havoc on bomber formations. A single hit will bring a heavy bomber down…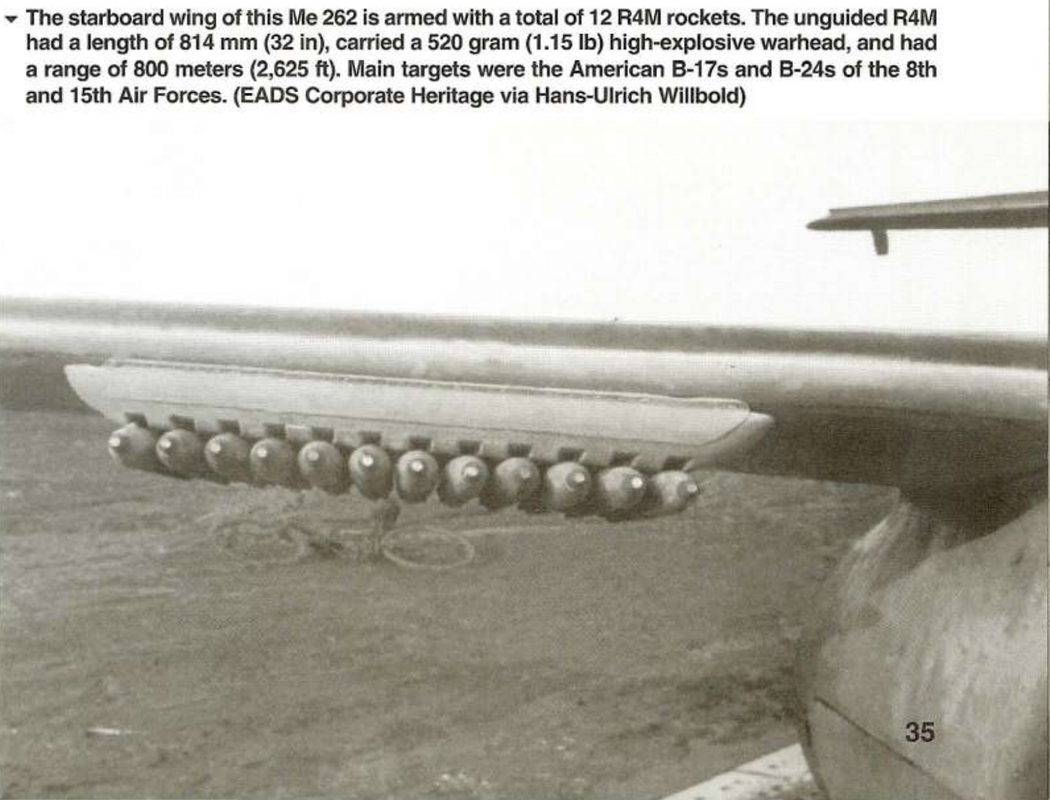 Now Go Hence and Shoot Some Stuff Up…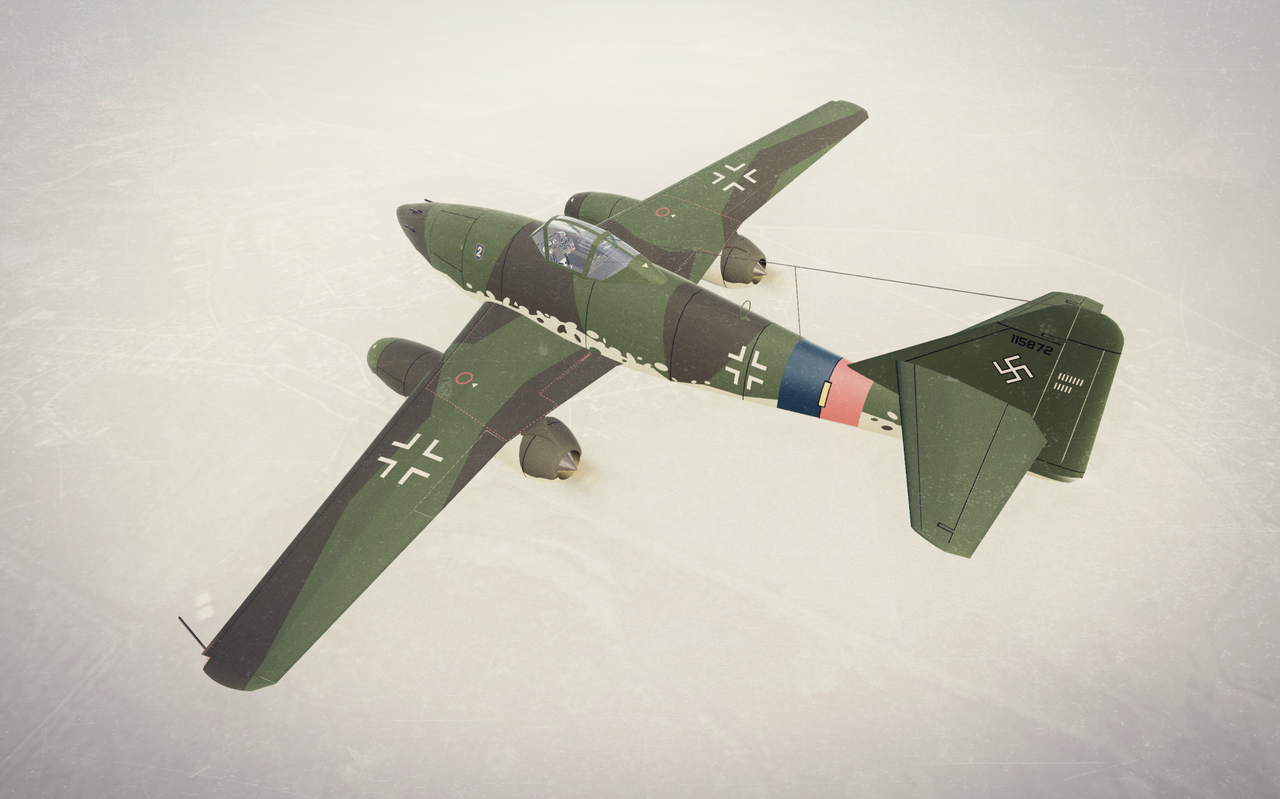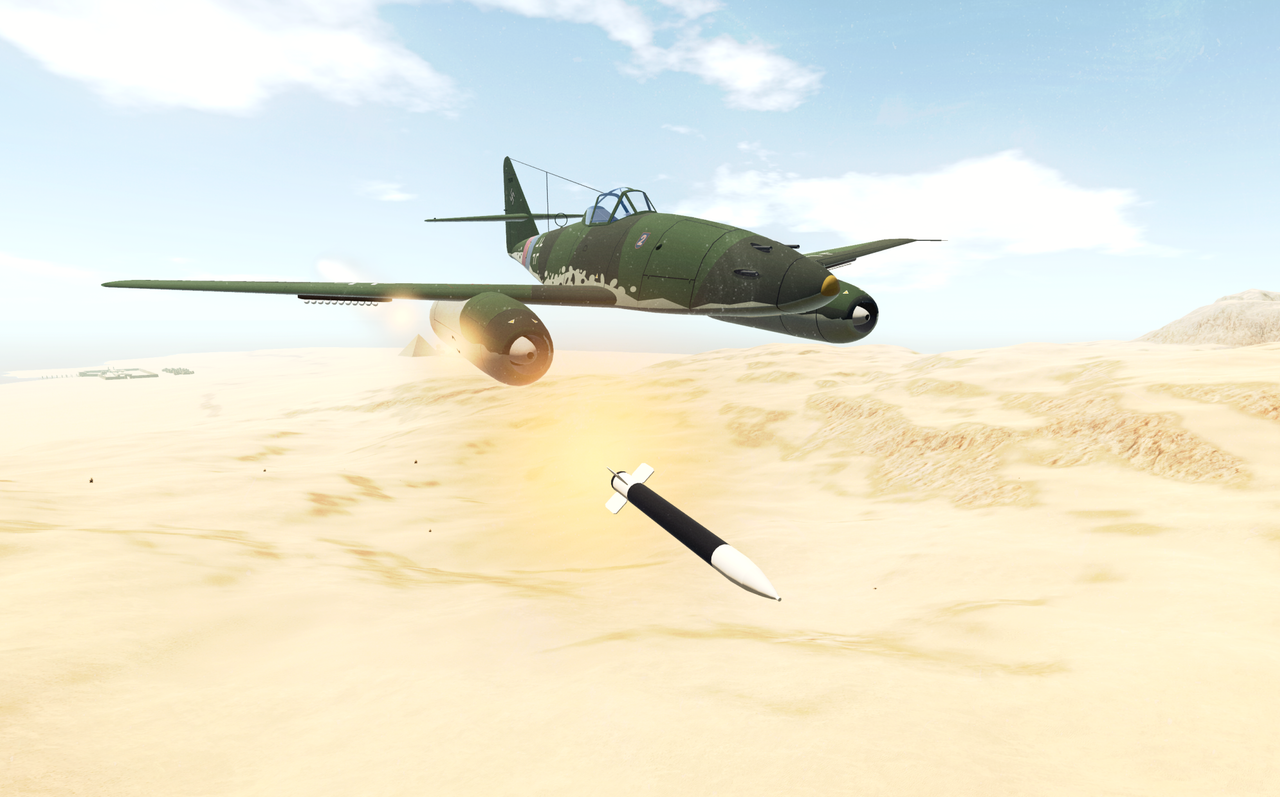 Specifications
General Characteristics
Successors

5 airplane(s)

+28 bonus

Created On

Windows

Wingspan

40.4ft (12.3m)

Length

34.9ft (10.6m)

Height

12.6ft (3.8m)

Empty Weight

9,270lbs (4,205kg)

Loaded Weight

12,815lbs (5,813kg)
Performance
Power/Weight Ratio

2.183

Wing Loading

30.4lbs/ft2 (148.5kg/m2)

Wing Area

421.5ft2 (39.2m2)

Drag Points

5982
Parts
Number of Parts

1851

Control Surfaces

0

Performance Cost

6,027
---