The King of the Sea
---
Description:
-Kyogre is a large killer whale-like creature from the game Pokemon. It is categorized as pokemon #382 in the Pokedex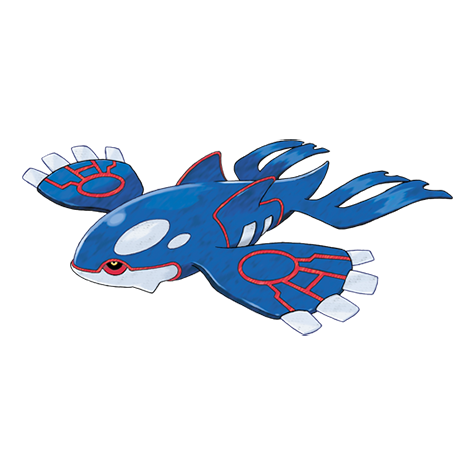 ---
It is mostly blue in color, with white spots in the sides of it's head, mouth and belly, and has red lines patterned on its body and flippers. It has the ability to generate storms wherever it goes. With this ability, Kyogre can sink entire islands and continents should its power be uncontrolled.
---
History:
-Similar to Groudon's past, Kyogre and Groudon battled for dominance on the surface of the earth. Each of them wanting to either expand the land or the oceans to their will. This battle of the titans has been theorized to have formed the sea and land. Rayquaza was then sent by Arceus to stop the two behemoths, making an end to their calamity. Kyogre then slept in an underwater cave where it rested until it was awakened by Team Aqua.
---
Abilities in Simpleplanes
>Hydro Pump
---
---
-Kyogre blasts its enemies with high pressured water coming out from it's mouth.
---
>Ice Shards
---
---
-Kyogre freezes the moisture around him and launches it to any target it can lock on.
---
>Origin Pulse
---
---
-Kyogre attacks using beams of light that glow a deep and brilliant blue.
---
Controls:
Throttle: Move Forward
Brake: Move Backward
Yaw: Turn
Pitch: Up and Down
Roll: Roll
AG-1: Flipper and Tail animation
AG-2: Hydro Pump(Gun) + Head movement(Pitch + Yaw)
+ Origin Pulse(Auto Horizontal aim + Manual Vertical Aim(Trim) )
AG-3: Buoyancy controller(VTOL up to sink deeper)
AG-4: Jump (Deactivate after 1 second to avoid flying out to space)
AG-5: Red eyes
AG-8: Gyroscope
GearDown: Deactivate GearDown if in water, Activate when going to Land.
Notes:
This build took longer than expected due to school and because I decided to add features like the Flipper and Tail animation, which took less time than actually trying to make it float. Anyway, thanks for all your support on the Groudon post! It really inspired me to make this creation and make it function better than it's counterpart hehe.
It seems I've also made another Error regarding the number... thats supposed to be #382... dang.
Here's a few shots I really like:
---
---
Credits:
(The boat on the pic)
Specifications
General Characteristics
Created On

Windows

Wingspan

293.9ft (89.6m)

Length

379.2ft (115.6m)

Height

129.0ft (39.3m)

Empty Weight

N/A

Loaded Weight

1,433,003lbs (650,000kg)
Performance
Power/Weight Ratio

42.248

Wing Loading

1,681.2lbs/ft2 (8,208.4kg/m2)

Wing Area

852.4ft2 (79.2m2)

Drag Points

1540
Parts
Number of Parts

368

Control Surfaces

1

Performance Cost

2,070
---