Kratzweldt Projekt 22 "Dreimann"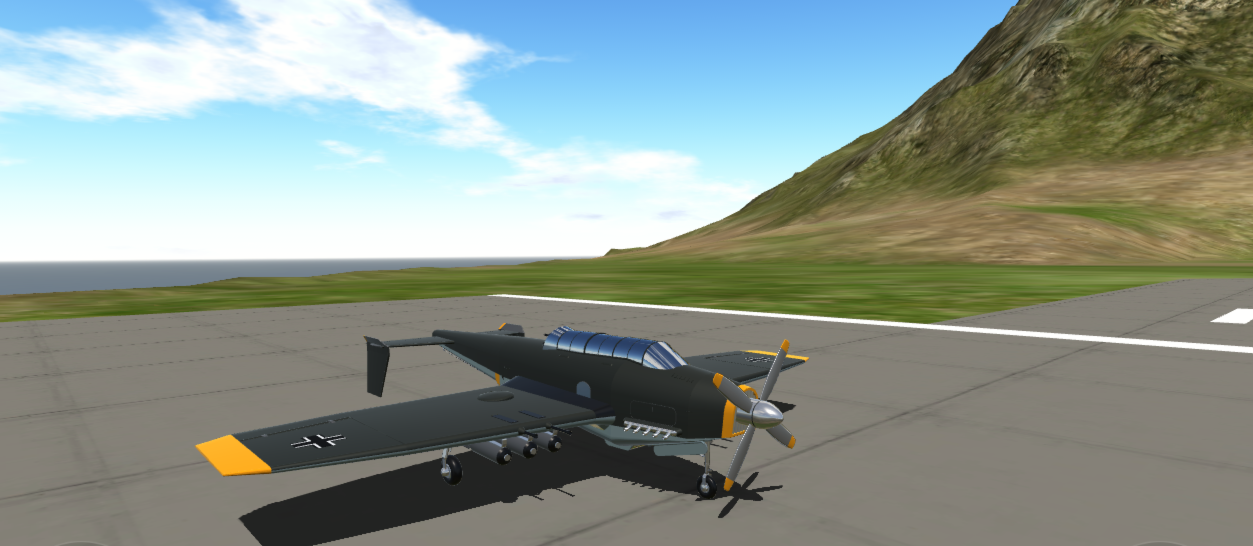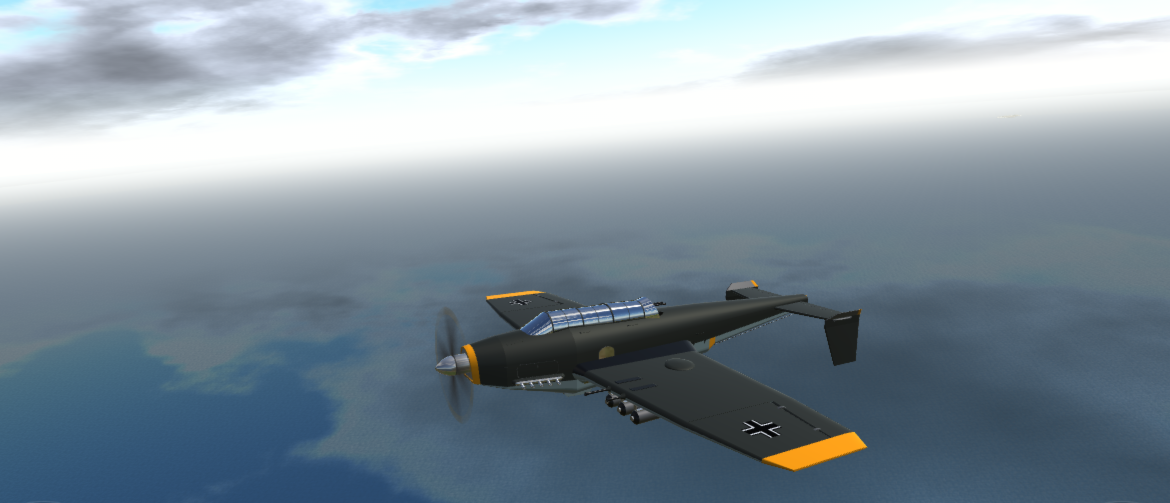 Take-off
VTOL down fully to set flaps. Apply full throttle, rotate at 170mph TAS. Once airborne, raise undercarriage then raise flaps. Apply trim as required for full bomb-load.
Landing
Ensure all bombs have been dropped. Use 20% throttle and full flaps for final approach. Maintain 20% for flare and touchdown then cut power. Allow the craft to slow naturally, or apply gentle brakes.
Taxiing
3% throttle and Yaw.
AG1 Wing Guns.
AG2 Rear Guns; use VTOL up and Yaw.
Background
The Kratzweldt Designbüro was mostly known for its work on small projects used in the automotive and marine industry until WW2 broke out, at which point, most of its staff were pressed into service either in similar larger companies or in the field of aircraft design.
At the end of the war, Allied investigators found a series of drawings and partially completed blueprints marked "Projekt 22 Dreimann" suggesting that the company had been actively designing a complete "Jagdbomber" for the Luftwaffe. Dates on the drawings pointed to most of the work being done in the very early stages of the war.
Design Concept
The design showed a single-engine, light bomber/fighter with a long canopy similar in layout to many Japanese aircraft, with a rear gun emplacement for defence. The lower fuselage had what appeared to be a large bomb-aiming window and small portholes, suggesting a third crewman below and between the pilot and rear gunner. The code name "Dreimann" backs up this theory.
Noteworthy features of the design included a tricycle undercarriage and a highly unusual downward pointing tail assembly, presumably to give the rear gunner a clear field of fire.
Although the engine, and therefore the plane's possible capabilities were not known, it was thought that the plane would have soon been surpassed by twin-engine types and, like the Vickers Wellesley, would have been relegated to lesser roles.
Footnote
For this build I tried a double layered wing to give 2 colours and I need to practice and refine this if I do so again in future. I borrowed some Funky Trees from the Devs for the undercarriage doors and, despite my best efforts at ruining the formulae, they work pretty well! The plane is balanced for a slight descent with a full bomb load, requiring a little trim, so that after dropping the bombs, it doesn't become a bucking bronco. I have kept the maximum speed and handling fairly modest, in keeping with the concept of large, early war, single engined bomber. Really fun challenge!
Specifications
General Characteristics
Predecessor

Luftwaffe Challenge (Closed)

Created On

Windows

Wingspan

54.3ft (16.6m)

Length

44.8ft (13.7m)

Height

11.9ft (3.6m)

Empty Weight

-4,734,385lbs (-2,147,483kg)

Loaded Weight

9,590lbs (4,350kg)
Performance
Horse Power/Weight Ratio

0.195

Wing Loading

17.8lbs/ft2 (86.7kg/m2)

Wing Area

540.1ft2 (50.2m2)

Drag Points

4621
Parts
Number of Parts

390

Control Surfaces

4
---