Thanks to everyone who helped me get to Silver, as a gesture of thanks I decided to post this aircraft in advance, whose name cannot be mentioned for strange reasons.
Unfortunately I can't show many details of the aircraft, I can't take the risk of having the post deleted.
---
THIS AIRCRAFT WAS SPECIALLY DESIGNED TO BE CONTROLLED BY ARTIFICIAL INTELLIGENCE.
can also be piloted by players
AG-8 Enable/Disable Lights
This aircraft is a ''very light jet'' model. It is a small luxury jet that can comfortably accommodate up to 6 passengers, with advanced entertainment and safety systems. Made with new types of materials, it is small and economical, it has 2 super silent one-piece motors above the wings.
This aircraft was inspired by the Cassius 192 from Just Cause 2
---
if you want to change the color of the aircraft, select the bottom left frame and watch the magic happen ;)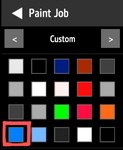 Enjoy!
Specifications
General Characteristics
Successors

4 airplane(s)

+105 bonus

Created On

Android

Wingspan

49.5ft (15.1m)

Length

53.3ft (16.2m)

Height

18.3ft (5.6m)

Empty Weight

8,471lbs (3,842kg)

Loaded Weight

12,101lbs (5,489kg)
Performance
Power/Weight Ratio

11.142

Wing Loading

29.9lbs/ft2 (145.8kg/m2)

Wing Area

405.2ft2 (37.6m2)

Drag Points

4016
Parts
Number of Parts

96

Control Surfaces

7

Performance Cost

443
---