This aircraft follows all the basic AI requirements. It is specially designed for Artificial Intelligence [AI] to simulate air traffic, it is able to land and take off with extreme precision at the main airports in the game, it is also a playable aircraft, you can enjoy air collisions, target shooting or just enjoy of a more realistic air traffic.
---
Tags: AI Planes / Auto Spawn / AI Air Traffic / Artificial Intelligence / AI controlled.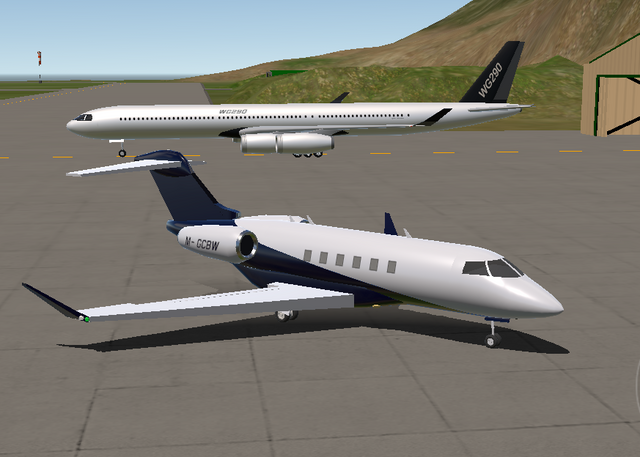 MAPA Aviation 2023
---
About the Aircraft:
The Bombardier Challenger 300 is a 3,100 nmi (5,700 km) range business jet made by Bombardier Aerospace. Announced at the 1999 Paris Air Show, it made its maiden flight on 14 August 2001, received its Canadian type approval on 31 May 2003 and was introduced on 8 January 2004. The Challenger 350 is a slightly improved 3,200 nmi (5,900 km) range variant which first flew on 2 March 2013 and was approved on 11 June 2014. Around 450 Challenger 300 have been delivered, and 350 Challenger 350 by July 2020.
The baseline Challenger 300 was launched at the 1999 Paris Air Show as the Bombardier Continental. An all-new design, it received Transport Canada type approval on 31 May 2003, followed on 4 June by US FAR 25 certification and on 31 July by European JAR 25 approval. Assembled in Montreal, Quebec, it entered commercial service on 8 January 2004 with Flexjet. The new design is not developed from the Challenger 600 or its variants.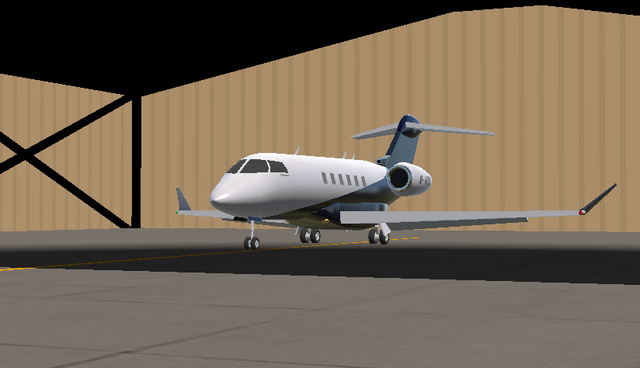 Its supercritical wings have a fixed leading-edge and a 27% sweep angle, its 1.15 m (3.8 ft) winglets reduce cruise lift-induced drag by 17%. It climbs to FL410 in 18 min with a 455 kg (1,003 lb) fuel burn at MTOW/ISA, where at a 14,330 kg (31,590 lb) weight it burns 680 kg (1,500 lb)/h at Mach 0.8/445 kn (824 km/h) tas, 875 kg (1,929 lb)/h at Mach 0.83/465 kn (861 km/h) tas. In 2004, the unit cost of the Challenger 300 was US$17.4 million.
The fuselage and the wing are semi-monocoque aluminum structures, the winglets are composite. Outboard ailerons are manually actuated, elevators and rudder are hydraulic with a mechanical backup, fly-by-wire spoilers augment roll control, act as speedbrakes and dump lift on the ground, hydraulic single-slotted fowler flap have four positions: 0/10/20/30°. The Rockwell Collins Pro Line 21 avionics include four LCD displays, an EICAS and Maintenance Diagnostics Computer, an EGPWS, a TCAS II and an ELT.
In 2022 the United States Federal Aviation Administration ordered pilots to perform additional safety checks on the model after "multiple incidents" in which a horizontal stabilizer malfunctioned. In 2023 a passenger was killed by blunt force trauma in a Bombardier Challenger 300 inflicted when a series of automated pilot instructions resulted in the stabilizer control system being turned off, causing the plane to pitch violently.
Challenger 350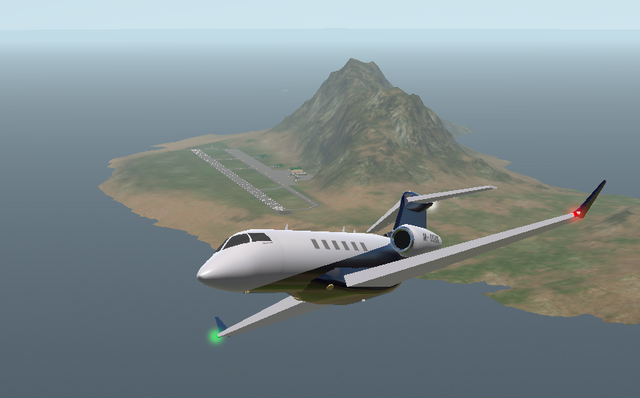 The improved variant first flew on March 2, 2013, was unveiled at the next May EBACE and was due to enter service in May 2014. Combined with a more luxurious interior and 20% taller cabin windows, it costs $1 million more at $25.9 million. Its launch customer, NetJets, ordered 75 firm and 125 options. It received its type certification from Transport Canada on June 11, 2014, from the FAA on June 25 and from the EASA on September 2. In 2018, 60 Challenger 350s were delivered as Bombardier claims a 58% market share of the super mid-size segment, and the 300th delivery was reached in July 2019, after five years of service.
Hot-section modifications and a FADEC push gave the Honeywell HTF7350 7.3% more takeoff thrust at 7,323 lbf (32.57 kN) with the same flat rating, durability and reliability. A strengthened wing with canted winglets and more span allows for 900 lb (410 kg) more full fuel payload. Canted winglets have a less acute angle that reduces transonic drag and enlarge the span by 5.2 ft (1.6 m), increasing wing area and aspect ratio. At a weight of 30,200 lb (13,700 kg) it cruises at Mach 0.80 / 455 kn (843 km/h) TAS and is advertised as burning 1,535 lb (696 kg) per hour.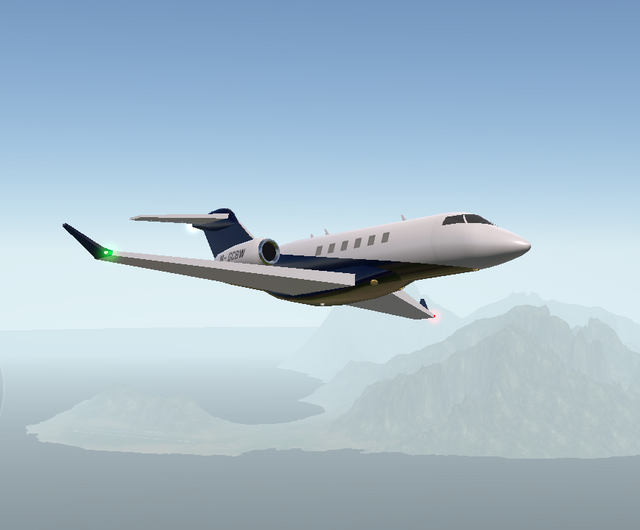 Bombardier maintenance program runs $277 per hour and inspection intervals are at 600 hr. The avionics include four Adaptive LCD Displays, Dual FMS with LPV and RNP approaches capability, SVS, a MultiScan, Weather Radar, Dual IRS, dual SBAS GPS, integrated EFIS and dual VHF and HF radios. It is able to carry eight passengers over a 3,200 nmi / 5,926 km range at a Mach 0.80 (459 kn, 849 km/h) long-range cruise. It is manufactured in Canada.
In 2021, its equipped price was $26.7M.
---
Images: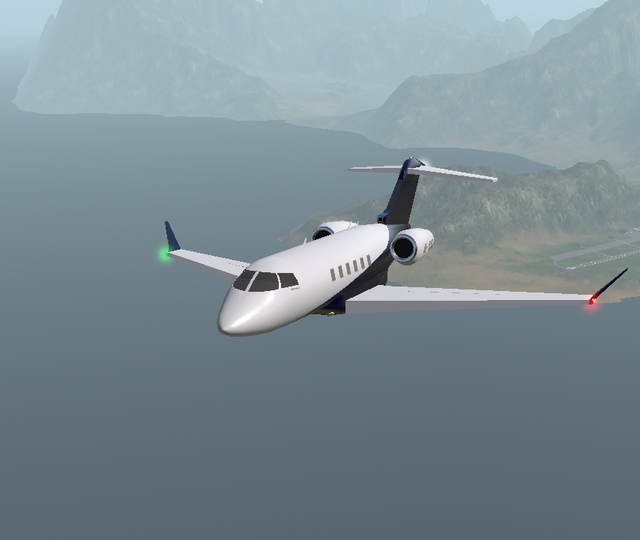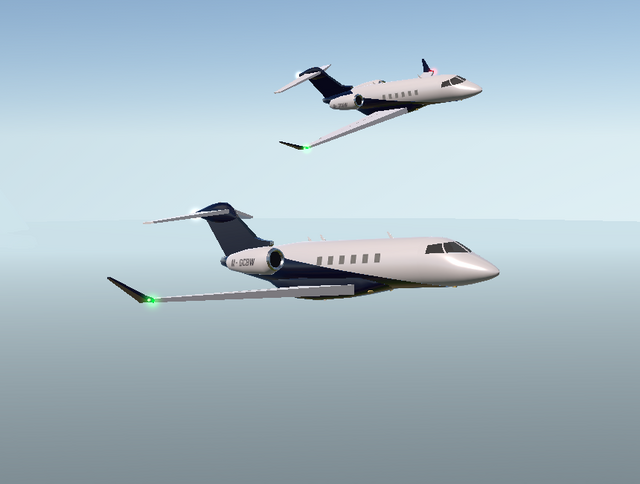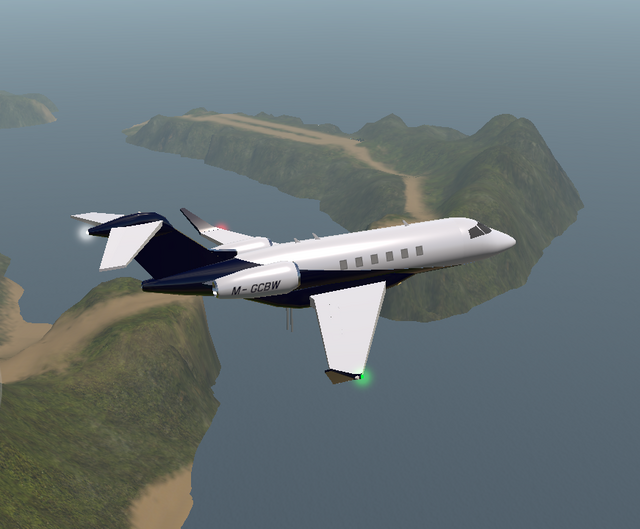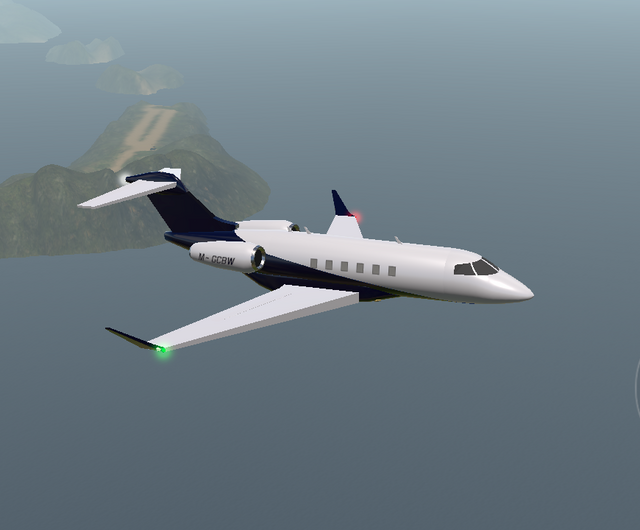 Actual Sample: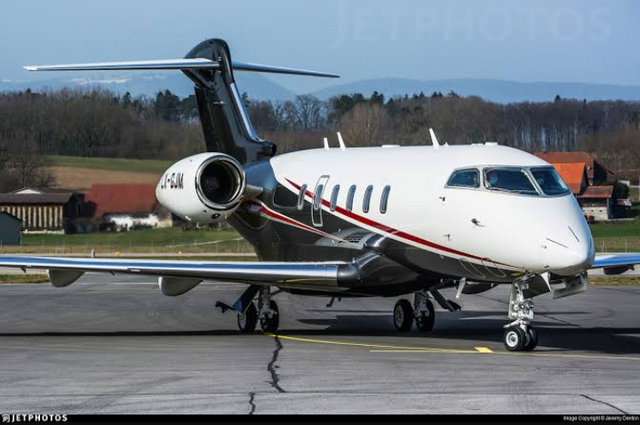 Image Credit: Jetphotos
---
Controls: Standard
Thank you for your attention, Good flight!
Specifications
General Characteristics
Successors

2 airplane(s)

+171 bonus

Created On

Android

Wingspan

103.0ft (31.4m)

Length

103.1ft (31.4m)

Height

31.6ft (9.6m)

Empty Weight

27,386lbs (12,422kg)

Loaded Weight

33,061lbs (14,996kg)
Performance
Power/Weight Ratio

2.039

Wing Loading

36.9lbs/ft2 (180.0kg/m2)

Wing Area

896.8ft2 (83.3m2)

Drag Points

4629
Parts
Number of Parts

94

Control Surfaces

7

Performance Cost

491
---