Note: These description that I copied from Wikipedia, so do not sueing me that I stole it

INTRODUCE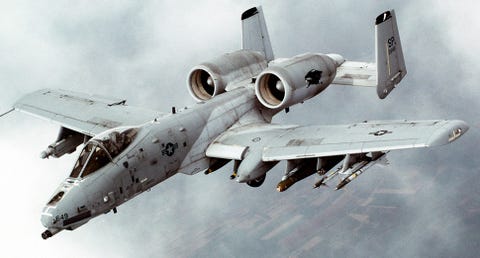 The Fairchild Republic A-10 Thunderbolt II is a single-seat, twin turbofan engine, straight wing jet aircraft developed by Fairchild-Republic for the United States Air Force (USAF). It is commonly referred to by the nicknames "Warthog" or "Hog", although the A-10's official name comes from the Republic P-47 Thunderbolt, a World War II fighter-bomber effective at attacking ground targets. The A-10 was designed for close air support (CAS) of friendly ground troops, attacking armored vehicles and tanks, and providing quick-action support against enemy ground forces. It entered service in 1976 and is the only production-built aircraft that has served in the USAF that was designed solely for CAS. Its secondary mission is to provide forward air controller-airborne support, by directing other aircraft in attacks on ground targets. Aircraft used primarily in this role are designated OA-10.
The A-10 was intended to improve on the performance and firepower of the A-1 Skyraider. The A-10 was designed around the 30 mm GAU-8 Avenger rotary cannon. Its airframe was designed for durability, with measures such as 1,200 pounds (540 kg) of titanium armor to protect the cockpit and aircraft systems, enabling it to absorb a significant amount of damage and continue flying. Its short takeoff and landing capability permits operation from airstrips close to the front lines, and its simple design enables maintenance with minimal facilities. The A-10 served in the Gulf War (Operation Desert Storm), the American–led intervention against Iraq's invasion of Kuwait, where the aircraft distinguished itself. The A-10 also participated in other conflicts such as in Grenada, the Balkans, Afghanistan, Iraq, and against the Islamic State in the Middle East.
The A-10A single-seat variant was the only version produced, though one pre-production airframe was modified into the YA-10B twin-seat prototype to test an all-weather night capable version. In 2005, a program was started to upgrade remaining A-10A aircraft to the A-10C configuration, with modern avionics for use with precision weaponry. The U.S. Air Force had stated the F-35 would replace the A-10 as it entered service, but this remains highly contentious within the USAF and in political circles. With a variety of upgrades and wing replacements, the A-10's service life can be extended to 2040; the service has no planned retirement date as of June 2017.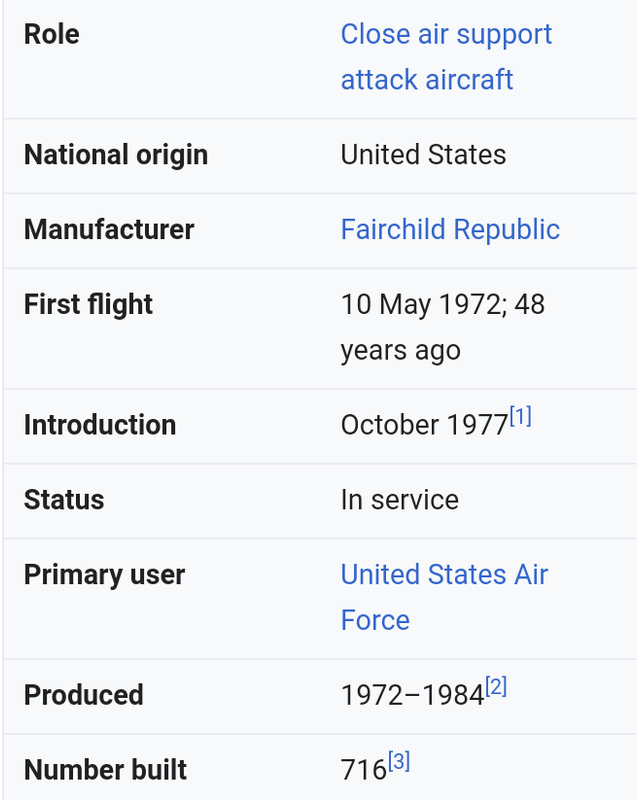 ---
EQUIPMENT
• Ray number one: 1x ALQ-131 ECM pod
• Rails number two and ten: 2x LAU-68 Hydra 70mm (14 in total)
• Rails three and nine: 2x AGM-65 Maverick
• Ray number four, five, seven and eight: 4x bomb Mark 82
• Ray number eleven: 2x AIM-9 Sidewinder for defense against enemy aircraft
• 1x AN / AAS-35 (V) Pave Penny laser detector, mounted right below the cockpit
CONTROL
AG1: NAV + Beacon lights
AG2: Landing lights
VTOL: Flap
Trim: Trim
Camera 1: Cinematic cam that automaticly follow targeted object
---
Features
• custom landing gears, air brake, missiles
• Smoke gun
• Nose art
---
WEAKNESSES AND PROBLEMS
- It goes up slow, so it's easy to get crashed when you dive bomb
- Always get tailstrikes when taking off
- When you set 0% throttle when in midair, it will be fallen that it's really hard to touchdown
- Air brake will make the aircraft goes down
---
OTHER VERSIONS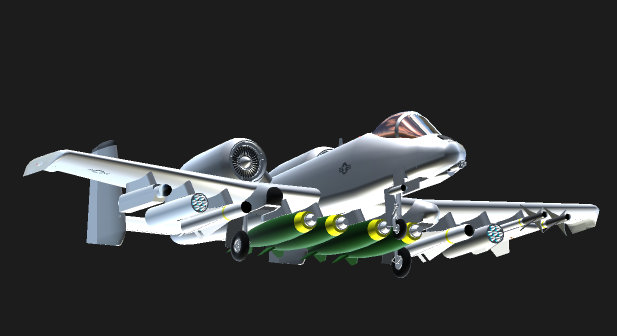 USAF Default skin

USAF Forest skin
---
HAVE FUN!
IF YOU LIKE IT, PLEASE UPVOTE OR SPOTLIGHT FOR SUPPORTING ME
AND THANKS EVERYONE WHO UPVOTED OR SPOTLIGHTED IT
Specifications
General Characteristics
Created On

Android

Wingspan

41.8ft (12.7m)

Length

38.7ft (11.8m)

Height

10.6ft (3.2m)

Empty Weight

-145,082lbs (-65,808kg)

Loaded Weight

34,331lbs (15,572kg)
Performance
Power/Weight Ratio

2.552

Wing Loading

10.3lbs/ft2 (50.2kg/m2)

Wing Area

3,340.7ft2 (310.4m2)

Drag Points

6876
Parts
Number of Parts

454

Control Surfaces

2
---