Nike ONE 2022
Concept car
USER MANUAL
CONTROLS:
Pitch - Motor throttle
Roll - Steering
AG1 - Open canopy
AG2 - Force spoiler extension
AG7 - Headlights
NOTES:
- Driving controls can be changed in the Variables panel, by replacing "Pitch" in "EngineInput" and "Roll" in "Steering".
- Controls are also shown in the Craft Instructions panel.
- Due to the lack of suspension, it does not handle well on some mod maps.
HUD:

EXTRAS:
DEV NOTES:
This is a meme car in Gran Turismo, whether for being associated with a non-automotive company, or being set 17 years after the game's release. So this is effectively just a giant meme post.
There are no blueprints for this thing, I made a reference front, side, and rear view by zooming in as much as possible in Photo Travel mode.
Animations are made with reference to the game.
GT-inspired HUD for first-person view.
Slow on startup as it simulates moving in eighth gear. Steep slopes will stall the car when entered too slowly.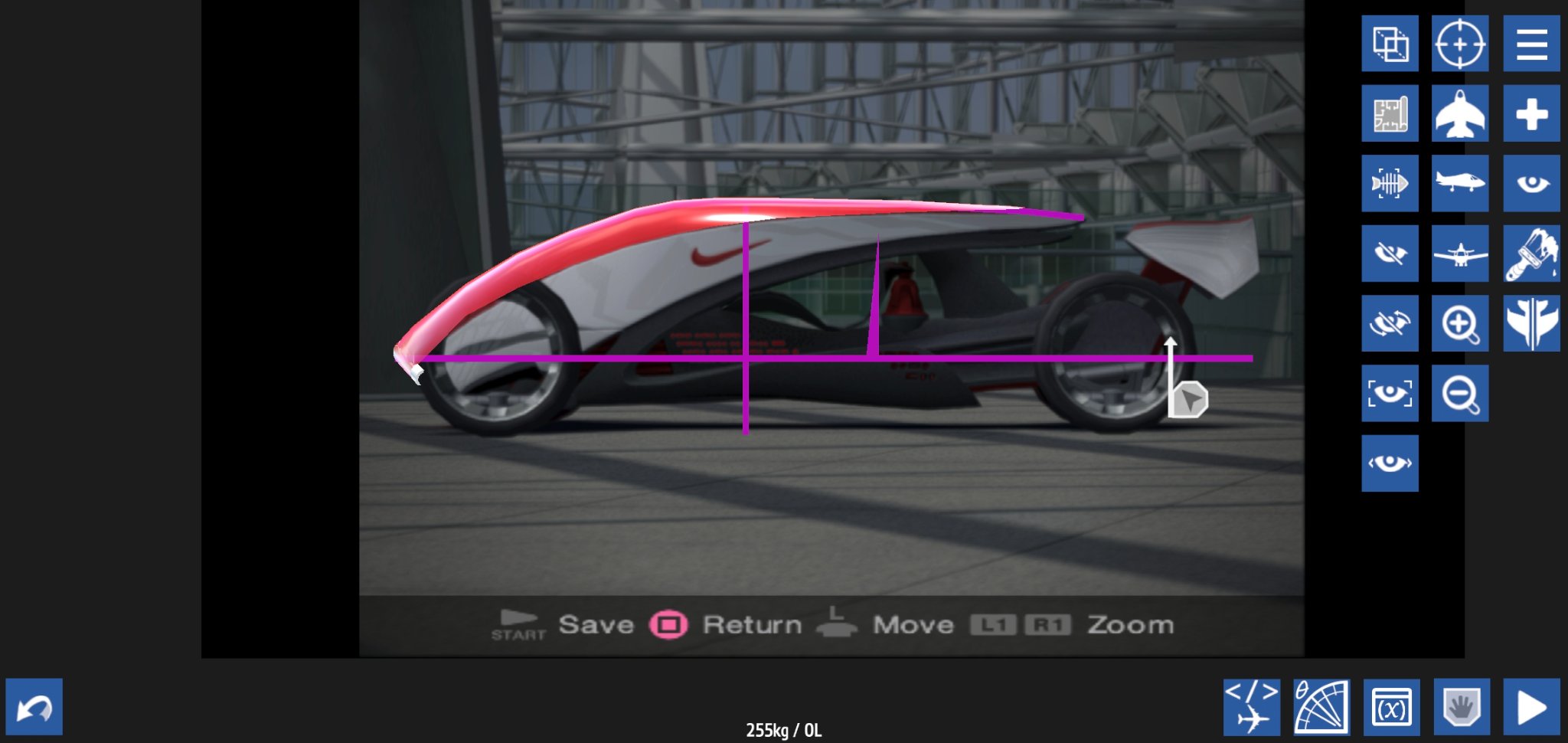 The first update image posted online.
This requires fuselage slicing to its fullest extent, something I wouldn't get to do with my own designs. With this, I reject half of my humanity and become a Half-Human Half-Phantom.
I hadn't even played video games at the time of GT4. I wonder how it feels to see something funny from your past.
INFORMATION
The Nike ONE 2022 is a hypothetical vehicle designed by Phil Frank of Nike in association with Polyphony Digital. It only appears in Gran Turismo 4.
Gran Turismo Wiki (gran-turismo.fandom.com)
Entry on the designer's website (phil-frank.com)
Lore by the original designer (gtplanet.net)
Specifications
General Characteristics
Predecessor

!nike_dev1_1_6_1

Successors

1 airplane(s)

Created On

Windows

Wingspan

7.6ft (2.3m)

Length

10.9ft (3.3m)

Height

3.0ft (0.9m)

Empty Weight

1,450lbs (657kg)

Loaded Weight

1,592lbs (722kg)
Performance
Wing Loading

1,183.2lbs/ft2 (5,777.0kg/m2)

Wing Area

1.3ft2 (0.1m2)

Drag Points

1442
Parts
Number of Parts

580

Control Surfaces

0

Performance Cost

2,031
---