The Flycatcher S-1 Ultralight
---
With the rise of ultralight popularity on the site, I thought I'd pitch in and make one. It's loosely based off of the J-1B "Don Quixote", but has a quick and robust performance. The S-1 has good range, can fly you between Wright and Bandit no problem. This was a fun build to make, definitely different from the lumbering military jets I've previously made.
---
Glass Version courtesy of Hellosss38: Clicky
---
Design History
I wanted a closed cockpit ultralight with the necessary airplane controls. After surfing through lots of ultralight images and plans I found the J-1B to be a good liking and started building. Because its a kit ultralight, plans were a little tricky to get for free, but eventually I found a side, front, and top view diagram at no cost. The build was straightforward, although just about every part has to have its weight XML edited, otherwise, the ultralight would weight 3 tons. I'm quite happy with how the cockpit came out, clean and simple. Once 1.10 rolls out officially, I'm going to make sure the cockpit has glass added to it.
---
Controls
AG1- Nav Lights
AG2- Fuel Door
AG3- Emergency Chute
AG4- Flips a Switch
AG5- Flips a Switch
AG6- Flips a Switch
AG7- Flips a Switch
AG8- Close Canopy and Start Engine
Normal Flight Controls
No Retractable Gear
---

Please don't run me over
---
AIrcraft Notes
The S-1 is equipped with a throttle cut-off. It engages if the canopy is open, or the aircraft exceeds 115 miles an hour.
Trim is not necessary for most flights. The aircraft usually auto-trims level if moving at 95 miles an hour.
Landing is easy. Come in at a 50% throttle approach, cut the throttle and touch down. Hit the brakes and you should stop within 30 feet.
If I did my math right, you have a 64-mile flight range.
Has a custom control surface (Yaw) that really doesn't work!
If you are short, use the cockpit cam. If tall, use cam 1. (Jk, they give the same perspective, one is just higher than the other)
---
Cockpit Use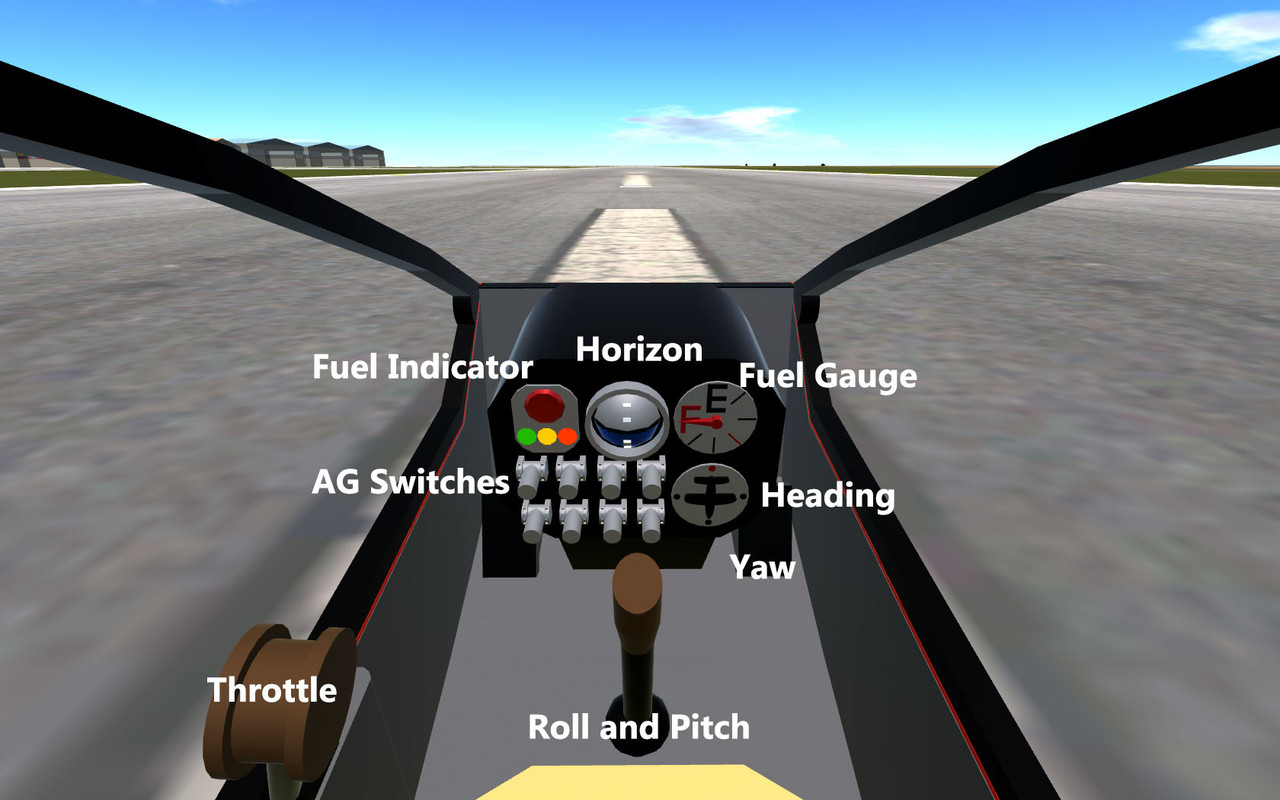 ---
Credits
Thanks to stig27 for the Funky Tree code I used in the fuel lights.
Thanks to Mikoyanster for the Areo Club map.
---
Gallery

Canopy and the fuel door open


Hangar Sittin'


Evening Flying


Convoy Flyover


Accidents Happen...


Landed it!


Click to Fly!
---
With the Learning Gulag re-opening soon, I'll be posting a bit less (like most users it seems), but I've still got a few half-done projects to complete and share with everyone. Thanks for stopping by and enjoy the plane!
Specifications
General Characteristics
Successors

3 airplane(s)

+406 bonus

Created On

Windows

Wingspan

24.3ft (7.4m)

Length

17.3ft (5.3m)

Height

6.6ft (2.0m)

Empty Weight

508lbs (230kg)

Loaded Weight

587lbs (266kg)
Performance
Horse Power/Weight Ratio

0.698

Wing Loading

1.7lbs/ft2 (8.2kg/m2)

Wing Area

347.8ft2 (32.3m2)

Drag Points

604
Parts
Number of Parts

465

Control Surfaces

4

Performance Cost

1,586
---