I'm very happy to lanuch my new plane!
Thanks to @kaqiusha123's help about FunkyTree ,provided beautiful cover.
And thank @Elizabethovo provide the delicate main landing gear.
I also thank @TYUI3120 for his suggestion about the start program.
The Air China's LOGO is made by@DEC12.
I have been helped by many people. Thank you very much.
Basic introduction
DA118,Twin engine regional airliner,The passenger capacity is about 100 people.It adopts the layout of engine top and canard wing,More powerful performance at low speed.At the same time, it can better adapt to the harsh environment.It in order to replace DA116 and complete with other airliner.
Infor of DA118
Type:DA118-209
MAX Speed(altitude 10000m):1030km/h
Cruising altitude :10000m
Cruising speed :867km/h(70%Throttle)
Max passenger capacity :110 people.
Nav light&Becon light &rain brush need open in cockpit
Activate
1:Taxi Light
2:Strobe Light
3:Take off Light
4:Landing Light
5:Landing roll back to center mode
6:Reverse await.move Trim to 10% to start reverse.
7:Cabin light
Trim:Manual Trim
VTOL0~1:Flap
Other instructions
Engine start program
The progress I wrote in the roof of cockpit,and I made a switch to skip the startup process, but it will cause the loss of some experiences, such as the sound of the engine and the light on the cockpit roof
Coordinate guide system
This system was used in DA117,and continue to use in DA118.
It can according a coordinate you input ,then indicate the direction and distance between you and the destination.The use way I wrote in plane instruction.
AUTO TRIM
This system in order to solve the cumbersome problem of manual trim and manual trim at high speed is very difficult to make the plane balance.
It is according to setting climb & descent rate or pitch angle to control the plane's pitch at the corresponding angle.
The use way&note I wrote in plane instruction.
Due to the radical layout, DA118 encountered various difficulties during the test flight. Fortunately, these problems were basically solved?
I personally like to make strange airliners based on certain rationality. I hope you can like it and have a pleasant flight.
Have a nice flight!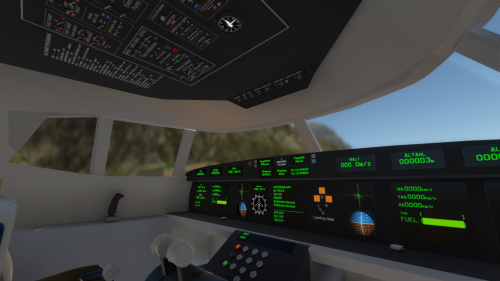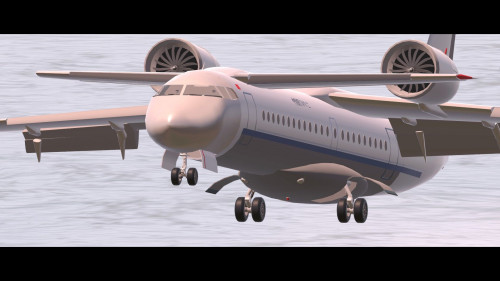 This photo by@GhostTeam
Specifications
General Characteristics
Predecessor

DA118-201X

Created On

Windows

Wingspan

119.6ft (36.4m)

Length

108.3ft (33.0m)

Height

27.3ft (8.3m)

Empty Weight

N/A

Loaded Weight

20,337lbs (9,225kg)
Performance
Power/Weight Ratio

1.591

Horse Power/Weight Ratio

0.024

Wing Loading

8.0lbs/ft2 (38.9kg/m2)

Wing Area

2,555.4ft2 (237.4m2)

Drag Points

7422
Parts
Number of Parts

936

Control Surfaces

5

Performance Cost

4,281
---