Bahasa Indonesia

De Havilland Vampire DH.115 adalah pesawat tempur bermesin jet Inggris ditugaskan oleh Royal Air Force selama Perang Dunia Kedua . Setelah Meteor Gloster, pesawat tempur itu adalah jet tempur yang kedua untuk memasuki layanan dengan RAF. Meskipun tiba terlambat dalam pertempuran selama perang, Vampire disajikan dengan garis depan skuadron RAF sampai tahun 1953 dan terus digunakan sebagai pelatih sampai 1966. Vampire juga disajikan dengan banyak angkatan udara di seluruh dunia.
Hampir 3.300 Vampir dibangun, seperempat dari mereka di bawah lisensi di negara lain. Desain Vampire juga berkembang menjadi tempur pembom Havilland de Venom serta varian Angkatan Laut Sea Vampire.
Sumbangan Dari Britania Raya
Pesawat DH-115 adalah sumbangan dari pemerintah Inggris kepada pemerintah Indonesia, dan diserahkan pada tahun 1955. Sebagai pangkalannya, Pangkalan Udara Andir Bandung. Beberapa skuadron bahkan diterbangkan ke Inggris untuk melatih pesawat manning.
English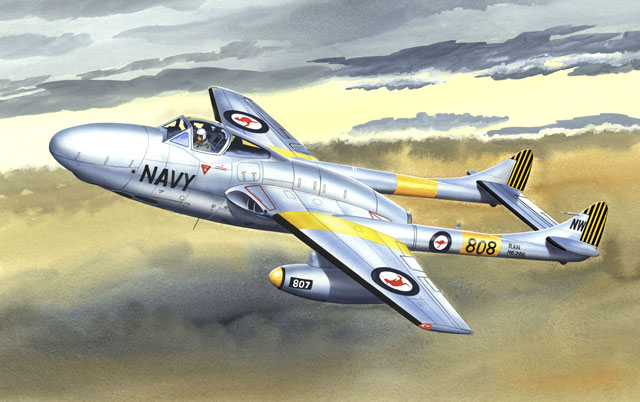 De Havilland Vampire DH.115 was a British jet engine fighter commissioned by the Royal Air Force during the Second World War. After Meteor Gloster, the fighter is the second jet to enter service with the RAF. Despite arriving late in battle during the war, Vampire served with the frontline of the RAF squadron until 1953 and continued to be used as a trainer until 1966. Vampire was also served with many air forces throughout the world.
Nearly 3,300 Vampires were built, a quarter of them under license in other countries. The Vampire design also developed into the Havilland de Venom bomber fighter and the Sea Vampire Navy variant.
A donation from the United Kingdom
The DH-115 aircraft was a donation from the British government to the Indonesian government, and was handed over in 1955. As its home base, the Andir Air Base Bandung. Some squadrons were even flown to England for training manning aircraft.
Galery

Specifications
General Characteristics
Created On

Windows

Wingspan

31.5ft (9.6m)

Length

27.0ft (8.2m)

Height

8.5ft (2.6m)

Empty Weight

3,998lbs (1,813kg)

Loaded Weight

7,453lbs (3,380kg)
Performance
Power/Weight Ratio

9.045

Wing Loading

16.8lbs/ft2 (82.0kg/m2)

Wing Area

444.0ft2 (41.3m2)

Drag Points

5068
Parts
Number of Parts

110

Control Surfaces

6
---