ANNOUNCEMENT
UPDATE: I FOUND A WAY AND IT WORKS!
Due to still being new to doing Funky Trees on my own (with guidance from Alisuchanka) , i recommend not using it in VR for now until i find a way to put the Bomb Bay Doors and Bomb release onto the Levers (unless you do, then i suggest making it a variant from mine) and update the XML file for a better VR "Experience". That is all and goodluck Helldiving!
---
HISTORY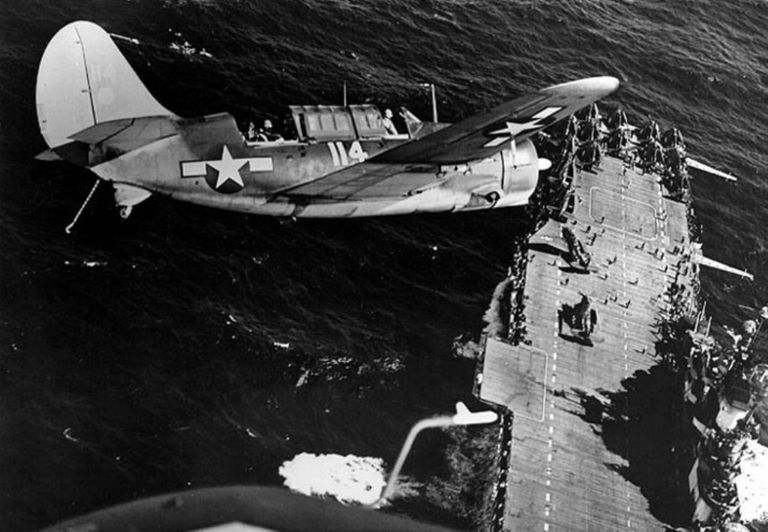 An Aircraft in replacement for its famous predecessor, the Douglas SBD Dauntless. Despite its advantages of having more payload and being able to store more aircrafts thanks to its folding wings unlike its fixed-wing predecessor, the aircraft was rather Big and slow to evade incoming attacks. Nonetheless, it gained enough reputation throughout the war to be respected. Due to how unusually big the Vertical Stabilizers were, it was nicknamed the "Big-Tailed Beast".
CONTROLS
-Activate 1 - Arrestor Hook
-Activate 2 - Dive Brakes
-Activate 4 - Auto-Aim Tail gun
-Activate 7 - Folding Wings
-Activate 8 - Open/Close Canopy
If the Aircraft is moving for more than 60kph, it will automatically close.
-Tail Gun Camera - Camera-Aim feature
If Auto-Aim mode is Active, it will override the Camera-Aim controls
VTOL down - Flaps
If Dive Brakes are activated, the Flaps will Override and Deactivate the Dive Brakes.
- However, if Flaps are deactivated, and if Dive Brakes are still Activated, the Dive Brakes will Activate. Be sure to deactivate it first to prevent losing speed
-Bomb Bay Door - Select AirToground and "2000lbs Bomb"
To close the doors, simply unselect AirToGround
-Bomb Swing and release - Simply tap the FireWeapons button.
GALLERY
Credits to Sparky6004 for taking the screenshots.
OUTRO
been awhile since i last built a new aircraft. Originally it was supposed to be the P47D Thunderbolt, but i just kinda forgot about it and it wasnt until i was mid way on making this aircraft.
Anyways, i put abit of innovative mechanics on this aircraft. Sadly it only works on UI controls and not yet fully with cockpit controls.
Huge thanks to Alisuchanka for guiding me for the Auto-Aim and Camera-Aim turret made ny PlanariaLab. His latest build, his IL-2 Sturmovik M82 was my main inspiration for this build's mechanics and later on, i was able to figure a few things out on my own taking the FT codes as reference.
On thr last details though, i kinda felt lazy and that i even had to borrow the landing gear from SlimyDude304's Helldiver and its cockpit controls not looking near to the real layout.
Anywho, goodluxk Helldiving out there, people!
Specifications
General Characteristics
Successors

1 airplane(s)

+21 bonus

Created On

Android

Wingspan

49.7ft (15.1m)

Length

37.7ft (11.5m)

Height

17.5ft (5.3m)

Empty Weight

15,331lbs (6,954kg)

Loaded Weight

16,243lbs (7,368kg)
Performance
Horse Power/Weight Ratio

0.116

Wing Loading

29.8lbs/ft2 (145.5kg/m2)

Wing Area

545.0ft2 (50.6m2)

Drag Points

3726
Parts
Number of Parts

615

Control Surfaces

7

Performance Cost

2,545
---