In a parallel universe somewhen
His Majesty's Aircraft
Distant Link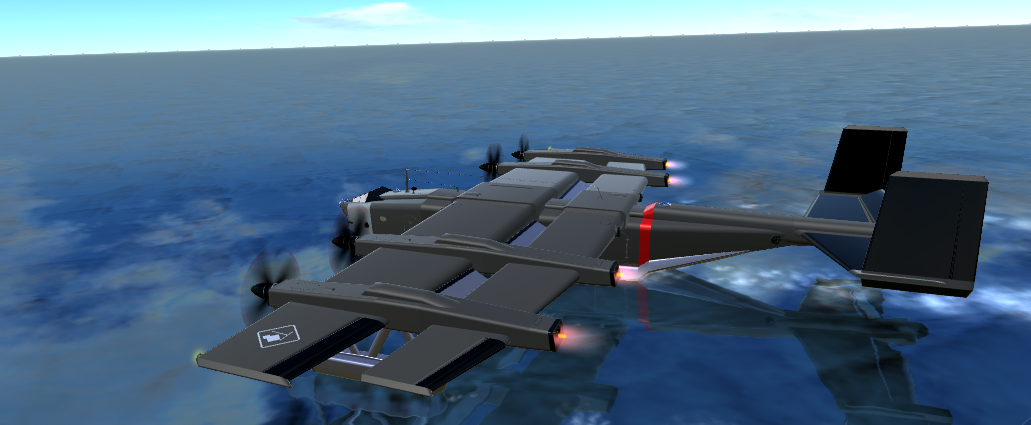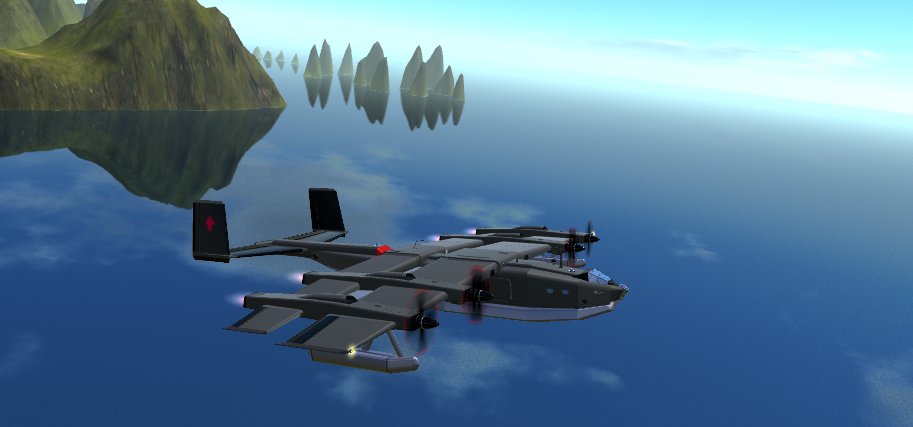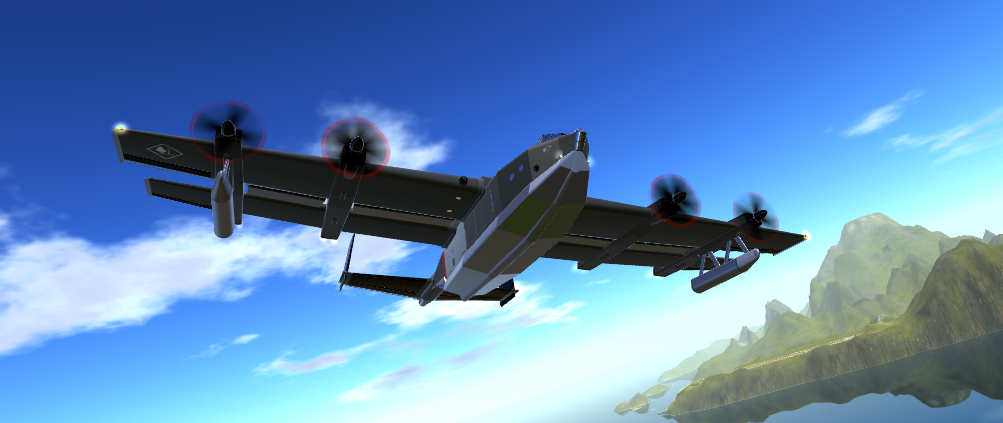 Take-off
AG1 on to enable main propulsion. VTOL down half way to set flaps. Apply full throttle and pull up during take-off run. Unstick occurs at 160mph TAS. Once airborne in a positive climb and when speed reaches 240mph, VTOL centre to raise flaps . Maintain full throttle for climb, or throttle back and apply trim as required.
Note that Pitch authority is strong for take-off and landing; use gentle inputs in normal flight or use throttle and Trim.
Optimum setting for cruise is 60% throttle with appropriate Trim.
Landing
Use 15% a throttle and VTOL down fully for full flaps. On touchdown, Throttle off.
Water Taxiing
AG1 off, AG2 on. Use Pitch for forward and reverse, use Roll to turn.
AG2 off, AG1 on for flight.
Crew
4 Flight crew consisting of Pilot, Second Pilot, Radio/Navigation and Flight Engineer.
Cabin crew varies depending on mission type.
Hull Built by Brent & Victrix.
Wings and powerplants Tillman Fabrication.
Sponsored by Garrisons 9 to 14.
AG1 Main Propulsion.
AG2 on, AG1 off Taxiing thrusters.
AG3 Port cargo door lights.
AG4 Starboard cargo door lights.
AG5 Landing lights.
AG6 Running lights.
His Majesty's Aircraft "Distant Link" carries out long range logistics missions to coastal garrisons on the Lower Diamond Peninsula and its neighbouring island ports. The craft mainly carries cargo and mail, but has a secondary role of troop transport when required.
Footnote
For this build, I tried to use winches attached to pistons to make loading and unloading cranes next to each large cargo door. Worked ok on my laptop but on iOS, the winches kept exploding, despite trying all sorts of tricks including swearing loudly. Ho hum.
Specifications
General Characteristics
Created On

iOS

Wingspan

203.1ft (61.9m)

Length

159.4ft (48.6m)

Height

41.0ft (12.5m)

Empty Weight

-4,734,385lbs (-2,147,483kg)

Loaded Weight

78,881lbs (35,779kg)
Performance
Power/Weight Ratio

8.034

Horse Power/Weight Ratio

0.038

Wing Loading

19.0lbs/ft2 (92.9kg/m2)

Wing Area

4,147.2ft2 (385.3m2)

Drag Points

29101
Parts
Number of Parts

506

Control Surfaces

5
---